Hustle (Review): Sandler Delivers in Stellar Sports Dramedy

Juancho Hernangomez and Adam Sandler in Hustle (Scott Yamano / Netflix © 2022)
Hustle doesn't stray from common sports film clichés, but it's elevated by the sharp and sincere Adam Sandler, who turns in one of his best performances to date.
---

It feels like Adam Sandler has been proving himself as a "serious actor" for over two decades now. The first time people saw the depth of his dramatic acting ability was in 2002, in Paul Thomas Anderson's Punch-Drunk Love, for which he received a Golden Globe nomination for Best Actor in a Musical or Comedy. On the heels of his hit 90s comedies Billy Madison, Happy Gilmore, The Wedding Singer, The Waterboy, and Big Daddy, this felt like quite a detour – but a refreshing one at that. However, Sander went back to the comedy genre for the rest of the 2000s, starring in films like Anger Management, 50 First Dates, The Longest Yard, Click, I Now Pronounce You Chuck and Larry, and You Don't Mess With the Zohan, until he "reinvented" himself yet again with the release of Judd Apatow's 2009 dramedy Funny People, in which he played a comedian diagnosed with a terminal disease who seeks to fix his most important relationships before he dies, earning widespread acclaim for authentic acting.
And still, the cycle repeated itself yet again, with Sandler spending much of the 2010s making movies like Grown Ups, Just Go with It, Jack and Jill, Blended, and so on and so forth, until, in 2019, his image wasn't just reinvented but revolutionized thanks to the Safdie brothers' Uncut Gems, an A24 crime thriller that not only allowed Sandler to play one of the richest roles of his career, but to also engage with the modern indie/alternative audience in film for the first time, somehow expanding his already far-reaching fanbase (and he would also go on to win the Independent Spirit Award for Best Male Lead for his work).
However, despite the profuse praise for his performance, he was ultimately snubbed by the Oscars that year, prompting Sandler to promise that he would make a movie that was "so bad on purpose" to (comically) "punish" the Academy for their actions. And, just like that, the horror comedy Hubie Halloween was released the following year on Netflix – a sharp drop in quality from the dizzying heights of Uncut Gems – but this time, it didn't take long for the Sandman to return to highbrow fare, with his follow-up Netflix feature, the 2022 sports dramedy Hustle, featuring some of his most impressive dramatic work to date.
The film follows washed-up basketball scout Stanley Sugarman, who currently works for the Philadelphia 76ers, living life on the road in search of future stars for the NBA. However, this excessive travel takes a toll on his wife Teresa (Queen Latifah, of Chicago and Hairspray) and daughter Alex (Jordan Hull), and additionally, while he's well-liked by the 76ers' owner Rex Merrick (Robert Duvall, of The Godfather and Apocalypse Now), he clashes with Rex's son Vincent (Ben Foster, of Hell or High Water and Leave No Trace). Though Rex finally promotes Stanley to assistant coach, he passes away that same evening, leaving Vince in charge of the team. And that's why it comes as no shock when, three months later, Vince demotes Stanley to his former position as a scout, sending him overseas to find a new star when a spot opens up.
However, after Stanley's first plan to scout in Spain falls through, he finds himself fascinated by a local pick-up game, where an unknown player by the name of Bo Cruz (Juancho Hernangómez) shows tremendous talent and represents a new path back to the top for the sullen Stanley. He takes Bo with him back to the states, and over time, as the two train, they develop a deep bond, and seek to defy all the odds in not only getting Bo into the NBA but also getting him a better life for him and his daughter.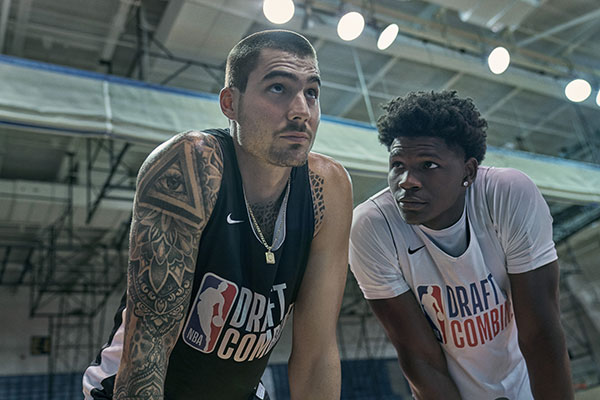 Hustle doesn't rewrite the rulebook for sports films – it largely leans into all of the "underdog" clichés and conventions instead of ever attempting to try to "subvert" them – but that's also not what the film sets out to do. The "formula" exists for a reason, and there's nothing wrong with it when it's this well-executed. For starters, despite the flack so many Netflix films receive for not looking as "sharp" stylistically as more "cinematic" movies, you certainly can't hurl that critique at Hustle.
Thanks to Jeremiah Zagar's (We the Animals) vibrant, jaunty direction, and cinematographer Zak Mulligan's crisp, kinetic compositions, the film never has the feel of some straightforward and "drab" drama, always fully immersing us not just in the action on the basketball court but also in the suspenseful scenarios it sets up for Stanley and Bo to navigate as they try to climb their way up the ladder in the NBA and show the world what Bo is made of. Even at a little under two hours, there's little down time here, with editors Tom Costain, Brian Robinson, and Keiko Deguchi keeping things moving swiftly from scene to scene, especially as new twists continue to arise and throw us – and Stanley and Bo – off balance.
However, it's clear from the start that the aces up Hustle's sleeve are its powerful, poignant, and occasionally playful performances, with Sandler's in particular worthy of all the praise in the world. Uncut Gems may remain his most exhilaratingly unpredictable work as an actor, but Hustle provides him with the space to do some of his deepest emotional "digging" yet, with Sandler benefitting from being able to bring his already massive adoration of basketball to the part and embody the character of Stanley so wholeheartedly as a result.
This situation feels as life-and-death for Stanley as it does because Sandler so innately understands the stakes here as a lifelong basketball fan, and, miraculously, he's able to make others who aren't anywhere near as in love with the sport as he is feel the same level of investment as well, simply because he's such an agreeable "salesman" as an actor. He always retains his "everyman" charm no matter what part he takes on, and he's just so inherently likable that we're willing to go along with – and buy into – the drama he's dealing with almost through emotional engagement alone, which is no small feat. (It also helps that he cleverly sprinkles in his signature comedic stylings throughout, never letting them overshadow the film at large but still continually reminding us of the comedian we know and love).
But Sandler isn't the only one who shines, with Hernangómez – in his first feature film – holding his own against the star and expertly assisting the cultivation of their immensely charming chemistry, which is apparent from the first scene they share. And it goes far beyond their riotous comedic repartee; as the film goes on, and we learn more about both Stanley and Bo, it becomes clearer just how alike these two lost souls with perilous pasts truly are, once again raising the stakes on their scheme for redemption. Amongst the supporting cast, former and current basketball players impress in roles of varying sizes, such as Kenny Smith as Stanley's sports agent friend and Anthony Edward as the cocky Kermit Wilts – Bo's biggest rival in the draft – while Ben Foster plays the corporate asshole archetype to a tee, and Queen Latifah – no matter how small her role – is always a warm and welcome presence in any picture.
Hustle may not ascend to the top of its genre to become one of the "all-time greatest sports films," but it's a mighty fine addition nonetheless, elevated by a sharp and snappy script, deft direction, and a pair of pitch-perfect performances from Adam Sandler and Juancho Hernangómez. And perhaps the best thing that can be said for it is that, no matter what your relationship may be to basketball before you press play, you're bound to be riveted by this thrilling tale of rise and redemption regardless, as Hustle becomes one of the rare crowdpleasing sports films that isn't just enjoyed by fans of the sport itself but by all audiences thanks to its character-centric approach to a story we've seen so many times before. How's that for a slam dunk?
---
Hustle is now available to watch on Netflix.