Hayseed (Good Deed Entertainment)
Hayseed is a new indie movie with notable performances. A slow start and underdeveloped moments don't diminish a surprisingly deep and unpredictable whodunnit.
---

Hayseed is a new indie movie with notable performances and surprising twists. The whodunnit, set in a small Rust Belt community in which the town's reverend is found dead, is much larger than its budget and cast may allude to. Its plot is unpredictable and its comedic elements balance out surprising depth, making it a satisfactory installment in the familiar whodunnit category.
Leo Hobbins (Bill Sage) is a retired detective tasked with investigating the death of Emmaus Holy Church's reverend, Edgar Dowding (Peter Carey). The film's first 30 minutes feels much like Knives Out, with the set changed slightly. Hobbins sits in a folding chair in the center aisle of the church, while a reluctant Trooper Gellis (Kyle Jurassic) listens in a pew in the back. The suspects individually recall events surrounding Dowding's death as Hobbins takes notes and gathers thoughts. The production design, helmed by Meg Case, is very well done. The transformation of a church into a crime scene—with yellow caution tape hanging across the stage below stained glass windows—offers a stark dichotomy between reverence and tragedy. Also, the use of color throughout the film is impeccable: within the church especially, vibrant colors bring life to a dreary town and bleak story.
Hayseed introduces and develops its characters well, giving the viewer the chance to guess for themselves who might be the most likely culprit in the murder of Reverend Dowding. The film is a "comedic whodunnit," but the surprising part is how attached viewers may become to the characters. Benjamin "Duck" McIlrath (Jack Falahee), Darlene Halsey (Ismenia Mendes), and Willa Metts (Marta Piekarz) give notable performances and elicit much emotion in a movie that sometimes underdelivers with humor that feels forced.
As an indie movie, Hayseed truly delivers a high-quality experience. Some scenes felt rushed, as if the filmmakers didn't have the budget or time to expound upon certain moments, but the overall film is not lacking in any substantial way. After getting through the first half-hour of plot development, wherein most of the whodunnit tropes were portrayed, Hayseed breaks free in its own right to provide an original and heartfelt mystery film. Duck's character in particular was well-written and Jack Falahee delivered a stellar acting performance.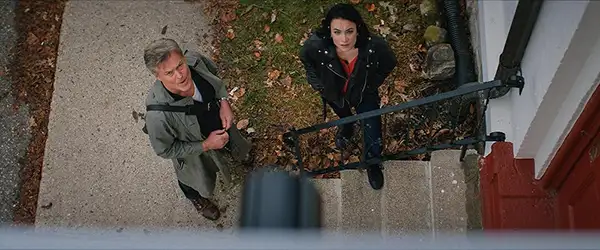 The score accompanying Hayseed is fitting for a whodunnit bent on garnering nostalgic tones, reminiscent of classics such as Clue and And Then There Were None. Bolstering the film's grainy title sequence and closing graphics, the score encapsulates the atmosphere the film aims for. At times, it sounds a bit overpowering, as if removing it from the scene would prove more beneficial, but overall, the sound and mixing of Hayseed are successful.
Concerning the film's screenplay, viewers will enjoy the subtle interweaving of plot points, which writer-director Travis Burgess uses comedically and almost ironically at times. In typical whodunnit fashion, certain crucial points may feel insignificant, while others are a misdirect from the deeper moments in the film. Hayseed uses subtle hints and shocking reveals to keep the viewer glued to the screen throughout the film.
Hayseed stands out as a well-crafted experience in almost all respects. A slow start and a few underdeveloped scenes don't diminish an otherwise satisfactory whodunnit. Mystery lovers looking for a new film derivative of the classics will enjoy Hayseed's captivating story, well-placed humor, and unpredictable plot; they will find the characters endearing, something that many whodunnits fail to deliver on.
---
Hayseed will be released in US theaters on November 10 and on demand from November 21, 2023.