Gumball Dreams Review: Vibrant Live Theatre VR Adventure

Gumball Dreams (Braden Roy, Ferryman Collective)
Premiering now at the Venice Film Festival, Gumball Dreams employs live theatre and gorgeous worldbuilding to craft a highly enjoyable, immersive VR experience.
---

Immersive VR theatre experience Gumball Dreams is having its International Premiere at the 2022 Venice Film Festival, and, if you've taken a look at the psychedelic stills below and you think you have an idea of what this Virtual Reality project will be like, think again. Written by Deirdre V. Lyons and Christopher Lane Davis, aka "Screaming Color," the winner of this year's SXSW Audience Award for Best XR Experience comes alive with beautiful explosions of colours and psychedelic worldbuilding, and it's also a surprisingly mystical, freeing experience that will take you on an adventure and make you think about your own life.
"Remember who you are," reads the tagline on the poster of an VR work that combines live theatre and virtual reality to take you to a magical land. There, a quirky AI robot will be "just chuffed" to see you and take you on a mission to help a being named Onyx transition from this life to the next. To do that, you'll have to solve challenges both on your own and with your fellow travelers, and live in the moment as you make these changes happen.
Saying anything more would ruin your experience, so it's best to leave it at that, but what I really enjoyed about Gumball Dreams was that it was surprisingly easy to reach the VRChat environment and be immediately immersed in its atmosphere, with seamless avatar changes and enjoyable games that are actually a clever way to prepare you for what's to come. Since two more players take part in the experience with you, there's an element of discovery to Gumball Dreams, as, no matter how unfamiliar the world may be, getting it to explore it with others makes it all more immersive and fun. And the world itself (created by artistic director, writer, world & animation designer Christopher Lane Davis) is impressive to say the least. There are several environments to enjoy, some more experimental than others, and fun "televators" that will lift you up into the air like light beams or take you back down like colorful slides, and make you feel as giggly and joyful as a child. And, while there are plenty of opportunities for interaction, you'll also find yourself wanting to float into the air and simply take it all in.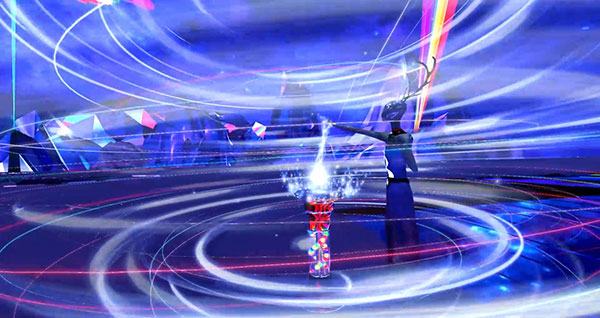 Having a live cast performing as both the AI robot and Onyx (Stephen Butchko acted in my performance, but the ensemble includes cast members Brendan Andolsek Bradley, Melinda DeKay, Whitton Frank, Kelly B Jones, Dasha Kittredge, Deirdre V. Lyons, Jonathan David Martin, and Ona Zimhart) taking you through Gumball Dreams, embodying different characters, makes the project even more immersive, as you'll feel like you've actually travelled to Onyx's fantasy land. Not only that, but you'll also have a one of a kind experience that will never be replicated in exactly the same way, due to the very nature of live theatre, and you'll get to share it with strangers from all over the world that will take part in that very same moment in time with you. Since Gumball Dreams is ultimately, surprisingly, all about mindfulness, having these moments of intimacy gives the experience an emotional core that will strike the right chords with audiences, regardless of their background.
Gumball Dreams works best when experienced in a large space, like the one at Venice Immersive, as it'll prevent you from hitting the boundary area while you're solving the puzzles, and the experience will be so much more entertaining as a result. The puzzles themselves are well-crafted, and you also have to solve one on your own, which was a daring choice for the creators: it's tricky to control the audience's movements in VR while also giving them independence to explore, and giving each player a challenge to solve on their own means that it'll be even harder to time and predict their actions and give them directions. The choice absolutely pays off, as the puzzles themselves are difficult enough for players to be engaged throughout and intuitive enough for them to understand what they need to do at any given time.
If you find yourself at the 2022 Venice Film Festival, definitely give Gumball Dreams a chance! Creatives Deirdre V. Lyons, Christopher Lane Davis, Stephen Butchko, all the live actors, and the rest of the Ferryman Collective and Screaming Color teams have crafted something truly unique, combining inventive animation and worldbuilding with meaningful storytelling, resulting in an experience that will act as a rebirth and stay with you for a long time.
---
Gumball Dreams can be experienced at the 2022 Venice Film Festival, as part of the Venice Immersive strand.