Gangster Films That Are a Must Watch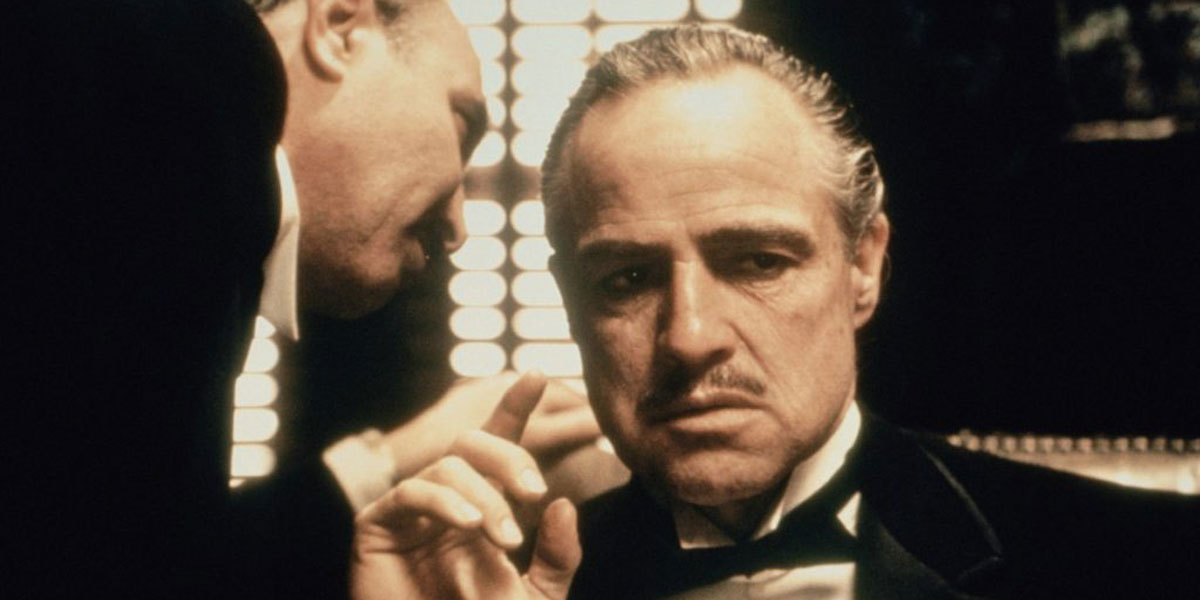 Marlon Brando in The Godfather (Paramount Pictures)
---
For as long as anyone can remember, gangster movies have been popular among moviegoers. There are gangster movies based on fictional characters and true stories allowing viewers to immerse themselves in a world full of crime from the comfort of their homes or in a movie theatre. Here are some of the top gangster films you need to watch.
---
LEGEND
In Brian Helgeland's Legend (2015), Tom Hardy plays Reggie and Ronnie Kray, two identical twin gangsters who wreaked havoc in London in the 1960s. The twins have very different ways of doing business: while Ronnie's tactics include intimidation and violence, Reggie is more emotionally stable and less unpredictable, though he's also less interested in the business side of things and more concerned with his relationship with a girl named Frances Shea (Emily Browning). The movie shows the good times and bad times in the twins' lives, from how they achieved notoriety in the tabloids to how they continued their rapid rise to power under the watchful eye of Detective Leonard "Nipper" Read (Christopher Eccleston), them to become two of the most feared gangsters in the city.
---
THE GODFATHER
Francis Ford Coppola's The Godfather (1972) is the undisputed champion when it comes to gangster movies. The film is based on the novel of the same name by Mario Puzo. Like the novel, the movie centres on mafia boss Don Vito Corleone's (Marlon Brando) powerful Italian-American crime family, and the cycle of betrayal and violence in which the family gets caught when Don Corleone transfers control of his business to his reluctant son Michael (Al Pacino). As Michael learns how to deal with his family's empire, as well as dangerous rivals, he unintentionally puts the lives of his loved ones in danger, as he is drawn deeper into a feud that could turn his world upside down.
---
A BRONX TALE
Robert De Niro's A Bronx Tale (1994) begins with a 9-year-old boy from the Bronx named Calogero (Francis Capra) encountering local mob boss Sonny (Chazz Palminteri) for the first time in the 1960s. Despite his honest, hard-working bus driver father Lorenzo's (De Niro) protests, Calogero quickly falls under Sonny's spell, drawn to his wealth and power. In an ever-changing city, Sonny and Lorenzo battle for the child's heart and mind, and we watch as the boy grows up and learns to grasp the world around him.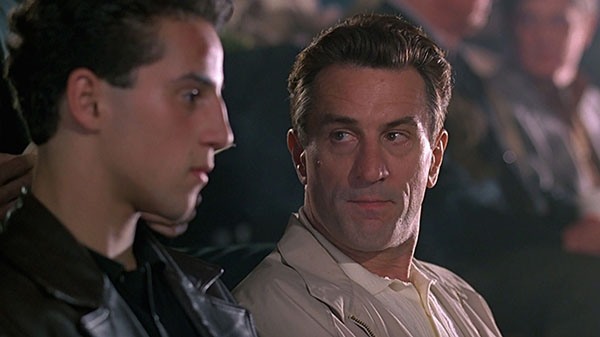 ---
GOODFELLAS
Starring Hollywood greats like Robert De Niro, Joe Pesci and Ray Liotta and based on Nicholas Pileggi's book "Wiseguy," Martin Scorsese's Goodfellas (1990) tells the story of a young mobster who works hard to rise through the ranks of the Italian-American crime business. The rich and luxurious life he leads makes him oblivious to the horrors he creates, and a drug addiction and a few other mistakes ultimately derail his rise to power. If you're looking for a gangster movie that also has dazzling visuals, a great soundtrack, and a script with plenty of humour and intrigue, this all-time classic is for you.
---
DONNIE BRASCO
Starring Al Pacino and Johnny Depp, Mike Newell's Donnie Brasco (1997) tells the story of an FBI agent named Joseph Pistone (Depp) who infiltrates one of the most significant Mafia families in New York. With the pseudonym of Donnie Brasco, he becomes friendly with a mob hitman named Benjamin "Lefty" Ruggiero (Pacino) in order to gain sensitive information and go deeper undercover. But a genuine friendship develops between Joseph and the Mafia boss, which makes it even harder for Pistone to stay undercover, as he eventually must choose between his job or his friend, knowing that completing his assignment could lead to Lefty's murder.
See Also
---
THE IRISHMAN
Martin Scorsese's The Irishman received rave reviews when it was released, in 2019. Featuring a star-studded cast including Robert De Niro, Al Pacino and Joe Pesci, the film revolves around an Irish-American truck driver-turned-hitman named Frank Sheeran (De Niro) who remembers all the secrets he kept in the past as a member of the Bufalino crime family. The film chronicles Sheeran's rise to become a top hitman while also working for organised crime lord Jimmy Hoffa (Pacino). The Irishman gives you over three hours of gangster excitement, but its enthralling and occasionally funny script and meaningful themes make it a compelling watch. Sticking to the Irish theme, you can also get a thrill by playing at the platin irish casino, where you can enjoy all your favourite slot machines or classic casino games.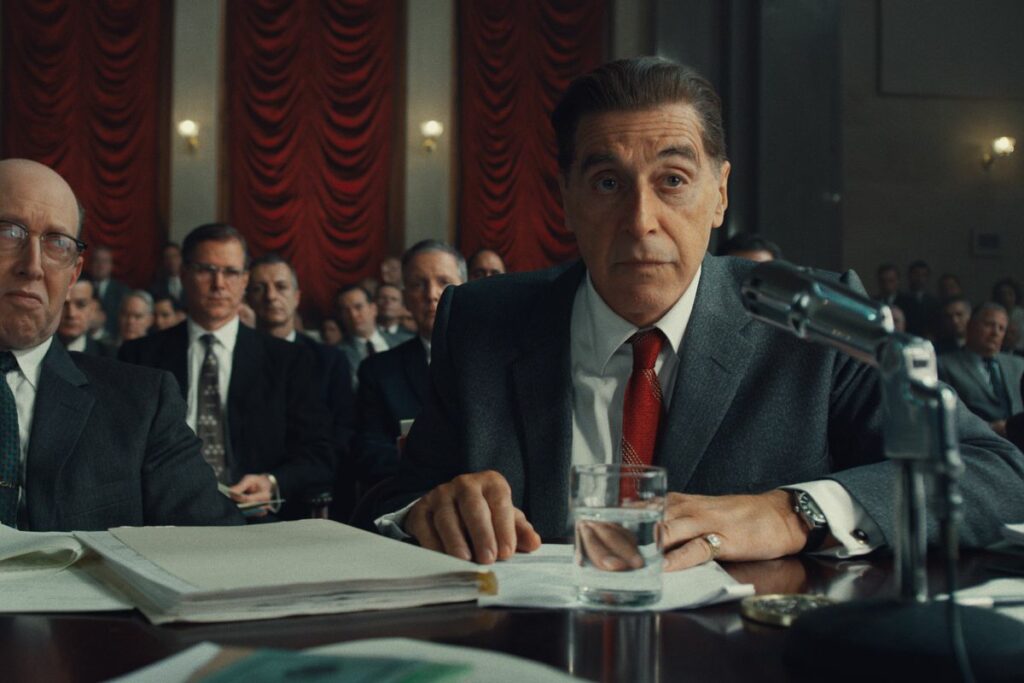 ---
SCARFACE
A list of gangster movies would not be complete without a mention of Brian De Palma's 1984 classic Scarface. The film is about a Cuban immigrant named Tony Montana (Al Pacino) who gets a green card for assisting a Cuban government official and decides to stake a claim on the Miami drug trade. He eventually becomes the biggest drug lord in Miami, after viciously stopping anyone who gets in his way. But his sudden rise to power alerts both the police and Colombian drug cartels, provoking a drug-fueled paranoia that eventually leads to his downfall. Featuring a superb performance from Al Pacino in a career-defining role, this wonderfully excessive, violent crime film is one of De Palma's best works, and still remains a classic to this day thanks to its many epic dialogues, memorable scenes, and a compelling tale about the dangers of reaching too high.
---
Nothing beats an excellent classic gangster movie, and if you have seen the films on this list, you may want to try out movies like Black Mass and Public Enemies. The movies listed above are all must-watch for gangster movie fans, and won't disappoint those who are just beginning to approach the genre.