Fatherhood (Netflix) Review: Raising a Child Takes a Village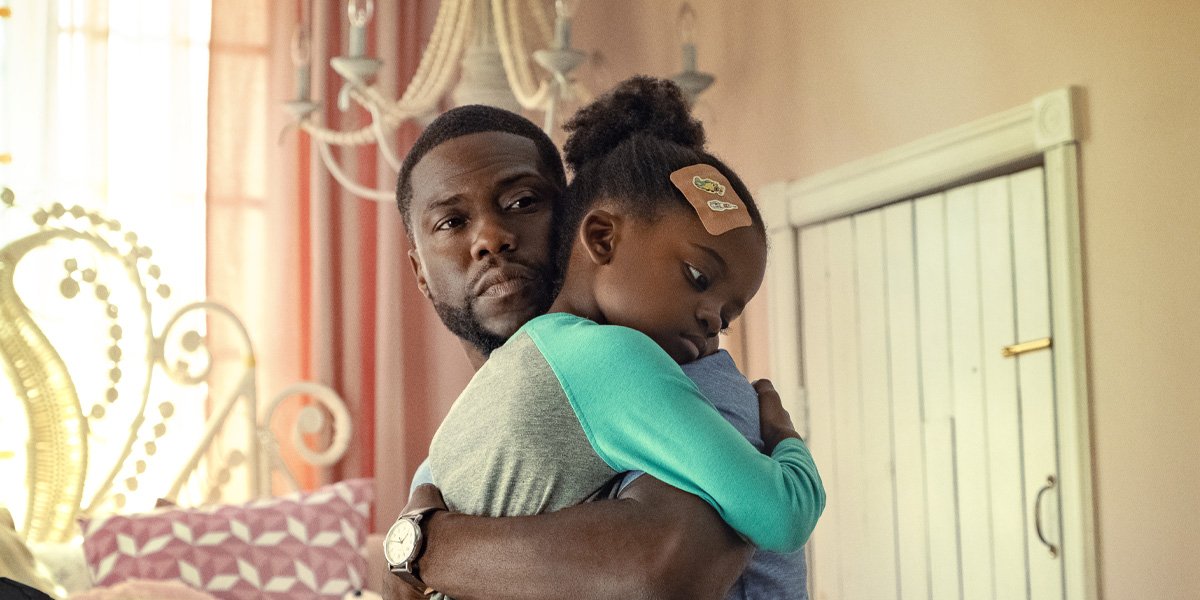 Kevin Hart as Matt and Melody Hurd as Maddy in Fatherhood (Philippe Bosse / Netflix © 2021)
With Kevin Hart as recently widowed Matt Logelin, Fatherhood shines a bright light on how a sudden single parent can become a beloved and loving dad.
---

When Matthew Logelin's "Two Kisses for Maddy: A Memoir of Loss and Love" was published in 2011, in turned into an instant best seller in America. The novel was written after his blog, "Matt, Liz and Madeline: Life and Death, All in a 27-Hour Period", which received 40.000 hits per day at its height in 2008, and Matthew has been a guest on Oprah as well as a speaker at numerous events and book tours. Now, finally, Logelin's beloved memoir has been adapted for the screen featuring Kevin Hart (Ride Along, Central Intelligence) as the sudden widow and father Matt Logelin. Fatherhood is the story of love and loss, happiness and heartache, and stepping up to do what is best for your child.
Matt Logelin and Liz Logelin (Deborah Ayorinde, Harriet, Them) are patiently waiting for the arrival of their little baby girl. When Liz is scheduled for an emergency c-section and delivers a healthy child they call Maddy (Melody Hurd, Them, Battle at Big Rock), everything seems to be going all right, until Liz suddenly and very unexpectedly passes away. Within 27-hours, Matt becomes a first-time dad and a widow. Overwhelmed by grief and the sudden responsibility of a newborn he is definitely not ready for, he embarks on a journey towards fatherhood that will change his life. Having lost his one big love in life, he soon finds he gets another, greater, love in return – his daughter Maddy.
With the help of his mother-in-law Marion (Alfre Woodard, Juanita, Luke Cage) and his friends Oscar (Antohny Carrigan, Barry, Bill & Ted Face the Music) and Jordan (Lil Rel Howery, Get Out, Bad Trip), Matt learns how to parent through trial and error. We follow him through the first decade of Maddy's life and watch him deal with his grief, become a wonderful father to the daughter he loves with all his heart, and even watch him find romantic love again in a good-natured animator who coincidentally is called Liz as well (DeWanda Wise, Someone Great, She's Gotta Have It). Fatherhood reveals clever snapshots of the key moments in a father's life through flashbacks and smooth transitions between the various ages of Maddy growing up.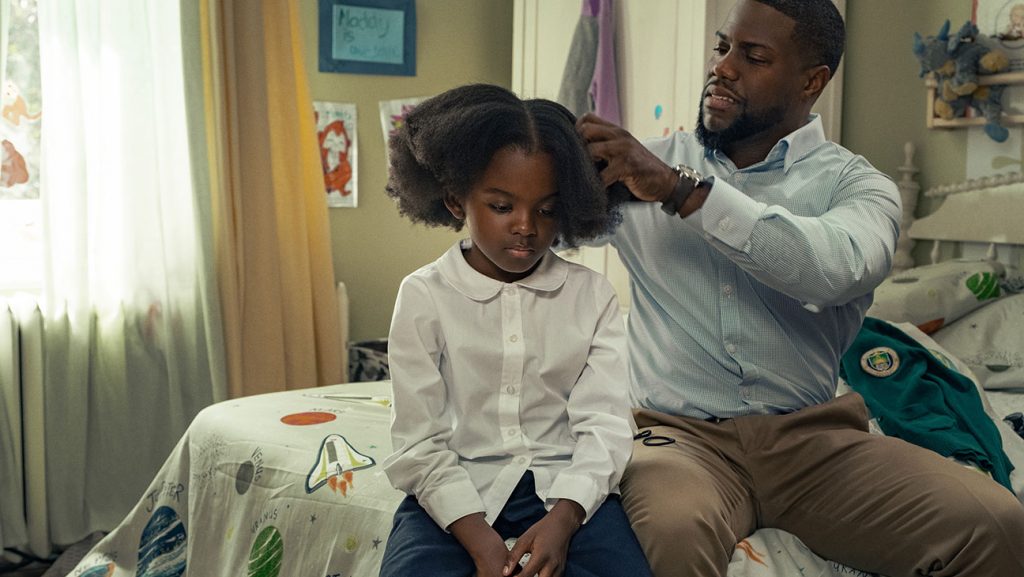 Though Fatherhood does not exactly fall in the rom-com genre, watching the film is definitely a wholesome experience. Just as in life, it follows the universal themes of love, happiness, sadness, and death. Without overdramatizing, the film effortlessly combines the various narrative threads and ensures that love, sadness, and humour alternate at a natural pace. The spontaneous and easy-going relationship between Hart and Hurd is amplified by director Paul Weitz's (Grandma, Mozart in the Jungle) artistic influence and is definitely reminiscent of Weitz's About a Boy, a film about an unlikely friendship between a little boy and a cynical man who is taught to finally be a grown-up. It touches on deeper societal themes as well, as everyone benefits from more progressive visions of fatherhood where men are encouraged to be closer to (their) children.
Fatherhood is not just a pleasing and emotive film to watch, it also poses philosophical questions on the choices and decisions people make as a parent. The eternal, and eventually severely injuring, struggle between Matt and Maddy's progressive views on girls wearing trousers versus the conservative view of the nun's at the catholic school, is not just a hilarious occurrence for many families, it also alludes to how far you can go to respect the wishes of those who aren't there anymore. Many of Matt's decisions were actually Liz's, and of course he would like to stick with them, but should he keep doing so even if these choices are actually harming Maddy? The debate between wanting to respect someone's wishes and respecting someone else's right to self-determination visibly leads to discomfort, pain, and ultimately, letting go. Fatherhood is in this sense quite similar to Richard Linklater's Boyhood, where an ordinary 12 years of a boy's youth are detailed. Fatherhood shows you the highs and the lows of growing up, and growing into the role of a parent, with all the beauty and hurt that makes life living.
---
Fatherhood is now available to watch on Netflix.