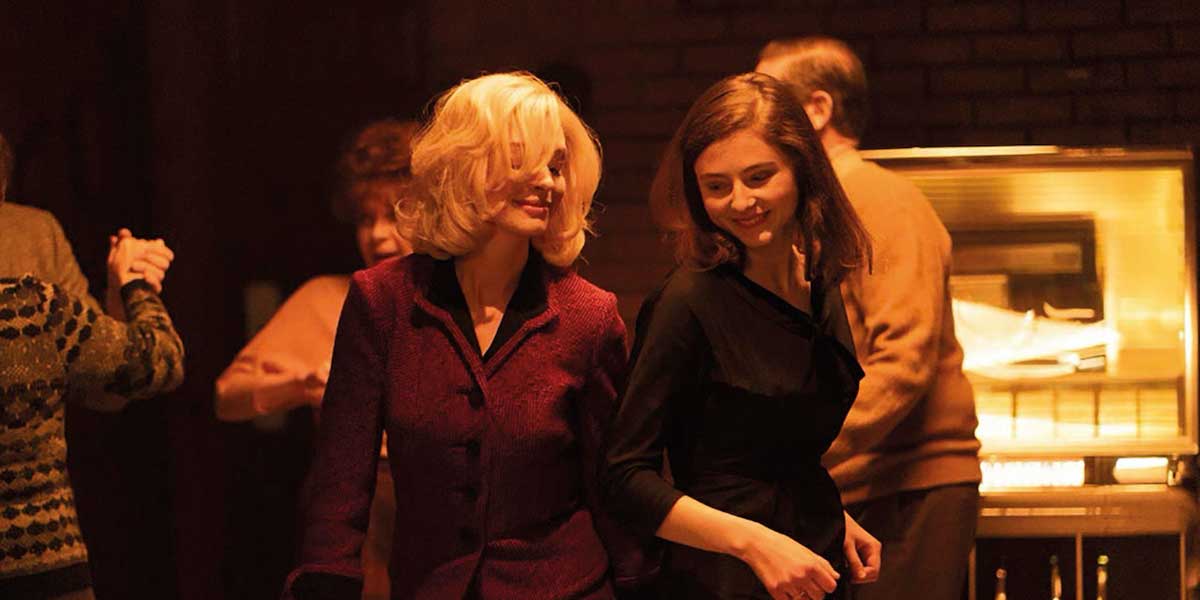 (Neon)
Thomasin Mckenzie and Anne Hathaway are affable new friends in the twisted obsessive love story Eileen, based on Ottessa Moshfegh's award winning novel.
---

It's the quiet girl in the corner of the room who always has the most extravagant daydreams. Eileen (Thomasin McKenzie) is that girl. She's baby-faced and dressed head to toe in her late mother's winter wardrobe, which is full of exciting knits and long trench coats that every man at the bar wants to take off. Eileen is a reticent 24 year old, forever standing alone along the back walls of her boring job as a secretary at a boys correctional facility in Massachusetts. She listens in on meetings solemnly, surrounded by colleagues who are all much older than her. When Eileen isn't fantasising about how she'd love to have sex with any sensuous man who catches her attention, she's found pouring an abundance of sugar into her beverages or stockpiling herself full of candy in her room before dozing off. Her sweet tooth is what keeps her buoyant.
Eileen's friendships are few and far between, especially when it comes to socialising with the other staff who work at the facility. The secretarial role was meant to be temporary but became prologoned year after year so Eileen could care for her absent-minded alcoholic father (Shea Whigham). When a new tantalising girl on the block, psychologist Rebecca Saint John (Anne Hathaway), galvanises everyone she crosses paths with, the air at the correctional facility is about to be changed forever. Eileen is the story of an unlikely friendship that sparks when one's heart becomes foolishly optimistic and daydreams attempt to enter into the real world.
McKenzie's performance as Eileen is as remarkable as ever. It's utterly fascinating how McKenzie embodies the ever curious Eileen, but it has to be said that the Bostonian accent is not the New Zealand actress's forte. There was cleverness in the way she convincingly played British UAL student Eloise in Edgar Wright's twisted 2021 thriller Last Night In Soho, so it's a shame that McKenzie isn't convincing enough here. Accent aside, I adore everything else she brings to Eileen.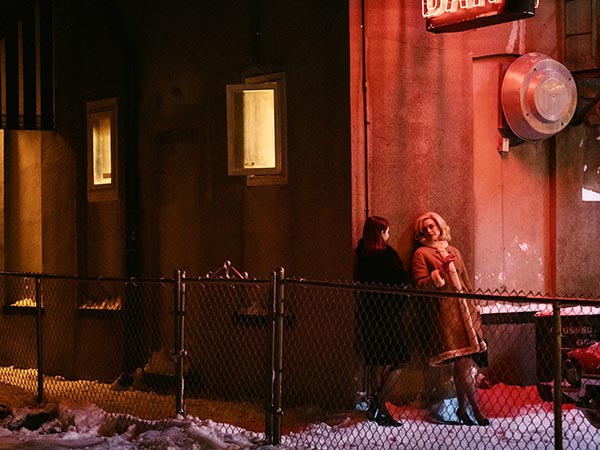 Hathaway is phenomenal as her poised and sanguine Harvard graduate Rebecca. It's rare we get to see Hathaway as a chic blonde, but the '60s blonde wig sure serves its purpose. This isn't the first time McKenzie has become enthralled by a blonde woman she barely knows, the first being Sandie (Anya Taylor-Joy) in Last Night In Soho. In fact, there are many parallels between the two. Both would make a perfect double bill pairing for a movie night.
British director William Oldroyd, who also directed the 2016 period drama Lady Macbeth, describes his sophomore feature Eileen as a "dark love story". Love is at the centre of the story, whether that be the relationship between Eileen and her father, or the admiration Eileen begins to feel towards Rebecca. Don't go into Eileen purely expecting a love story though. Expect the unexpected.
See Also

The film takes a turn in the third act, a twist only fans of the book Eileen is based on, written by Ottessa Moshfegh, will see coming. Moshfegh and co-writer Luke Goebel effortlessly blended in the necessary scenes from the 272 page book to a 98 minute film. The ending is a little underwhelming but it leaves the interpretation up to the viewer to think "what happened next?".
Eileen is a film I'll be daydreaming about for a while. I'll definitely be rewatching at the end of every year due to its wintery feel. When the snow's landing on the roofs of all the cars and starting to settle, I'll know it's time to put on Eileen.
---
Eileen screened at the 2023 BFI London Film Festival on 8-14 October. The film will be released in UK cinemas and select US theaters on December 1 and nationwide in the US on December 8, 2023.