The Timeliness of Crossroads (2002)

Crossroads (Trafalgar Releasing)
Tamra Davis' Crossroads is not only the nostalgic film debut of pop superstar Britney Spears, but a surprisingly relevant reflection on her life over the past two decades.
---
Ahhh the early 2000s, a time of glitter eyeshadow, questionable fashion choices – which, rather terrifyingly, seem to be making a comeback – and the reign of the 'Pop Star'. Whilst ostensibly just a singer of popular music, a 'Pop Star' was in fact more like a cultural icon; a figure beloved by millions, consistently dominating the pages of tabloid magazines and the screens of emerging internet blogs. A noughties' Taylor Swift, if you will. And few figures exploded out of that decade quite like Britney Spears, the bubblegum pop princess whose lone filmic venture – Crossroads – is about to be rereleased in cinemas.
Directed by Tamra Davis, with a script from Shonda Rhimes, the film is a frothy coming-of-age story that has surprising resonance when viewed in a modern context, especially considering the last two turbulent decades of Spears' life. Yes it's wildly cheesy and a little bit overwrought narratively and thematically, but it's also a poignant reflection of Britney herself. And in a period when the box office power of the 'girl' is at an all-time high – see the incredible success of Greta Gerwig's Barbie and the phenomenon that is Swift's Eras Tour –, it is perhaps the perfect time to revisit the much maligned (at the time) filmic debut of the noughties' most famous Pop Star.
Crossroads is the story of Lucy (Spears), Mimi (Taryn Manning) and Kit (Zoe Saldana), childhood friends who have drifted apart throughout high school. But on the night of their graduation, they fulfil a promise to dig up the 'wish box' they buried in a pique of girlhood dreaming years ago. Inspired by their younger selves, they spontaneously embark on a road trip from Georgia to California to pursue their wishes – Mimi to audition for a record label, Kit to surprise her fiancé at college, and Lucy to find the mother who abandoned her. Along the way though, the trip becomes a chance for the girls to individually confront the realities of childhood fantasy, and a chance for them to reconnect with each other.
Crossroads is a fitting – if a little on the nose – title for a film that seeks to explore the complexity of the 'teenage girl'. It exists in that moment on the cusp of adulthood, in which things start to get big and scary and real. Thematically, the film is encapsulated – again, in a rather on-the-nose fashion – in Spears' tie-in single 'I'm Not A Girl, Not Yet A Woman'. In it, she sings about searching for 'time' and 'a moment that is mine', in which she can enjoy and reflect on life before taking that step into adulthood. In the film itself, our trio sit on the precipice of some major life milestones – marriage, motherhood and further education – and use the road trip as a chance to do some enjoying and reflecting of their own.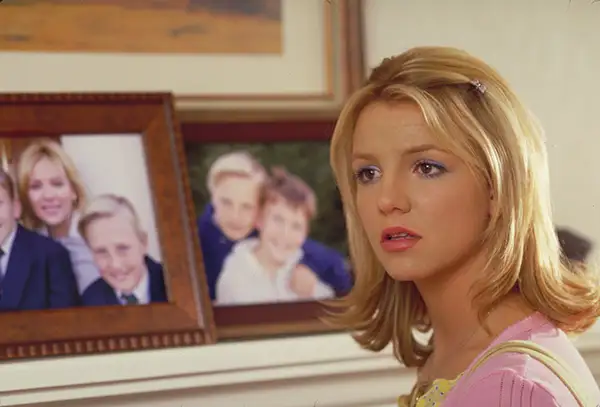 It's a fun growing-up road movie in all the best clichéd ways, but it also throws in some pretty heavy thematical curveballs in a way that doesn't always work. Rhimes' script deals with discussions of body image, abandonment, abuse, sexual assault and grief, but doesn't really delve deeper than surface level into any of them. Perhaps that is entirely on purpose, a way for Davis and Rhimes to simply explore the aforementioned complexity and turbulent nature of these teenage girls through their individual circumstances. But it feels a little tonally discordant in situ, teetering on the edge of making the frothy bits feel a little shallow as the film swings back and forth between them.
As Spears' film debut at the height of her pop superstardom, it functions primarily as a vehicle to showcase her, but boasts a wealth of supporting talent too. Orange is the New Black star Manning and blockbuster darling Saldana are joined by the likes of Kim Cattrall, Dan Akroyd, Anson Mount and Justin Long, and it features an eclectic soundtrack that swings from The Cult to *NSYNC, with a fair bit of Britney thrown in for good measure. It's a film that's full of surprises and a lot more mature than perhaps we realised twenty years ago.  
And while Crossroads does still feel a little stilted, its heart is in the right place. With a soft-focus filter that may have felt schmaltzy in 2002 but feels nostalgic in 2023, the film has a quality that is simultaneously of and ahead of its time. In the early noughties, it was seen as a bit of a dud, lacking in substance with inexplicable musical sequences and some questionable acting. Retrospectively, however, it feels like a surprisingly poignant and unintentionally relevant reflection of Spears' life.
The past two decades have seen Britney near consumed by media fervour. Everything she did was pictured and speculated on, every aspect of her life was splayed out for the public to ridicule, pity and dissect. And, to a degree, it still is. Her well documented struggles with her mental health and the unimaginable toll such oppressive control from those around her has had means that watching Crossroads now feels like a very different experience than it was in 2002, as a young fan with her poster on the wall and the world at Britney's feet.
Her big screen acting career may have began and ended here, but it isn't an embarrassing effort. Spears' performance feels genuine and poignant in its naivety, especially in hindsight. Lucy is a young woman who feels like she missed out on a regular teenage experience, and outside of a domineering but well-meaning father, is now 'rebelling' by sharing joyous moments with her friends and pursuing things she loves. Sounds awfully familiar, no?
From the film's opening sequence in which Lucy dances around her bedroom – in a manner very reminiscent of the Instagram videos Spears posts regularly – to the use of her (underrated) song 'Overprotected' over the end credits, everything in Crossroads feels pointed, however unintentional the similarities may be. Its rerelease now feels like a deliberate and impactful reminder of the injustices the last twenty years have dealt Britney, both personally and professionally.
The sensational excerpts from Britney's upcoming memoir include a reference to the way in which she unknowingly went 'method' throughout the Crossroads filming process – an acting technique in which the performer fully immerses themselves in the role. Spears' unintentional adoption of it meant that she struggled with understanding what was her and what was her character. And in the context of her being such a media phenomenon to the detriment of her private life and career, perhaps it is still difficult for her to know the real Britney. For us, too.
Watching Crossroads in 2023 is a much more reflective experience than perhaps one might have assumed. It brings to mind the meme-inducing 'leave Britney alone' mantra, and one wonders whether the more positive 'let Britney be' might be more relevant. In any case, we can only hope for a brighter future for Spears regardless of the avenues she pursues, and enjoy a nostalgic slice of 2002 in the meantime.
(Crop tops and low-rise jeans, not included).
---
In celebration of Britney Spears' memoir "The Woman In Me," Crossroads will return to the big screen for a two-day only global fan event on October 23 & 25, 2023.