Cobweb (Kim Jee-woon): LFF Film Review

Cobweb (Barunson E&A / BFI London Film Festival 2023)
Song Kang-ho is great as always in Cobweb, Kim Jee-woon's movie about making a movie during the height of censorship in Korea's film industry.
---

When evaluating the South Korean film industry – which exploded in popularity and quality in the 2000s – Kim Jee-woon might not be the first director that comes to mind. Yet his work has been almost as eclectic as contemporaries like Bong Joon-ho or Park Chan-wook whilst adding genre. The Good, the Bad, the Weird played with the Spaghetti Western, whereas I Saw The Devil was a brooding thriller. Now Kim returns with his tenth feature, Cobweb (not to be confused with 2023's other film of the same name). Inspired by the pandemic and questions over the future of moviemaking, this presents a film-within-a-film and the hurdles a director faces when carrying out their vision. Particularly in the 1970s, when authoritarian President Park Chung-hee tightened government control of the country's film industry.
We start in black and white, in a Gothic-looking house during a violent thunderstorm. As the scene progresses, we discover it is a film helmed by Director Kim, full name Kim Yeol (the legendary Song Kang-ho). Except, it's actually a dream – one of many he has had recently. Usually dismissed for making "racy dramas" by the critics (sometimes to his face), Kim now wants to reshoot the ending of his already-completed film. He thinks he can improve it, transforming the movie from trashy fare into a cinematic masterpiece. All he needs is two days. The problem is that censors have called the new ending indecent and anti-establishment, refusing to sanction it.
However, someone does believe in the script. Finance head Mido (Jeon Yeo-been) is the studio owner's niece and the daughter of Kim's mentor Shin (Jung Woo-sung), and she thinks the rewrite is Kafkaesque. With her help, Kim organises the reshoots in secret and brings back the cast and crew. But from there, the set descends into chaos. Everyone is under the assumption the reshoots will only take one day, not two. Lead actors Ho-se (Oh Jung-se) and Yu-rim (Jung Soo-jung) are having an affair – and she desperately wants to get back to her TV drama. Meanwhile, the Ministry of Culture is about to visit the set.
Obsession becomes a key theme in Cobweb, as Director Kim's artistic ambitions for his latest project are stifled in one way or another. He is convinced he is onto something masterful if he adjusts his film, turning it into a revenge thriller crossed with a horror movie (and a creature feature, and possibly a melodrama). No wonder studio head Baek (Jang Young-nam) – and most of the cast – are confused about Kim's newest draft. But his biggest challenge is the wide-ranging state censorship in an era where scripts had to be pre-approved. Even though Chief Choi (Jang Gwang) is fine as long as he sees some Communists killed, there could be legal ramifications for these secret, illegal reshoots.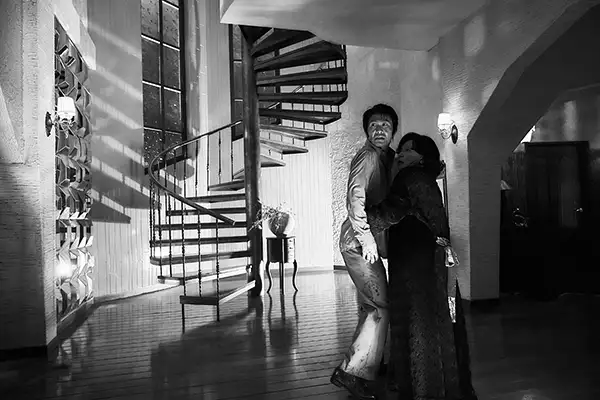 Song Kang-ho has become one of Korea's biggest actors thanks to his stellar resume (The Host, Parasite, last year's Broker). In Cobweb, he is great as always as the demanding, easily tormented, medication-popping director. There are personal reasons behind Kim's struggle to make great art. He wants to surpass his well-received debut film, after which came those tacky dramas he became synonymous with. Plus, he is haunted by visions of Director Shin, his predecessor who died for his art. Kim is often compared to him, especially when it comes to his debut, with claims he didn't write the script for it. Preposterous? Well, we all have our secrets – and so does Kim.
Jeon Yeo-been is also impressive as the tough and crafty (if overzealous) Mido, who becomes dedicated to Kim's cause. She is also adamant that this will be a masterpiece and helps in any way she can – mostly by getting certain figures incredibly drunk.
Comparisons to Shin'ichirō Ueda's One Cut of the Dead and its French remake Final Cut are warranted. Like those films, Cobweb is a movie about making movies that sees crew members step in for the cast and concludes with an attempt at an audacious long take (or plan-séquence, as Kim calls it). Whilst One Cut from the Dead is more innovative and thrilling, Kim Jee-woon does depict the mishaps here entertainingly enough. Moreover, the film jumps between the making of this film-within-a-film and the results. The latter is filmed in black and white and captures the feel of the period quite well. Credit must go to DP Kim Ji-yong, last seen helping add visual flair to Park Chan-wook's Decision to Leave.
If Cobweb is supposed to be a satire on filmmaking, that element takes a back seat as the film enters absurdist territory near the end. And honestly, it feels like it is missing something. Perhaps some characters on the set are a little undeveloped, or the length is too long (its 135-minute runtime is really felt at the end when everything seems to be wrapping up, yet we keep going on). Nevertheless, it is a frenetic and, at times, humorous film that works best as an enjoyable farce. At its centre is a director rekindling his self-belief and confidence, even if it means risking lives to complete his vision.
And though it is scattered in places, Kim Jee-woon's comedy-drama comes close to showing why the hardships of filmmaking are sometimes so rewarding.
---
Cobweb will be screened at the 2023 BFI London Film Festival on 13-14 October. Read our list of 25 movies to watch at the 2023 London Film Festival!