Close Your Eyes: NYFF Film Review

(Film Factory / New York Film Festival 2023)
Victor Erice's return to filmmaking, Close Your Eyes, is a touching and methodical exploration of memory, longing, and cinema.
---

As many cinephiles and film critics worldwide have stated, having a new film by Spanish cinema legend Victor Erice is more than a celebratory thing: it is a miracle. The 83-year-old director has been long-absent for a couple of decades, doing occasional collaborative projects with the likes of Pedro Costa and Manoel de Oliveira (coincidentally, a restoration of de Oliveira's most acclaimed work, Abraham's Valley, is also playing at the New York Film Festival), two legends who, just like Erice, deserve their multiple rounds of applause and an array of flowers. There aren't many directors who have such delicate control and grasp on the craft, with only three feature films that are all classics (two of them, in my opinion, are near masterpieces, The Spirit of the Beehive and El Sur). The day has finally come to see Victor Erice's first feature film since 1992, Close Your Eyes (Cerrar Los Ojos).
The movie's title hints at Erice's departure, signaling his potential farewell after a highly anticipated return. Of course, after watching the film, that feeling becomes more evident. There's a mixture of optimism and foreboding for the future, whatever will come next for him and the viewers who come across this beautiful picture. Victor Erice explores the beauty of life's passage and a re-evaluation of one's experience through the film-within-a-film format and a curious mindset. While nobody knows if this is indeed the end for Victor Erice, the filmmaker once again delivers a powerful movie that makes us reflect on our lives and the essence of memory.
Erice sets the film just after World War II, in a 1940s French chateau, the estate in which a sullen wealthy man who calls himself "the sad king" (Josep Maria Pou) passes most of his time. He's terminally ill, spending his days in the darkened estate. The man has hired a person to help him track down his estranged daughter so that he can have one last look into her eyes before the big sleep. After a few moments, we are told this is an excerpt from a picture called The Farewell Gaze. This film-within-a-film was left untouched and unfinished a few decades before, after the inexplicable disappearance of its lead actor, Julio Arenas (Jose Coronado).
The Farewell Gaze's director, a now-old Miguel Garay (Manolo Soto), has given up filmmaking to pursue a job as a translator because of his friend's vanishing. Much like Erice himself, Miguel hasn't been working much: he took a couple of years to do a feature project. But unlike the real-life Spanish director, he hasn't been able to find his groove ever since the incident. A big note of pessimism strikes the first half of Victor Erice's latest work, due to the personal and relatable facets presented in each story beat. After more than twenty years of trying to forget what happened during the shoot, Miguel is forced to go back and revisit the events. He's been offered a part, which he agrees to take on, in a television special dedicated to investigating missing people.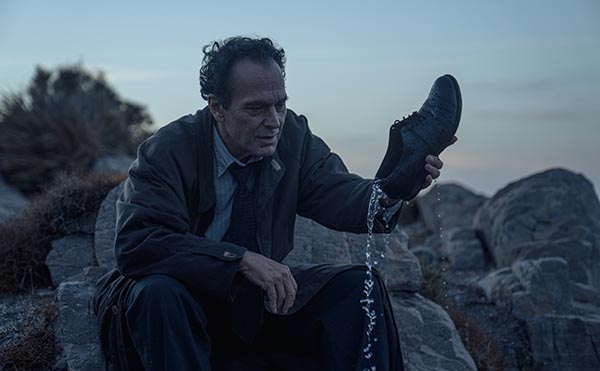 The mystery haunts his daily life; Miguel feels that Julio's ghost is lingering around. Miguel digs deep into his past and his experiences with Julio. He even returns to talk to several of his accomplices and friends from back in the day. There are his lost friend's daughter Ana (Ana Torrent, who has worked with Erice before, in his directorial debut), the unfinished film's editor Max (Mario Pardo), and their mutual friend Lola (Soledad Villamil). None of them know the exact truth of what happened. They might have bits and pieces of the puzzle, as well as some assumptions. But the complete picture is yet to be seen. That is one of Victor Erice's focuses in Close Your Eyes: the mysteries upon mysteries that translate into thorny stories about what could have happened to this beloved actor.
Erice's latest can be seen as a kind of detective story on its outer layer. As the movie continues, Miguel gets more clues about what might have happened to Julio. Some of the secrets are revealed, although not to the extent where we know how things went one hundred percent. This offers enough discoveries to make these characters feel at ease. But deeper within, there's a more methodical and profound piece of work that reflects on various topics, ranging from art and the love of the craft to the intertwining between love and loss. Memory and longing are the critical elements of this detailed and self-reflective picture, in which Erice talks not only about his disappearance from filmmaking, but also about life's dual-sided nature of being haunting yet full of joy-induced light.
As Miguel revisits the disappearance of his friend, he contemplates his life before and after the incident. He feels as if the world has been moving without him. Both Miguel and the people connected with Julio are left behind in the shadow of his withdrawal from humanity. Watching the frames of the unfinished film threading through a sprocket was the only way they could connect with him before this television show. However, it is through those same frames, as well as other details later revealed in the narrative, that these people managed to ease their worries and find acceptance. Miguel and company look back at their relevance in this world through a big screen. In the moments where they felt everything was fleeting away like a leaf slowly falling into the ground, it is art and cinema that pick them back up. Most of us have felt such feelings and relied on cinema to brighten up our gray-colored days.
Through these characters, Erice explores how the absence and presence of cinema (or art in general) shapes a person. The ending, where we see people in a theater, isn't too on the nose, in the likes of Cinema Paradiso. But it has somewhat of a similar emotional potency to Giuseppe Tornatore's film. It weirdly reminded me of a quote from a movie I loathed, Damian Chazelle's Babylon. In a scene where Jean Smart and Brad Pitt's respective characters are talking about life, death, and how cinema fits in-between, the former says that, each time a person sees a film, it is as if the people on-screen were alive for the duration of the movie.
While Chazelle's project didn't work to its full potential, he did provide a fascinating look at the impact of cinema with that small yet impactful scene. Perhaps Victor Erice, now looking back on his work and ahead to what's to come, is also thinking about the long-lasting legacy of cinema as a whole, not only his contribution to it.
---
Close Your Eyes will have its US premiere at the New York Film Festival on October 5-7, 2023.