Casino (Film Review): Scorsese's Overlooked Masterpiece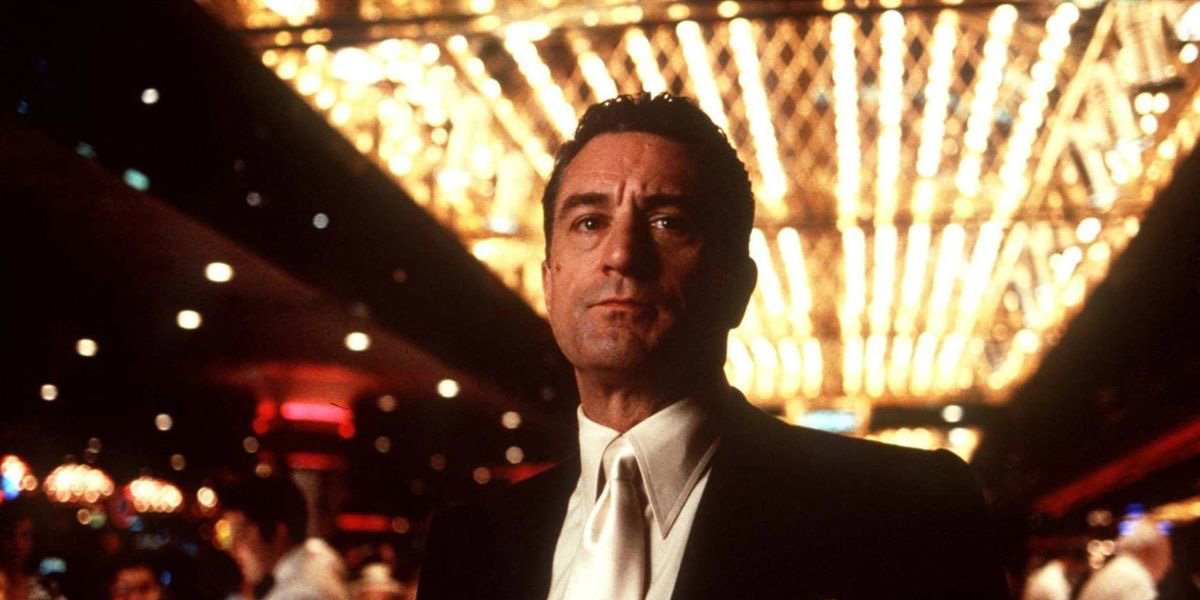 Robert De Niro in Casino (Universal Pictures)
Highly regarded but sometimes momentarily forgotten, Casino is still one of Martin Scorsese's crowning achievements.
---

With Goodfellas (1990) and Casino (1995), the 1990s saw Martin Scorsese produce two of his finest, most anxiety-riddled pieces of work and also saw a return to his best form after he had turned to different genres and themes in the preceding decade. Goodfellas is a scintillating and richly detailed crime film based on the true story of mob associate turned informant Henry Hill. It is seen by many as Scorsese's best work and one of the greatest gangster films ever made, and that is hard to disagree with. Scorsese's next crime epic Casino, which was released five years later in 1995, is almost inevitably overlooked when considering his filmography, but it deserves the increasing critical profile it has gotten in the 26 years since. It is an epic in every sense of the word, clocking in just shy of three hours with a 178-minute runtime, and gives us some of the best and most elaborate characters and stories Scorsese has ever put to screen.
Casino is, in the very basic sense, a gangster film. Robert De Niro (Taxi Driver, The Irishman, Joker) plays Sam "Ace" Rothstein, a gambling expert handicapper asked by part of the Italian-American Mafia to oversee operations at a casino and hotel in Las Vegas. Here, he is supported by his eventual wife, Ginger McKenna (an electric Sharon Stone, of Basic Instinct, The New Pope) and the ever-feisty Joe Pesci (Raging Bull, The Irishman) as Nicky Santoro. Whereas Goodfellas took a deep dive straight into the centre of a Mafia outfit, Casino instead balances the (generally) straight-edged casino business with the criminal activity of the mobsters. Both elements of the world feed off of each other, helping them both to grow but also damaging one another in an almost unavoidable way.
Credit for this must go to Scorsese and Nicholas Pileggi for their intricately detailed screenplay (Pileggi also wrote the book Casino: Love and Honor in Las Vegas, upon which the film was based). Aside from Taxi Driver (1976), this is Scorsese's best screenplay. It is so full of life and verve and perfectly builds the two worlds as they collide together. There are some problematic moments of homophobia and racism which are impossible to excuse but perhaps understandably included in order to capture the despicable authenticity of the characters. For the most part, the screenplay is a non-stop barrage of voiceover monologues, mainly from Ace and Nicky. The voiceovers inform the audience and plant them in the very centre of the characters' minds. They also work to create a relentless tone in Casino which is then enhanced by some of Scorsese's very best trademarks.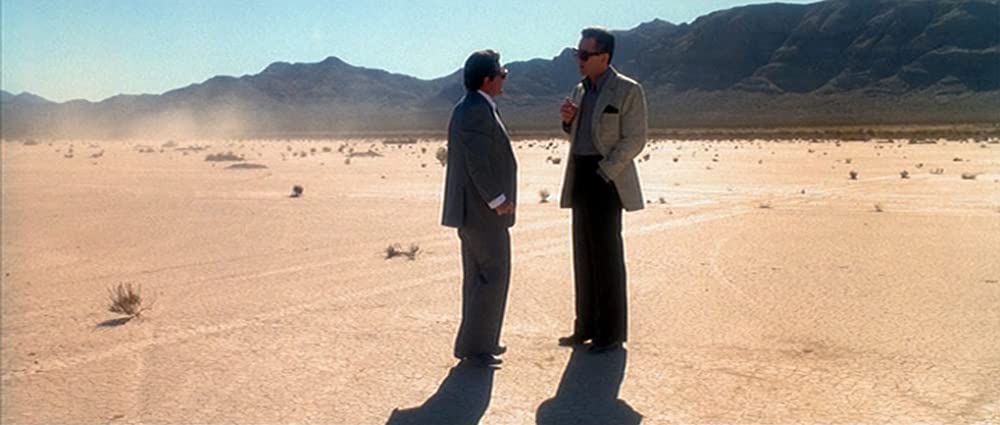 There is a reason that Thelma Schoonmaker has edited all of Scorsese's movies since 1980. She is one of the greatest film editors of all time and her glorious skill has never been more apparent than in the 1990s. In Goodfellas,she gave us a brilliant, 5 minute-odd paranoid cocaine scene and in Casino, at least 50% of the film moves along at a similar, breakneck speed. It is some of the snappiest editing ever put to film and only increases in its intensity as Casino heads for its destructive conclusion. This, combined with trademark Scorsese techniques such as mobile camerawork and freeze frames, ensures Casino never drags during its epic runtime.
Scorsese's stalwarts, De Niro and Pesci, are both impressive. Pesci has the tendency to recycle elements of his similarly erratic and violent roles from Raging Bull (1980) and Goodfellas but that is down to the character more than his acting ability. He is still engagingly vile and is symbolic of the darkest side of the Mafia. De Niro's Ace is different from roles he has played in the past; Ace is a man who is guilty of numerous heinous acts in Casino but still has a superbly written and superbly acted complexity to him. A memorable scene sees Ace demand that all blueberry muffins sold in the casino must have exactly the same number of blueberries in them. De Niro perfectly captures this obsessive compulsion, a nature that helps Ace reach the heady heights of casino manager but also brings out the worst, most controlling parts of his personality.
See Also

Scorsese has often struggled to write female characters into his films, relegating them to one-dimensional housewives with few lines (perhaps inevitably in his gangster stories), but Ginger is extremely well-written and is brought to life by Stone in this Golden Globe-winning, Oscar-nominated performance. Ginger is a woman very much in a man's world, but she has the strength and grit to take them on and more often than not best them. She is also not a perfect person and again has a deep complexity to her character that Stone impressively captures. The characters are built by the screenplay but delivered to perfection by the stellar cast, most notably with De Niro and Stone giving career-best performances.
Casino is a breathless amalgamation of mobile camerawork, snappy editing, scintillating rock music, fast-paced monologues and virtuoso performances. It may not have the feel of a complete masterpiece like Taxi Driver, Raging Bull or Goodfellas but is still an example of Scorsese and his frequent collaborators working to the best of their abilities, in a genre that they have given so much to since the 1970s and through to the present day. Such is the richness and detail Casino gives to you, it sometimes feels like you are sitting in on a history lesson about the Mafia but believe me, you will never have another lesson as astonishingly energetic or entertaining as this one.
---
Casino is now available to watch on digital and on demand in the US, and will be released digitally for the first time in the UK on February 27, 2023. Click here to pre-order the film!