Bleach: 2004 Series Review

Bleach (Shonen)
Bleach endures as a cultural icon in both Japan and the United States for its unique storytelling and memorable, diverse characters.
---

Throughout the early 2000s, anime was inescapable among youth culture. In both Japan and the United States, anime captured the teenage demographic most of all, with several Japanese comics (called manga) becoming bestsellers and their subsequent series adaptations were mainstays on Adult Swim, keeping many high schoolers up late. The standard bearers for anime around this time were adaptations of the three best-selling and longest-running manga: One Piece, Naruto, and Bleach. Bleach stands out among them, however, as the one with the most linear plot, most rounded characters, and the only one of the three which had a definitive ending (at least in the manga). While it may be the least read of the Big Three, it remains popular and is arguably the most digestible among them.
In the West, there are cartoons for children and cartoons for adults, but few which hit the "sweet spot" of the teenage demographic. Shonen anime (anime targeted at teenage boys) was there to fill the void. Shonen makes use of fantasy settings, scrappy underdog characters, and larger-than-life stakes to reel in teenagers. The storytelling is quite similar to books like Harry Potter or The Hunger Games, written for this same demographic. With all this in mind, it is easy to see how shonen caught on, and Bleach is emblematic of what makes shonen work. It has the same action and supernatural elements as those stories, but at its heart is a sense of humanity and soul. These characters feel real and their situations are able to capture what most of us felt at this time in our lives. More than just a power fantasy, Bleach uses its fantastic elements as part of its coming-of-age story, to allegorize uncertainties of life.
Our story begins with regular teenager Ichigo Kurasaki (Masakazu Morita), who claims to see ghosts. One day, he encounters Rukia Kuchiki (Fumiko Orikasa), one such ghost who is injured on the job. Rukia is a Soul Reaper, a psychopomp who guides lost souls into the afterlife. However, lost souls become creatures called Hollows, who are dangerous and destructive, requiring intervention from Soul Reapers. In a move of desperation, Rukia gives Ichigo all her powers and turns him into a Soul Reaper. With no way to change back, he is reluctantly drafted into the Soul Society for all Soul Reapers, and wackiness ensues from there.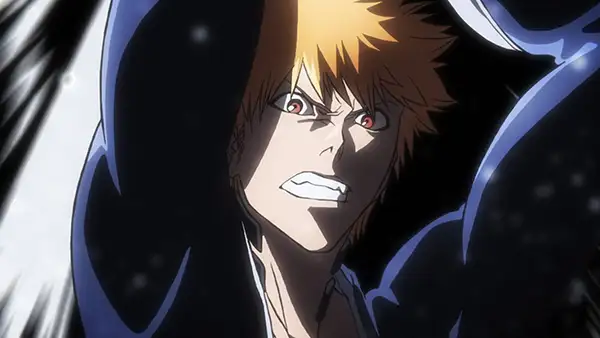 The 366 episode count may seem daunting, but the series can be subdivided into four volumes for easier pacing and watching. The first seventy episodes are the "Substitute Arc", covering the inciting incident and uniting the main cast together. The following "Soul Society Arc" is the meat of the story, detailing a conspiracy within the hidden order and opening the world wide open as Ichigo is confronted with everything he thinks he knows about being a Soul Reaper called into question. By Episode 110, the "Arrancar Arc" begins, where Ichigo encounters Shinji (Masaya Onosaka), a rogue hollow who heralds an invasion of Earth, making Ichigo's mortal and immortal lives collide. "Lost Agent" covers the last quarter of the show, in which Ichigo is called back out of retirement for one last battle. Despite not continuing with the manga, Bleach feels cohesive, with a clear beginning, middle, and end to allow fans to enjoy what was presented. The last arc of the manga would take another twenty years to hit television, but that is a review for another time.
Bleach has a little something for everyone. It has action, comedy, a little romance, and is just a bit deeper than is expected of a shonen anime. The Soul Society traps its protagonists between worlds and expects a large commitment from all of them. Ichigo and his friends are for all intents and purposes child soldiers in a greater war, and the ideas of post-traumatic stress are not lost on Bleach, with many characters suffering breakdowns over the course of the show. Furthermore, normal humans in a supernatural world leads to an identity crisis, with these people never fully able to adapt to one world or another, which stirs a whole other conflict and can be relatable in the struggle of growing up. The themes of an identity crisis are perhaps best exemplified by the character of Chad (Hiroki Yasumoto). Chad is of mixed race, half-Japanese and half-Mexican, and his adopted grandfather "Abuelo" is an important part of his character. He rarely goes into direct combat, and often serves as the voice of reason, imparting the wisdom he learned to get the group out of danger.
Of course, one of the main draws of Bleach is its large ensemble cast. Ichigo is joined in his adventures by two other humans. Uryu Ishida (Noriaki Sugiyama) is at first traumatized by the Soul Reapers due to causing the death of his grandfather, but in trusting Ichigo opens him up to the world of the supernatural and redeems his spirit. He is a symbol of how anyone can recover. Ichigo's classmate Orihime Inoue (Yuki Matsuoka) is a symbol of purity and virtue. She serves as the healer of the party, and most of her conflicts revolve around when to use force and how much. This makes Orihime a moral center and a symbol of Ichigo's morality, grounding him to the world of the living.
Perhaps the most interesting, however, is Ichigo's father Isshin Kurosaki (Toshiyuki Morikawa). Most shonen fathers are known for being detached or withdrawn, often the villains of the story. Isshin is the opposite, himself being a Soul Reaper. When Ichigo joins the group, Isshin is there to motivate his son and serves as a mentor figure for many difficult moments in the show. In a genre where daddy issues are almost part of the formula, it is a refreshing change of pace for the shonen protagonist here to have a positive male role model for once.
Manga fans may be annoyed at how much of the show is filler, having to catch up to the manga as it was being written to compensate for the gaps in schedule. Pacing can be slow, often with entire episodes only covering one chapter of the manga. However, many arcs feel superfluous and do little to move the plot along. One such example is the infamous Bount Arc, where a group of vampires descend upon Soul Society to destroy it, which amounts to a pointless tangent that goes nowhere by the end. While common practice in anime for the time, it does require a bit of patience to endure for some.
Bleach does still hold up and has quite a bit to offer for anime fans new and old. Those who prefer manga to anime may dislike its slower pacing and lack of development compared to the source material, but as a show on its own, it still functions with the experience. The story still packs a punch and the fight scenes are well-animated and engaging. Otherwise, there are filler guides online allowing people to pick and choose how to watch the show for their best experience. The episode count may seem daunting, but it is so rewarding to follow it through to completion.
---
Bleach is now available to watch on digital and on demand.