Check out these five casino movies for you to watch (or re-watch!). We've selected a quote that struck us from each movie and provided our take on it.
---
Everyone loves a good movie, and movies that are set in a casino are very popular, because they usually revolve around one or more charismatic characters who are either struggling with their demons or planning something big. Who doesn't like a juicy plot centered around a good round of no deposit slots or table games, right? But some of these films have been written and directed by filmmakers of the caliber of Steven Soderbergh and Martin Scorsese, and you'll find enthralling storytelling and quotable movie lines in them! Below are 5 casino films with a standout quote from each.
---
1. Ocean's Eleven (2001)
Steven Soderbergh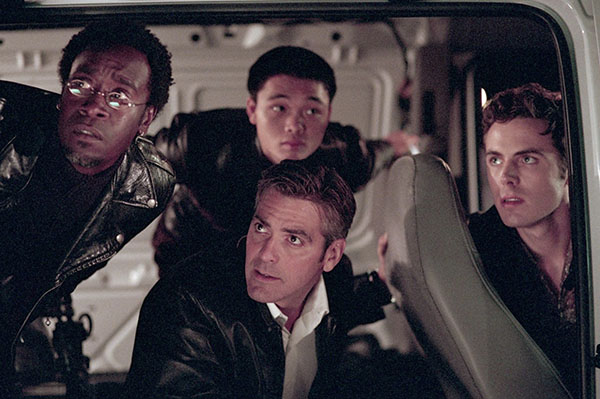 Directed by Steven Soderbergh, this heist film features the charismatic mastermind Danny Ocean (George Clooney) who has just been released from prison. Instead of seeking redemption, Ocean orchestrates a daring mission: to steal $163 million from the seemingly impenetrable vault of the renowned Bellagio casino in Las Vegas.
However, Ocean's motivations go beyond wealth; he is determined to win back his ex-wife, Tess Ocean (Julia Roberts) from the clutches of the casino's ruthless owner, Terry Benedict (Andy Garcia). Together with the brilliant team he assembles to fulfil his mission, Ocean attempts to steal the money, but the question remains: will he succeed in winning his ex-wife back by the end of the film?
The quote that struck us most from this film is Ocean's reply to Rusty (Brad Pitt) when the latter asks him about the motive behind his mission to rob the casino. Ocean confidently and convincingly retorts:
"Because the house always wins. Play long enough, you never change the stakes, the house takes you. Unless, when that perfect hand comes along, you bet big, and then you take the house."
It's a line that sticks with you, and the moment Ocean says it, the audience is on board with the other eleven, in full support of Ocean's plan.
---
2. Rounders (1998)
John Dahl
In this gripping drama, Mike McDermott (Matt Damon) loses in a high-stakes poker game against a challenging Russian gangster, Teddy "KGB" (John Malkovich). Pressured by his girlfriend Jo (Gretchen Mol), Mike promises to quit gambling and focus on a more stable life. However, when his old friend Lester "Worm" Murphy (Edward Norton) is released from prison and reveals an urgent need to settle an old debt, Mike is drawn back into the world of underground poker, joining forces with Worm to earn the money they owe. Although they come close to recouping their losses, the two are caught cheating.
Left with no other option, Mike discovers that the debt they owe is directly to Teddy, so he formulates a daring plan to outsmart him. In the final act, Mike and Teddy's grit is put to the ultimate test. Will Mike's sharp mind and poker expertise be enough to overcome Teddy's cunning and secure their redemption?
The following quote uttered by the protagonist captures the predicament of poker players who find themselves in difficult situations at the table.
"I've often seen these people, these squares at the table, short stack and long odds against them. All their outs gone. One last card in the deck that can help them. I used to wonder how they could let themselves get into such bad shape, and how the hell they thought they could turn it around."
These words cannot be truer, as the protagonist reminds us of the risks involved in poker and offers food for thought about players' decision-making and their confidence in overcoming adversity.
---
3. Casino (1995)
Martin Scorsese
Full Review: Casino (Film Review): Scorsese's Overlooked Masterpiece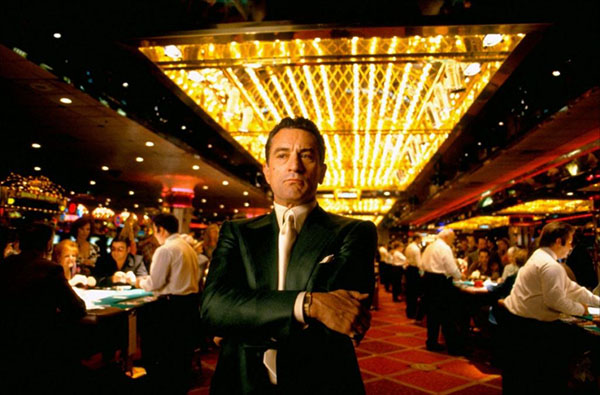 This 1995 film by Martin Scorsese is set in Las Vegas in the time of the early-1970s. It features Sam "Ace" Rothstein (Robert De Niro) as a low-level mobster who runs the Tangiers casino in Las Vegas. He is assisted by his friend Nicky Santoro (Joe Pesci) and his love interest Ginger (Sharon Stone).
When Ace gets appointed as the casino manager by his bosses, he does a great job at first, but over the years, problems arise in Ace's personal life, as his relationship with Ginger deteriorates due to her involvement with her ex-boyfriend Lester Diamond (James Woods). In the meantime, Nicky's violent behavior and ambitions cause tension among the group. We realize that the casino is doomed when legal issues arise and the FBI investigates the mob's activities, setting off a series of betrayals, murders, and the downfall of the characters involved in the casino empire.
A classic excerpt from this film is the following quote which highlights the hierarchical structure and surveillance system within the casino.
"Since the players are looking to beat the casino, the dealers are watching the players. The boxmen are watching the dealers. The floormen are watching the boxmen. The pit bosses are watching the floormen. The shift bosses are watching the pit bosses. The casino manager is watching the shift bosses. I'm watching the casino manager. And the eye in the sky is watching us all."
This emphasis on surveillance, control, and scrutiny in a casino highlights the security system that protects the casino from corruption and it also indirectly touches upon the concept of trust and its potential absence in such contexts.
---
4. Croupier (1998)
Mike Hodges
Croupier is the story of Jack Manfred (Clive Owen) who longs to be a writer but struggles to find someone who's willing to publish any of his books. In order to make ends meet in the meantime, he takes a job as a croupier at the Golden Lion Casino, and becomes pretty skilled at his job, while also developing friendships with other dealers. Jack breaks casino rules by sleeping with a fellow dealer named Bella (Kate Hardie) and becomes involved with a punter named Jani (Alex Kingston). Jani reveals her plan to rob the casino and asks for Jack's help.
Tempted by the reward and the material for his novel, Jack agrees. However, Marion (Gina McKee), Jack's girlfriend, discovers the plan and alerts the police. The robbery is foiled, but Marion is killed in a hit-and-run. But was it really an accident? Is Jack letting go of what's important to him, just to see his book come to fruition?
The following quote is uttered by Jack himself, and it struck us because it cannot be closer to the truth. Although Jack may be living a lie, this quote highlights his realistic take on gamblers' ultimate motivations, which may not be entirely guided by financial gain.
"Gambling's not about the money. Gambling's about not facing reality, ignoring the odds."
---
5. Vegas Vacation (1997)
Stephen Kessler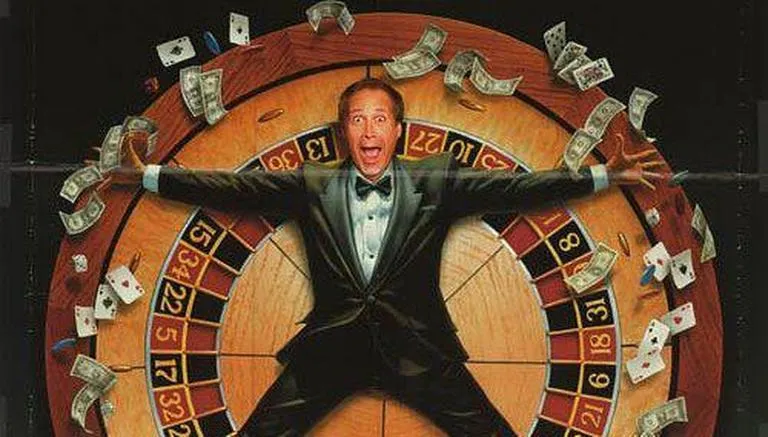 This comedy tells the story of the Griswold family who embarks on a trip to Las Vegas, led by Clark Griswold (Chevy Chase). However, upon arriving in Vegas, the family ends up in a series of misadventures. Clark's plans to renew his wedding vows with his wife, Ellen (Beverly D'Angelo), do not quite come to fruition, mostly due to his obsession with blackjack and his subsequent losses.
Furthermore, Ellen starts receiving attention from singer Wayne Newton, further straining the relationship. Meanwhile, their son Rusty (Ethan Embry) enjoys a winning streak at the casino using a false ID, and their daughter Audrey (Marisol Nichols) is fascinated by her punk dancer cousin's lifestyle.
The film highlights the contrast between Clark's expectations and how things turned out. Despite his intentions to create the perfect family vacation, he becomes consumed by his gambling addiction and abandons his family. However, through a series of events and after losing a significant sum of money, Clark realizes that his family is what truly matters, even if it cost him $23,000.
Our favorite quote is the one that Marty (Wallace Shawn) tells Clark when the former notices Clark's compulsive gambling behavior and frustrations with his continuous losses.
"You don't know when to quit, do ya Griswold?… Here's an idea: why don't you give me half the money you were gonna bet, then we'll go out back, I'll kick you in the nuts, and we'll call it a day!"
This quote expresses a friend's concern for someone he truly cares about. It's ultimately a reminder that we all need someone who watches out for us and is ready to call us out when we inadvertently stray onto a path that's detrimental to our wellbeing.