Asteroid City: Cannes Film Review

Asteroid City (Focus Features / Cannes Film Festival)
While it may not be Wes Anderson's best film, Asteroid City stays true to the director's witty humour and vibrant cinematography.
---

A black-and-white opening introduces us to Wes Anderson's latest film, Asteroid City. However, the black and white retro cinematography the audience is initially presented with is soon to give way to a bright, colourful, and deserted – although not for long – town in the United States: Asteroid City. Admittedly, the once-relevant concept of auteur is seemingly disappearing in today's film industry. However, this is not the case for Wes Anderson. In fact, he is one of those directors who undeniably maintain their very characteristic style throughout all of their movies. This is true for Asteroid City as well, which features the electric high-saturated colours, eccentric characters and dry humour that make Wes Anderson's movies so identifiable.
Taking place in its titular town, Asteroid City creates the perfect setting for all of our characters, who come from the most different walks of life, to meet and interact, amongst whom Wes Anderson fans will recognise a few familiar faces. In fact, in 1955, brainiacs, students and, of course, their parents all find themselves attending the Junior Stargazer convention in Asteroid City, where they will encounter an alien and subsequently be put under quarantine by the U.S. Government. Maybe it seems impossible and unrealistic, but in Asteroid City, that is the point. But none of this is true. And Wes Anderson makes sure we know this.
The entire story is revealed to be fictional by the narrator (Bryan Cranston) himself in the first few moments of the film, thus introducing another key Wes Anderson element: the framing device. The narrator, who will be in and out of the story throughout Asteroid City, directly addresses the audience to introduce an emotive playwright (Edward Norton) and the cast of his play: Asteroid City. And so, the play comes to life in all its colourful extravagance while being constantly intertwined with the black-and-white "reality" of its actual production. This allows Wes Anderson to really give into a brilliantly eclectic mise-en-scene and, at the same time, acknowledge the artificiality that comes with it.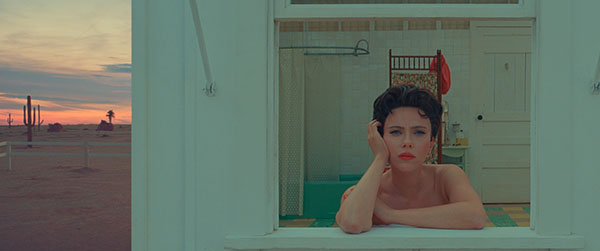 As it often happens with Wes Anderson, the film touches on deep and emotional topics. In particular, it focuses on grief and people's relationship with death as Augie Steenbeck (Jason Schwartzman) and his children struggle to cope with the loss of their wife and mother. Moreover, this allows the film to delve into the one thing that seems to unite most of the characters: the hidden pain and trauma that has made them who they are, as Clifford (Aristou Meehan) and his "dare me" game heartbreakingly show. But for all the heavy topics it deals with, Asteroid City remains very funny throughout, thanks to the brilliant performances of an A-list cast and its fast-paced and clever script.
While the depiction of grief may very well be the most interesting element of Asteroid City, the main focus of the film is on its extravagant plot. Admittedly, the introduction of aliens and quarantine in the story can spark an interesting reflection on our governmental institutions' reaction in the face of an emergency. However, as the plot device is mainly used as comic relief and to further the plot of the film, Asteroid City seems to lack part of the social critique that the audience has become used to in previous Wes Anderson films.
For long-time Wes Anderson fans, Asteroid City will undoubtedly be a delightful work that mixes a lot of the characteristics the director is known for. Similarly, it feels very consistent with his previous films that many of us know and love. However, in the wide range of Wes Anderson's movies, the film does not stand out as much as some of his previous masterpieces. While Asteroid City successfully delivers a witty comedy, it does not manage to reach the level and complexities of other Wes Anderson films. Is it an enjoyable film regardless? Very much so. But is it Wes Anderson's best? Perhaps not this time.
---
Asteroid City had its world premiere at the 2023 Cannes Film Festival. The film will have a limited release in NY/LA on June 16 and will be out nationwide in US theaters on June 23, and in most countries throughout June.
Read our list of Wes Anderson's films ranked from worst to best!