Ant-Man and the Wasp: Quantumania: Review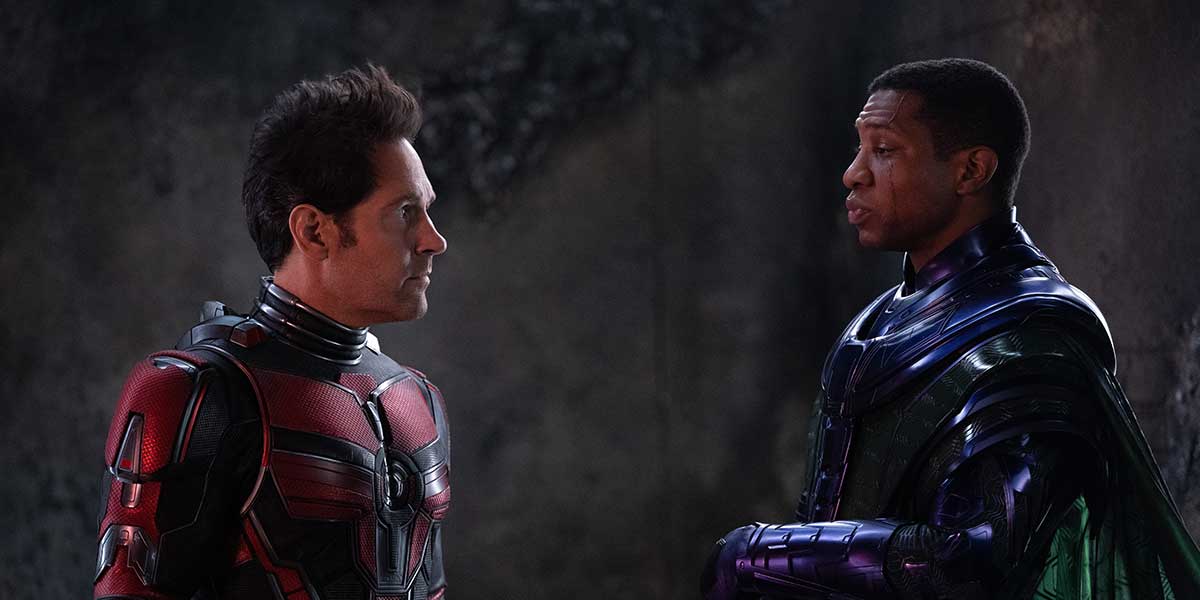 Paul Rudd and Jonathan Majors in Ant-Man and the Wasp: Quantumania (Marvel Studios)
Ant-Man and the Wasp: Quantumania is a solid start to Phase 5 of the Marvel Cinematic Universe led by the performances of Jonathan Majors and Kathryn Newton
---
Not only did the films and shows of Phase 4 of the Marvel Cinematic Universe seem to vary in quality, but some individuals have also grown sick of the MCU due to predictability and unfocused stories. While I loved the vast majority of what Marvel put out during the first phase of The Multiverse Saga, there are things that I disliked. Doctor Strange in the Multiverse of Madness, for example, was the most frustrating entry in MCU history I have ever seen (and not just because it lacked cameos). Now the time has come for audiences to move on to Phase 5, which begins with Ant-Man and the Wasp: Quantumania. While I have a lot of positive things to say about the third Ant-Man film, some issues from that I and others had with Phase 4 remain.
Ant-Man and the Wasp: Quantumania sees Scott Lang/Ant-Man (Paul Rudd) living his best life. Post Avengers: Endgame (2019), he has authored a book and settled down with his girlfriend Hope van Dyne (Evangeline Lilly). However, when his daughter Cassie (Kathryn Newton) builds a device capable of contacting the Quantum Realm, Scott, Hope, and Cassie, along with Hank Pym (Michael Douglas) and Janet Van Dyne (Michelle Pfeiffer), find themselves pulled into the mysterious world. There, they will have to face off against a time-traveling, multiversal adversary named Kang the Conqueror (Jonathan Majors) to get back home.
The first hour of Ant-Man and the Wasp: Quantumania is a little rough, but once they get into the Quantum realm, things are more unique. The film becomes a sort of Star Wars/Marvel hybrid with the Quantum Realm providing the weirdest and most fascinating things at every turn. When people say that this is not like anything Marvel has ever done, that is mostly due to the visuals, which really do pop at times.
However, I must mention that those visuals do not always hold up and can resemble a video game. Darren Cross/M.O.D.O.K. (Corey Stoll, who reprises his antagonistic role from 2015's Ant-Man with a new look and moniker, as he was originally Yellowjacket in that film)looks laughably bad when you first see him and gets better as Ant-Man and the Wasp: Quantumania goes along. You have to cut the VFX team some slack considering how many projects they were probably working on.
It also does not help that Director Peyton Reed has this strange obsession with not moving the camera. We should be taking everything around us in when our characters enter the quantum realm or are in action, but nope, the camera does not really move. Slow starts and dubious visuals are both issues that various films and Disney+ shows in Phase 4 of the MCU, so it is a bummer to see Quantumania deal with this issue as well.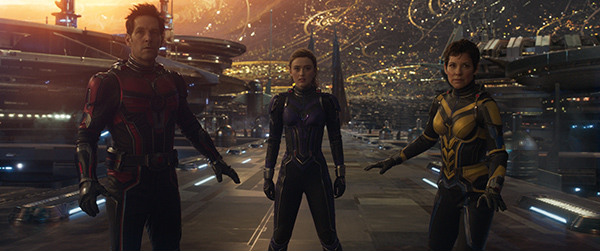 For as insane as this narrative is, it did not make me as confused as when I watched 2022's Thor: Love and Thunder for a second time or as angry as Doctor Strange in the Multiverse of Madness in May of 2022. I would call the story just okay, and I did love the emphasis they put on Scott and Cassie. The two of them do a lot of growing individually and as father and daughter.
I loved that we got to see all the sides to their relationship as they go on this journey together and it is so satisfying to see Scott grow as a father, but also learn from Cassie while she is learning from him. Throwing the father and daughter into a chaotic situation within the quantum realm is a neat idea on the part of writer Jeff Loveness and creates an interesting experience for Scott, Cassie, and the audience.
Whether people like it or not, Kathryn Newton is Cassandra "Cassie" Lang. Her portrayal is headstrong, silly, smart, and selfless, just like Cassie is in the comics. In Quantumania, Newton's Cassie has so much heart, and it makes it so easy to root for her. That heart can also get her into trouble as we find out, but she never loses that desire to help others and Kathryn Newton portrays it extremely authentically. It also helps that she has such a delightful energy to her which she brings to Cassie. Combine that with her wonderful chemistry with Paul Rudd and together the two of them make Scott and Cassie a realistic and adorable father/daughter pairing. While there were a few moments where she seemed to just be reading a script, which is not the case for the entire runtime.
In fact, in those moments, I feel like Peyton Reed (the director) could have better expressed what he wanted from her. There is also the issue of writer Jeff Loveness constantly having Cassie scream "Dad!" in Ant-Man and the Wasp: Quantumania. Once is good, you should not have her repeat it so often that even I get annoyed. When she is not hindered by the lack of direction or script, Newton brings Cassie to life in a way that impressed me and does one of my favorite Marvel heroes justice.
There are plenty of moments where Newton brings Cassie perfectly to the big screen, but one in particular sticks out. In the comic book Young Avengers Special #1, Cassie tells Jessica Jones "Ms. Jones, my dad was Ant-Man. I never had a normal life" and while she does not repeat this exactly, she says something similar during Quantumania that sold me on this version of the character instantly. Marvel's casting department has been crushing it lately and Kathryn Newton continues their streak.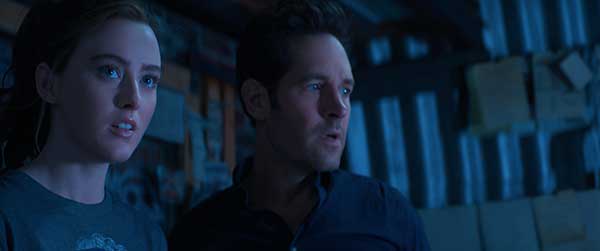 Ant-Man and the Wasp: Quantumania has jokes that do not always land but I was not cringing as much as I did in my second watch of Thor: Love and Thunder. The beginning montage still got a chuckle out of me despite the fact I had seen it already because it is a centerpiece of one of the film's trailers. I would not call this film as funny as Ant-Man (2015) but the story is fun and there are jokes to be had.
The second half of the narrative is the strongest because there is so much focus on Scott and Cassie, and then you have Kang entering the mix. Kang is more interesting and intimidating than Josh Brolin's Thanos could ever dream of being, with all due respect. Jonathan Majors knocks it out of the park and the character has a fascinating backstory/arc. He carries this entire movie on his back in the second half. Majors has this uncanny ability to bring a ruthless villain to life and yet he is so charismatic that you will find yourself wanting to root for even though you know you should not.
Combine Kang with a compelling arc for Janet van Dyne, a more involved Hank Pym, and the Scott/Cassie dynamic and Ant-Man and the Wasp: Quantumania becomes quite the narrative feast. The baffling inclusion of M.O.D.O.K. and his arc are not particularly great, the resolution of said arc even elicited laughs from people behind me during what could be described as an emotional moment.
Ant-Man and the Wasp: Quantumania also commits the sin of wasting Bill Murray as Lord Krylar, which is frustrating because the Ant-Man films typically have more comedy and Jeff Loveness did not really give one of the funniest people on the planet anything to do. There are other characters that could have been cut entirely and the narrative would have flown better and that is frustrating. It is cool to see William Jackson Harper, for example, as Quaz, but his character is just taking up space and not contributing much to the story.
A couple of rewrites could have made Ant-Man and the Wasp: Quantumania great rather than a tale that walks the line between good and bad while being fun to watch. I am concerned that Loveness has already been tapped to write Avengers: Kang Dynasty (2025) though because of the issues this film has. He better bring his "A+" game rather than his "C" game writing wise. This film may be good enough for me, but I do not think this good to average effort would work for an Avengers film, those must be genuinely great all around.
Ant-Man and the Wasp: Quantumania has a lot of good things going for it without being a true return to form for the MCU. Jonathan Majors gives a performance that cements him as the most fearsome big bad that the Marvel heroes and audiences have ever seen. Kathryn Newton joins the MCU with a terrific performance as Cassie Lang and she and Paul Rudd make an incredible father/daughter duo. Sure, things may start slow, and the visuals can be spotty, but the good outweighs the bad in this film, which gets Phase 5 of the MCU off and running.
---
Ant-Man and the Wasp: Quantumania is now showing globally in theaters.