Thor: Love and Thunder (Review): Waititi Overdoes It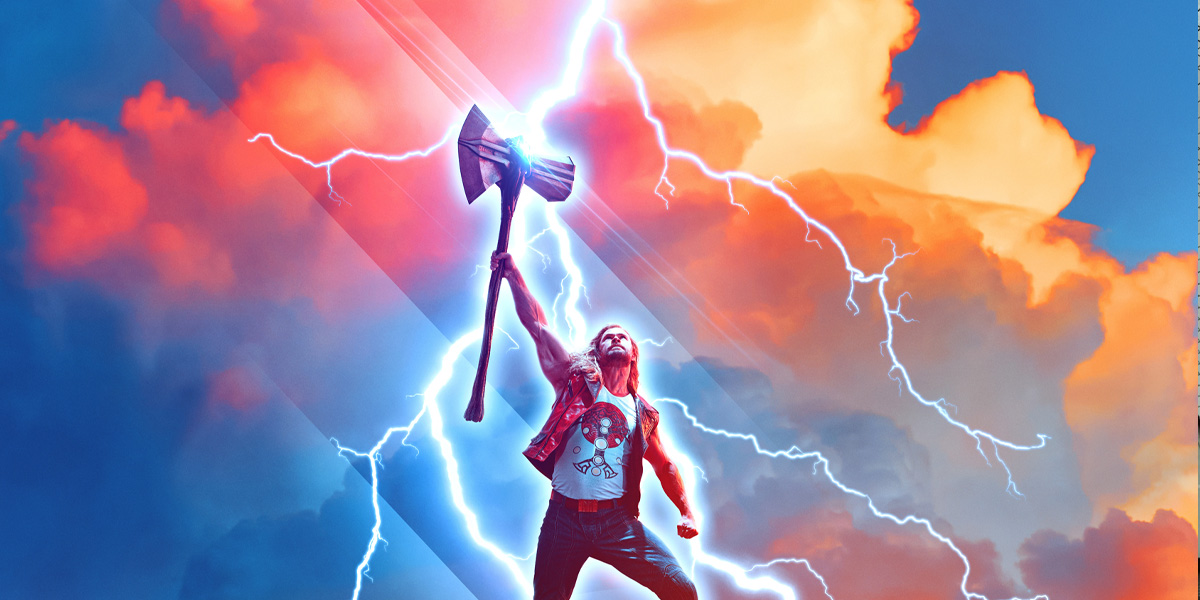 Chris Hemsworth in Thor: Love and Thunder (© Marvel Studios 2022.)
Despite its great acting, score and worldbuilding and epic character moments, Thor: Love and Thunder feels like one continuous joke that doesn't land.
---

In a recent interview, Chris Hemsworth described Thor: Love and Thunder as "the kind of film a seven-year-old would make" – a statement that was later reinforced by director Taika Waititi telling Stephen Colbert that "it's like we asked a bunch of six-year-olds what they wanted in a movie, and we just said yes to everything." And, well, let's just say that Hemsworth and Waititi aren't wrong.
Thor: Love and Thunder picks up where Avengers: Endgame left off, with our titular hero leaving New Asgard in King Valkyrie's (Tessa Thompson) hands and joining Korg (Waititi) and the Guardians of the Galaxy – Chris Pratt's Star-Lord, Karen Gillan's Nebula, Sean Gunn/Bradley Cooper's Rocket, Pom Klementieff's Mantis, Dave Bautista's Drax, and Vin Diesel's Groot – on their adventures. But by the time we reunite with Thor (Hemsworth), at the beginning of the film, his lack of purpose has made him take a step back from all the battles, and he only joins the team when he's needed, at the very last minute, armed with his loyal "Stormbreaker" axe and way too many grandiose speeches. Love and Thunder's Thor is clearly not doing too well: after having lost so many people he cared about, he has simply decided to not get attached to anyone, to avoid "feeling sh*tty," to use Peter Quill's words, and, though he's now back in his usual physical shape, his heart is not really in it anymore.
But a new journey begins for our hero when a new threat emerges: a "God butcher" named Gorr (Christian Bale, of Batman Begins) has been going around doing precisely what his name suggests, and New Argard is his next target. And so, Thor and Korg leave the Guardians and head to New Asgard, only to find that a new ally has joined his friends, and that the ally in question is his beloved Jane Foster (Natalie Portman) – only, she now goes by the name of The Mighty Thor. Not only that, but Jane appears to be completely at ease wielding Mjolnir and facing Gorr's "shadow monsters". Of course, we, as an audience, know that the astrophysicist is facing a different, much more deadly enemy underneath it all, just like we know that Gorr wasn't born evil, but that's another story. Thor, Jane, Valkyrie and Korg face their most evil antagonist since Thanos (Josh Brolin), and their plan to defeat him involves crashing a convention of the most powerful Gods of the universe and enlisting their help. Needless to say, things don't really go as planned.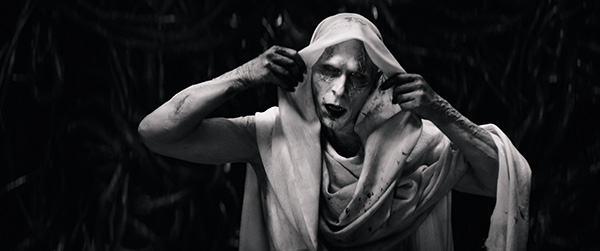 Judging by that synopsis alone, you might think you know what to expect from Thor: Love and Thunder, even more so if you're familiar with Taika Waititi's style and you've seen his previous Thor film, Ragnarok. And yet, the latest chapter of the MCU's Phase Four – which began in 2021 with WandaVision – is unlike anything you've ever seen, as the filmmaker put so much of the offbeat brand of comedy we know and love into it that the film pretty much feels like one continuous sketch, where the humour keeps coming and completely overtakes the narrative. Of course, part of that humour is absolutely welcome: if you liked Ragnarok's theatre scene, you'll love a similar scene in New Asgard featuring an hilarious Matt Damon as Loki (and a co-star whose name is best left unspoiled); if you like seeing Korg (Waititi) in action, you'll enjoy listening to the many tales he tells throughout the film. You'll also get to see plenty of egotistical gods, giant goats, unlikely fight moves, jealous hammers, and, yes, even a very undressed Thor (Hemsworth), and you'll be entertained by every single one of these moments. But instead of balancing the humour out with an equal amount of emotional beats, Thor: Love and Thunder adds even more insanity to the mix, which makes those genuinely funny, beautifully "Waititi" scenes have less of an impact just because there are so many of them.
Which is a shame, because the film had the potential to be the best Thor chapter to date. Underneath it all, this tale encompasses many other stories, not only that of Thor as he processes his grief, but also those of Jane and Gorr, the former having to adjust to a completely different lifestyle in order to survive and the latter desperately trying to get back what he's lost at no matter what cost. Both characters' struggles are clevely introduced to the audience right away, and that gives us an advantage on Thor, who spends most of the film putting the pieces of the puzzle together. Both characters are also brilliantly brought to life by their respective actors, with Natalie Portman inhabiting Jane with such effortlessness that it feels like she never left, and Christian Bale, the film's absolute standout, bringing to life an antagonist that absolutely feels like a real villain: it's thanks to him that, though we definitely find Gorr scary, we can't help but be mesmerised by him, our eyes glued to the screen in every single one of his scenes.
Also worth praising is Russell Crowe, who plays a version of Zeus we definitely haven't seen before, and whose giant ego and long-winded speeches (as well as a fixation with orgies!) are bound to keep you entertained. Though she's not given much to do in the film, Tessa Thompson excels as King Valkyrie, perhaps the character that feels closer to us because of how grounded in reality her story and struggles are, and her friendship with Jane Foster is also beautifully developed.
To tell you the truth, there's even more to love in Thor: Love and Thunder, such as its incredible cinematography (The Mandalorian's Barry Idoine) and special effects, bringing us gorgeous worldbuilding like the beautifully desaturated Shadow Realm and making the magic feel more real, whether it comes from the many thunder-invoking weapons wielded by Thor, Jane and Valkyrie or the elegantly evil "Necrosword" that controls Gorr and generates his menacing shadows. Not only that, but the film's impressive set design (Jurassic World Dominion's Charlotte Anthony), costume design (WandaVision's Mayes C. Rubeo) and make-up (Max Max: Fury Road's Lara Jade Birch) imbue characters like Gorr and Zeus with so much personality, while the energetic soundtrack, made of iconic 80s rock tracks, gives each scene the right mood.
Yet, despite all of that, the film is still a missed opportunity. I absolutely adore Taika Waititi's brand of humour, but too much of a good thing can achieve the opposite effect. Had Thor: Love and Thunder only kept in a third of its wonderfully insane scenes, they would have been so much more effective, allowing the film to replicate Ragnarok's winning formula. Instead, the movie keeps the same tone throughout, and this paradoxically prevents the humour from coming through. Twenty minutes into the movie, we are treated to a "Welcome to the Jungle" montage that, among other things, sees Thor engage in a midair front split to stop two enemy ships coming from both sides of him, and, when I saw the film, the screening room was completely silent: by then, we had already seen so much craziness that we had gotten accustomed to it, so much so that nothing could really surprise us or elicit laughter. This is just one of the many examples of scenes that would have been funny had they been scarcer: one of the most enjoyable comedic sequences involves Russell Crowe's Zeus putting on a show, and even that scene would have been so much more effective had it not been anticipated by over an hour of pure insanity.
What this gives us, in the end, is an action-packed, gorgeous film that often tires instead of entertaining, missing the opportunity to be a truly memorable entry in the MCU. Thor: Love and Thunder is still worth watching, not only for its technical achievements and memorable character moments, as well as a truly captivating villain with a meaningful backstory, but also for the ending, because what rewards the most is finding out the meaning of the film's title. Which, in the best Marvel tradition, is bound to lead to a sequel that might actually satisfy us in ways that Love and Thunder doesn't.
---
Thor: Love and Thunder was released globally in theaters on July 8, 2022.