All Rian Johnson Films Ranked From Worst to Best (Including Glass Onion)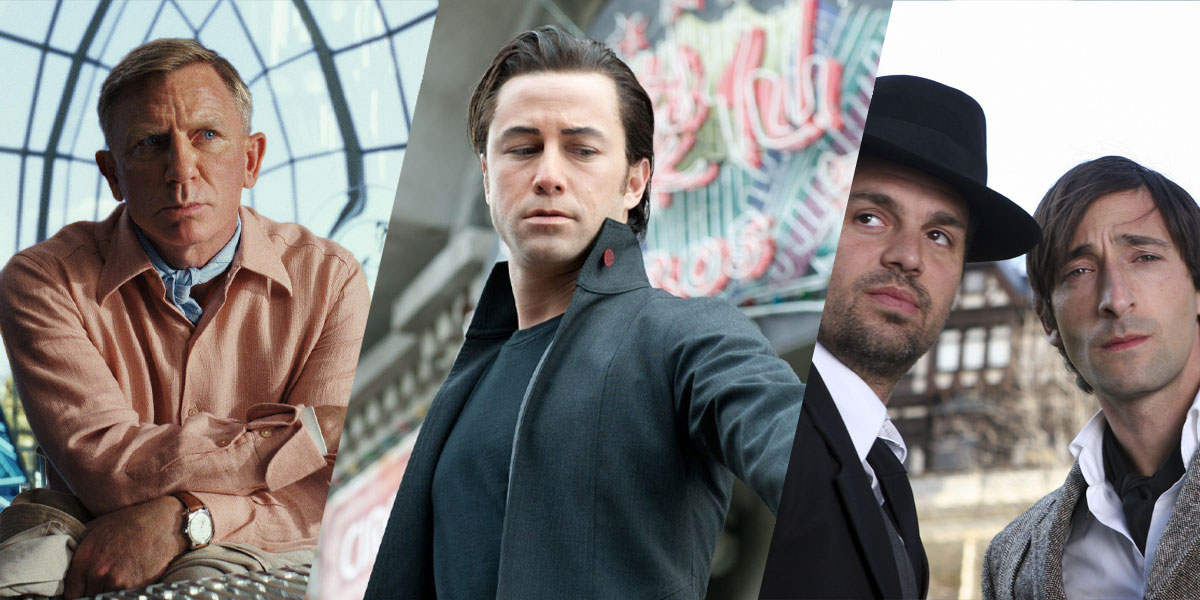 Glass Onion, Looper, The Brothers Bloom (Netflix, TriStar, Summit Entertainment)
It's time to look over all of the diverse, original films of writer/director Rian Johnson, including Glass Onion, ranked from worst to best!
---
Rian Johnson is one of the most fascinating filmmakers and writers working today, and one of my personal favorites. He started out from humble beginnings with a small indie, and he and his closest associates have gone on to work on some of the most successful and widely discussed films of the past ten years. He hasn't always been universally loved by moviegoers… and I think you all know exactly when he received most of that disdain. But his subversive, original stories, crisp and lavish cinematography (on behalf of longtime collaborator Steve Yedlin), and ability to weave between a variety of genres have allowed him to persevere as a respected talent in the business whose craft becomes more refined with each film he makes. And right around the corner is Glass Onion, a standalone sequel to Johnson's widely acclaimed murder mystery Knives Out. So, naturally, many will soon be discussing and debating where it ranks in his filmography as a whole. I've done the same thing, and now we'll go through our own list of Rian Johnson's films, ranked from worst to best!
---
6. BRICK
(2005)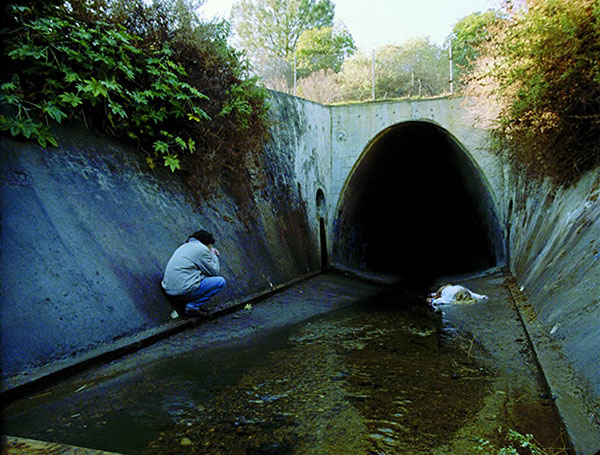 For his feature-length debut, Johnson went for noir mystery with the unique setting of a high school environment. Teenage student Brendan (Joseph Gordon-Levitt) finds himself entangled with a criminal underworld when his ex-girlfriend Emily (Emilie de Ravin) goes missing, seemingly linked to an illegal drug deal. Brick is a noir through-and-through, and the high school setting makes for an interesting lens through which to view the gangs, secrets, betrayals, and other typical tropes that we see in the more "adult-centric" movies of this genre. This makes Brendan feels more vulnerable as he ends up getting in way over his head and is forced to face the physical and emotional consequences of his persistent search. The dialogue is also clearly paying homage to classic noirs… though at the cost of these high schoolers not sounding anything like high schoolers. The attempts to make their lines sound young and fresh while also making them sound old-fashioned and cinematic make really don't work for me. They feel out of place here and compromise the merits of having teenagers in these roles.
Brick looks incredible for its minimal budget. It resembles a student film in ways that add to its charm and show how much talent Steve Yedlin had even in the early days of his career. And Johnson himself shows a lot of the abilities and stylistic flair that he would end up polishing and improving in his films to come. As for this first outing, Brick is a good, fun, bittersweet mystery despite the cracks at the seams, and it paved the way for some of today's most exciting filmmaking talent.
---
5. THE BROTHERS BLOOM
(2008)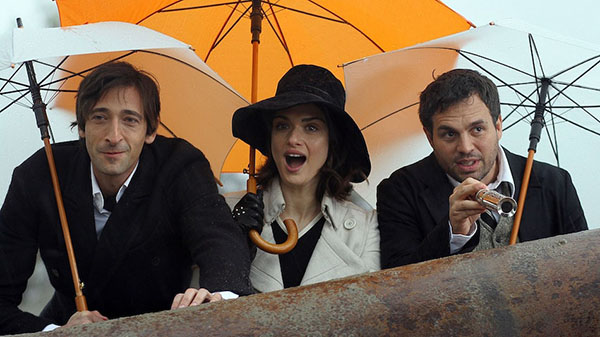 The Brothers Bloom is the often-forgotten black sheep of Johnson's career, but I really don't think it deserves to be. Already boasting a more high-profile cast than Brick, the film stars Mark Ruffalo and Adrien Brody as Stephen and Bloom, two brothers who have grown up pulling off cons using scenarios scripted by Stephen and acted out by Bloom. They set their eyes on eccentric heiress Penelope (Rachel Weisz) and take her on a journey across the world, but Bloom begins a romance with her that complicates Stephen's plan… or does it? That's one of the most intriguing aspects of The Brothers Bloom. Stephen is established as such a good schemer that we're constantly questioning how much of what we're seeing has gone according to his designed story. Is he planning on conning his brother in the long run? Has anything we've seen been unwritten by him? Or is he trying to create something entirely different out of this setup?
That mystery is carried by the bizarrely charismatic relationship between Stephen, Bloom, and Penelope. Brody gives a great performance as the shy, uncertain, paranoid Bloom that you hopecan find the "unwritten life" beyond his conning days that he's looking for. Ruffalo keeps you guessing, and Weisz makes her character's many oddities feel surprisingly authentic. Johnson always manages to infuse genuine character and emotion into his famous/infamous expectation subversions, and this film, especially its resolution, is no exception. The Brothers Bloom also has my favorite score from Johnson's composer and cousin Nathan Johnson, which gushes with old-school flavor and adapts to each situation perfectly. The film doesn't lean into its meta potential as hard as it could have, and the offbeat humor misses almost as often as it hits, but The Brothers Bloom still comes through as an overall funny, charming, and surprisingly heartfelt tale.
---
4. STAR WARS EPISODE VIII: THE LAST JEDI
(2017)
Read also: All Star Wars Movies Ranked from Worst to Best
I'm sure some Star Wars fans will want this film to be ranked #5000 out of the possible 6. The Last Jedi is Rian Johnson at his biggest, most subversive, and most polarizing. This eighth Star Wars "episode" picks up after The Force Awakens, with Rey (Daisy Ridley) confronting Luke Skywalker (Mark Hamill) and uncovering the events that led him to his self-imposed exile, while the rest of the Resistance tries to escape the now-dominant First Order. The Last Jedi holds its characters, and the entire saga, under a microscope, challenging perceptions of identity, duty, and the line between humanity and legend at nearly every corner. Every big choice, whether surprising or expected, is welcome, often necessary, and pulled off with all the emotional weight and grandeur you'd want in a Star Wars movie. This is easily the best-shot, best-looking film in the entire franchise, with framing devices and set pieces that fit right in with classic Star Wars iconography and memorably represent the themes of the story.
I even like the much-maligned subplot with Finn (John Boyega) and Rose (Kelly Marie Tran) trying to save the Resistance, as it gives Finn the drive to fight for more than just himself and shows us glimpses of the broader galaxy's systemic issues. But they are just that: glimpses. The Last Jedi is given credit for its boldness, but its biggest problem it is that its larger worldbuilding is too safe. The central characters and relationships are evolved extremely well, but everything surrounding them is so minimally explored, forcing us to infer way too much regarding what led to where we are now. But that doesn't stop The Last Jedi from being the best, most innovative film in the series under Disney's reign, and the only entry of the Sequel Trilogy that understands the core of its franchise's story and allows it to evolve.
---
3. GLASS ONION: A KNIVES OUT MYSTERY
(2022)
Full Review: Glass Onion: A Knives Out Mystery (TIFF 2022) Film Review
After subverting the murder mystery genre with 2019's Knives Out, Rian Johnson crafted a sequel in Glass Onion that continues the laughs, thrills, and surprising social relevance of its predecessor. Detective Benoit Blanc (Daniel Craig) returns to find himself on a trip to Greece, where he meets tech billionaire Miles Bron (Edward Norton). When a murder occurs, Blanc must step in and unravel the pasts and motivations of the other guests. Glass Onion is packed with bigger, crazier twists and turns than Knives Out, and not only does it maintain its focus, but that excess is precisely the point and a defining aspect of the film's themes. The use of noise, blaming, and needless complications all reflect how those very tools can be used to mask a greater danger that continues to get ahead. This is easily Johnson's funniest film to date, and his passion and adamant rage towards the state of the world come across clearly, especially in the film's insanely cathartic climax.
But Glass Onion still thrives as the kind of fun mystery most people would come in wanting to see, with standout characters that you either love to root for or love to hate. The story takes a little time to really get going, but it picks up exponentially the more it moves along, simultaneously catching you off-guard and having you face-palm at the surprises that were always hidden in plain sight. Johnson and Yedlin also visually keep the energy up in just the right places, taking full advantage of the film's exotic location and especially the extravagant, glass-covered building most of the story takes place in. Glass Onion may not be quite as tight a murder-mystery as its 2019 predecessor, but it's absolutely worthy as a follow-up and a great film in its own right. If Johnson's devoted to sticking with this franchise he's created and can keep the quality at this level, then his future is looking bright.
See Also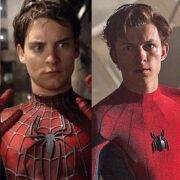 ---
2. KNIVES OUT
(2019)
Full Review: Knives Out (Review): Whodunit Subverts Expectations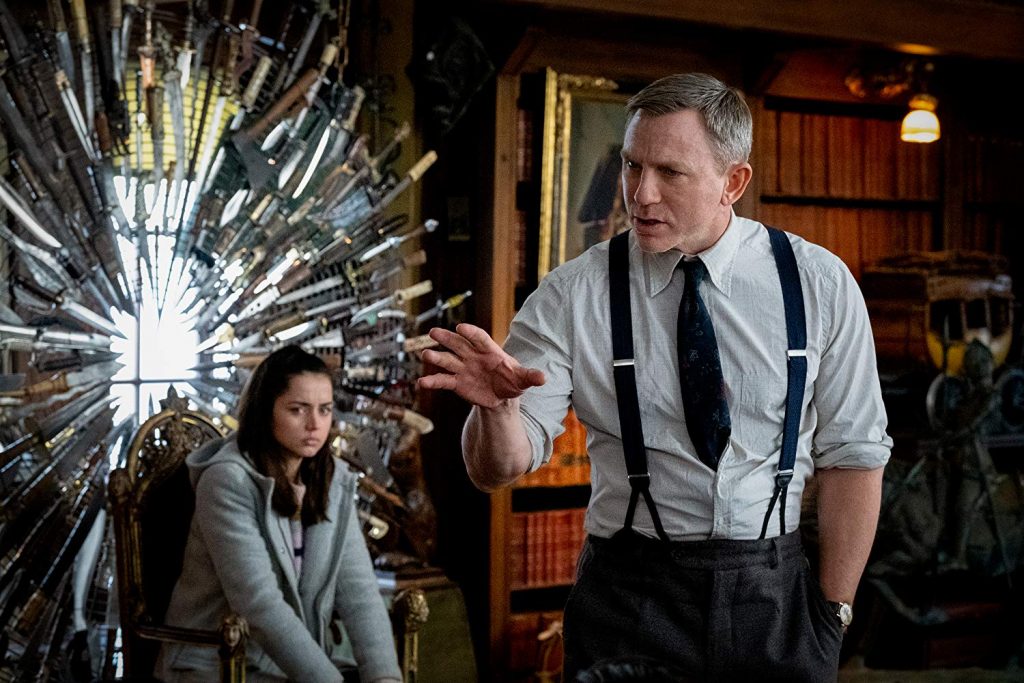 A big hit with critics, a big hit with general audiences, and seemingly the start of a new era in Rian Johnson 's career, Knives Out uniquely turns the whodunit film genre on its head by creating a mystery within a mystery, which you don't even realize is being formed until it unveils itself. Daniel Craig stars as Benoit Blanc, a detective who must investigate the supposed suicide of mystery novelist Harlan Thrombey (Christopher Plummer), and the dysfunctional family he's left behind. What follows is a different story than most probably expected going in, but one that still keeps you on your toes and has an increasingly likeable protagonist trying to navigate through the Thrombey family's destabilizing dynamics, growing and evolving while also discovering the merits of her own good nature. The ensuing mystery is cleverly, seamlessly intertwined with strong, surprising commentary on how we treat certain people and the history of entitlement and subjugation, with parallels that could be endlessly analyzed and discussed.
Some of the best film characters in recent years come from Knives Out, including Blanc, the family nurse played by Ana de Armas, and a hilariously unhinged Chris Evans as one of Harlan's grandsons. Even the most scarcely used of these characters contribute something to the film's ideas and personality, and they're all just the right level of over-the-top without going too far. Knives Out is also packed with smart foreshadowing, tight editing, slickly composed music from Nathan Johnson, and a mansion filled with countless visual flourishes that make up some of the best production design Johnson's ever had in his movies. Everyone brought their knives out for this one, and they all carved out a brilliant, funny, heartfelt, stylish, and boldly topical film that's one of my favorites of the 2010s.
---
1. LOOPER
(2012)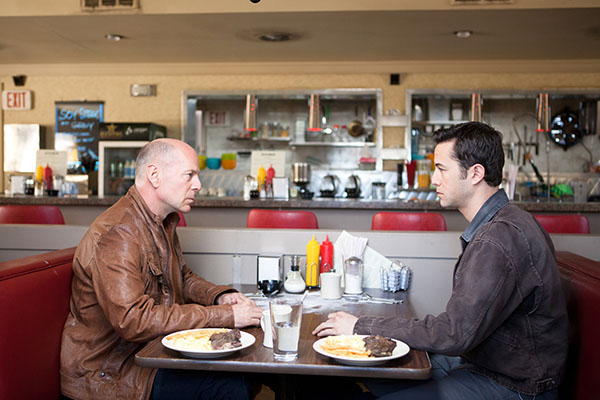 Looper was many people's introduction to Rian Johnson, myself included. And even today, it remains my favorite film of his and one of my favorite films, period. The sci-fi/action flick takes place in a future where time-travel exists illegally and assassination targets are sent back in time to be killed by "loopers." One looper, Joe (Joseph Gordon-Levitt), is given the target of his future self (Bruce Willis), who escapes and seeks to better his life through drastic means. That premise alone is already amazing, but it's made even better with the relationship between Joe and "Old Joe." Joe's altered actions change Old Joe's memories in real-time, and their differing views on the same life – their own – give fascinating insight into both of them. You can see the roots of Old Joe's current mental state in Joe, and getting the upper hand requires Joe to look inward at his cold, hardened, short-sighted perception of time and people.
Looper is by far Johnson's darkest, most aggressive film, leaning into the white-knuckled action and gritty uncomfortableness that its R rating allows. It even sometimes reminds me of a horror film (which makes me really want to see how Johnson would take on that genre), and Steve Yedlin and Nathan Johnson impressively adapt their usual styles to match that tone. Yet the importance of love and compassion in the face of selfish needs and hardship slowly creep their way into the story and become critical to its powerful conclusion. Looper's second half shifts the focus to a single mother (Emily Blunt) raising her son (Pierce Gagnon), who are both caught in Old Joe's crosshairs. It's not initially clear why the story is taking this route, but by the end you see that these two are pivotal to Joe's emotional arc and future. Johnson again takes a mind-bending scenario and infuses it with urgently personal themes. With its ingenious premise, darkly twisted portrayal of time-travel, exciting action, and beautifully realized emotional core, Looper is one of my favorite science-fiction films ever made. It stands tall as the best film in a director's lineup already filled with great films.
---
Glass Onion: A Knives Out Mystery will be released in select US and UK theaters on November 23 and globally on Netflix on December 23. Read our review of the film.