Abbé Pierre – A Century of Devotion: Film Review

Abbé Pierre - A Century of Devotion (@ Jérôme Prébois, Wy Productions / Cannes Film Festival)
Abbé Pierre – A Century of Devotion lionizes an important French figure, but never uses its sturdy runtime to properly dramatize his 94 years of life.
---

It is difficult to quibble with a film subject as uplifting and hardworking as Abbé Pierre, the late French Catholic priest whose near-century of life was devoted to the material support of impoverished and homeless peoples. Perhaps that's what leaves Abbé Pierre – A Century of Devotion (L'Abbé Pierre – Une Vie De Combats), Frederic Tellier's new biopic, so dully competent. Content to honor the life of one of Europe's most beloved 20th century figures, Tellier's film feels less like a narrative and more of a fact-finding mission.
There is a structure here: Abbé Pierre traces the Abbé (Benjamin Lavernhe) chronologically from his humble exile from the Capuchin Order in 1939 to his most notable work, the establishment of the first Emmaus homeless community and the development of the broader Emmaus movement. Across 137 minutes, there is a slight focus on the Abbé's military service in WWII and his tendency to spurn the larger Catholic order, but neither of these details quite stick out. Especially frustrating is the film's constriction of the Abbé's active opposition to the Holocaust, reduced to mere minutes and resulting in little more than a fist striking a table.
If there's one point I find generally agreeable here, it's in framing the Abbé as a fighter. This is probably the film's strongest throughline, even if it could focus that depiction more than it does. Lavernhe is decent – he's certainly been given the Abbé's facial hair – but not wholly convincing at playing the character's more aggressive side. This is another symptom of the film's desire to express everything – all possible facets of its subject, everything he did – without really organizing itself.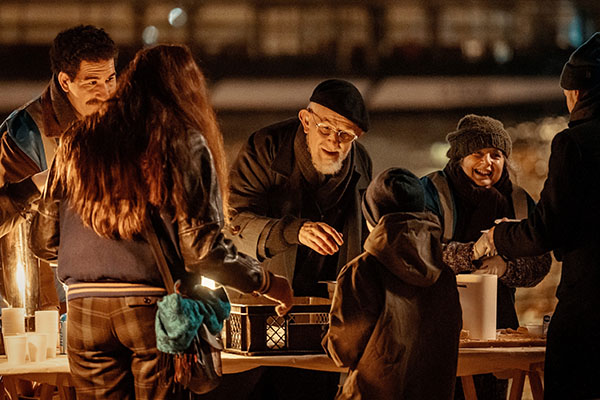 Much like the recent run of streamlined musician biopics, Abbé Pierre feels broad and plays the hits, accelerating through much of the first hour before the Emmaus work really begins, but in the absence of a spectacle like Queen's Live Aid performance or the maximalist songbook of Sir Elton John, it's hard to consider the film's middlebrow ambitions terribly appealing to a wide audience. The strain to reach a more elaborate, less spoonfed point comes in fits and starts – the oddity of the film's bookends, framing the elderly Abbe against the desert, ruminates on the possible failure of his life's work – but the script, co-written by Tellier, Alain-Michel Blanc, and Olivier Gorce, crowds any single moment out under the weight and quantity of concrete detail. This might make one imagine a quickly paced film, but these details – the Abbé giving a speech first to one group, then another, for example – tend to stack and repeat.
With little in the way of narrative momentum, perhaps Abbé Pierre – A Century of Devotion would have fared better as a documentary. As it is, it's paradoxically limited by the scope of its ambition- sometimes being honest and detailed and thorough in one's research doesn't make for the most compelling artwork.
---
Abbé Pierre – A Century of Devotion premiered at the 2023 Cannes Film Festival. Read our list of 20 films to watch at the Festival de Cannes!