A Worthy Man: Kristian Håskjold's impressive short film tackles depression and loneliness (Interview)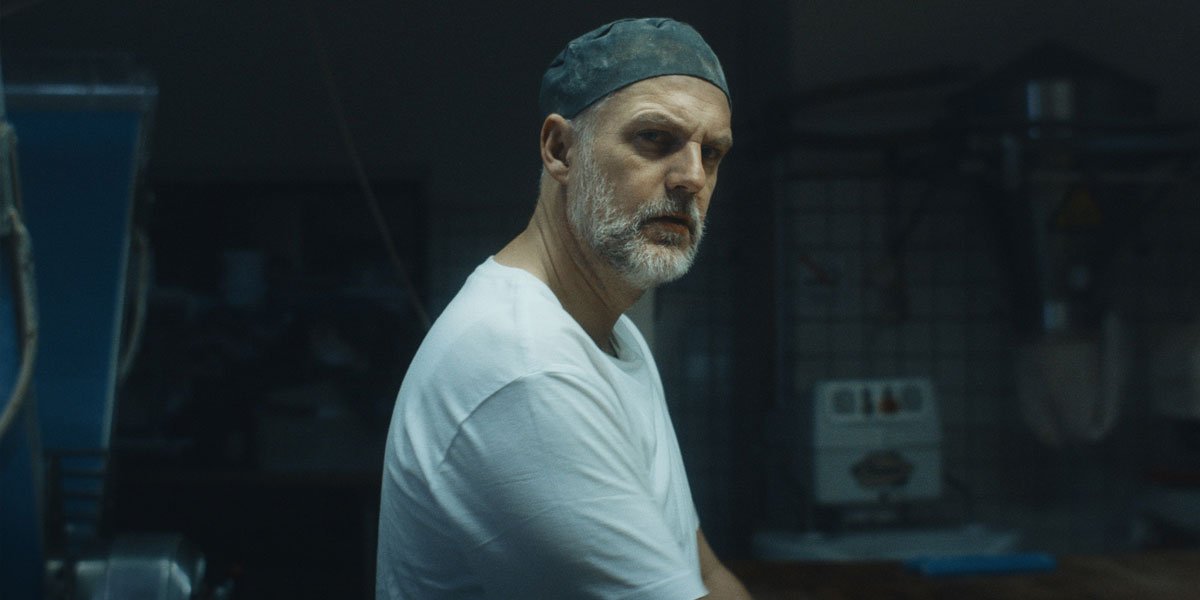 Troels Lyby in A Worthy Man (SUPER16/Firebrand Productions)
In A Worthy Man, Kristian Håskjold explores important mental health issues by showing us the world through the eyes of a depressed middle-aged man who doesn't know how to express his emotions. Here is our interview with the director.

---
A Worthy Man is not the kind of film you'd expect it to be. It's the story of a depressed middle-aged man who is desperately looking for a way to express himself, but it's also a depiction of the world through the eyes of an incredibly sympathetic, relatable leading character. Baker by night and family man by day, Erik (Troels Lyby) is a husband and a father who is struggling to connect with anyone, so much so that the only outlet for his emotions has become a late-night radio show. As he works all night alone in his bakery, rehearsing jokes and trying to be chosen as the show's "Joker of the Week", he becomes even more alienated from his family. Yet, Troels Lyby's ability to convey emotions make it surprisinlgy easy for us to see the world through Erik's eyes, and the result is an insightful, complex, all-too-relevant drama that is as delicate as it is absolutely heart-wrenching.
We spoke with Kristian Håskjold on his impressive, compelling short: here's what he told us on how the project came to life and how the team behind A Worthy Man was able to make a film about "a depressed middle-aged man" interesting to watch.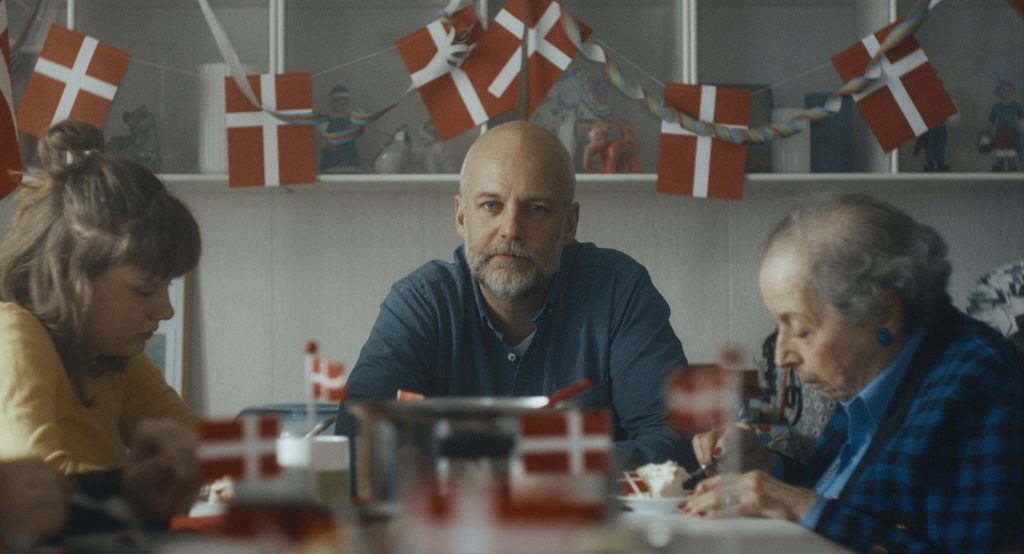 ---
A Worthy Man: learning how to express emotions
What made you want to tell this story?
On a thematical level, in this film I really wanted to explore loneliness within a family. I grew up in the countryside in Denmark, and I had a feeling that the most grown-up men who were around me in my childhood, like my dad and my uncle, were really challenged when it came to expressing their emotions. My friends and I have always been pretty good at that: we spent a lot of time reflecting on life and expressing how we felt about what was happening in our lives. In A Worthy Man, I wanted to show that if you don't learn how to express yourself, especially when you're feeling bad, then you can very easily have a breakdown, just like it's portrayed in the film. I wanted to make a film that could be therapeutical for middle-aged men, and encourage them to get better at talking with their family members.
What inspired the film?
The inspiration for the film came from my uncle, who was a baker. I grew up close to him and his family, and spent most of my childhood at their house, since his son was my best friend. Because of my uncle's profession, he had a weird everyday routine: he would sleep most of the day and work during the night. Because of this, he didn't have that much time with his family, which of course had a different routine. The result of this was that, growing up, as a kid, I had a hard time understanding and talking to my uncle – he felt absent. I thought that this dynamic was really interesting, and I wanted to explore it in the film.
---
Making the story of a depressed middle-aged man interesting to watch
What were the main challenges you encountered while bringing this project to life?
The absolutely biggest challenge in bringing the film to life happened in the writing process. It was insanely hard to make a story about a depressed middle-aged man interesting to watch. We spent a LOT of time trying to figure out how we could give him some drive in a way that wouldn't break his depression. In the end, we figured out that the solution was to put some humor and love into the story. We decided that the baker should love to tell jokes: his attempts to get through to the radio show became a way for him to get some appreciation and acknowledgment from his surroundings. It took a while, but that was a great breakthrough for myself, my writer Marianne Lentz and producer Caroline Steenberg Dam.

Another big challenge was figuring out the music and sound of the film. We started out with some music, which gave the film more of a magical realism feel, but it just didn't work, because it didn't convey our character's emotional state. So I spent a lot of time with my sound designer, Christian Munk Scheuer, and my composer, Jesper Ankarfeldt, searching for a sound for the film. After a lot of exploration, we ended up with the music and sound that are in the film today, and did just that. We're really happy with it.
Even when he's struggling, your main character is always relatable, and Troels Lyby is exceptional at conveying emotions. Can you tell us about the choices you and leading actor Troels Lyby made when bringing Erik to life?
What Troels and I discussed before shooting is that the character had to be very refined. In a story like this one, there is a very fine line between making him either too likable or too annoying. So we decided that Troels should just act normal, but only try to tell jokes. When he didn't really interact with anything else, everything started happening by itself. Mostly because Troels has a very sympathetic face.
It's really interesting that you chose to introduce the element of comedy: Erik's aspiration to become "Joker of the Week" on the radio show really helped send the message across.
When we started working on the project, we very quickly figured out that if we didn't fill in some kind of light or comedy to the story, it would very easily become too dark for anybody to watch. So, in order to give a goal to our main and some lightness to the story, we decided to add his obsession with jokes. The joke element is inspired by my uncle as well: he always told jokes and spent his nights making up his own. I think that this element helps showing the dad's tendency to focus on things that are "less important" instead of dealing with his actual issues.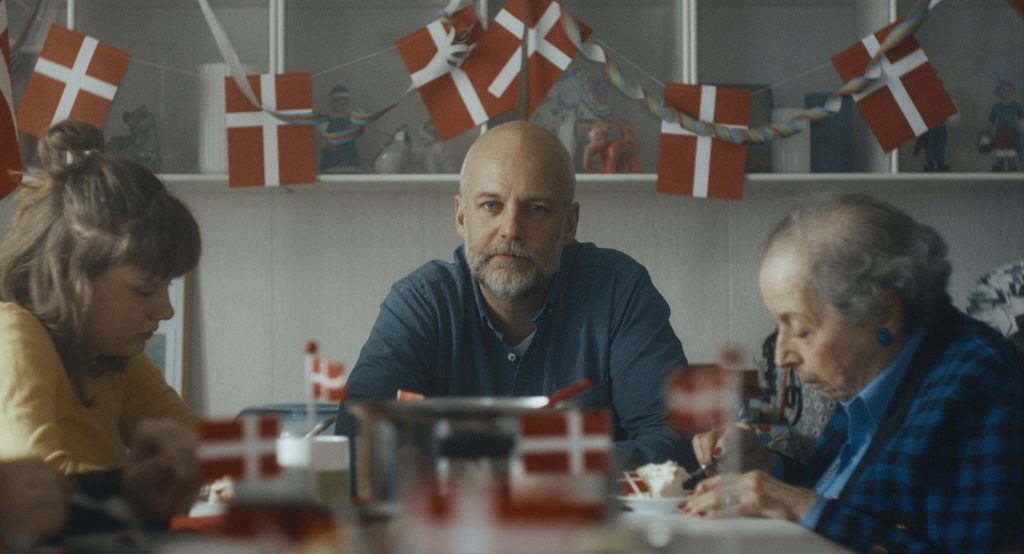 ---
A Worthy Man encourages families to have real conversations
Family is another important theme in A Worthy Man, and I like the way food plays a major role in the story. Not only does Erik work at a bakery, but we often see him with his family at the dinner table and bread itself assumes a whole new meaning at some point. What made you think of that?
The whole idea of all the eating came from our own childhoods: we talked about the fact that a lot of families don't really see each other besides when they're eating dinner together. I believe that it becomes a cornerstone for many families. In this case, the family members don't "really" talk to each other, so it just gets really clear that they are a bit disconnected from one another, communication-wise. At least that's what Erik, the leading character, feels.
What message would you like people to get from your film?
I hope that it will make people reflect on their family members' and friends' well being, and that it will make them want to have real conversations with each other. And if somebody doesn't seem to be feeling well, I hope the film will encourage them to either spend time dealing with it themselves or get professional help.
---
What's next for Kristian Håskjold
Can you tell us about your future projects?
I have different projects in the making. First of all, I'm still studying at SUPER16, the Danish film school: we just finished our mid-term production, which is called CROCODILE TEARS. I wrote it with scriptwriter Christina Øster, and Andreas Bak at Zentropa Productions produced it. It's a psychological drama about the hard times of a reunion between a father and his son – and the difficulties of it being arranged by the father's new girlfriend.

Besides that, I'm just finishing a short format TV show called CHEMO BRAIN, which will premiere on Danish TV in October this year. It's a dramedy about a guy in his late-twenties, who get testicular cancer and goes through treatment. I'm very excited about it, since it's my first big directing job.
---
A Worthy Man premiered at the Odense International Film Festival, where it won the Vimeo Staff Pick Award. It was screened at several film festivals in 2018 and 2019, where it won a series of awards, such as the Best Student Film Award at the 2018 Tirana International Film Festival (Albania), the Horizon Award at the 2018 24fps International Short Film Festival (USA) and the Best European Short Film at the 2018 Leuven International Short Film Festival (Belgium).