A Discovery of Witches Season 2 Ep. 5-10 Review
Teresa Palmer as Diana Bishop in A Discovery of Witches Season 2, Ep.6 (SKY UK)
Magic is still very strong in the second half of A Discovery of Witches' Season 2 (Ep. 5-10), with darker tones, astonishing special effects and breath-taking action.
---

Last month, our two-year wait for the release of A Discovery of Witches' Season 2 was finally over. In Ep. 1-5, while Matthew (Matthew Goode, Stoker) resumed his role of spy for Queen Elizabeth I, Diana (Teresa Palmer, The Place of No Words) started practicing her magic all the while navigating through the unpredictability of their new Elizabethan life. The second half of Season 2 starts with Diana and Matthew setting off for Sept-Tours to meet Matthew's father Philippe (James Purefoy, The Following) and then sees them travelling across 16th century Europe to retrieve the coveted magical book, Ashmole 782. In the meantime, Ysabeau (Lindsay Duncan, Made in Italy) and the Bishop aunties eventually unite with demon Sophie Norman (Aisling Loftus, Mr Selfridge) and her husband Nathaniel Wilson (Daniel Ezra, All American) against the Congregation's threat. But there are many more ingredients in A Discovery of Witches' cauldron: adventure, more of the stunning magic we couldn't wait for Diana to perform, romance, and history, as that is indeed a very important element in the show.
If we hadn't seen Diana use her magic, we would have actually thought this to be a stunning period drama set in Elizabethan London, and the productions' commitment to recreate the historical setting of Elizabethan London has only enhanced A Discovery of Witches' magic. As the second series is mostly set in the past, it seems just right that its locations, most of all The Old Lodge that has been Matthew's home during the 16th century, got built as closely as possible to what the original building would have looked like. Deborah Harkness' love for history and attention to details is reflected superbly in all the little objects, decorations and fine props placed in each room.
As we follow our heroes to 16th century Sept-Tours, we finally have the pleasure to see James Purefoy as Philippe de Clermont, Matthew's vampire father and a highlyanticipated character of this second season. Philippe's character is indeed the catalyst for the tense and pugnacious shift in Diana and Matthew's relationship, as he tests Diana's loyalty and affection for Matthew while pushing his son's boundaries, revealing his most dangerous nature. As we know from the previous season, Philippe is no longer alive in our protagonists' time, and the tragic circumstances of his death weigh heavily on Matthew's shoulders, feelings that Goode is able to skilfully capture in all their subtlety. Seeing our protagonists part from Philippe is undoubtedly bittersweet, and, although it brings full closure for Matthew, it feels like a tear-jerker moment nonetheless; similarly, tears will surely flow for Diana from fans of the series as (Spoiler Alert!) – another important figure in our protagonists' past makes their appearance in Elizabethan London.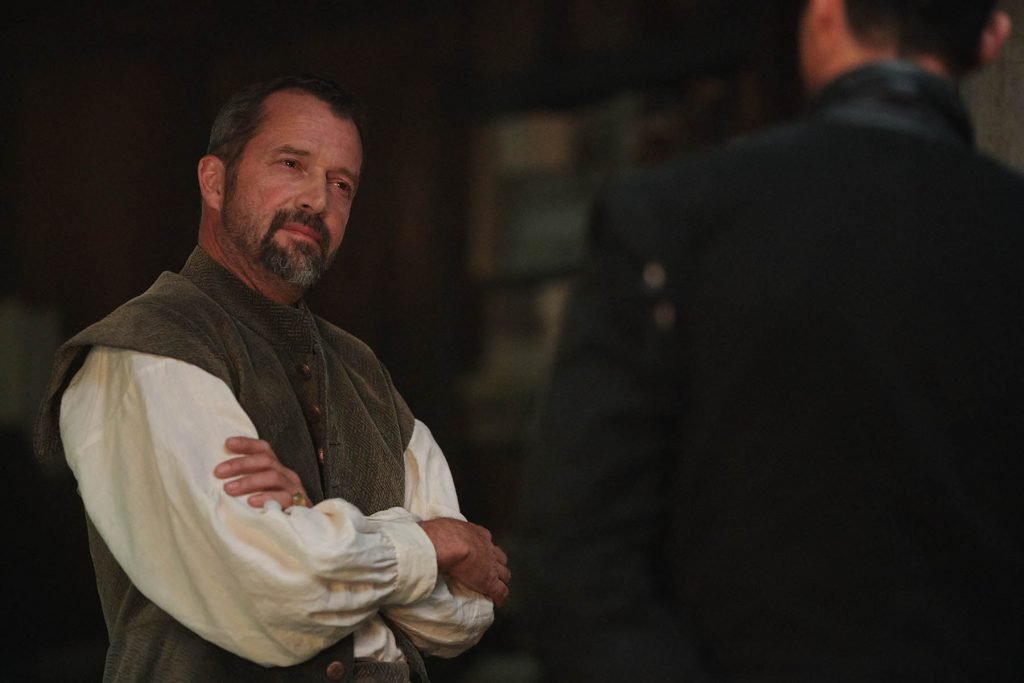 If Palmer and Goode's chemistry has already proven to be fireworks worthy, Purefoy and Goode's is equally powerful, and finds its emotional apex when father and son finally part from each other. The relationship is captured in all its complexity in a few brilliant shots that give their story arc proper closure, while mercilessly pulling at your heartstrings.
As both Diana and Matthew deal with more danger and face more challenges, the show explores their darker side. We had already been acquainted with Matthew's vampiric nature, but Season 2's second half also shows us that Diana, whom we already knew to be a fully round character, also has a more obscure personality. A lot of her magnetism comes from her strength, assertiveness and compassion, qualities that she has consistently shown since the beginning of the show, and Teresa Palmer shines more than ever before. She excels the most during confrontational scenes with Matthew and Philippe, as her character is being tested farther than before. In fact, Palmer's Diana is no damsel in distress needing to be rescued, and this is a very empowering and likeable aspect of her persona.
Palmer and Goode's relationship translates exquisitely on screen in the couple's marital life in Elizabethan London; however, Season 2 surprisingly failed to fully utilize it in one of the most anticipated moments of the series: the couple's wedding night. Diana and Matthew's love story is the driving force of A Discovery of Witches, and fans of the series surely anticipated this significant moment for a whole season: the wait may make the heart grow fonder, but it also makes the sex scene steamier. Unfortunately, the brief, lukewarm, poorly edited sequences don't do our protagonists justice. After all, we all connected with Diana and Matthew's beautiful romance, and rooted for them as we felt the struggle imposed by their very different nature: their wedding night deserved to have a more emotionally engaging moment on screen.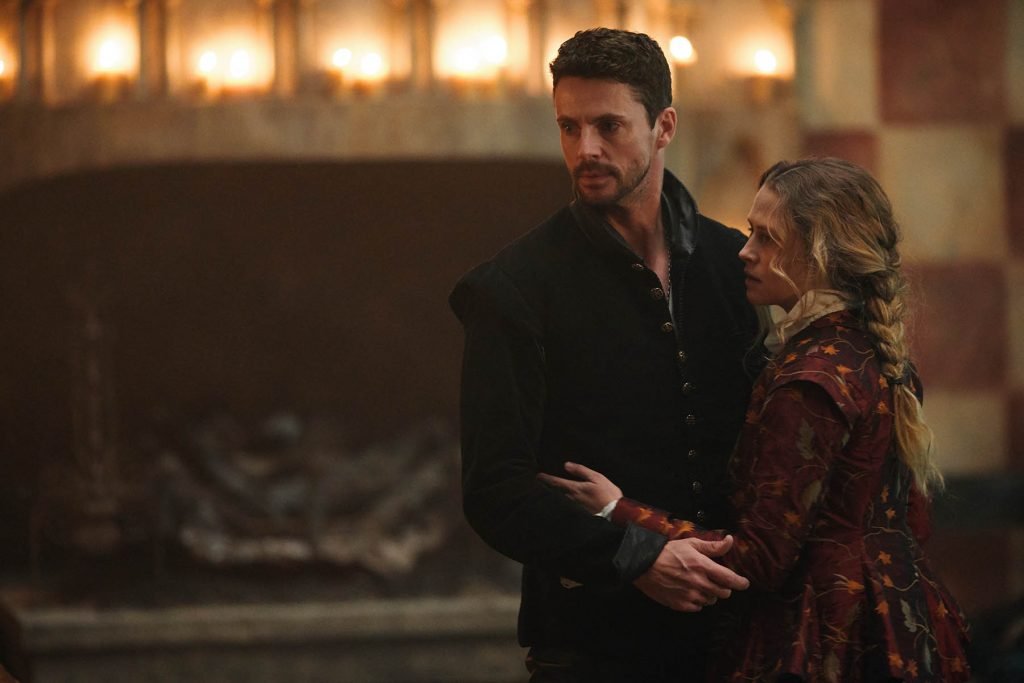 A familiar paradox that often presents itself in movies where time travel is involved, like Back to the Future, is the character's future version meeting their past self. Deborah Harkness develops this oddity as a 'displacement'. In her second novel, "Shadow of Night", it is clear that, when Matthew time travels with Diana, he replaces his 16th century self rather than existing in two copies. This is confirmed by aunt Sarah in the book: if a person already exists in that time, he (or she) replaces himself. In fact, Gallowglass (Stephen Mc Cree, Outlander) tells Matthew that his disappearance was witnessed by the owner of a tavern, who reported seeing him sitting by the fire, "drinking wine one moment, and gone the next". Part of the beauty of reading about magic is that unexplainable events can make sense outside the realm of science, as magic follows its own rules and logic. While the theory of Matthew's 'displacement' fits well in the story-arc, we are still not provided with a coherent explanation of what happened to the Elizabethan Matthew that got displaced. This remains a mystery in both book and tv series, and it might be more confusing for fans of the series who haven't read the books, as the matter is only vaguely addressed on screen, leaving this specific detail at a loose end.
Strong and exciting points in A Discovery of Witches Season 2's Ep.5-10 are indeed the special effects used to display Diana's use of her magic, an aspect that has been explored extremely well, as well as the introduction of another first-class villain to keep us on the edge of our seat.
Louisa De Clermont, Matthew's batshit crazy sister, finally makes her appearance, shaking things up even further. Elaine Cassidy (The Loft) delivers a fine portrayal of Louisa, and if we thought Kit was dangerous enough, Louisa brings the danger factor to a whole new level: unlike Kit's, her ill intentions towards Diana are not led by mere jealousy, but by pure madness and blood rage. Louisa bonds with Kit, giving us the best foreboding feeling: as brief as they are, their scenes together don't lack in strength, as the two actors are able to bounce witty and mean lines off each other amazingly. Tom Hughes (Victoria) brilliantly plays Marlowe's mercurial and treacherous side while, making him very human and flawed; although we are supposed to just dislike a true villain like him, we are able understand the jealousy that dictates his actions and cannot avoid feeling compassion for him at the light of his unrequited love for Matthew.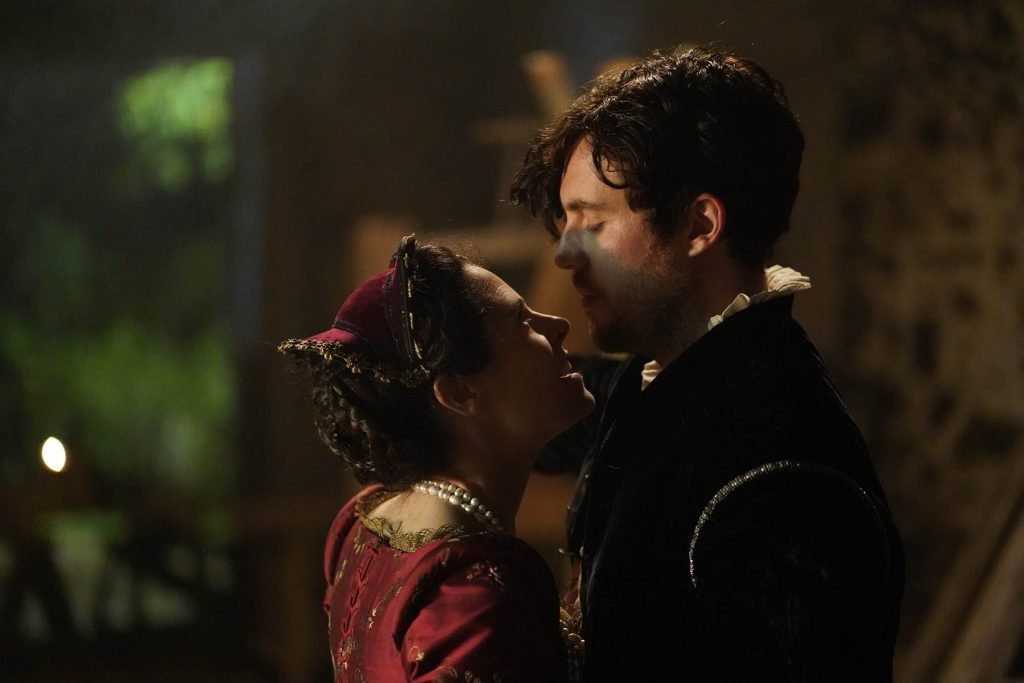 Magic is something I hoped to see an abundance of during this season, and the show didn't disappoint: Diana's practicing her magic is not only a feast for the eyes, but also something that balances the general heaviness of the whole season, with never boring allure. The special effects that follow Palmer's delicate movements as she weaves her magic are simply breath-taking in their execution. Another wonderful magical element adapted from the book is Diana's familiar, a firedrake named Corra. For those not already acquainted with the term, a familiar is a supernatural entity that forms a magical bond with their witch, and assists in their practice of magic in time of need, exactly as Goody Alsop (Sheila Hancock) explains to Diana. Corra is revealed in all her fiery glory, leaving us amazed by the accuracy and creativity employed to bring her to life.
As it often happens when a book is transposed onto the screen, parts of the book couldn't – and  didn't – make it onto the screen due to format constraints: there was a lot of content to develop in Season 2. Perhaps this is the reason why, at times, parts of it seem to be a bit rushed, and don't give the story and characters the space they deserved. This is the case with Marcus and Phoebe's romance. While Marcus seeks out the auction of Matthew and Diana's Elizabethan portraits at auction house Cooper Sinclair, he meets Phoebe Taylor (Adelle Leonce, Nurtured) and is immediately attracted to her. They go out for a date and, as Marcus' secrecy clearly frustrates Phoebe and threatens to drive her away, he decides to reveal his identity, hoping she would accept him. If you were a vampire, would you reveal your life-changing secret to your date so quickly? Perhaps not, but despite the time constraint, the "woman meets vampire and is swooned right away" cliché is credible, and Edward Bluemel (Killing Eve) plays Marcus' cheeky character with the right dose of charm.
While this is a show about magic, it also revolves around two very different people who came to love each other through adversity, against their cultural barriers, and Palmer brings realness and gravity to Diana, enabling us to fully connect with every aspect of her multifaceted character. Phoebe's character also highlights a very relevant truth, when she remarks that "the only way to move forward is together", highlighting those themes of diversity and acceptance that have been at the core of A Discover of Witches all along. After all, this is a show about vampires hating witches, and showing each species' distrust and jealousy for one another, which isn't really so different from our real-world dynamics. Deborah Harkness' bewitching book series gifted us with an engaging tv-series that threaded our modern society's struggle and divisiveness with magic and love, making a compelling tale that really transcends the boundaries of time and culture, showing that love is a powerful drive.


I cannot wait to see what adventures await Diana and Matthew in Season 3 and how this beautiful trilogy will eventually end on screen.
---
A Discovery of Witches Season 2 premiered on 8th January 2021 on Sky UK, where it is still being broadcast weekly. The show is also available in its entirety on Now TV (UK & Europe), and on Sundance Now, Shudder & AMC (US). Click here to read our review of the first part of the series.