5 Series to Watch to Improve Your English Skills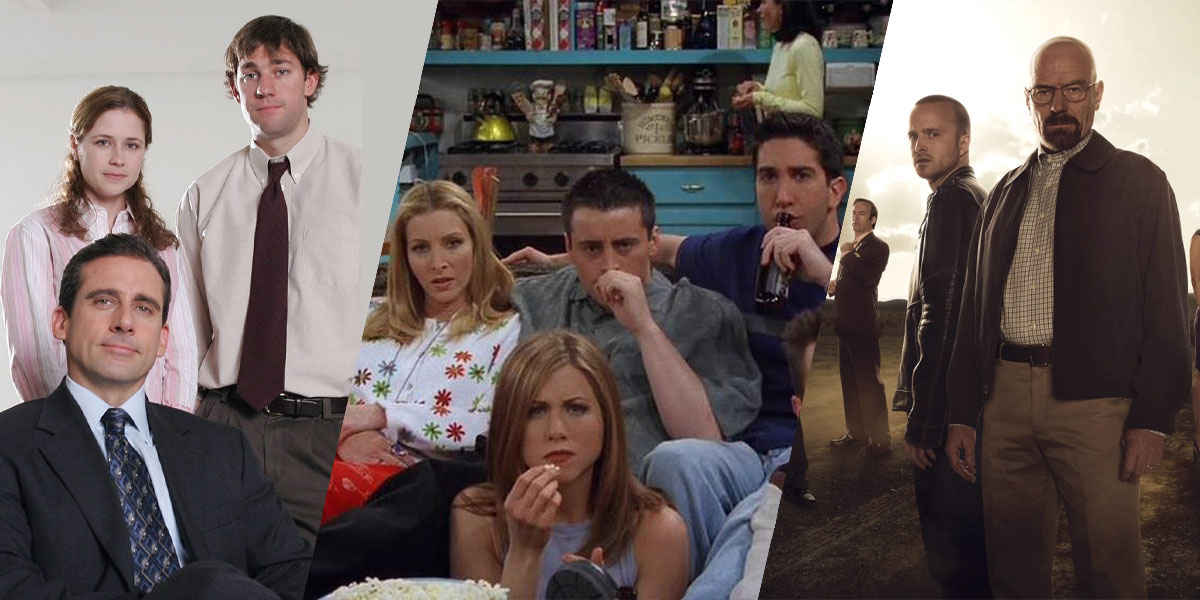 ---
Watching television shows is an excellent way to improve your English skills, learn, and practice, and there are many great series to watch that can help you better understand the language and improve your English skills. Watching series in English can help you learn new words and phrases, understand different accents, and make you more familiar with the language itself. Not only will it help with your understanding of the language, but it can also be a fun way to spend your time.
These 5 series are not only entertaining and engaging, but they also provide a great way to practise and expand your English language skills. From classic dramas like The Wire to beloved comedies like Friends, there is something here for everyone. These series will help learners of all levels develop their vocabulary and listening comprehension abilities, even more so if you add English subtitles and take note of unfamiliar words. Moreover, the cultural context provided by these shows can also give valuable insight into the culture and customs of the place where each series is set.
Some of these series may not be available in different countries or regions, so you may need to set up a VPN for Netflix to view them. It will unblock Netflix, so make sure your VPN is set before starting. After that, you can easily access geographically restricted content and nothing stands between you and the educational rewards that come from watching these series.
So, without further ado, let's look at this list of 5 great series you can watch to improve your English skills.
---
1. Friends (1994-2004)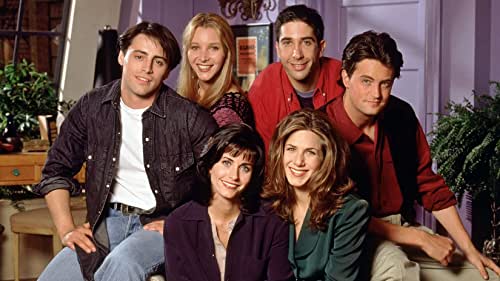 Who hasn't heard of Friends? This classic sitcom has been incredibly popular for years, which makes it the best series to start with, as you'll already be familiar with its characters and plot. The show follows a group of six friends – the matter-of-fact Rachel (Jennifer Aniston), the lovingly awkward Ross (David Schwimmer), the sarcastic Chandler (Matthew Perry), the neat Monica (Courteney Cox), the quirky Phoebe (Lisa Kudrow), and the hilarious Joey (Matt LeBlanc) –  as they navigate life, love, and work in New York City. It's full of great dialogue that uses everyday language, which perfect for learning conversational English, and there are also catchy songs and relatable humour. No wonder this show has been on the air for over twenty years!
There are 236 episodes, with plenty of celebrity guest stars to meet (Brad Pitt, Paul Rudd, Tom Selleck, Reese Witherspoon, Billy Crystal, Robin Williams and many more) and iconic sentences to learn. Soon, you'll find yourself saying things like "we were on a break!" and "Joey doesn't share food!" while singing Phoebe's hit "Smelly Cat" and craving Central Perk's coffee. But you'll also pick up on common phrases and idioms, by hearing how native speakers communicate in casual settings. Friends is an excellent series to watch if you want to learn natural language to use in everyday conversations, and we guarantee you'll also fall in love with its humor and charm.
---
2. The Big Bang Theory (2007-2019)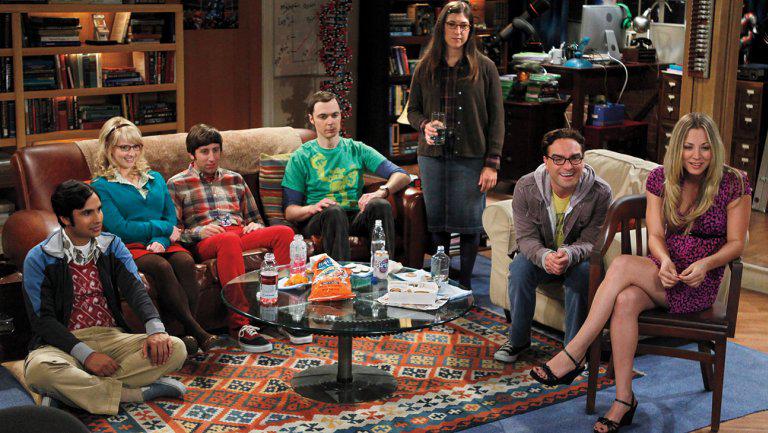 The Big Bang Theory is another great TV series to improve your English skills. Like Friends, it also follows a group of people who live together and get to know each other better over the course of its many seasons. But this time, we are in Pasadena, California, and the main characters are brilliant physicists Leonard (Johnny Galecki) and Sheldon (Jim Parsons) and their friends, astrophysicist Raj (Kunal Nayyar) and aerospace engineer Howard (Simon Helberg).
The series begin when an attractive woman named Penny (Kaley Cuoco) moves into the apartment next door and alters the dynamics within the group, which will soon also include Howard's wife Bernadette (Melissa Rauch), Sheldon's love interest Amy (Mayim Bialik), comic book store owner Stuart (Kevin Sussman), and many more.
The Big Bang Theory provides a similar experience to Friends, but with more advanced vocabulary terms used in dialogue. This adds more complexity for those who want to challenge themselves further than just learning informal English expressions. If you're a nerd like Leonard and Sheldon, the series will definitely prepare you for Comic Con with plenty of geeky vocabulary. But you'll also become more familiar with scientific terminology and concepts, all while having fun with the series' great puns and returns of beloved guest stars, from The Good Fight's Christine Baranski to Star Trek's Will Wheaton, who plays himself in the show.
---
3. The Office (2005-2013)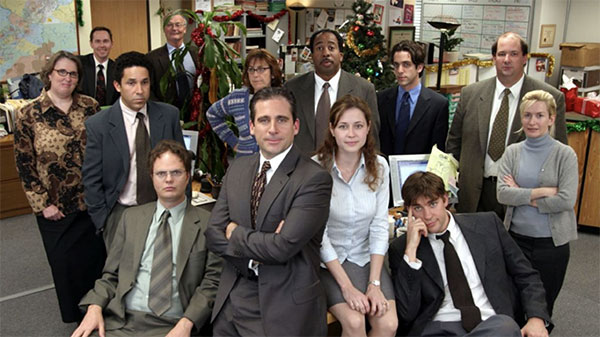 The Office is an American mockumentary sitcom that follows the everyday lives, and day-to-day misadventures, of the employees of the Dunder Mifflin Paper Company, in Scranton, Pennsylvania. This mockumentary-style show is filled with laughs and life lessons, and it has become such a favorite amongst audiences because of its relatable characters and excellent performances from Steve Carell, John Krasinski, Jenna Fischer, Rainn Wilson, B. J. Novak and many more stars.
The Office is both hilarious and relatable, and it also uses a lot of informal English and slang, which you can pick up as you go along. It also has the added bonus of being based of the 2001-2003 BBC series of the same name created by Ricky Gervais and Stephen Merchant, which also happens to be an excellent watch! So watching those series will really show you the difference in vocabulary and accent between British and American English, and provide you with many cultural references. Your English skills are bound to improve, and you'll also have plenty of fun with the series.
---
4. Breaking Bad (2008-2013)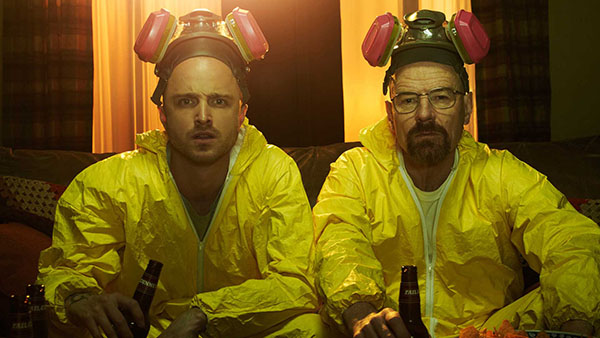 Breaking Bad is a great series to watch to improve your English skills, and it's the perfect choice to watch right now given the recent success of its prequel/spin-off show Better Call Saul. This crime drama series remains as compelling as it was back in 2008, and that is due in part to its genius premise and in part to its great performances.
Breaking Bad follows a man named Walter White (Bryan Cranston), a chemistry teacher who one day finds out that he doesn't have long to live and, in order to leave his family some money before he dies, he decides to put his chemistry skills to use. Joining forces with his former student Jesse (Aaron Paul), Walter decides to learn as much as he can about manufacturing and selling methamphetamine and ends up creating the best crystal meth on the market. Of course, becoming a meth kingpin has its risks, and so does leading a double life.
Not only does Breaking Bad feature an excellent plot and great performances, but it also explores complex moral questions about life, death, and the choices that define us. It will help you improve your English skills and teach you plenty of idioms and slang words that are commonly used in everyday conversation. It's also one of the rare series that get better with every season, and we guarantee that you'll be hooked.
---
5. The Wire (2002-2008)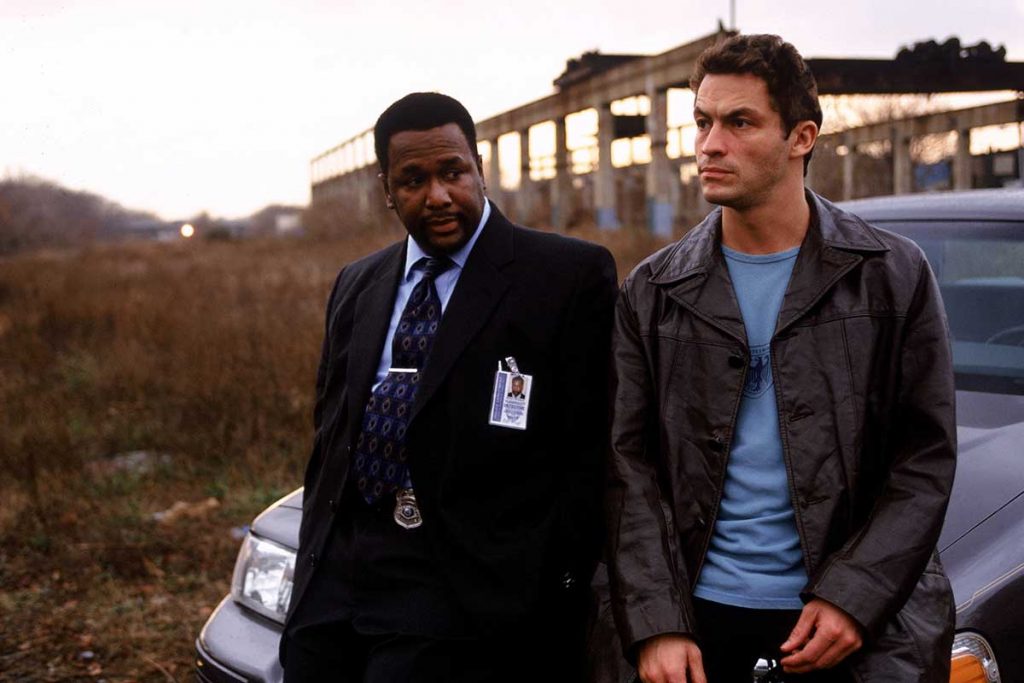 HBO's The Wire is an urban drama set in Baltimore. Like Breaking Bad, it's a gripping crime drama series, but its tone is more serious and so is the message it sends across. This intense show follows drug dealers and cops fighting over control of the city's streets, and focuses on how systemic failure affects individuals living there. What makes the series so great is that its protagonists are not only policemen and drug lords, but also many more people who are part of their universe and influence it in some way, from the media to drug addicts and politicians to everyday people who happen to cross their paths. This acclaimed HBO original series is gritty, realistic and immersive, and it will draw you into a world you won't be able to get our of your mind.
As for how it will improve your English skills, its characters use a unique blend of urban slang words, regional accents, and colourful dialogue, so it'll definitely teach you common phrases and less-common sayings that you won't find anywhere else.
---
There are tons of great series out there designed specifically for language learners, but the best way to learn the language by watching TV is choosing a show you like. Well-known sitcoms like Friends, The Big Bang Theory and The Office will make it easy for you to learn new words because you'll already be familiar with its characters and dynamics, and great crime dramas with gripping storylines, like Breaking Bad and The Wire, will have you so hooked that you'll soon forget you're watching them in English. These series will help you increase your vocabulary and overall understanding of English grammar and pronunciation, all while keeping you entertained with great storytelling, memorable performances, and characters you'll love.