5 Movies Where People Are Game Characters

Free Guy (Twentieth Century Fox Film Corporation)
---
It's been a year since the release of Shawn Levy's Free Guy, where the protagonist discovers that he's a character in a game. The original, timely premise for the film is what made it such a success with audience, and this got us thinking about other movies where people are game characters, whether they know it or not. Find them all listed below, in order of release!
---
1. TRON (1982)
Steven Lisberger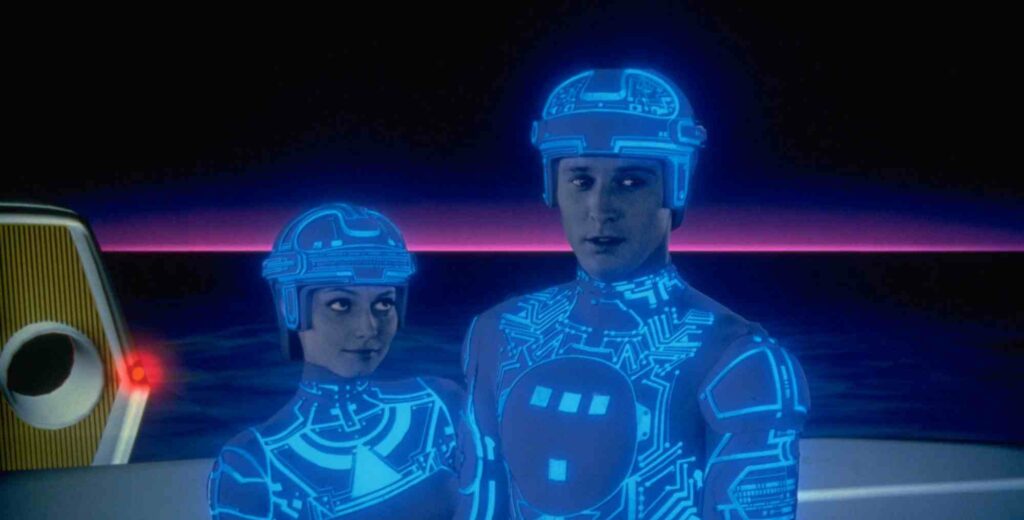 Let's start by going back to 1982, when writer-director Steven Lisberger made history with what was going to become one of the most beloved sci-fi movies of all time, and influence CGI animation for years to come, so much so that even Toy Story would not have been made had it not been for Tron. There's plenty of game-playing in this 1982 classic, and we're not talking about actual games like Wolf Gold slots with Virgin Games. Tron's protagonist is a skilled computer engineer named Kevin Flynn (Jeff Bridges) who discovers that one of his managers, Ed (David Warner), has blocked him from accessing some of his own work. When he confronts him, Ed claims that these measures were put in place to prevent them from being hacked – which is exactly what Flynn does, having found out from other sources that the company is actually stealing his work.
And so, Flynn hacks into the thief's computer, but he ends up being teleported into it, and becoming a digital version of himself. And not only is Ed's evil alter ego, Sark, there too, but the company's operating system itself has become a virtual intelligent called "Master Control Program," which is – you guess it – behind Flynn's digital transformation. But that's not all. In this digital world created by the MCP, other security programs are taken hostages and forced to fight against each other in deadly duels. Since the MCP wants Flynn to fight too, our hero teams up with two captive programs, Tron (Bruce Boxleitner) and Yori (Cindy Morgan), to lead a revolution and escape from the MCP's grip.
Tron is a 1982 movie, so you shouldn't expect to find the same CGI and special effects that we have today. But the film is still groundbreaking for its visuals, which marked a significant step in computer animation at the time. And though the story itself might not be as gripping compared to more recent releases, it still begs to question interesting themes, such as the very idea of free will and the role that technology has in our lives. Add great performances from a young Jeff Bridges and the entire cast and a 2010 sequel (Tron: Legacy) that continues our rebels' story, and you have a movie you shouldn't miss.
---
2. THE LAST STARFIGHTER (1984)
Nick Castle
Here's another gem from the 1980s that might not shine for its storytelling but will definitely give you a great adventure, with some nostalgia and thrills thrown in. The Last Starfighter revolves around a teenager named Alex (Lance Guest), who's managed to reach the highest possible score on his favorite game, Starfighter. Because of that, he gets to meet the actual designer of the game, but he's soon shocked to discover that the reason why Centauri (Robert Preston) made the game in the first place is that he was looking to recruit highly skilled people whom he'd then train as pilots. And so, Alex leaves his ordinary world and embarks on an adventure in space, where he is tasked with fighting a war. But in order to do that, he'll have to use his game-playing skills.
The Last Starfighter definitely borrows some aspects from Tron, but it also manages to stand out and even improve upon it, especially from a visual standpoint. If Tron was set in the world of computer systems, The Last Starfighter delves into the arcade side of things, and there's also plenty of humor and genuine charm that will make you smile throughout.
---
3. GAMER (2009)
Mark Neveldine & Brian Taylor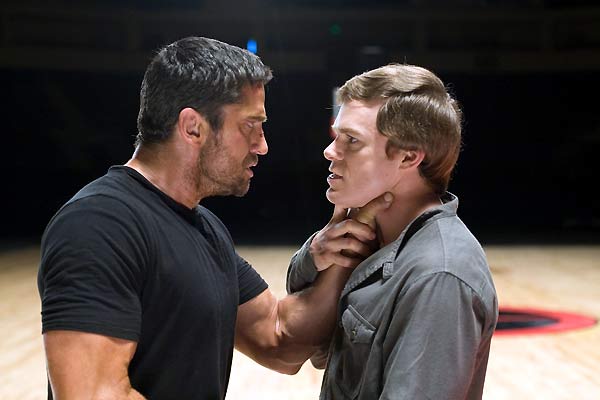 Here's a movie you might not know much about! Though Gamer wasn't hugely successful upon release, it still deserves to be included in this list because of its compelling premise. The film is partly set in a prison that employs an unusual method to keep its residents occupied. Each week, the inmates have to fight each other in an online game called "Slayers," but here comes the fascinating part: their moves are not controlled by themselves, but by actual gamers, who are playing the game remotely. The film's protagonist is a death-row inmate – or a character in a game, from the gamers' point of view – named Kable (Gerard Butler) who becomes involved in a resistance group to rebel against the game's inventor.
Gamer's premise is interesting in more than one way. First of all, it makes us think about what's real and what isn't: are the inmates just characters controlled by others, or are they actual people? This idea has philosophical ramifications, especially considering the fact that the movie is set in a prison, which also begs to question the concept of slavery as well as the idea of redemption.
---
4. READY PLAYER ONE (2018)
Steven Spielberg
Adapted from Ernest Cline's 2011 novel of the same name, this sci-fi film from Steven Spielberg was a huge success upon release, and many people revisit it from time to time if only to be immersed in its multicolored, nostalgic world again. The film is set in the year 2045, where most people's live take place not on Earth, but in the OASIS, a virtual reality universe created as a means to escape a real world that's becoming grimmer by the minute. It's when the OASIS' creator dies that Ready Player One really begins, as the man had revealed that he hid a treasure somewhere in his universe, in the form of a digital Easter egg. And so, a series of players enter the contest, among which our protagonist, the young Wade (Tye Sheridan).
In the best Spielberg tradition, the film is led by an all-star cast (Olivia Cooke, Ben Mendelsohn, Simon Pegg and Mark Rylance, among others) and gives you a nostalgic, immersive ride in its mysterious, fascinating world. If you're looking for a magical adventure with 80s gaming vibes, this is the film for you!
---
FREE GUY (2022)
Shawn Levy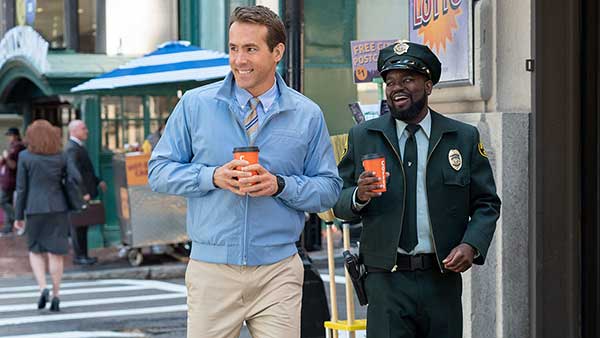 This list wouldn't be complete without the film that inspired it: a film where most people are game characters, and that manages to succeed at what many pictures failed to do in the past, while also reinventing the subgenre. Think of it as The Truman Show meets Grand Theft Auto, and you'll have a pretty good idea of what you're about to watch.
Free Guy initially tells the story of a bank teller who has gotten used to leading an ordinary existence – so ordinary, in fact, that each day feels exactly like the next. But to Guy (Ryan Reynolds), this is actually true. Because, as our hero soon finds out, he is a background player in a violent open-world video game that actual people join with their improbable avatars to be as violent and immoral as they like. For that reason, Guy's bank gets robbed every day, and our protagonist has gotten used to passively waiting for things to happen to him. But one day something happens that makes him want to do something different, and ultimately leads him to realizing that he's been a background player in his own "life" all along. Not only that, but that life is about to get destroyed by a new version of the game that will replace the old. And so, with the help of a skilled stranger (Jodie Comer), Guy tries to do the impossible: rewriting his own story and saving his world.
Saying anything else would ruin your experience of watching the film, but Free Guy should absolutely be on your radar. Not only is it one of the best movies where people are game characters out there, but it's also a hilarious, entertaining, action-packed ride you'll want to relive over and over again, which also offers some insight on self-aware artificial intelligence, the state of our society, and the meaning of life itself.
---

There are plenty of movies where people are game characters, either knowingly or unknowingly, and if you've read our list and need more, you might want to check out films like Jumanji: Welcome to the Jungle (2017), Existenz (1999), Boss Level (2020), Nerve (2016), Ben X (2007), Wreck-It Ralph (2012), Pixels (2015), WarGames (1983), or The FP (2011). If you think about it, Scott Pilgrim Vs The World (2010) also fits that description, due to a visual style and narrative that pretty much turn the entire movie into a video game.
And if you're done with that, you can move onto TV shows, where Black Mirror will give you plenty of people who are actually game characters while also making you think. Happy watching!