5 Disney+ Shows About Students

---
Launched at the end of 2019, the Disney+ streaming service already has 157 million subscribers worldwide. While it was initially conceived as a platform that would give Disney releases a home, it now contains plenty of movies and shows, from Pixar, Marvel, Lucasfilm, and National Geographic releases to all-time classics from the 80s, 90s, 2000s, and more. Needless to say, it also contains plenty of shows about students, whether you're looking for a good dose of nostalgia or you're a student yourself. If you don't have enough time for a movie night, google domyessay reviews to entrust your homework to experienced professionals. If you're looking for a Disney+ series to watch right now, take a look at the list below and choose the plot that suits you best!
---
1. The Wonder Years (2021-2023)
Let's start the list with a series that reboots a cult show from the late 1980s, also named The Wonder Years. This new remake uses what was great about the original material and gives it a contemporary twist, making for a show that will absolutely appeal to modern audiences.
At the center of it all is a middle-class Black family in Alabama, the Williams. In the late 1960s, 12-year-old Dean (Elisha Williams) explores what real life is and what place he occupies in it. Dean's hopeful and humorous memoir shows how his family found their "wonder years" during rather turbulent times. The show tackles the themes you'd expect, from the strive for popularity to romances and rivalries, but it also has a great emotional core and many timely lessons to impart. Watch if for two great seasons with fantastic performances and familiar faces like Don Cheadle and Elisha Williams.
---
2. American Born Chinese (2023)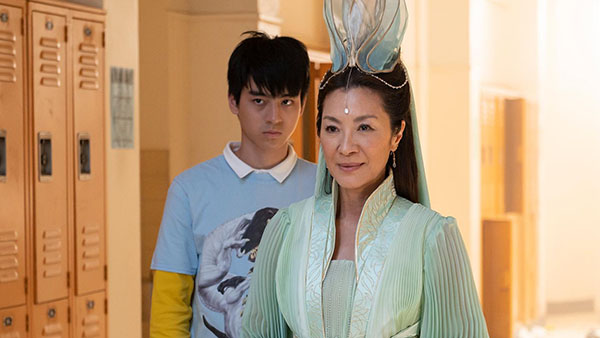 American Born Chinese is one of the best high school shows of the year, and a series that pretty much has it all. It focuses on an ordinary teenager named Jin Wang (Ben Wong), who lives with his parents in the suburbs of San Francisco. One day he meets a new exchange student named Wei-Chen (Jimmy Liu), and the two of them are about to become friends. But that's when Chinese mythological Gods suddenly enter Jin's life, and he finds himself in the middle of a battle where he might have a very important role to play.
It's best to leave it at that to avoid spoilers, but this is entertaining series also gives us great insight into its protagonist's cultural roots and struggles to fit in – themes that will be familiar to many. Moreover, it stars a fantastic cast that also includes Oscar winners Michelle Yeoh and Ke Huy Quan, who are both excellent in it. Not to be missed.
---
3. Ms. Marvel (2022)
Kamala Khan (Iman Vellani) is a 16-year-old girl from Jersey City who often has her head in the clouds, doesn't fit in the school community, and constantly fights with parents who don't understand her passion for Western culture. Kamala loves to write fanfiction and draw and is also a fan of The Avengers, particularly Captain Marvel (Brie Larson). She dreams of participating in the first-ever Avengers-Con cosplay competition, paired with her best friend, young inventor Bruno (Matt Lintz).
When her religious parents get in the way of her dreams, she runs away from home, taking an old family bracelet from her grandmother with her to remember her roots. But the bracelet ends up giving her superpowers and establishing a weird connection with her past that will ultimately enlighten her future. And in between all that, espect plenty of hilarious twists, involuntary fame, new meetings, and heartwarming moments. As you prepare for the release of The Marvels, why not revisit this great series from last year?
---
4. Boy Meets World (1993-2000)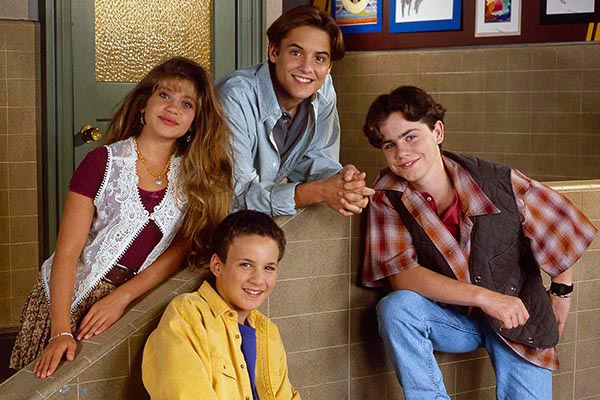 This timeless classic has been considered a cultural phenomenon, since more than one generation of schoolchildren grew up on it. The series centers around the high school and college years of the main character, Cory Matthews (Ben Savage), as well as his best friend and girlfriend. They face various social and personal problems, such as romantic relationship hurdles, family conflicts, health issues, and more.
Boy Meets World shows us different parts of teenage life, and the strive to grow and become a better version of oneself. It also addresses sensitive issues, such as child abuse ("Dangerous Secret"), sexual harassment ("Chick Like Me," "Everybody Loves Stuart"), and teen alcohol abuse ("If You Can't Be With the One You Love…"). It's a nostalgic excursion into the 1990s, but most of the topics remain relevant today.
See Also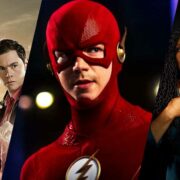 ---
5. Secrets of Sulphur Springs (2021-2022)
The ordinary life of 12-year-old Griffin (Preston Oliver) ends when, in the opening episode, his parents tell him they own an abandoned hotel and will restore its lost charm. Despite his reluctance to move, the boy must follow his parents and step into a new life. But Griffin soon learns about mysterious incidents in the hotel where he now lives with his parents, which, according to rumors and legends, is haunted by the ghost of a girl who disappeared many years before.
At first, Griffin doesn't believe in the rumors, but he is soon proven wrong when he witnesses inexplicable events. And so, he teams up with his classmates and finds a mystical portal that allows him to travel through time. With its help, our heroes can uncover the secrets of the building and change their lives forever.
---
Our list of 5 Disney+ shows about students contains series for every taste and from various years. There's something for everyone here, whether you're looking for drama, fantasy, or adventure. Happy watching!