10 Overlooked and Underrated Films of 2021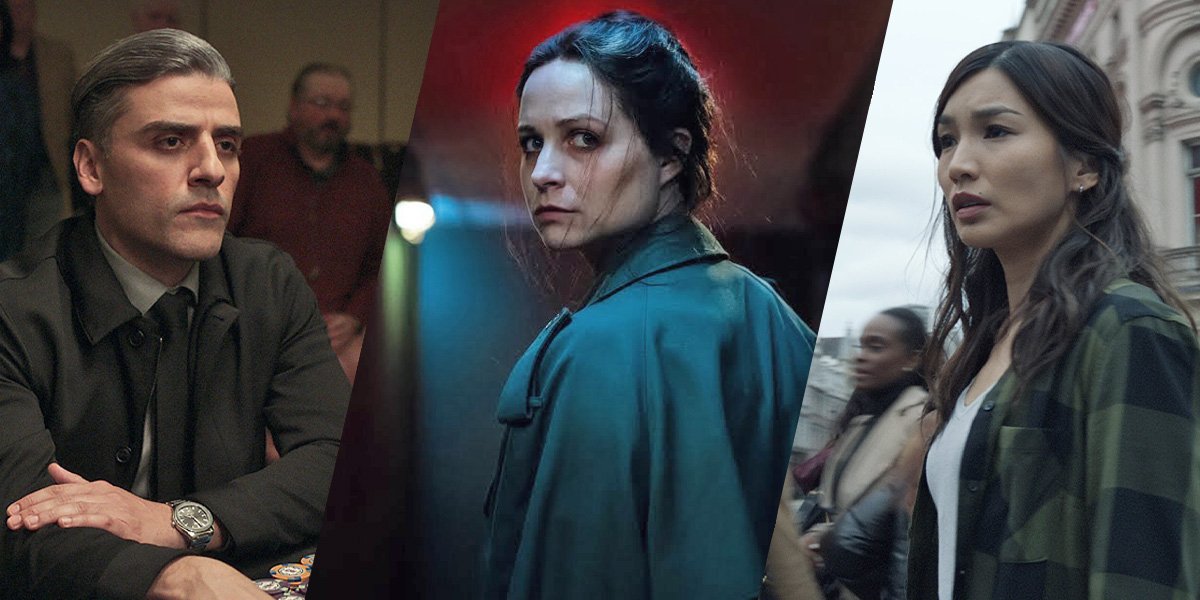 The Card Counter, Censor, Eternals (Focus Features, Magnet Releasing & Magnolia Pictures, Marvel Studios)
From The King's Man to Censor, let's go through 5 overlooked films and 5 underrated films that came out in 2021.
It's January, the start of a new year and what many consider to be the annual dead zone of cinema. Very few films of notable quality are said to come out in the first month of any given year. So, I sometimes like to take the opportunity to go back and catch up on what I missed the year prior. There's still a handful of smaller, less recognized releases I want to get to, like Mass, Flee, and The Sparks Brothers, for instance. If you're looking to do the same, I have five films to share that came out in 2021 and have been sadly overlooked. These films were at the very least generally well-received when they came out, but they seemingly left little to no impact on the year whatsoever. And of course, barely anyone saw them. Additionally, you may have passed up a multitude of films in 2021 because of negative critical reaction, but I feel that some of these films are underrated and deserving of more love. So, I've gathered five such films to briefly discuss as well
5 OVERLOOKED FILMS OF 2021
Let's start with five overlooked films that were released in 2021!
---
CENSOR
Director: Prano Bailey-Bond
Writers: Prano Bailey-Bond, Anthony Fletcher
Full review: A Throwback to Video Nasties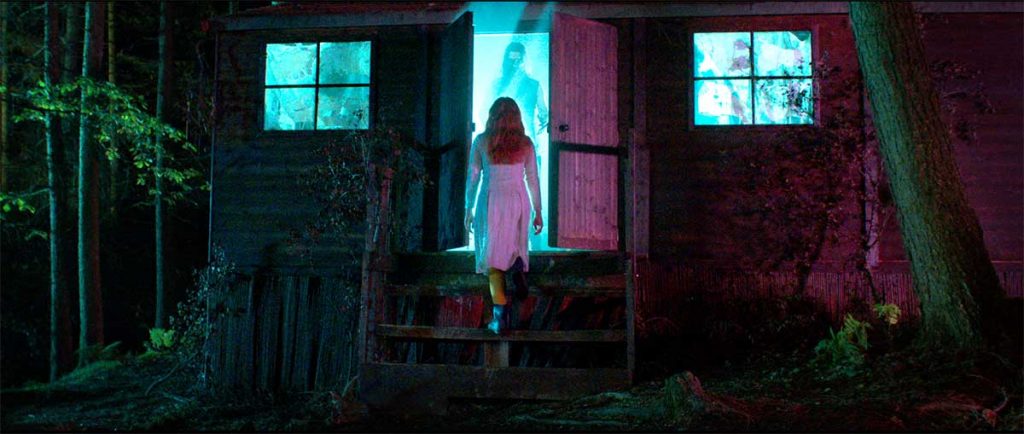 Censor is not only one of the most overlooked films of 2021, but it's one of my top ten personal favorites. Niamh Algar stars as a film censor who watches exploitative films to decide whether or not to alter or ban them for their violent content. But when one film contains a scene very similar to an event from her childhood that resulted in the disappearance of her sister, she begins investigating the filmmaker involved. What follows is a slow, creepy descent into madness, making you increasingly unsure of what this woman will do to get her answers or even if there are any.
Without giving any of those answers away, Censor explores the well-worn concerns of violence in media inspiring violence in reality, highlighting the darker side of projecting one's own trauma onto art. Director Prano Bailey-Bond makes his fondness for gory exploitation films clear through stylistic tributes and gruesome sequences, but never does Censor become such an exploitation film itself. There's such clear thought put into every frame, and the most frightening aspects of the story are psychological. Niamh Algar's performance deserves awards recognition for how much range she has to show and the extremes she absolutely nails. Censor disturbs on multiple levels and is an overlooked gem of a horror film.
---
THE CARD COUNTER
Writer & Director: Paul Schrader
Full review: "Someone To Find Your Way Home"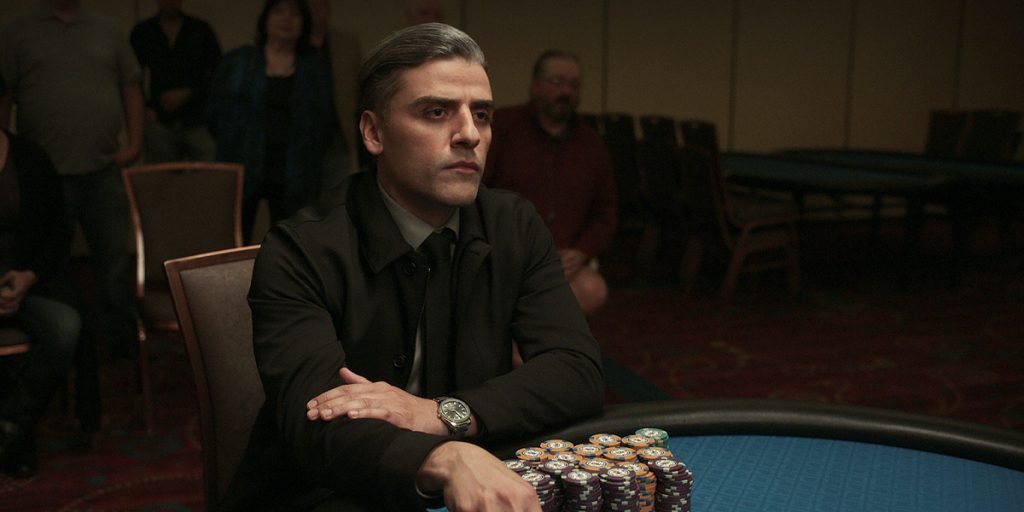 In The Card Counter, directed by Paul Schrader (known for directing First Reformed), Oscar Isaac plays William "Tell" Tirrich, a subdued gambler with a mysterious past. He comes across a young man (Tye Sheridan) whom he tries to keep from falling down a bad path, while trying to keep himself from doing the same. The Card Counter is a fascinating look at a man who tries to live a relatively reserved life despite his gambling "career", because he knows what he's done, what he's capable of, and how easily he can slip back into his darker side. This results in a very restrained film that focuses more on simmering pressure and building relationships than gruesome imagery or violence. Although such violence does occur, and it's appropriately disturbing and tragic, especially when contrasted with the rest of the film. Oscar Isaac's performance is not the least bit flashy, but it gets across so much with so little. Though you're not told his character's backstory for a good while, you can feel the burden of what he's been through just in his demeanor and way of speaking. I don't know why The Card Counter has faded so much in people's minds since its release, but it's a very overlooked crime drama and one of the year's most quietly impactful films.
---
IN THE EARTH
Writer & Director: Ben Wheatley
Written and directed by Ben Wheatley and made entirely during the COVID-19 pandemic, In the Earth follows a scientist (Joel Fry) and park ranger (Ellora Torchia) who, in the middle of a pandemic themselves, venture into the woods on an equipment run, only to soon discover that a malevolent force may have taken hold within the forest. COVID-19, among many other things, drove some people to a slight state of devolution from their "normal" everyday functions. In the Earth takes that idea and runs with it, portraying the horror of never returning to civilization and being forever at the mercy of something much more powerful and omnipotent than you. The first act is admittedly a little weak, due to the more standard threats and somewhat generic characters, but the rest of the film definitely picks up the slack. The Oscar-worthy cinematography on behalf of Nick Gillespie utilizes aggressive lighting, color, and sound to create an outright assault on the senses and drive the viewer into a physical and mental frenzy. In the Earth is intentionally very unfriendly to the eyes and ears, to a point where some may be outright irritated and dislike the film as a result. I love what it does, but many will not. This is a polarizing film among the few who have seen it, for very good reason. But it clearly had a lot of skill effort involved, and that effort pays off.
---
NINE DAYS
Writer & director: Edson Oda
Full Review: A Stunning Investigation on Life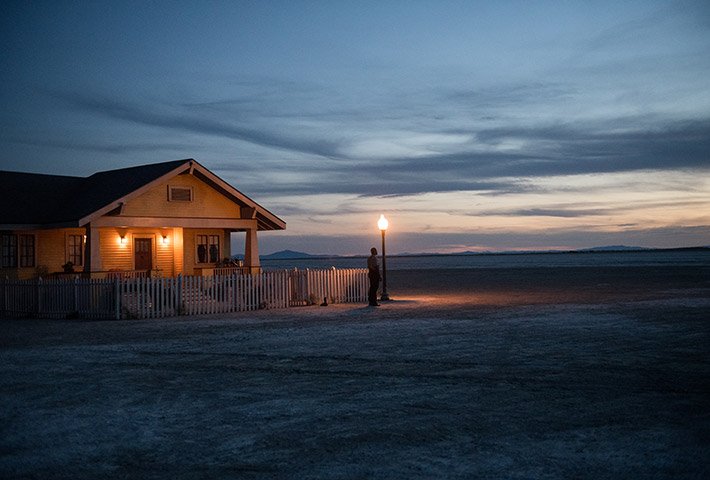 The directorial debut of Edson Oda, Nine Days is an abstract story about a dimension of souls competing to be "born" on Earth, being put through nine days of tests and judgement to hopefully earn their spot. Winston Duke plays Will, who acts as the overseer and is given a new perspective of the entire process when he meets a soul named Emma (Zazie Beetz). What makes Will distinct is that he was actually once alive himself, and you learn that the life he lived has left scars of unfulfillment and regret. Duke's performance is so quietly pained, and it's matched by Oda's direction of the film: very gentle, melancholy, and spiritual. Despite the setting not being aesthetically supernatural in any way, you still feel how otherworldly this realm is. In some ways, Nine Days can be seen as a live-action, softer alternative to Soul, both in the premise and in the questions it raises about how we live our lives, how that affects our outlook, and how it can affect others we come across. Nine Days thrives on showing us the little things that these characters go through, and it asks us to appreciate and embrace those little things in our own lives. When combined with the serene, bittersweet score by Antonio Pinto (the most overlooked score on this list) and gorgeous cinematography from Wyatt Garfield, Nine Days is an original, heavy, strangely comforting film.
---
THE NIGHT HOUSE
Director: David Bruckner
Writers: Ben Collins, Luke Piotrowski
Full Review: A Chilling Portrayal of Grief
I reviewed The Night House when it first came out, but it warrants being mentioned again for how overlooked it is. Rebecca Hall plays a woman who lost her husband (Evan Jonigkeit) to suicide and starts being haunted by some unknown entity in her lake house. Looking into these occurrences leads her to startling secrets about her husband, as well as the truth of what's causing her nightmare. Hall gives a performance that will get none of the awards consideration it richly deserves. She's so vulnerable, resentful, and helplessly terrified, ensuring there's no point in the film where you feel at ease. The Night House is a horror film that doesn't scare viewers in a typical fashion, instead relying on its chilling atmosphere and the existential dread of our character's past coming back to literally haunt her. Only at the end do the scares become more bombastic, but they still stay mostly true to the film's more somber mood. That ending, while a little too extreme and simple for my liking, contains a conceptually terrifying reveal that stems from the fears that Hall's character has been forced to live with, as well as fears that we all must one day confront. The Night House isn't one of the all-time great horror classics, but it's executed so effectively and covers such scary themes that I highly recommend it.
5 UNDERRATED FILMS OF 2021
Now it's time to look at five underrated films from 2021! They may not all necessarily be amazing, but they have more value than what they've been given credit for and are worth giving a chance.
---
CHERRY
Directors: Anthony Russo, Joe Russo
Writers: Angela Russo-Otstot, Jessica Goldberg (screenplay), Nico Walker (novel)
Full Review: Tom Holland Captivates with a Career-Best Performance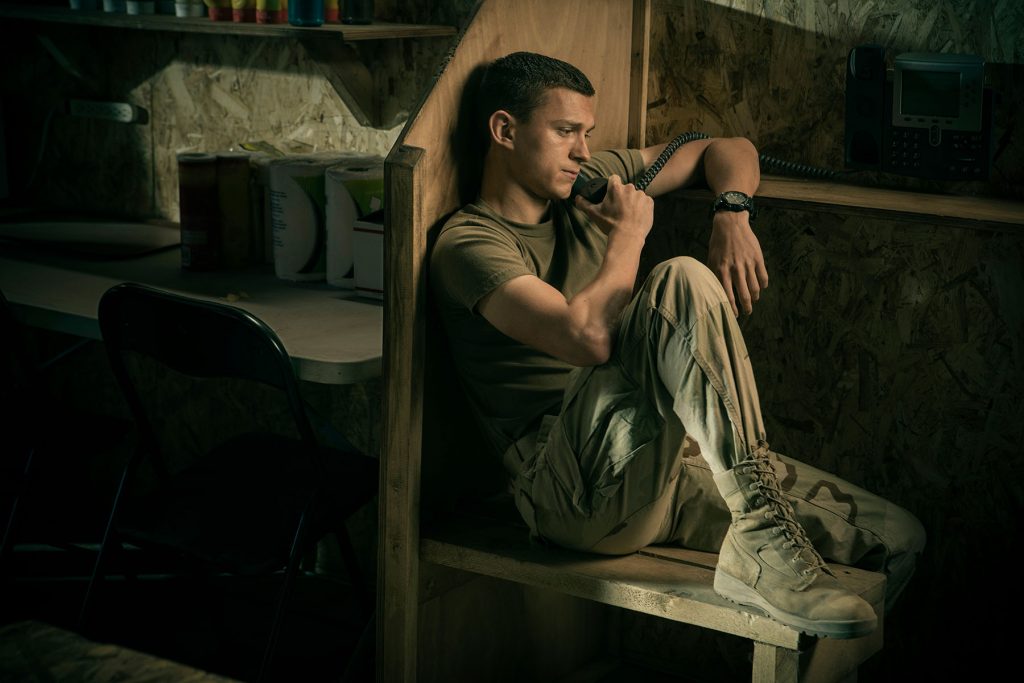 Hot off directing what was temporarily (and let's face it, what someday will be again) the highest grossing film of all time, Anthony and Joe Russo throw everything and the kitchen sink at their next film, Cherry. Based on Nico Walker's book, the film stars Tom Holland as the titular "Cherry", a soldier who goes to war in the U.S. Army. Upon returning home, he suffers from PTSD and drug addiction, the latter of which ultimately leads him to crime, along with his wife Emily (Ciara Bravo). Cherry was lampooned for its highly experimental and in-your-face style, which uses unorthodox color filters, plays with sound and narration, displays a far tighter aspect ratio for only one portion, and so on. While some of these choices don't work, most of them further either the storytelling or the expression of what the characters are going through. The Russos are unafraid to show you the ugliest sides of these people and their completely unfiltered spirals into desperation and hate. The style is never used as a replacement for the actual substance of the story. Tom Holland gives the best performance I've seen from him, and Ciara Bravo is equally amazing. Cherry is an experiment that works far more often than not, and it's great to see a duo of directors go all the way with a vision after being attached to blockbusters for many years. Even if you dislike what they've done here, you're not likely to ever forget it.
See Also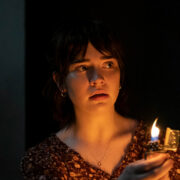 ---
ETERNALS
Director: Chloé Zhao
Writers: Chloé Zhao, Patrick Burleigh, Ryan Firpo, Kaz Firpo (screenplay), Jack Kirby (comics)
Full review: The "Lost Boys" of the MCU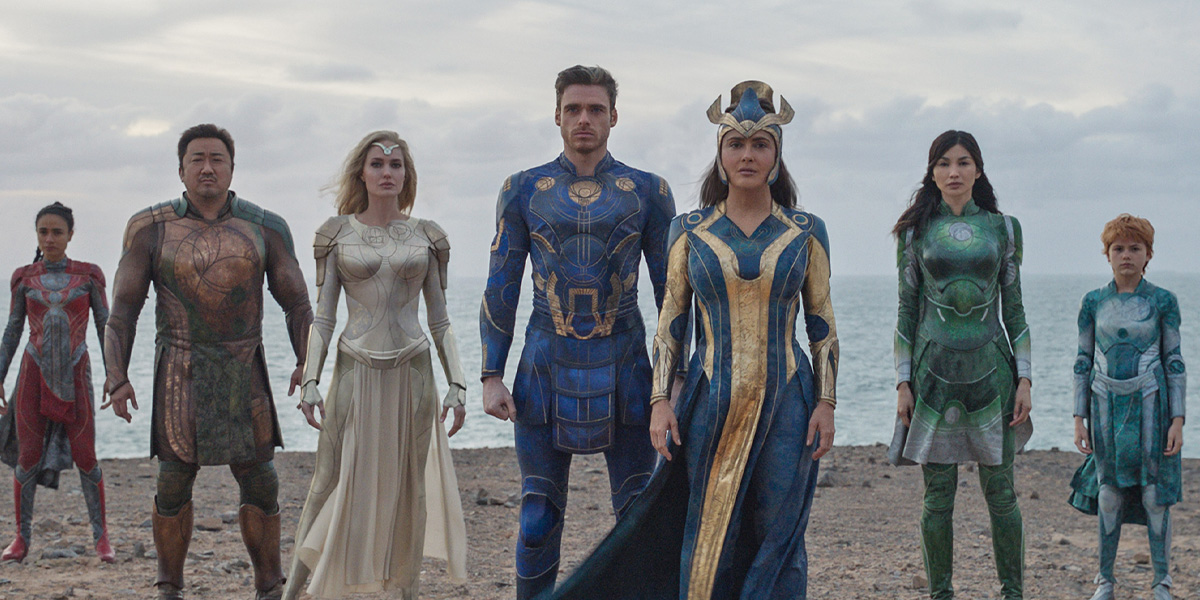 Eternals did the unthinkable: it got the MCU a Rotten Tomatoes score of less than 60%! That Tomatometer nonsense aside, Eternals is technically the worst-reviewed movie in the Marvel Cinematic Universe. But while it's far from being the franchise's best, it's also far from being its worst. Sersei (Gemma Chan) is an immortal being sent to Earth along with nine others like her, fighting off monsters known as Deviants. But after centuries of living aimlessly on the planet, these Eternals discover their true purpose for being there and must make difficult choices as a result. The Eternals themselves are some of Marvel's most compelling characters in years. They all have their own different personalities, struggles, and outlooks that bring them together in some situations and tear them apart in others. The performances are all very subdued by MCU standards, but that sells you on how long they've been alive without stripping them of their identities. Eternals is refreshingly slow-paced, content to go long stretches with no action or flashy set pieces. It's also one of the most visually pleasing films in the MCU, shot on location more often than other recent entries. The film is at its weakest when the more conventional MCU tropes do show up, like the outlandish humor, overblown CGI spectacles, or references to other MCU films. But what director Chloé Zhao manages to achieve within those limitations is still a respectable, thought-provoking superhero film about humanity and one's greater purpose. Eternals is imperfect, but it's still a valuable and underrated addition to this franchise.
---
ANTLERS
Director: Scott Cooper
Writers: C. Henry Chaisson, Nick Antosca, Scott Cooper (screenplay), Nick Antosca (novel)
Full Review: A Chilling Gothic Tale for the New Age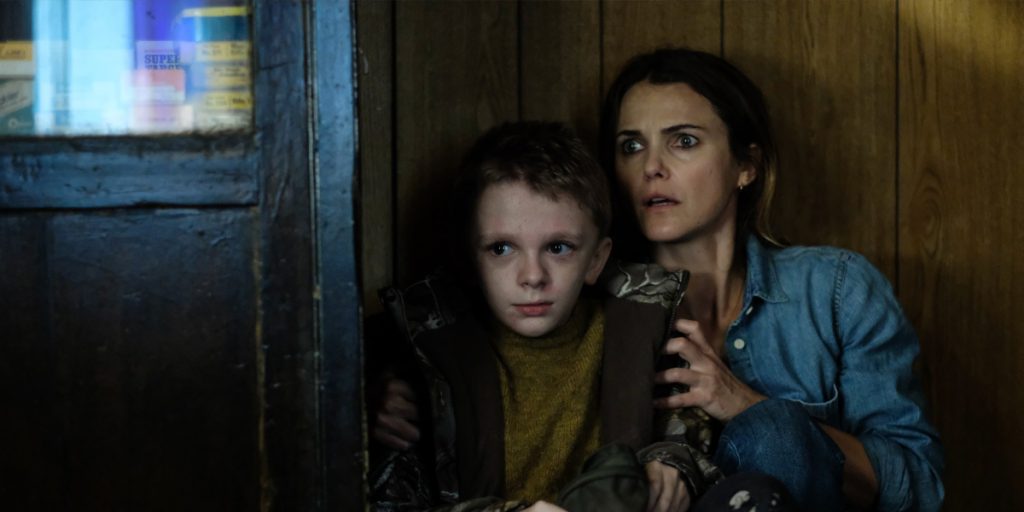 Originally slated to come out in 2020, Antlers finds schoolteacher Julia (Keri Russell) drawn to one of her students, Lucas (Jeremy Thomas), who she believes may be suffering in his home life. When she learns more about him, she discovers that his father has been slowly mutating into a deadly, demonic creature. Director Scott Cooper takes his time with his deliberate pacing, coating every frame with a deathly aura. Like in The Night House, the plights and pasts of our characters are as big a source of dread as the monster. The primary theme of the film is abuse, how small it can make a person feel, and why it's able to endure. Lucas could find a way out of his nightmare, but his love and guilt towards his family are just as powerful as what any creature could do to him. Julia is revealed to have her own history with abuse, which creates tension between her and her brother (Jesse Plemons) and motivates her to not leave someone similarly suffering behind, leading to an empowering payoff. With Antlers being produced by Guillermo del Toro, it comes as no surprise that the monster looks amazing. Yet, Cooper wisely knows to go the Jaws route and save its complete reveal for the climax. Antlers may have gotten lukewarm reviews upon release, but it'sis a searing creature feature that mixes harsh cruelty with tender compassion.
---
THE KING'S MAN
Director: Matthew Vaughn
Writers: Matthew Vaughn, Karl Gajdusek (screenplay), Mark Millar, Dave Gibbons (comics)
Full Review: A Bold, Bloody Prequel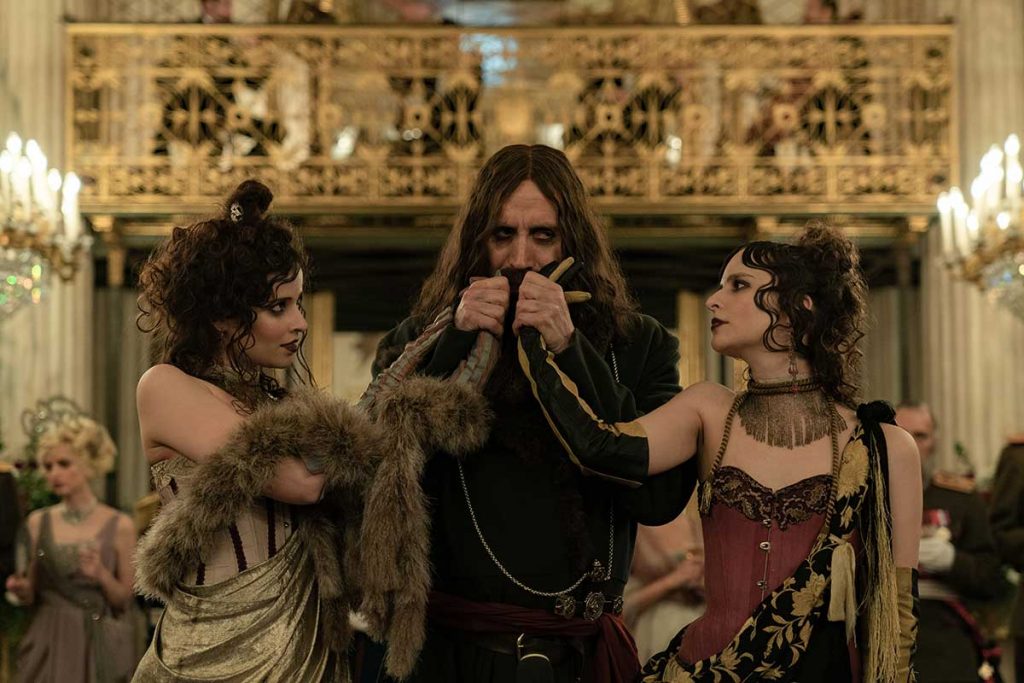 A prequel to Matthew Vaughn's Kingsman: The Secret Service, The King's Man takes place at the start of World War I, where Orlando Oxford (Ralph Fiennes) brings together a group of comrades to form a secret organization, hoping to stop Germany and its allies from invading England. When comparing The King's Man to its predecessors, there's not as much heightened insanity to be found, though it is still present. Vaughn is going for something heavier, and while certain portions of the film don't mix seamlessly as a result, they're all done tremendously well. The climax is a total thrill ride, the fight with Rasputin (Rhys Ifans) is a treat of visuals and laughs, and a sequence in the trenches of World War I is some of the most nail-biting action I've seen in years. And it's all tied together with a story filled with heart, satirical humor, and even a few tragic turns. Fiennes has some powerhouse moments with his performance, turning an already well-written character into one of my favorites in the franchise. I understand why The King's Man didn't win everybody over, but I believe it should have won over more critics and audiences than it did. It's not as good as the original Kingsman, but it's still very enjoyable and highly underrated.
---
REMINISCENCE
Writer & director: Lisa Joy
Full Review: Jackman Shines in Stylish Neo-Noir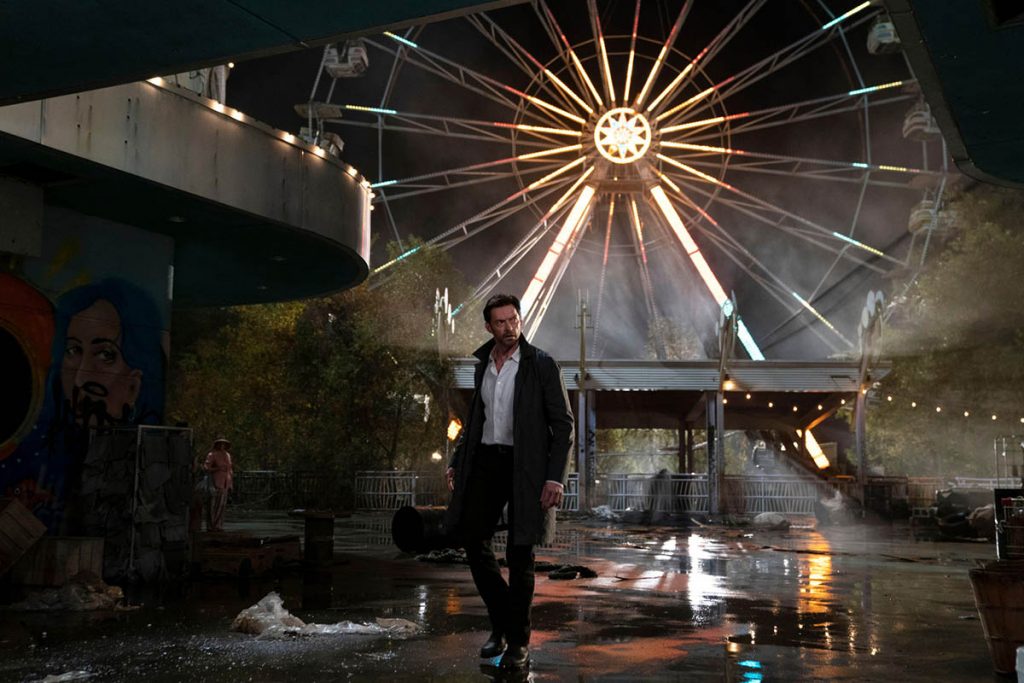 While the problems with Reminiscence are evident, this science-fiction film should still be appreciated for what it does well. Hugh Jackman plays a man living in a flooded Miami of the near future, charging clients to access a machine that lets them relive their fondest memories. He soon forms a relationship with the mysterious Mae (Rebecca Ferguson), but she then disappears, leading him down a path of self-destruction looking for her. For director Lisa Joy's first film, Reminiscence looks great, portraying its noirish dystopian future with impressive authenticity. The filmwears its influenceson its sleeve, but it's still mostly its own thing. The setting is also perfect for the themes of memory, as you easily see why anyone would want to escape this bleak reality in favor of their warmer pasts. Doing so is rejuvenating in some ways, but then damaging in other ways when taken too far, as is the case with Jackman's character as he chases down something that may no longer be within reach. True, the world-building is underdeveloped and there are a few too many other ideas being thrown around. But Reminiscence is a fun, underrated watch with thoughtful themes and great performances and visuals. And maybe most importantly, it shows that Lisa Joy has a lot of potential as a filmmaker, especially if she helmed something of this size as well as she did on her first attempt.