Wild at Heart: Lynch Film Review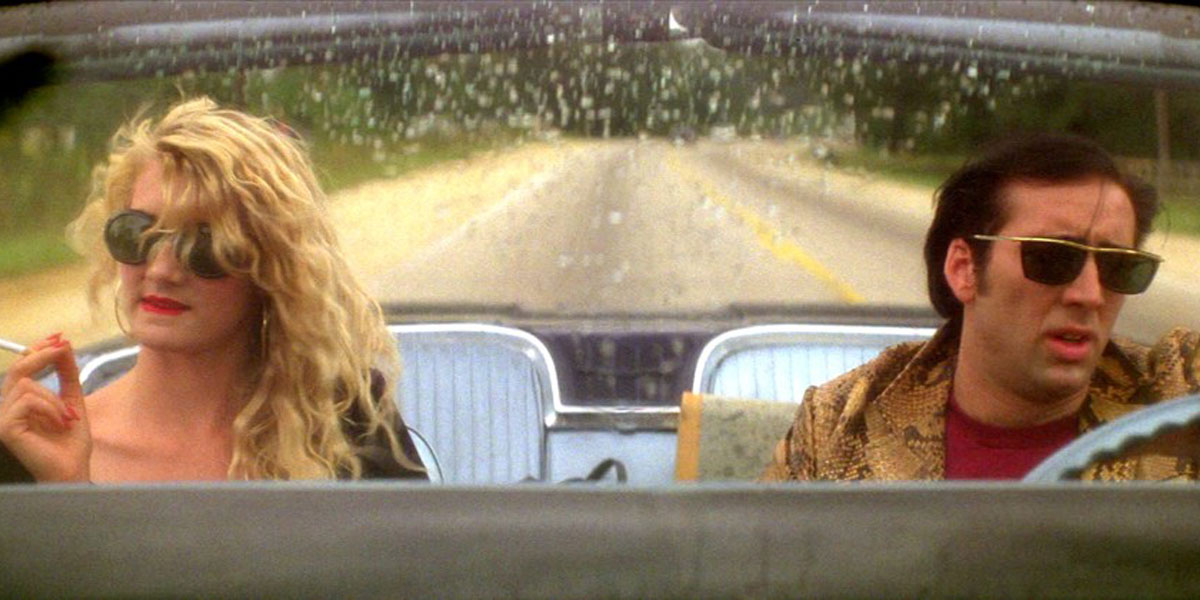 Wild at Heart (Polygram)
David Lynch's electrically charged, absurdist road movie is Wild at Heart and weird on top.
---

David Lynch's Wild at Heart may be one of his lesser-known features, but it stands as a great introduction to his style with its highly intense narrative and splash of absurdism. This road movie come love story follows a young couple, Sailor (Nicolas Cage) and Lula (Laura Dern), as they run away from the variety of oddities Lula's mother Marietta (Dianne Ladd) has hired to kill Sailor. Although it won the Palme D'Or at the 1990 Cannes Film Festival, it is a very divisive film, much like the rest of Lynch's filmography, but those who love it may describe it as a hidden gem.
Wild at Heart begins as Sailor and Lula enter what appears to be a formal event. As is indicative of Lynch's style, he clearly thinks nothing of a subtle build here, as Sailor is almost immediately accosted by one of Marietta's lovers, who declares he's been paid by Lula's mother to kill him. Within seconds, Sailor has brained the man, Lynch not sparing us any of the gory detail, and the wannabe rock and roller gets swiftly put in jail for manslaughter. From here, Lynch doesn't take his foot off the gas and the viewer is flung into a film that can be likened to a fever dream.
Many references are made to The Wizard of Oz throughout the film, with Lula and Sailor following their very own yellow brick road in the hope of a better future. However, there is no Tinman searching for a heart, no Scarecrow in need of a brain, and no Lion who wishes for courage on this road. Instead, there is only Marietta's associates who only want one thing – Sailor's head. The parallel between The Wizard of Oz and Wild at Heart likens Lula to Dorothy, the 20-year-old runaway, who even knocks together the heels of her red shoes in one scene. Although this may appear a little on the nose, it shows an innocent Lula desperately hanging onto fictitious tales to help her cope with her reality.
Wild at Heart's dark fairy tale is fuelled by its strong cast of characters. Dianne Ladd's Marietta is an unhinged mother who almost embodies the caricature of a pantomime villain. In Lula's personal Oz, Marietta plays the role of the Wicked Witch, using her iniquitous spells to get a myriad of men to do whatever she wishes. She is hysterical to the point of humour, but her unpredictability and highly intense performance makes her a joy to watch. Other great performances include that of Harry Dean Stanton, who plays Johnnie Farragut, a private detective and Marietta's part-time lover. His placidity makes him a human doormat for Marietta, and he elicits sympathy from the audience with his unflinching loyalty to her. Willem Dafoe's Bobby Peru can be seen as Stanton's opposite, as an utterly grotesque man whose morals are about as intact as his teeth. It's without a doubt that Bobby Peru will linger on the brain long after the credits roll.
At the very centre of Wild at Heart we have our mismatched lovers, Sailor (Cage) and Lula (Dern), who won't let anything get in the way of them being together. Initially, Cage seems an odd choice for an intense love story, but somehow, he pulls it off. In his snakeskin jacket, that's 'a symbol of [his] individuality, and [his] belief in personal freedom,' (from Cage's actual wardrobe) he straddles the line between humorous and unflinchingly dedicated. Sailor undoubtedly still has the characteristic Cage flare prevalent in all his roles, but in moments of poignancy shared between the couple as they divulge their darkest secrets, Cage brings depth to his character and presents himself as a worthy lover. Saying this, Cage is outdone on screen by a young Laura Dern who was still considered to be in the early stages of her acting career. Her performance as Lula is positively electric and emotionally charged throughout. She mesmerises on screen and represents a search for freedom we all aspire for as well. Lula at times be portrayed as naïve, but ultimately, she is a powerful female figure who knows what she wants out of life and will do anything possible to get it.
With Angelo Badalamenti's powerful score, mixed with potent visuals of profound love and absurdist apparitions, Wild at Heart is a film of great spectacle. For those wanting to dive into Lynch's filmography, but are not sure where to start, Wild at Heart is a good place to do so. It is distinctively Lynchian, but it is perhaps easier to follow than other titles in his filmography. For the most part, what you see is what you get, and any flourishes to the plot are explained within the narrative which makes for a much more digestible viewing experience. But, by all means, go ahead and queue up Inland Empire.
---
Wild at Heart is now available to watch on VOD in select countries, and on DVD & Blu-Ray worldwide.