We Have A Ghost (Netflix): Film Review

Isabella Russo, Jahi Winston and David Harbour in We Have A Ghost. (Netflix © 2022)
Christopher Landon's We Have A Ghost is a fun and mischievous family comedy horror movie, and a ghost story for the social media age.
---

We Have A Ghost starts with a scene from a typical ghost story, as a family flee their haunted house in Chicago. One year later, that house is bought by the Presleys – Frank (Anthony Mackie), his wife Melanie (Erica Ash) and their teenage sons Fulton (Niles Fitch) and Kevin (Jahi Di'Allo Winston). Frank calls this a fresh start, but Kevin has heard this several times before and is unimpressed. When he hears footsteps in the attic during the night, he investigates and sees a ghost named Ernest (David Harbour). But instead of being terrified of this spectre, Kevin films him on his phone.
Later, Frank sees the footage and sees dollar signs. He puts the footage onto YouTube, where it becomes a viral hit. Soon, it is attracting the attention of the public and figures like Judy Romano, 'The West Bay Medium' (Jennifer Coolidge in a fun cameo). Soon, the CIA get involved alongside Dr Leslie Monroe (Tig Notaro), a parapsychologist who hopes the ghost can relaunch her failing career. Meanwhile, the helpful Kevin wants to find out what happened to Ernest so he can help him move to the afterlife. And so he enlists the help of his next-door neighbour Joy (Isabella Russo) to investigate Ernest's past.
Based on the Vice short story by Geoff Manaugh, We Have A Ghost comes to us from writer-director Christopher Landon. After working on the Paranormal Activity franchise, Landon has recently pivoted towards high-concept horrors that are also subgenre pastiches. The Happy Death Day series was Groundhog Day with a killer. The really good Freaky was a slasher version of Freaky Friday. And Landon is currently producing Time Cut, described as Back to the Future meets Scream. In a way, then, his new film is a departure from that; a family comedy horror movie that is also a ghost story for the social media age.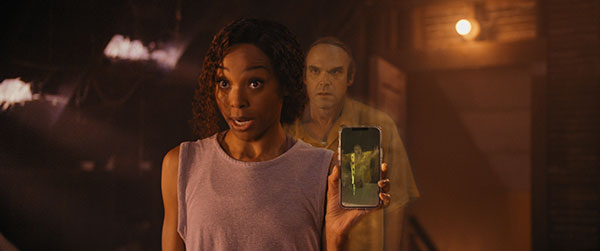 As the emoji in the opening title suggests, there is a contemporary, youth-orientated slant to We Have A Ghost. Not only are there references to Minecraft videos and PewDiePie, but Landon uses social media and online trends effectively to show how things spread in the digital age. As soon as the first video is uploaded, Ernest is the subject of TikTok challenges, Instagram videos, memes, conspiracy theories and even thirst posts. Additionally, Landon referred to Amblin during interviews for the film. And there is a resemblance of that tone here. Because despite being mostly family-friendly, We Have A Ghost can be as scary as the Spielberg-produced Poltergeist. There is even a face-melting scene.
Possessing a bowling shirt and comb over, Ernest has been a ghost for decades. He doesn't remember anything, but he can touch people and disappear at will. He also cannot speak, meaning David Harbour is predominately silent during the film (save for a few ghostly groans). Nevertheless, Harbour provides most of the film's emotion and empathy thanks to his expressive face. Meanwhile, Anthony Mackie brings a bunch of charisma to the opportunistic Frank. And Landon's horror expertise means all the usual haunted house hallmarks work well. Whether it is the electricity crackling, the cold breath or the aged interior of the house itself. There is also a bright aesthetic – the film alternates between golden oranges and emerald greens – and a dramatic score by regular collaborator Bear McCreary.
We Have A Ghost has family at its core. We have Ernest's tragic story and the father-son relationship between Kevin and Frank, who is soon thinking about merchandising before his son. Joy also has problems with her father, who signs her up for every activity whilst missing the pressure it places on her. This teenage empathy is nothing new for Landon. He has mentioned John Hughes as one of his inspirations and he cared deeply for his teenage protagonists in Happy Death Day and Freaky. Yet We Have A Ghost also sees him updating the ghost story, navigating different side plots and tones. And Landon does it in a film that is fun and a little mischievous, with more than enough heart to make it worth a watch.
---
We Have A Ghost will be available to watch on Netflix on February 24, 2023.