We Are Ten Shorts You Should Watch (We Are One Film Festival)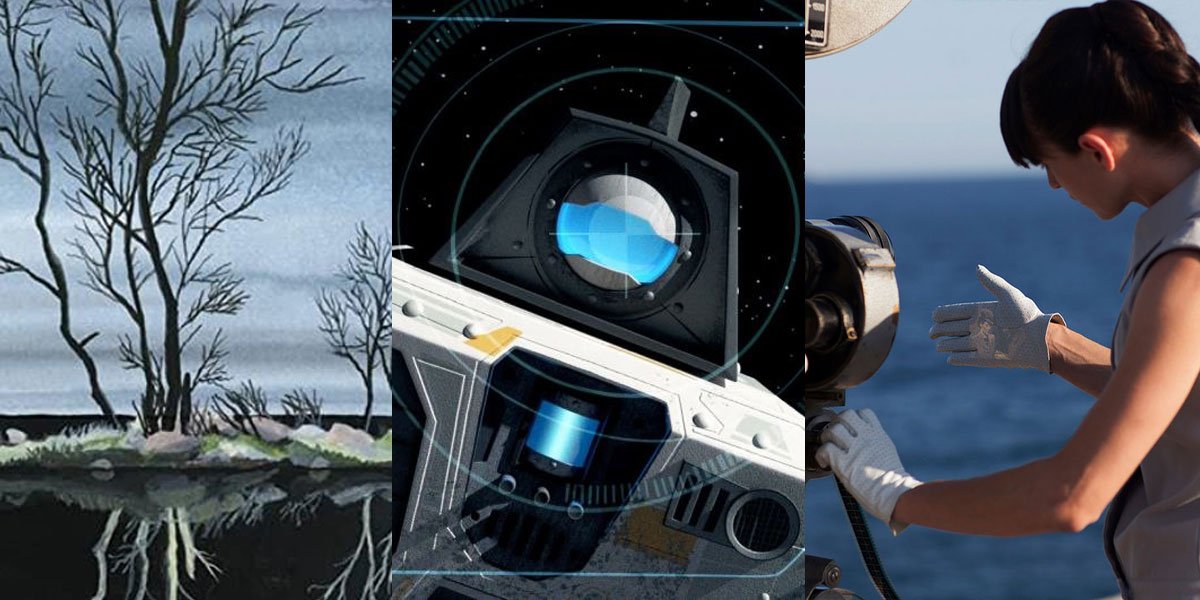 The Tear's Thing, Marooned, 24 Frames Per Century (We Are One Film Festival)
A selection of ten live action and animated shorts from the We Are One Film Festival worth your interest, from stories of chance romantic encounters to digital diplomacy.
---

Running from May 29 to June 7, We Are One: A Global Film Festival is a digital alternative to cancelled film festivals in the midst of a global pandemic. The festival features more than 100 films, including features, shorts, documentaries, virtual reality, and talks with filmmakers, all available to watch for free on YouTube. Of particular interest is a diverse selection of shorts from around the globe that delight, thrill, and haunt with fresh and innovative methods of storytelling and filmmaking. Most of these are still available to watch, so here are my picks for ten intriguing shorts you should see before the festival ends.
---
MAROONED
ANDREW EREKSON
Curated by: Annecy Film Festival
Country: USA
Duration: 7 Min
Watch it here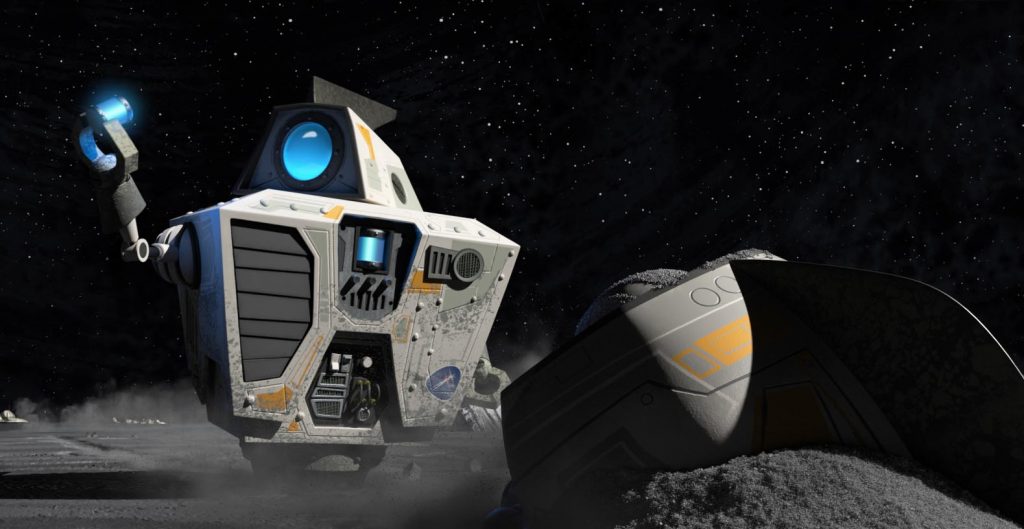 This animated short from DreamWorks Studio takes us to a remote lunar outpost occupied by only a lonely robot building a rocket to travel to Earth. The robot's world is suddenly upended when it makes an unexpected find—another robot—making a new friend while faced with a difficult decision. Matte-like backgrounds of the distant lunar landscape and the exaggerated angular design of rocket ship parts evoke a cold, technological future, contrasted by emotional storytelling and material humanism reminiscent of Pixar.
---

THE DISTANCE BETWEEN US AND THE SKY
VASILIS KEKATOS
Curated by: Cannes Film Festival
Country: Greece
Duration: 9 Min
More information here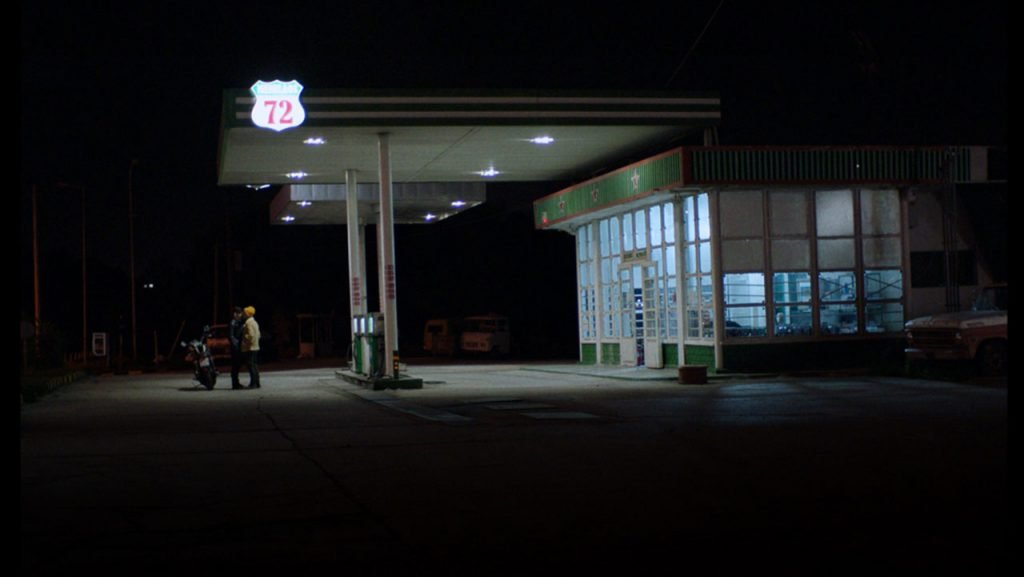 A selection from last year's Cannes Film Festival and winner of the Short Film Palme d'Or and Short Film Queer Palm, this short from Greece charms with its brevity and romantic serendipity. While stranded at a gas station one night, a man (Nikolakis Zeginoglou) asks a motorcyclist (Ioko Ioannis Kotidis) for money for a bus fare to Athens, leading to a pas de deux of flirtatious words and gestures. The back and forth dialogue beguiles with seductive playfulness, while loose camera movements and close-ups inspire an intimate mood.
---

CRU-RAW
DAVID OESCH
Curated by: Tribeca Film Festival
Country: Switzerland
Duration: 10 Min
Watch it here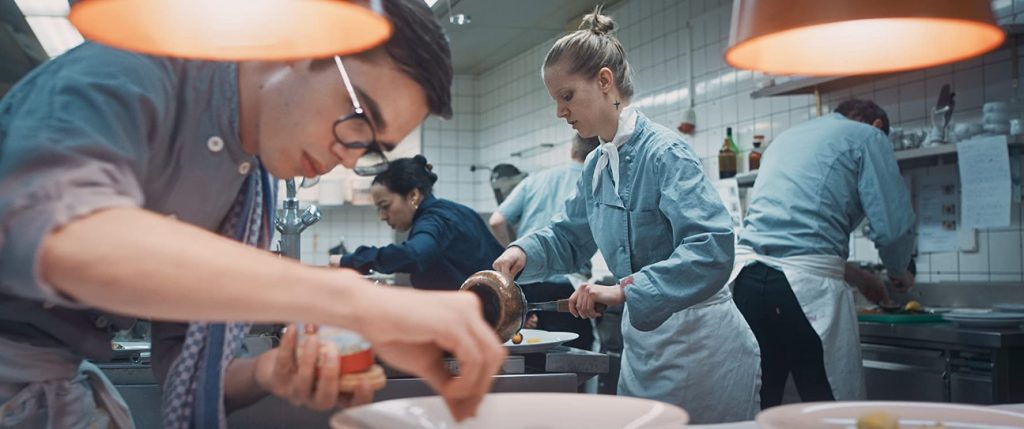 Halfway between Ratatouille and Whiplash, this short from Swiss director David Oesch takes us inside the frantic world of the kitchen of a luxury restaurant where a cook (Jeanne Werner) tries to prove herself to a head chef (Malika Khatir) who demands nothing less than perfection. Thus begins a culinary race against time, featuring debilitating obstacles like a sous chef's breakdown and a bleeding knife injury. Even in a quick ten minutes, the film crafts a complete narrative and nervous camera movements and a pulsing score make for a riveting and stressful watch.
---

OVER
JORN THRELFALL
Curated by: BFI London Film Festival
Country: UK
Duration: 14 Min
More information here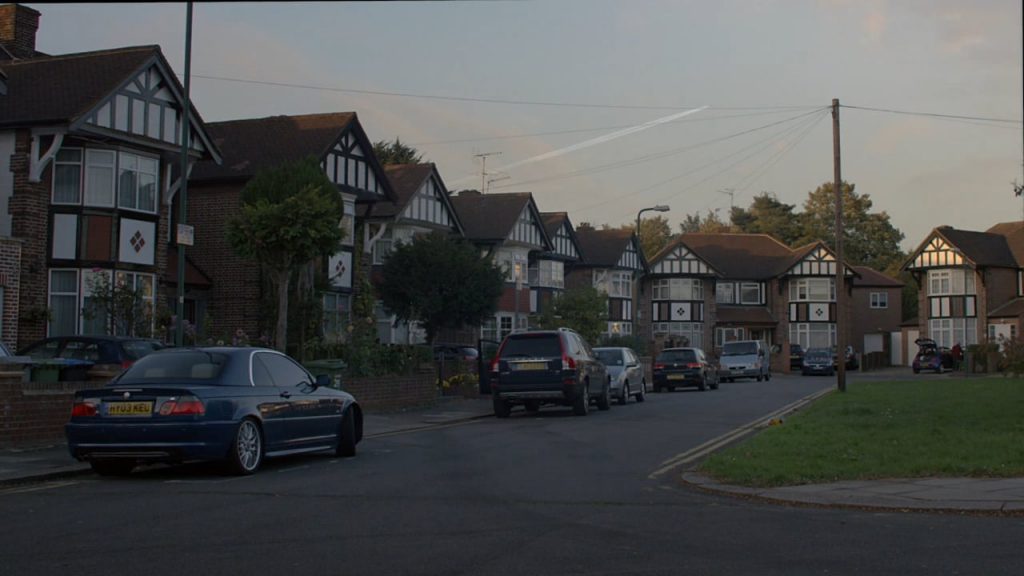 In a quiet London suburb, a woman finds a bundle of flowers lying near to the street, wondering what happened here. Could it have been the death of a neighbor? A car accident? A hit-and-run? Time unfolds backwards throughout the day and we see a power washer spray the street to clean blood, a tow truck moves a damaged automobile, and the police investigate the scene of the incident, called by a dogwalker after a body is found, unseen by bicyclists and joggers. Once the event occurs, we are shocked with both its sudden surprise and a tragic revelation. Static, pedestrian images of the quiet suburb and ignorant inaction particularly haunt, while the backwards narrative builds a sense of obscure mystery with a devastating conclusion for a necessary story that should not be forgotten.
---

THE TEAR'S THING
CLÉMENCE POÉSY
Curated by: Venice Film Festival
Country: France
Duration: 25 Min
Watch it here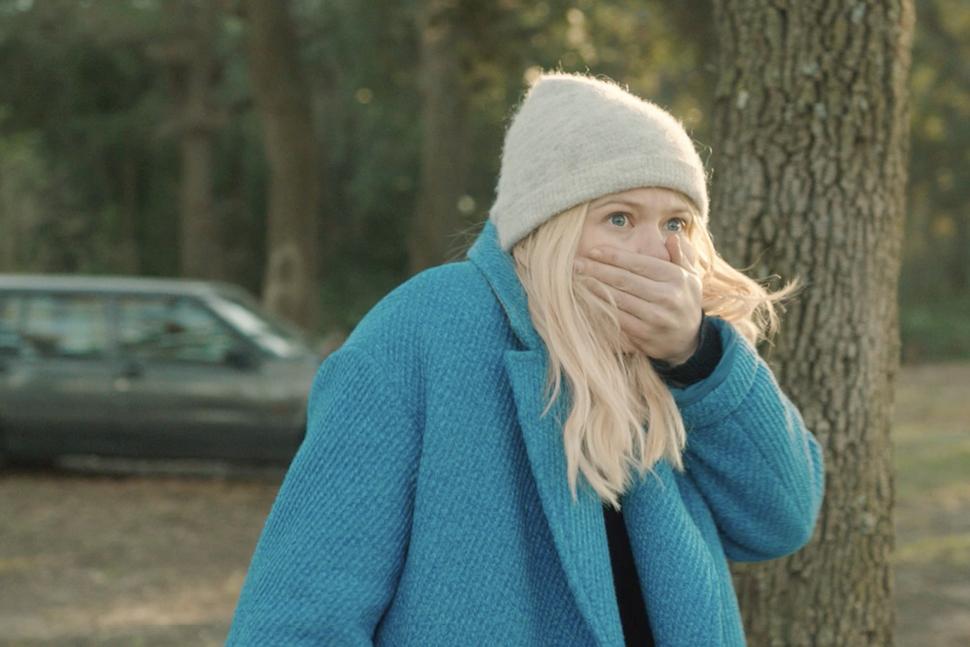 While preparing for a role as an assassin for an upcoming film, Florence (India Hair) visits a gun range to train and unexpectedly encounters Sacha (Sabine Timoteo), a fleeting lover from her past. Both holding firearms and charged with volatile emotions, the reunion between the two is sharp and tense. The film unfolds with longing, regret, and disconnection, shot with cold, stark, and precise cinematography under the direction of Clémence Poésy. The two lead performances are emotionally gripping, crafting a sense of character in their dialogue, gestures, and silence, while the deepest feelings are revealed in actions undone and words unsaid.
---
THE YALTA CONFERENCE ONLINE
KOJI FUKADA
Curated by: Tokyo Film Festival
Country: Japan
Duration: 39 Min
Watch it here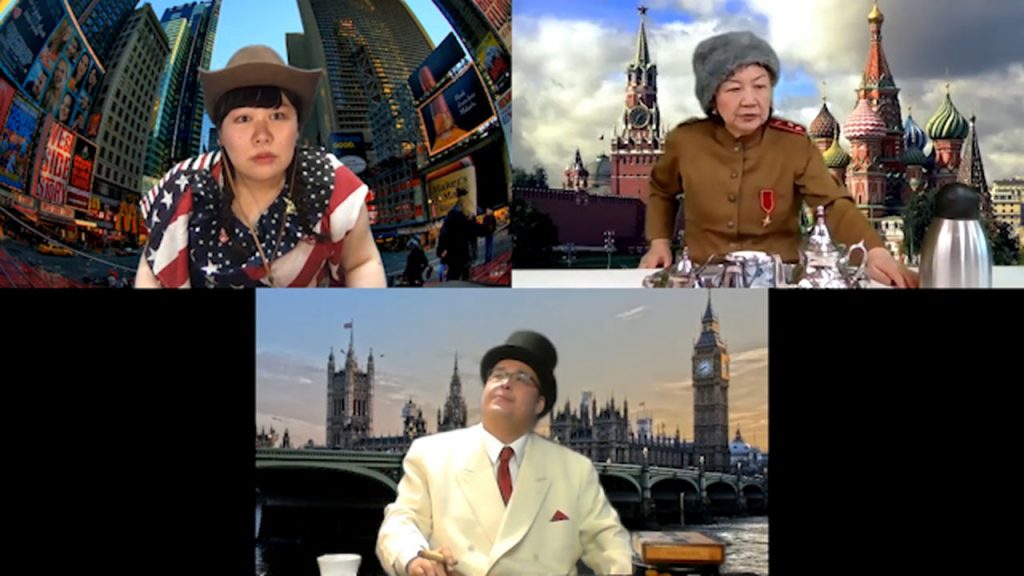 In this modern reimagining of the 1945 Yalta Conference by Japanese theater company Seinendan, Franklin D. Roosevelt, Winston Churchill, and Joseph Stalin meet over Zoom to discuss the political state of the post-World War II future. A hefty length of 40 minutes captures the tedious irresolution of diplomacy, while an irreverent sense of humor perfectly portrays the theatrics and careless game of playing global politics.
---

DEW LINE
JOANNA PRIESTLEY
Curated by: Annecy Film Festival
Country: USA
Duration: 4 Min
Watch it here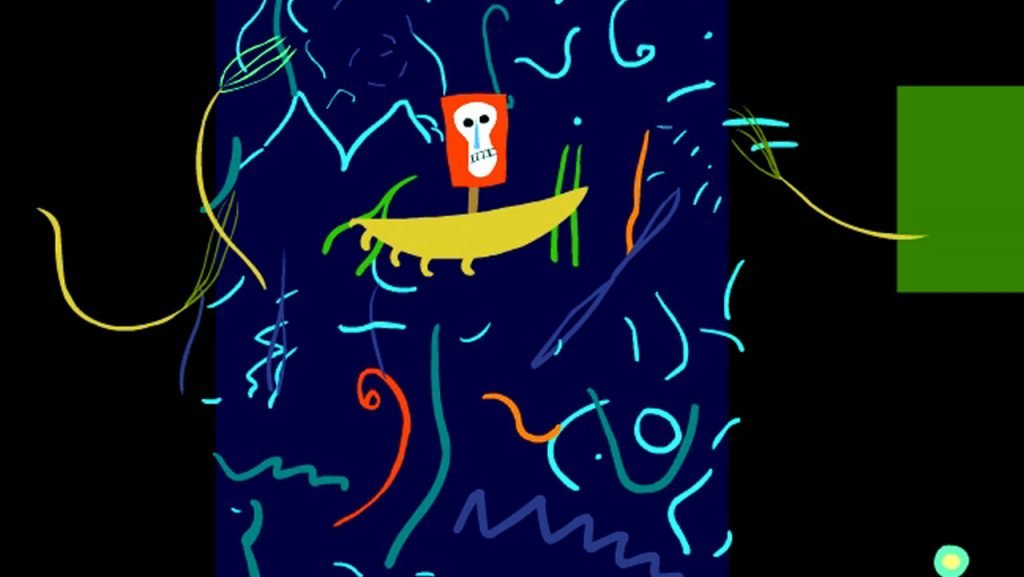 Cellular organisms replicate and decay in Joanna Priestley's visual symphony of freeform shapes and colors, where leaves disappear into rectangles and geometric faces disintegrate. Life and death pulse in images of biological transformation, while a soundscape of radar pings, moody synths, percussion, strings, and nature sounds add a deepened layer to this mesmerizing cinematic world of animated abstractions.
---

GENIUS PARTY: HAPPY MACHINE
MASAAKI YUASA
Curated by: Tokyo Film Festival
Country: Japan
Duration: 16 Min
Watch it here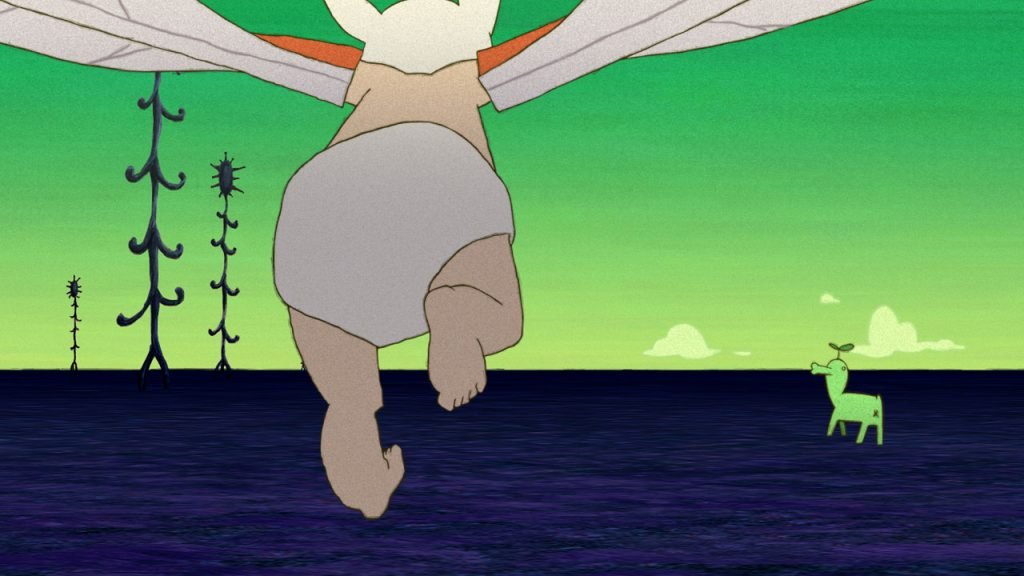 Plato's Allegory of the Cave meets biological surrealism in this animated short from Masaaki Yuasa. When the comfortable façade of a mechanized nursery collapses, an infant explores the surrounding environment populated with strange and fantastical forms of life. The visual imagination dazzles with striking colors and eerie creature design, while the explorative narrative perfectly captures the wonders and traumas of childhood naivety and curiosity.
---

24 FRAMES PER CENTURY
ATHINA RACHEL TSANGARI
Curated by: New York Film Festival
Country: Greece
Duration: 3 Min
Watch it here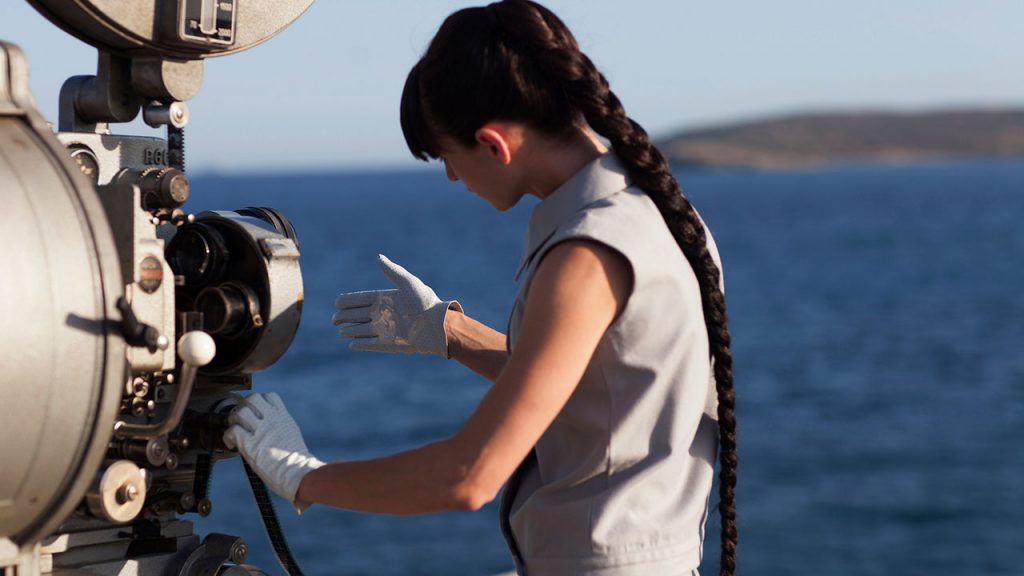 Two film projectors sit atop a Mediterranean island reminiscent of the setting in Jean-Luc Godard's Le Mepris, waiting for an impending moment as they converse with mechanical whirs and clicks. One, a pessimist, thinks the end is near, while the other, the optimist, is convinced otherwise. A brief encounter at only three minutes, Athina Rachel Tsangari's short perfectly captures the wistful uncertainty of cinema's relevance in a technologically changing world.
---

MAD LADDERS
MICHAEL ROBINSON
Curated by: New York Film Festival
Country: USA
Duration: 10 Min
Watch it here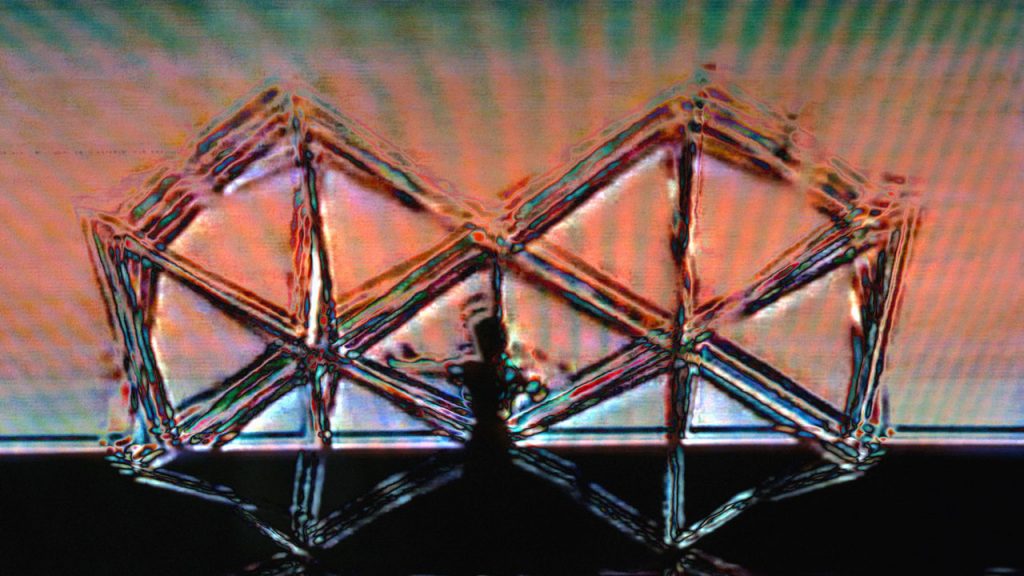 Set against images of ominous clouds, a voice explains otherworldly details of apocalyptic encounters, followed by interludes of pulsating, psychedelic sequences from music videos, dazzling with geometric intensity. It's a puzzling, incomprehensible experimental short, but the visual experience is transfixing and hypnotic, a cinematic meditation best enjoyed under surrender to the screen and logic left behind for ten minutes.
---
JOIN US!
Don't miss our monthly updates with film news, free movie-inspired recipes and exclusive content! You'll only hear from us once a month. #nospam