Vitalina Varela: Film Review

Vitalina Varela (Midas Filmes / Grasshopper Film)
Vitalina Varela, Portuguese auteur Pedro Costa's most recent film, is a haunting exploration of the struggles of living and a meditation on life's mysteries.
---

There are few filmmakers working today that have a style as distinct and instantly recognizable as Pedro Costa. The films by the Portuguese auteur are often shrouded in dense shadows depicting characters silently wandering through maze-like structures. Space and time seem to be all but lost in his films, as they take place seemingly exclusively at night, creating worlds that feel purgatorial. His most recent effort, Vitalina Varela, continues this trend. It is a haunting exploration of the struggles of living while also mediating on life's mysteries.
The film stars Vitalina Varela (who also co-wrote the screenplay with Costa) playing a version of herself. We join her as she has arrived in Lisbon, three days after the death of her husband who left her 40 years ago. Characters frequently tell her that there is nothing left for her in Lisbon anymore, but she decides to make a life for herself there anyway. What follows is an ambiguous but compelling look at her coming to terms with her husband's death and the past they briefly shared together. She wanders through Lisbon, portrayed in the film as a labyrinth, full of strange alleyways and crumbling houses. It feels like a place that belongs to the past, and yet the characters in Costa's film continue their march forward in time.
We do not know why Vitalina Varela, the character, decides to make Lisbon her home. She recognizes her own age, she is not getting any younger, and now that she is in the dilapidated home of her deceased husband, why not live there? Though the film contains minimal dialogue and extended sequences of characters silently contemplating, there is a very real sense of displacement, sadness, and mourning that courses through Vitalina Varela. The performances lack huge outbursts of emotion, but their minimalist approach reflects the drained feeling of mourning. The mumbled words, unblinking stares, and expressionless faces seem to show the detached numbness of losing someone you once loved.
See Also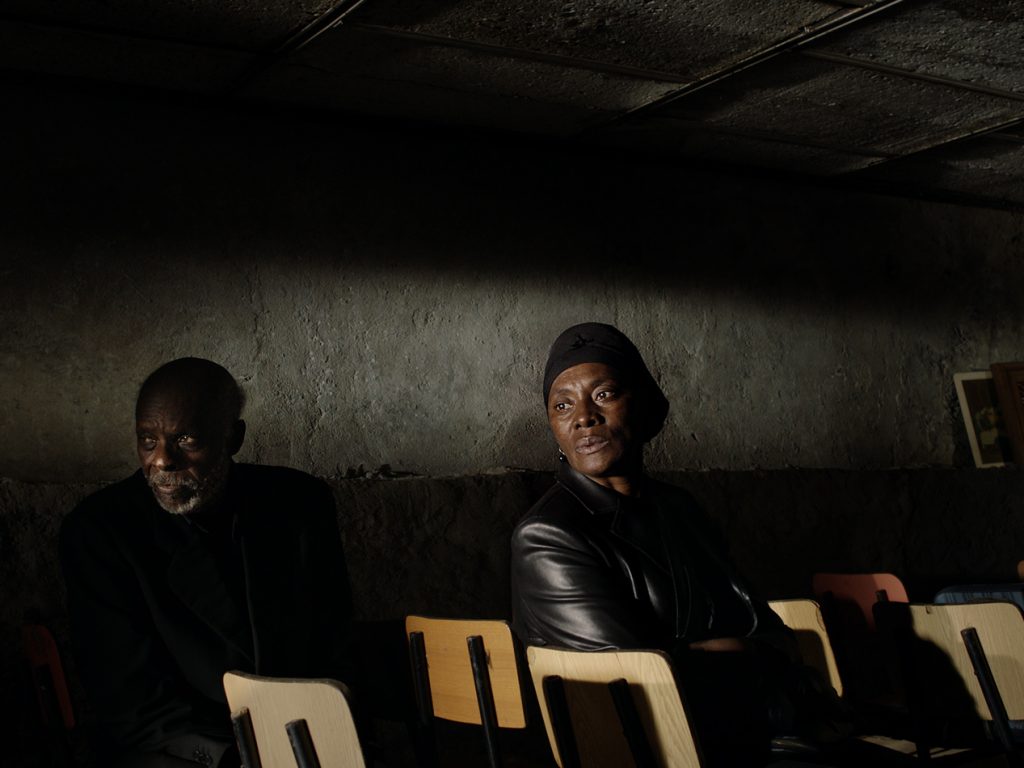 Perhaps the reason Vitalina stays in Lisbon stems from ambivalence. Why not stay? What is stopping her from staying? She clearly has no plan and barely has a home, but it seems that everywhere she would turn she'd still face the same issues: infrastructural decay, death, and lack of economic opportunity. But her true intentions are obscured over the course of the film, illustrated by the jet-black shadows that often obscure the frame. We are never getting the full story, but that ambiguity is alluring, drawing us further into the mysteries the film holds.
Vitalina Varela proves that Pedro Costa continues to be one of international cinema's most interesting and unflinching directors. Through a mix of haunting visuals, ambiguous narrative, and meditative performances, Costa has made one of the best films of last year. It is a remarkable blend of fact, fiction, and poetry, a film that reflects on the struggles of life in an intentionally perplexing and labyrinthine way. Its visuals are captivating, reveling in darkness, obscurity, but with intense moments of utter clarity. It is difficult to have a solid reading of the film after only a single viewing, but it's so enticing in its mysteries that it is bound to draw you back into its world again and again.
---