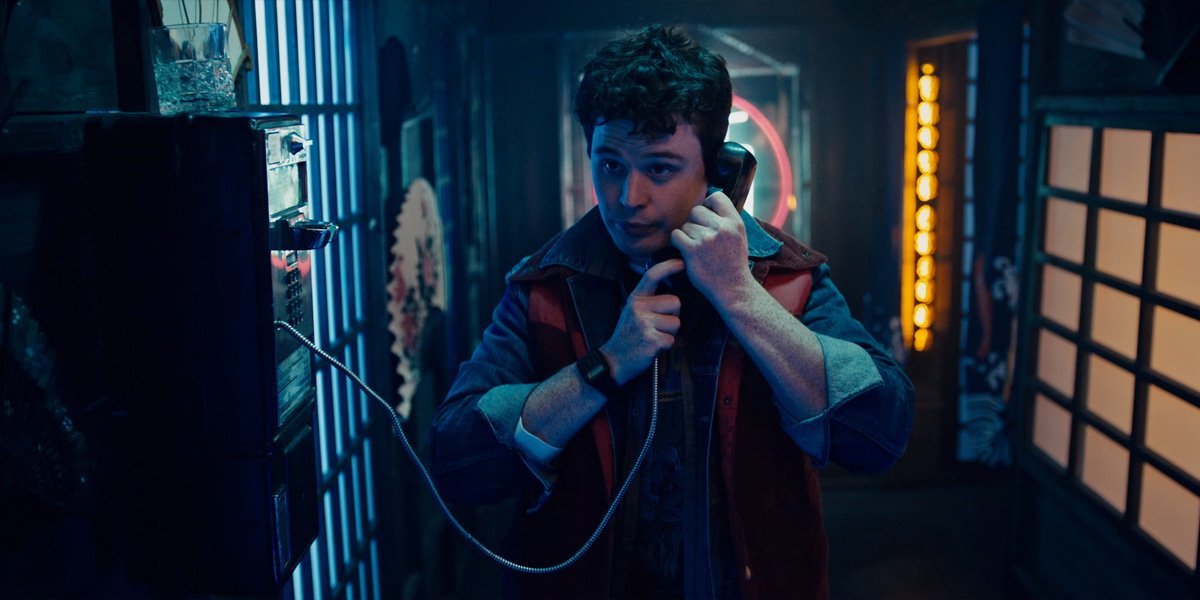 Evan Marsh in Vicious Fun (Black Fawn Films / Breakthrough Entertainment)
Vicious Fun is a deliriously fun comedy-horror film that tackles its brilliant premise with irony, supported by compelling cinematography and a strong screenplay.
---

Vicious Fun starts from a brilliant premise. An extremely opinionated horror film critic with a larger than life personality and the habit of saying everything that goes through his mind suddenly finds himself trapped in a self-help group for serial killers, having to live through the very same horror tropes and unlikely scenarios that he's been criticising for years in his reviews. At first, Joel (Evan Marsh, of Shazam!) tries to outwit them, pretending to be a murderer himself and coming up with a killing strategy to share with the others that somewhat resembles an episode of BBC's Sherlock. But Bob (Ari Millen, of Orphan Black), Fritz (Julian Richings, of Man of Steel), Mike (Robert Maillet, of Sherlock Holmes), Hideo (Sean Baek, of The Expanse), and Zachary (David Koechner, of Twin Peaks) are no ordinary assassins. Joel soon discovers that the five strangers questioning him about his killing habits are, alone, responsible for the most gruesome murders in the country. And so, Joel's cover is blown, and he becomes their target. As he finds an unexpected ally in the ruthless Carrie (Amber Goldfarb), who soon turns out to be a "serial killer of serial killers", our resourceful protagonist realizes that his only chance of staying alive is outwitting the dangerous and unpredictable serial killers hunting him.
Set in the Eighties, Cody Calahan's (Antisocial, The Oak Room) latest horror-comedy is both visually stunning and wonderfully nostalgic. Vicious Fun's settings come alive by means of gorgeous neon lights and desaturated hues of pink, blue and yellow that soften its gritty atmosphere and give it a noir-like edge. Every single place is instantly recognizable and familiar, and the film's attention to detail is reflected in many props and scenarios that effectively remind you of a very specific moment in time, making it a highly compelling watch. But it's in its impressive screenplay (James Villeneuve) and believable performances that Vicious Fun truly shines.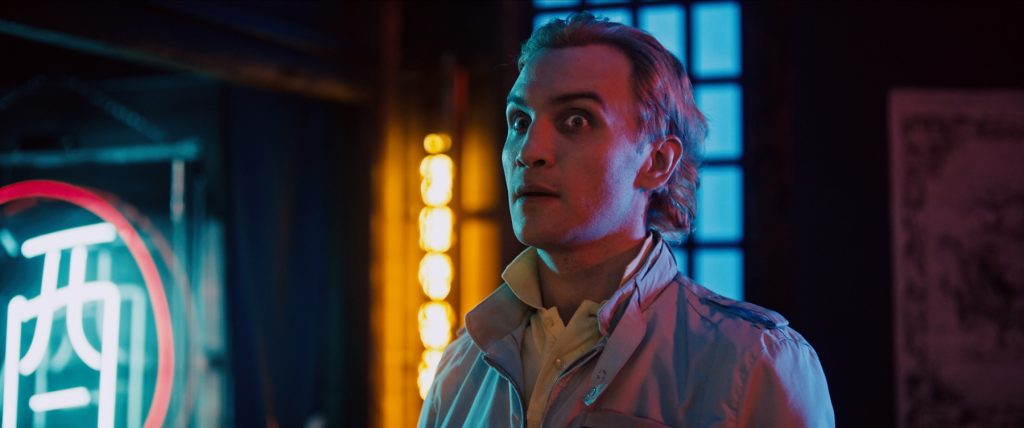 Just like the title suggests, Vicious Fun is an incredibly ironic, fun film. Not only will you find plenty of clever references, witty lines, and absurd developments that are guaranteed to make you laugh, but you'll also be surprised by how effortlessly entertaining it will be to simply watch the film's lovable hero and unlikely villains be their wonderful, authentic, deranged selves. Thanks to a meticulously crafted screenplay, Vicious Fun knows exactly when to be serious and when to be silly, and when to mix the two elements together, so much so that even its most absurd characters are always believable.
So what if one of these murderers puts his victims on life support just so he can kill them again in the future? Even in the midst of unbelievably ordinary day jobs, unlikely business cards, nightmarish clown outfits, and hilarious mommy issues, the film's psychopathic (though also endearing) villains never fail to remain well-rounded characters. Each serial killer comes with a very specific personality that is also reflected in their looks, voices and killing methods, and our unlucky hero is equipped with enough knowledge of the horror genre to be able to deal with them all.
See Also

Aided by flawless performances from Marsh, Goldfarb, Millen and the entire cast, Calahan's film grounds its wackiness in reality, delivering exactly the kind of satisfying, "vicious" fun its title promises. Regardless of whether or not you're a horror fan, Vicious Fun is precisely the kind of festival film we need in our post-COVID world, and an entertaining, clever watch that won't disappoint.
---
Vicious Fun will have its FrightFest UK Premiere at the Glasgow Film Festival on 6th March, 2021. The film will be released exclusively on Shudder on 29th June, 2021. Read our interview with director Cody Calahan.