Valentine's Day 2021: 10+ Films to Watch This Year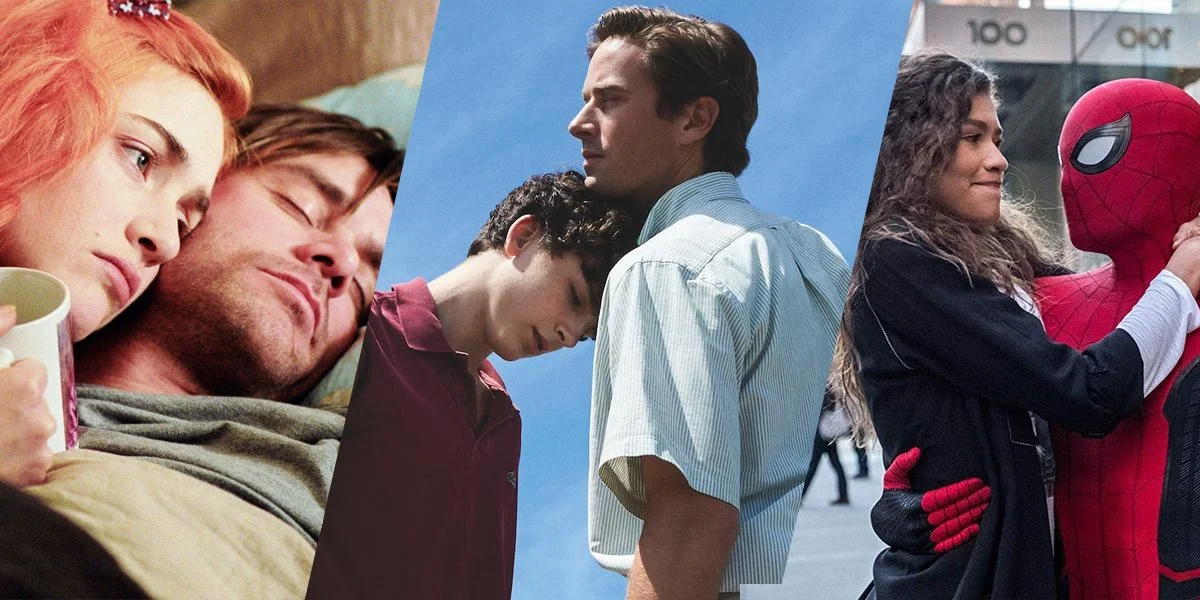 Eternal Sunshine of the Spotless Mind, Call Me By Your Name, Spider-Man: Far From Home (Focus Features / Memento Films / Marvel Studios)
Happy Valentine's Day! From 10 Things I Hate About You to When Harry Met Sally, here are 10+ films to watch today, picked by our staff writers.

If you're looking for a movie to watch this Valentine's Day, we've got you covered. From timeless classics and great romantic comedies to recent releases and unusual picks, here are 10+ films to watch on the most romantic night of the year, each chosen by one of our staff writers.
---
10 THINGS I HATE ABOUT YOU
WILL
Director: Gil Junger
Writers: Karen McCullah & Kirsten Smith
Year: 1999
There are definitely a lot more than 10 things to love about this timeless romcom. One of the most enjoyable modernisations of Shakespeare (in this case, The Taming of the Shrew), 10 Things I Hate About You helped launch the careers of Heath Ledger, Julia Stiles and Joseph Gordon-Levitt and is rightfully cherished by many as a beautiful example of the 1990s high school romance genre.
New student Cameron (a baby-faced Gordon-Levitt) falls for Bianca (Larisa Oleynik) but standing in the way of their burgeoning romance is Bianca's father and his strict rules on dating; Bianca may only begin dating when her sister, Kat (Stiles), does too. Step in resident bad boy and heartthrob Patrick (Ledger) and get ready for the drama and comedy to unfurl. There is a great innocence and likeability to the characters in 10 Things I Hate About You, and the eventually straightforward romance between Cameron and Bianca is wonderfully offset by the turbulent one between Kat and Patrick.
People mostly remember the late Ledger for his performance as the Joker in The Dark Knight (2008) but who can forget him here, dancing across the bleachers to Frankie Valli's "Can't Take My Eyes Off You" with such flamboyance and charm? It encapsulates 10 Things I Hate About You perfectly; a silly, amusing moment but one with a real tenderness, and an act that only a blissfully innocent and totally smitten teenager might have the guts to do.
---
BEFORE SUNRISE
BERNARD
Director: Richard Linklater
Writers: Richard Linklater & Kim Krizan
Year: 1995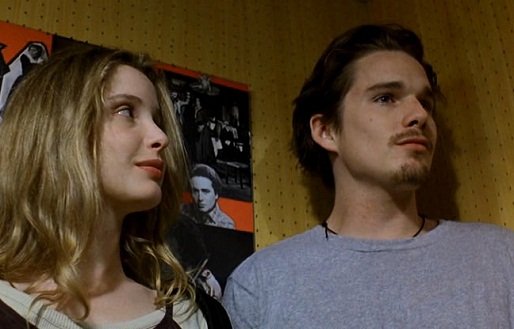 For my mind, there is one film that best captures the nervous energy and furtive flirtation of new romance and that film is Before Sunrise. The film is directed with a frank intimacy with dialogue so realistic and unstage-y that the film at times feels like a documentary of young love. Director Richard Linklater gives the young couple such a broad, universal feel that it's nearly impossible not to feel your mind wander back to past flirtations and romances. One scene always stands out to me: our leads Jesse (Ethan Hawke) and Celine (Julie Delpy) head into a listening booth at a record store – look it up, kids! – and stand together. It's the longest the pair has been together in one tight space. The two keep glancing at one another then quickly away afraid to be the one to capture eye contact – a moment so many have felt in the presence of a crush. The scene only lasts about a minute, but it is perhaps the most intimate and honest moment in a film filmed with beats of emotional, romantic truth.
---
CALL ME BY YOUR NAME
OLIVIA
Director: Luca Guadagnino
Writer: James Ivory
Year: 2017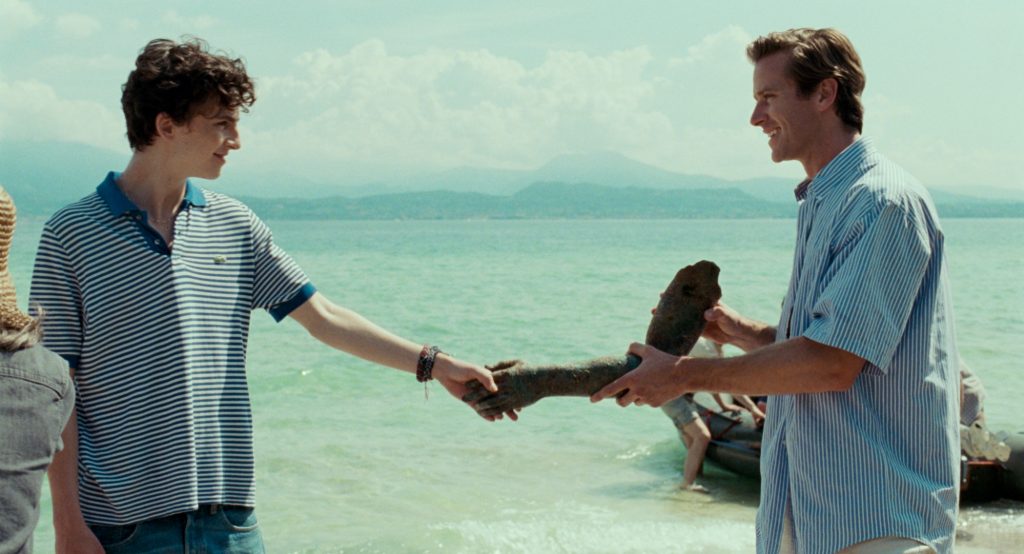 A perfect watch for a Valentine's Day that may feel a little different, Call Me By Your Name (Luca Guadagnino, 2017) is an escapist romance set in the picturesque landscape of Northern Italy. In his career-defining performance as Elio Perlman, Timothée Chalamet plays a precocious seventeen-year-old who finds romance with his father's research assistant, Oliver (Armie Hammer).
Here in the UK, romance feels like the last thing on everyone's minds as we're STILL in a national lockdown. But alas, I present to you Call Me By Your Name, a whirlwind summer romance story fuelled by sensuality and self-discovery. It will provide you with a welcome break from the monotonous routine of lockdown and whisk you away to Italy, where falling in love feels like a given. Although Elio and Oliver's love story is at Call Me By Your Name's core, James Ivory's screenplay (adapted from André Aciman's novel of the same name) also explores the importance of familial relationships and friendship, which I'm sure is a much needed reminder in these trying times.
It's totally understandable that Valentine's Day seems to be even less of a celebratory occasion than usual, but with Call Me By Your Name's stunning scenery, music, and performances cast-wide, this romance movie gives enough to melt even the most cold-hearted.
---
ETERNAL SUNSHINE OF THE SPOTLESS MIND
ASHLEIGH
Director: Michel Gondry
Writer: Charlie Kaufman
Year: 2004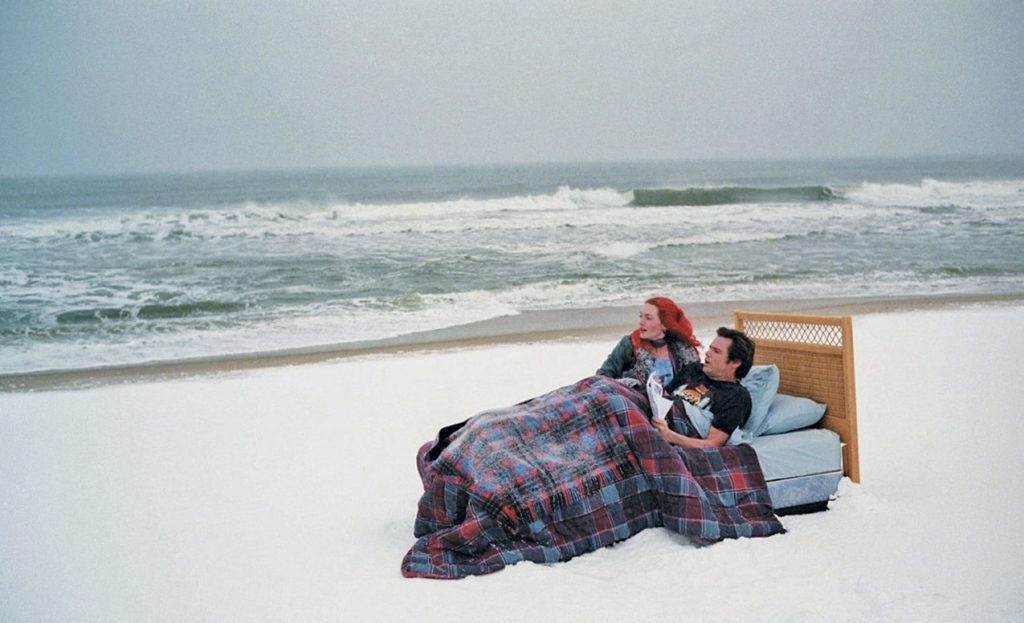 Michel Gondry's Eternal Sunshine of the Spotless Mind is an absolutely gleaming example of a film that just gets better each time you view it. We follow the downfall of the relationship between Clementine (Kate Winslet) and Joel (Jim Carrey) as they slowly lose their connection and ultimately decide to quite literally erase each other from their memories. It's a unique and odd premise, but one that couldn't have possibly worked better. Each watch offers new clues, new surprises, and possibly even a new message to come away with.
With stellar visuals, great performances, gorgeous music, and an amazing screenplay from none other than Charlie Kaufman, this is a film about love like no other. Never has something tackled the ideas that some relationships are doomed to fail, that humans lose connections despite thinking they'll be with someone forever, and that some people will always come back to each other no matter what with such heartbreaking honesty and realism. It's an examination of a relationship from the end of it all, going back to the beginning, tracking the undoing of these two characters as they become strangers. Rather than following the typical approach of beginning when they first meet and ending just as they get into their relationship, we see all of it: the days when they're so in love and couldn't imagine living without each other, and the time when they just can't stand it anymore.
It's also a film that doesn't necessarily have to be heartbreaking: it's ambiguous enough that you can come out with a pessimistic or optimistic view on love based on the ending. It truly depends on the viewer's own experiences, and that's what makes it so special. It's so innovative and real that it will no doubt be something that is viewed, cherished, and related to for years to come.
---
HIS GIRL FRIDAY
CAMERON
Director: Howard Hawks
Writers: Charles Lederer (screenplay), Ben Hecht & Charles MacArthur (play)
Year: 1940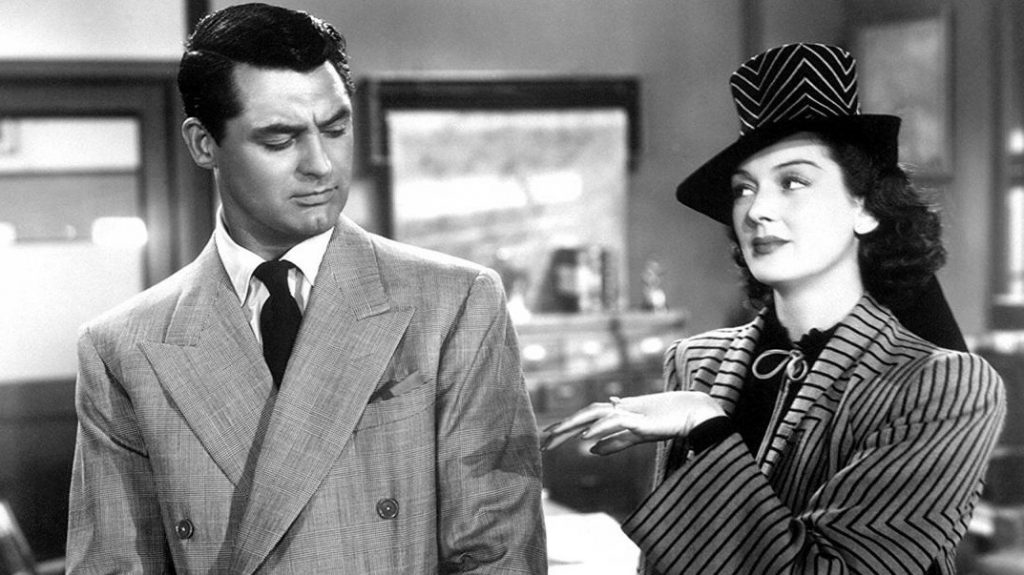 Howard Hawks' His Girl Friday is a movie that's perhaps a little too cynical to treat as a typical Valentine's Day watch. Following the dedicated/malevolent news editor Walter Burns (played devilishly by Cary Grant and especially by Cary Grant's eyebrows) and his ex-employee and former flame Hildy Johnson (in a hilarious and strong-willed performance by Rosalind Russell), His Girl Friday leads the viewer through a full-throated detail of municipal corruption and journalism's most vulturous tendencies at the speed of roughly 300 spoken words per minute. Regardless, Hawks' screwball masterpiece is romantic in the sense that Walter and Hildy, while maybe not particularly good people, are perfectly fit for each other. In the chaotic newsroom that sets the scene, the two create a shared language all their own.
---
IN THE REALM OF THE SENSES
ANTHONY
Writer & director: Nagisa Ôshima
Year: 1976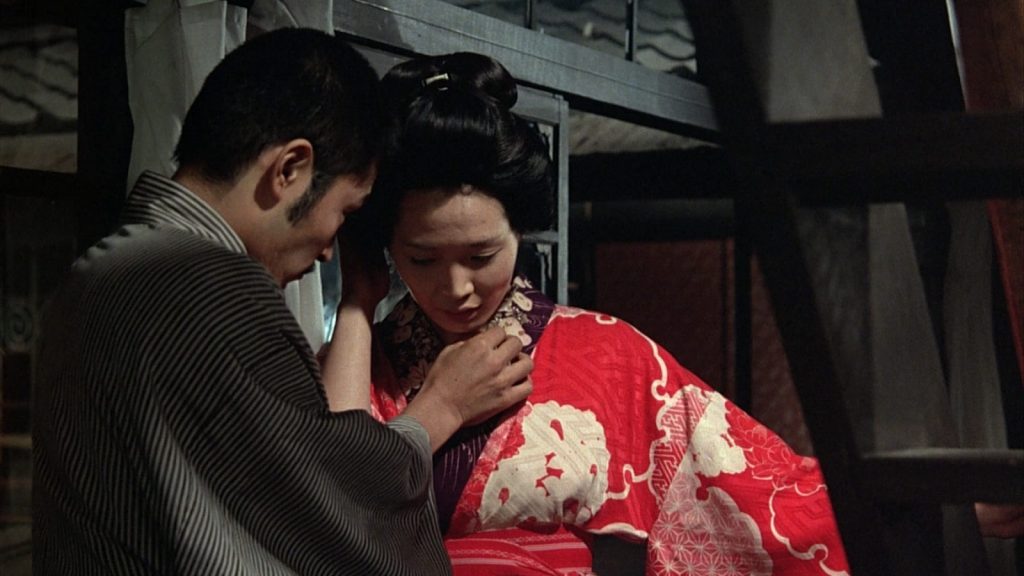 When talking about the best movies about romance, only one film comes close to portraying the electricity of true passion: In the Realm of the Senses. The highly controversial film from Nagisa Ôshima, In the Realm of the Senses brims with love and devotion, an intensely felt look at two people obsessed with each other. Their love urges them to explore new heights of joy and pleasure that no other film has dared to explore. And Ôshima presents it all unfiltered, uncensored, fully and completely. All of the sex in the film is real, originally meant as a barbed critique of Japan's conservatism when it comes to nudity and sex. Alongside the unnabashed sexuality comes a stridently anti-authoritarian streak that informs much of the film. The single choice of shooting real sex elevates the movie from being a simple romance to a devastatingly real and intensely intimate look at every aspect of love and romantic partnerships. Plus, the lavish cinematography, lustful performances, eye-grabbing costumes, and reflective narrative all help to transport the viewer into this utterly beautiful and emotionally gripping viewing experience. All of this and more makes In the Realm of the Senses an essential, if unconventional, watch for Valentine's Day.
---
MIRROR MIRROR
ADELE
Director: Tarsem Singh
Writers: Marc Klein, Jason Keller (screenplay) & Melisa Wallack (screen story)
Year: 2012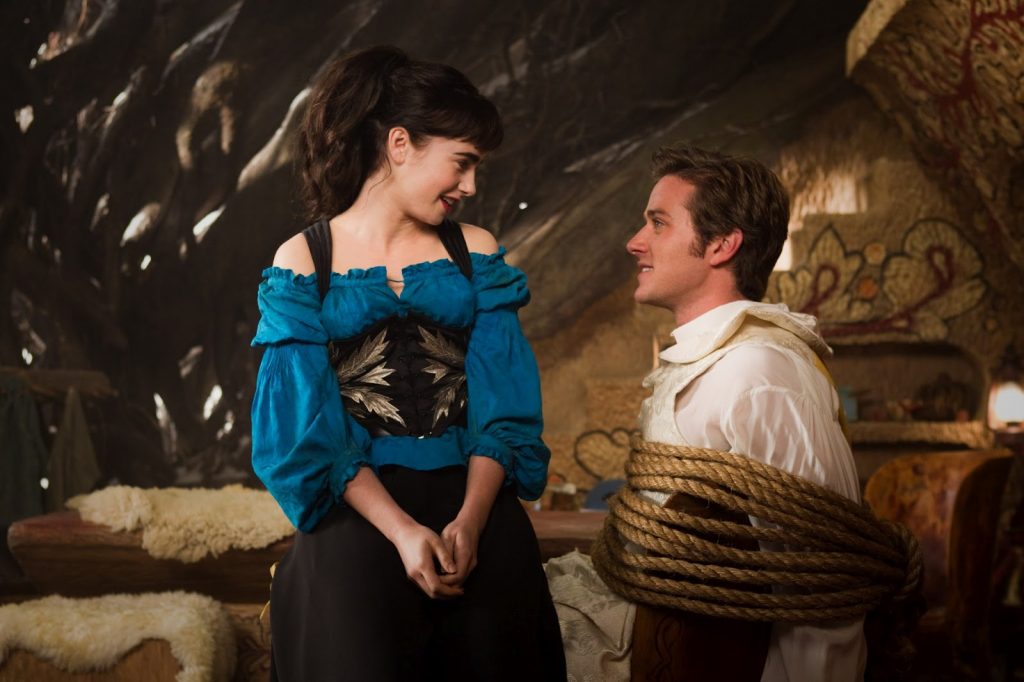 As the classic fairy tale goes, Mirror Mirror sees the orphaned Snow White (Lily Collins, Emily in Paris) captive of Clementianna (Julia Roberts, Erin Brokovich), the evil queen who seized control of her kingdom when her father died. When charming prince Andrew (Armie Hammer, Call Me By Your Name) becomes acquainted with Clementianna, she sees him as a marriageable prospect to save herself from bankruptcy and banishes Snow White to the woods to be devoured by the fearsome beast who live there. In the woods, Snow White meets the seven dwarves and teams up with them to take back her rightful throne and save her kingdom.
Tarsem Singh's (The Cell) 2012 retelling of Disney's Snow White and the 7 Dwarves is perhaps the most unusual version of the classic tale and incorporates humour and feminist vibes into the old fairy tale we know and love, giving it a modern spin. The director's wild imagination is brought to life by art director Eiko Ishioka, who creates original costumes that look like bright book illustrations, adding to the movie's lavish and quirky look which is indeed one of its most enjoyable aspects. Lily Collins delivers a fine portrayal of a modern Snow White: here, she's neither a damsel in distress nor a corpse in a glass coffin waiting for the prince's kiss, but a an empowered young woman with a strong attitude and a kind heart. Yet, the film's best treat is Julia Roberts, who masters the evil queen's wickedness with sarcasm and brio, delivering sharp self-mocking lines that you wouldn't expect from the character. Armie Hammer completes the main cast as the lovely – although not entirely charming – prince: although he isn't at all like the classic hero, he's definitely enough as eye-candy in this eccentric movie.
This isn't the classic fairy tale where the princess is saved by her prince with a kiss. Mirror Mirror is a wonderfully romantic comedy set in a fantasy world, so, if you're looking for a giggle, this unconventional romantic fairy tale is the right fit for your Valentine's day!
---
SCORE
NILS
Director: Radley Metzger
Writer: Jerry Douglas
Year: 1974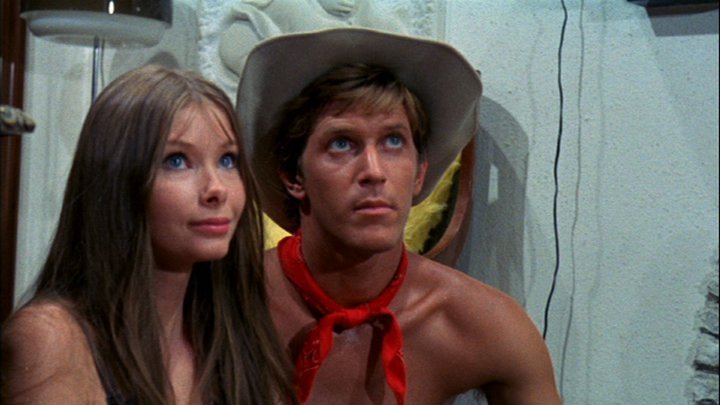 If you're in the mood for something casual yet provocative for Valentine's Day, look no further than Radley Metzger's liberated 1974 erotic comedy Score. Set in the mythical lakeside city of "Leisure" (gorgeously shot in the idyllic Croatian town of Bakar), the film follows a game of seduction over a weekend as the swinging couple Elvira and Jack make a bet with each other to seduce the newly married Betsy and Eddie—although with a twist you might not expect. Charmingly carefree, Score is a memorably seductive film that teases you with its easygoing attitude, playful banter, and groovy soundtrack. It's also remarkably ahead of its time for its open portrayal of bisexuality and its liberated attitudes are as beautiful as they are progressive in this film where the sex is fun, free, fluid, and goes unpunished. Good vibes all around.
---
SPIDER-MAN: FAR FROM HOME
SERENA
Director: Jon Watts
Writers: Chris McKenna, Erik Sommers (screenplay), Stan Lee & Steve Ditko (graphic novel)
Year: 2019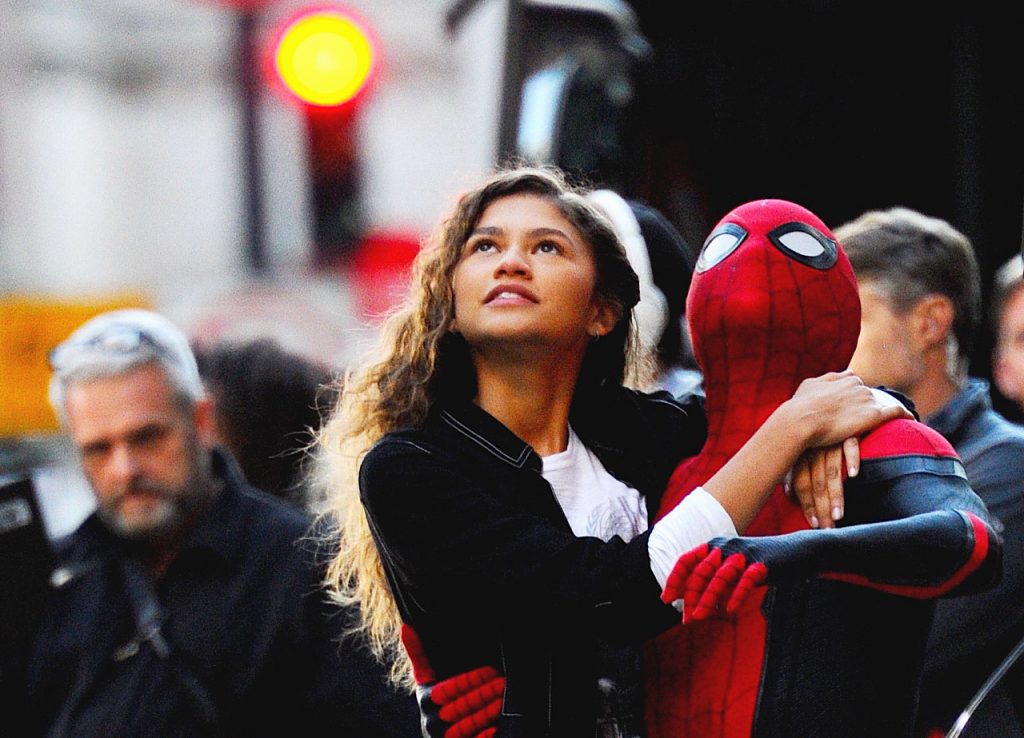 When I watched Spider-Man: Far From Home for the first time, back in 2019, I didn't like it very much. I found the film's villain – Jake Gyllenhaal's Quentin Back, aka "Mysterio" – too predictable, and I saw the ending coming pretty much from the get-go. Yet, when I watched it a second time, not long ago, I had a completely different experience. Since I was already aware of what was to come, I found myself concentrating on other aspects of the movie, and I soon realized that what makes Spider-Man: Far From Home a great film is not what happens in it, but the chemistry between leads Tom Holland and Zendaya. Watching them be their wonderful, authentic selves on camera is, in itself, an incredibly rewarding cinematic experience, which makes the film a perfect – if slightly unusual – Valentine's Day watch. As you wait for the third instalment of Jon Watts' Spider-Man movies, let yourself be drawn into the romantic Marvel Universe once more and watch two of the most talented, beloved young actors of our time work their magic.
---
WHAT IF
CLAIRE
Director: Michael Dowse
Writers: Elan Mastai (screenplay), T.J. Dawe & Michael Rinaldi (play)
Year: 2013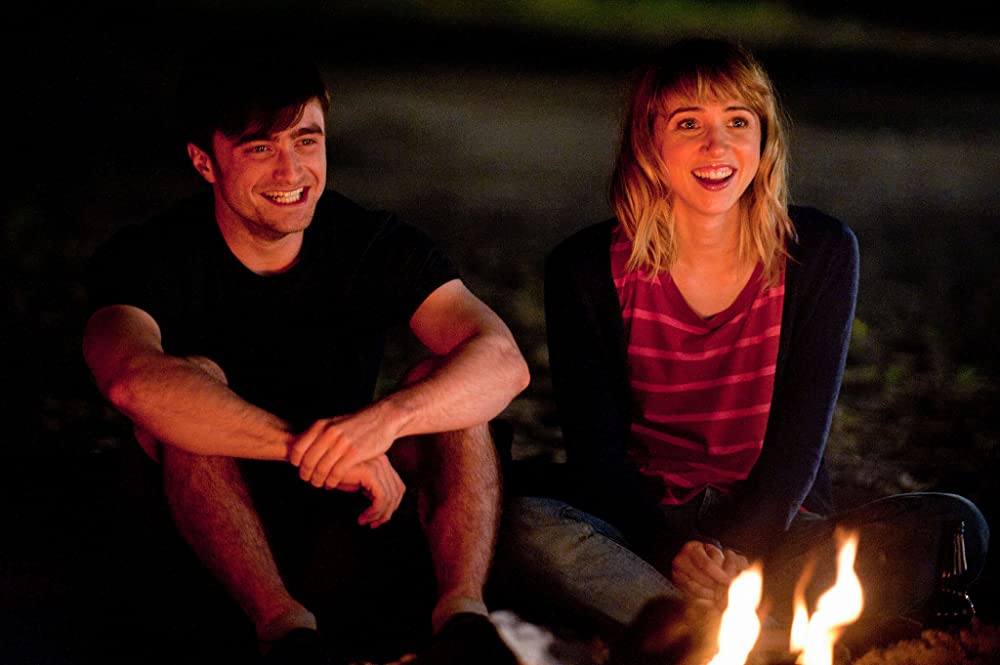 Somewhat of an underrated member of the rom-com fam, What If – alternatively titled The F Word – treads a lot of familiar ground. Wallace (Daniel Radcliffe) has whiffs of classic Hugh Grant as he bemoans the upending of his romantic and professional life, bumbling around with an accent that could cut glass and a best friend, Allan (Adam Driver), whose larger-than-life personality has Wallace shrinking into the background. Chantry (Zoe Kazan) is a free spirited animation artist, just quicky enough to avoid becoming a trope, who lives with her long-term boyfriend Ben (Rafe Spall). When the pair meet, it's immediately apparent that this isn't a 'will they/won't they' situation, but more of a 'when they'.
Right from the off, the chemistry between the pair is undeniable and their back-and-forth dialogue is quick and naturalistic. Whether just friends or something more, theirs is a relationship that is easy to invest in. Radcliffe and Kazan are a delight to watch on screen, likeable – as detestable as that word can be – and seemingly relaxed and having fun with their performances. It's a low stakes good time that fits within the mold of classic rom-coms without relying too much on offering something new. Cleverly shot, structured and scripted, What If is somewhat formulaic but still good fun.
---
WHEN HARRY MET SALLY
ZACH
Directors: Rob Reiner
Year: 1989
Writer: Nora Ephron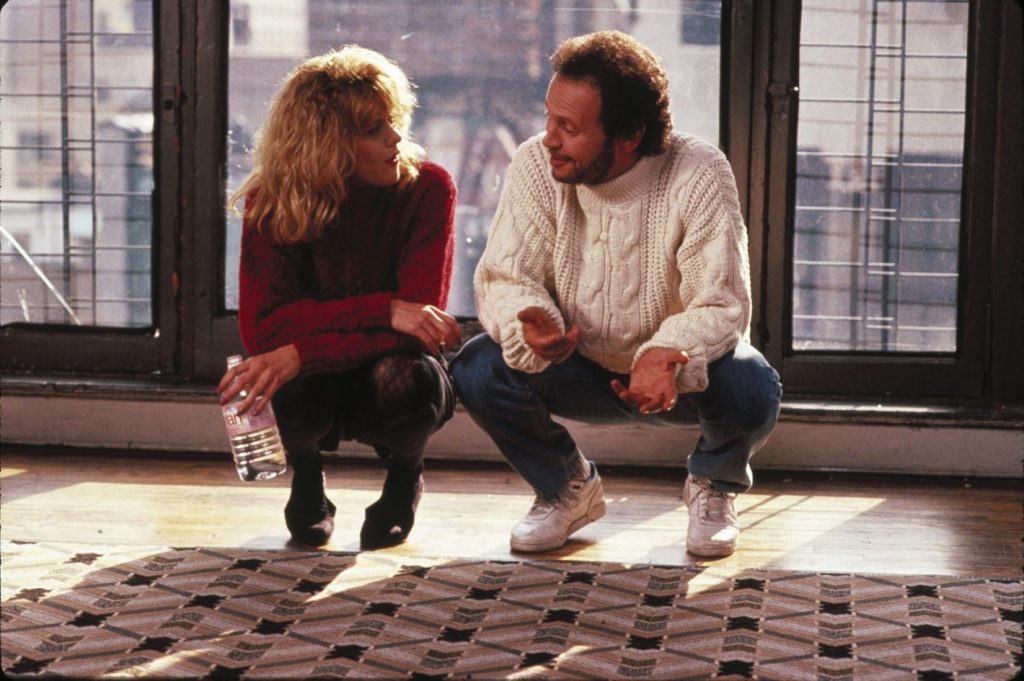 By now, "will they won't they" stories are nothing new – it's a tale as old as time, and precious few can put a subversive spin on these tropes that simultaneously satisfies an audience while still saying something original. Perhaps it's because screenwriter Nora Ephron (Sleepless in Seattle, You've Got Mail) perfected this formula over thirty years ago, and it's proven impossible to re-capture the lightning in a bottle brilliance she conjured up with director Rob Reiner (The Princess Bride, A Few Good Men) and stars Meg Ryan and Billy Crystal.
To this day, it's difficult to describe what makes When Harry Met Sally… so special. On the surface, it's fairly simple and straightforward – over the course of 12 years, spirited Sally Albright (Ryan) and half-brained Harry Burns (Crystal) weave in and out of one another's lives, initially at odds with one another before forming a friendship and later even fighting off potential romantic feelings. For the most part, that's it. However, Ephron's screenplay is what makes this love story stand out from the pack, approximating some of the most authentic repartee between men and women ever put to screen and astutely answering that age-old question – "Can men and women ever just be friends?" By straying from salaciousness and sticking to sincerity, everyone involved contributes to the creation of one of the most riotously amusing and emotionally resonant romcoms of all-time.
---
JOIN US!
Be among the first to receive our monthly updates with film news, movie-inspired recipes and exclusive content! You'll only hear from us once a month. #nospam