Thunder Force: McCarthy & Spencer Charm in Superhero Comedy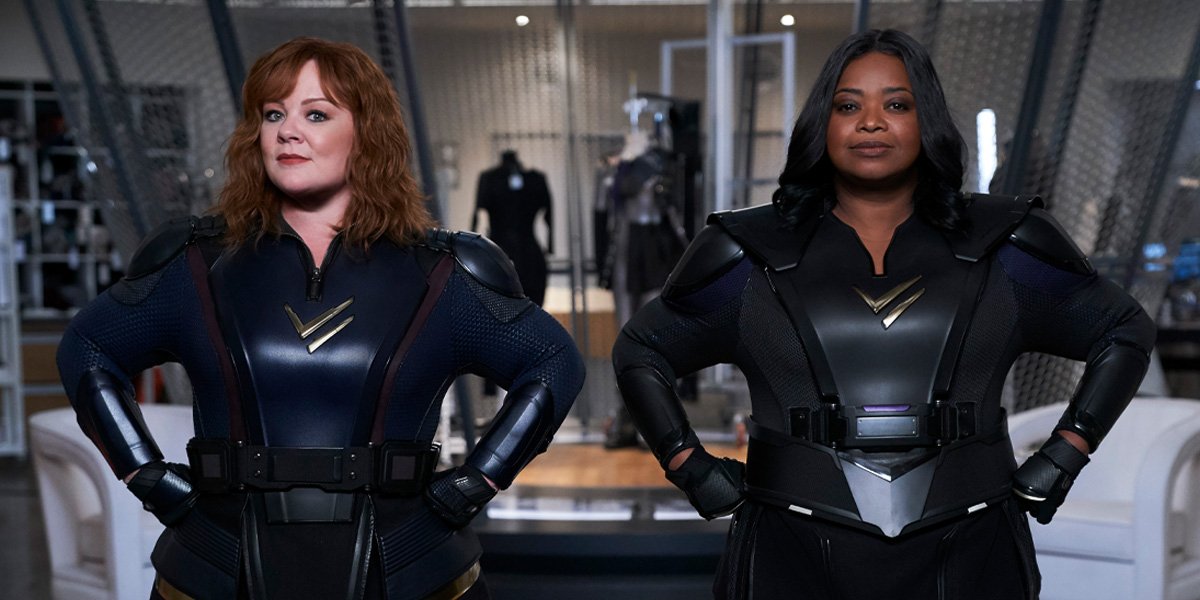 Melissa McCarthy and Octavia Spencer in Thunder Force (Hopper Stone / NETFLIX © 2021)
Thunder Force is a sidesplitting take on a superhero origin story, anchored by the always excellent Melissa McCarthy and Octavia Spencer.
---

Aside from the biting Birds of Prey and the winsome Wonder Woman 1984, there was sadly very little superhero-related entertainment to enjoy in 2020. As countries across the globe combatted coronavirus all year long, mega blockbusters from the Marvel Cinematic Universe such as Black Widow and Eternals were pushed to 2021 (now set for July and November, respectively), while Sony's Venom: Let There Be Carnage and Morbius were forced to cede their places on the release calendar as well, with the former shifting to September 2021 and the latter jumping all the way to January 2022. In light of all of this scheduling chaos, it was quite a crushing time to be a comic-book film fan, but, thankfully, the subgenre has already started to roar back to life this year, captivating its core audience yet again on streaming services (WandaVision, The Falcon and the Winter Soldier, the upcoming Loki) and in cinemas (the aforementioned delayed titles, The Suicide Squad, Shang-Chi and the Legend of the Ten Rings, Spider Man: No Way Home).
Alongside these hotly anticipated epics, a few new superpowered characters are attempting to enter this cinematic space, and while Melissa McCarthy (Bridesmaids, Spy) and Octavia Spencer's (The Help, Hidden Figures) Thunder Force may not have the same mighty mythology or skillfully structured action setpieces as its cavalierly crafted counterparts, thanks to a sidesplitting script and two playful lead performances, it's a delightful deconstruction of the stereotypical superhero origin story nonetheless. The Netflix comedy commences in 1983, as cosmic rays unexpectedly rain down on the Earth, triggering genetic transformations in a select few who are specifically struck. Unfortunately, as opposed to using these newfound "advanced" abilities in the name of good, these super humans – later known as "miscreants" – have more sinister schemes in mind, wreaking havoc around the world. In one particular attack, the parents of 12-year-old Emily Stanton (Spencer) are killed, leaving her in the care of her grandmother.
At her new school, Emily initially feels out of place, but after befriending the brash and blunt Lydia Berman (McCarthy), the two come to make quite the dynamic duo; Emily's brains help her outwit bullies, while Lydia brings the brawn. When the two grow older and pursue their own paths – with Emily studying science due to her goal to give superpowers to everyday people and Lydia just listlessly wandering through life – they fall out of touch, but a chance meeting at Emily's scientific compound on the night of their 25-year high school reunion leads to an event that will alter their existences forever. Following Lydia's mishandling of Emily's lab equipment, she's injected with a super strength serum that Emily had been developing, and in response, Emily ingests a formula to obtain the power of invisibility, making the two a real-life superhero team and finally realizing the dream Emily has had ever since her parents' untimely death. Titling themselves "Thunder Force," the two rekindle their friendship and decide to fight the crime currently corrupting their city.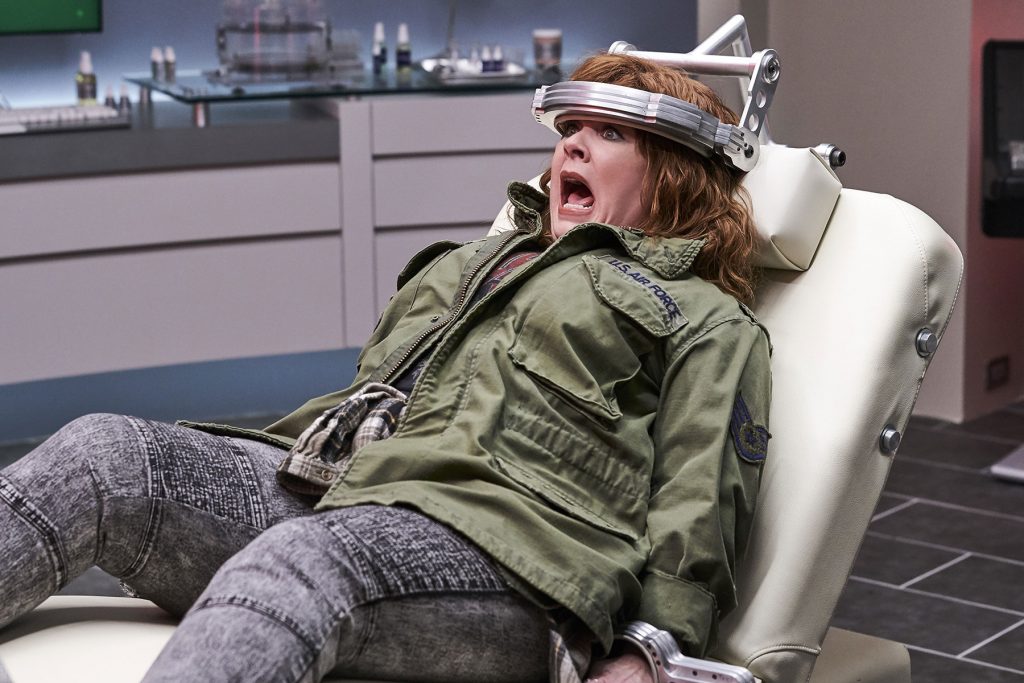 It's not much of a stretch to say that writer-director Ben Falcone's (Tammy, Superintelligence) prior features have been a bit "hit-or-miss" in the quality department, but Thunder Force features what is easily his strongest script to date, balancing a sturdily structured (and surprisingly sentimental) story with the typical farcical fun we've come to expect from McCarthy and co. Raunchy romps like The Boss or Life of the Party have bits of brilliance here or there, but they often feel more like a string of improv skits stitched together instead of precisely planned plots with punctual pacing and proper emotional payoff. They're not without their fair share of laughs – as McCarthy's charm can carry almost any movie – but there's little else there to latch onto. Luckily, with Thunder Force, that's not the case.
Now, Thunder Force may not have an overly "original" narrative by any means – as films that tear apart and/or satirize superhero tropes are nothing new at this point (Deadpool, Kick-Ass, Super, Hancock, etc.) – but even if some of its humor feels "familiar," the comedy circumvents this concern by cultivating a sincere sense of fun above all else. It takes jabs at the silly stereotypes we associate with origin stories nowadays (the torturous training montages, the corny costumes, the brutal betrayals) but its "spoofy" qualities are never snarky by any means (à la Deadpool), assuring that this facetiousness is flippant and family-friendly at all times. It's also just rather refreshing to see two unconventional protagonists at the center of a project like this; how often do 50-year-old women get the opportunity to anchor an action-adventure flick? Even better, aside from a few early jabs at Lydia's "unkempt" appearance, the film never grossly admonishes her or Emily for not being heroes in "peak athletic condition," letting them live as they are and kick ass all the same.
Let's be clear though – the real reason Thunder Force works as well as it does is because of the continuing comedic expertise of McCarthy and Spencer and their completely compelling chemistry the whole way through. Even when the material she's given isn't up to snuff, McCarthy always finds a way to elevate the humor in each and every one of her films, and luckily, Thunder Force meets her halfway by gifting her with some gloriously gut-busting gags that she executes expertly (one recurring bit about her hankering for raw chicken brought on by her super strength serum is particularly priceless). Spencer plays the "straight man" here, but she's still able to match McCarthy's manic energy with her own measured merriment, and the two truly never miss a beat when they're bantering back-and-forth, always uproariously one-upping each other. The touching throughline of Emily and Lydia's fractured friendship is also effectively explored, adding pathos to their riotous repartee and further investing us in their emotional journeys until the very end.
See Also

Thunder Force's supporting cast is equally stellar across-the-board, with each member of the ensemble receiving ample screentime to make their mark and steal a scene or two along the way. Jason Bateman (Zootopia, Netflix's Ozark) is a ferociously funny foil as the half-human/half-crustacean miscreant "The Crab" (who also may or may not be a potential romantic partner for McCarthy's Lydia), while Pom Klementieff's (Guardians of the Galaxy Vol. 2, Avengers Infinity War) "Laser" is a hilariously humorless henchman for Bobby Cannavale's (The Irishman, Ant-Man) "The King," the film's main antagonist – a spectacularly sleazy politician with style and sass to spare. Melissa Leo (Prisoners, The Fighter) is also quite amusing as an acerbic assistant of Emily's, and relative newcomer Taylor Mosby (Breakthrough) is a fantastic find as Emily's daughter, the tenacious Tracy.
When viewed in comparison to comedy classics in Melissa McCarthy's filmography like Bridesmaids or Spy, Thunder Force doesn't earn the "instantly iconic" status that was bestowed upon those titles when they were released, but it's nevertheless a significant step up in quality from writer-director Ben Falcone's prior four feature films, and it still finds a place for itself amongst other superb superhero satires of years past thanks to a snappy screenplay and amiable acting from McCarthy and Spencer. It won't completely subvert the superhero subgenre, but for 105 minutes, it's an enormously entertaining cinematic escape that the whole family can enjoy.
---
Thunder Force is now available to watch on Netflix.