This is England: Film Review

This Is England (Warp Films)
This is England fulfils all our 80s nostalgia in a chilling coming of age story while focusing on the developments in music, culture and politics that can change your course of future at any time.
---

Fourteen years after Shane Meadows' autobiographical and BAFTA-award winning British film drama hit the screens, it is still as relevant and on point as it did in the mid 00s. The film is set in July 1983, in a dreary coastal town somewhere in the Midlands. It was the era of Thatcher, turmoil and the Troubles. The age of unemployment and military deployment to the Falklands. Known for its social unrest and rising neo-Nazi subcultures, the Eighties were far from a pleasant childhood, especially not for the far-north of England. Having lived in that age, Shawn Meadows explores in This is England how easy and dangerous it was to grow up on the wrong side of history.
The film follows Shaun Fields (pun definitely intended), a 12-year old boy who just doesn't quite fit in with the cool gang at school, whose flared jeans (a present from his late dad – don't you insult them!) and hot-headed temper make for a lonely and lost soul (played by Thomas Turgoose). We follow him on his solo adventures at the seaside to outbursts of pride and temper at school and at home, until he meets the charismatic Woody (Joseph Gilgun) and his troop of enchanting skinheads. They boost his confidence, pride and stride, and gladly welcome his newly shaved head and suspender-ed Ben Sherman's to their family of ska-loving peace-abiding mix of friendly gangsters. Until Combo (Stephen Graham) shows up, that is. Three years in the nick changed Combo's views on loving-thy-colourful-neighbours into keep-England-white (and more of that shite). His passionate speech on the wastefulness of the Falklands war ignites Shaun's rebellious fighting spirit, who seeks a father figure in the man who can fight against the injustice of the dad Shaun lost in the Falklands war.
It is this tipping point, where the bastardly beauty of this film shines through. The second half alternates between a Shaun who is drawn deeper and deeper into the neo-Nazi side of Skinhead culture (even where wiser friends decide to call it quits at various stages) and Woody, Lol and their friends who have remained true to the original skinhead culture and shun anything that even sounds like the National Front (the far-right popular political party at the time). This is England shows us all spectres of youth culture at the time, from the origins to how these where morphed into neo-Nazi National Front culture as we like to remember skinheads today. But most mesmerizingly, it allows the viewer to see how easy it is to let feelings of injustice, hurt, and unemployment brim over into a maelstrom of fascist and racist proclamations.
See Also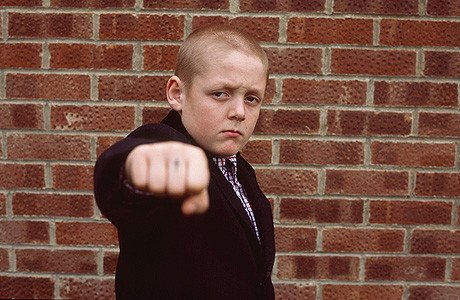 On the beats of a killer soundtrack that ranges from Toots & the Maytals, Dexys Midnight Runners, UK Subs, Percy Sledge, The Specials, and Ludovico Einaudi, we watch in horror as our darling little Shaun, beaming, is cheered on while practising how he will tell 'the f*cking paki bastard' that 'this is England'! Thirty-odd years later, to me this really echoes the growing (far)-right noise coming up in the recent years that perhaps came to a clashing head in the United States with the Black Lives Matter protests. The various elements within the film can all be stretched and applied to present day situations as well. In that sense, it seems a rather grim, foreboding film: a troubled teenager looking for redemption will in a situation of unemployment, single parenting, loss of a parental figure, and bullying will always be drawn towards the outspoken, rebellious fringe of society.
This is England does not only set the stage for an epic story, it is the perfect place for the creation of history that will inevitably recur again. While ska, classical, rock, reggae and era-defining hits shake our souls, the distant images of 80s Britain cool our hearts. As footage of the Falklands war and Margaret Thatcher dominate the screen, the various themes of racism, innocence, growth and politics place Shane Meadows' This is England in the tragicomedy that is 80s UK. The film is as contradictorily nostalgic as is it politically repulsive and shows us through the characters' development the past, present and future of individuals within a subculture. A timeless piece of cinematic artistry, there is one important value to be taken from the 101 minutes of this post-punk gem of drama, this is (still) England.