Therapy Dogs: Film Review

Therapy Dogs (Utopia)
Ethan Eng's Therapy Dogs is a messy but emotionally resonating documentary that delves into a complicated final year of high school.
---

The end of high school is when the training wheels of life are taken off and you're finally released into the wild. It's the moment your life finally begins to create some sort of a direction for you to follow. Whatever you had before graduation begins to change and, before you know it, the next chapter has already come and gone. Ethan Eng's Therapy Dogs is an exploration of life on the cusp of adulthood and the anxieties/excitement that follows.
Therapy Dogs follows two teenagers named Ethan Eng and Justin Morrice who begin their senior year of high school. As the duo begin asking questions about what comes after education as adulthood begins, they decide to create the ultimate senior video in their search for answers.
Therapy Dogs presents itself as a scattered mosaic of sorts as we see life both in and outside of the high school grind. As the final year comes barreling to a close, we see these final moments of childlike fun and amusement. Though there are many times when both Ethan and Justin put themselves through dangerous acts such as drug use and physical violence masquerading as comedy, the fun at the core of it all is paramount. With this enjoyment and entertainment, however, comes a tremendous amount of sadness. This all-knowing feeling that, one day, it will all come to an end.
Where Therapy Dogs shines most is the ultimate reliability of its story. Regardless of your experience in high school, there's a universal anxiety that comes from the idea that it's all coming to an end. As the days and weeks come and go, the impending step to adulthood reveals itself. As both Ethan and Justin complete their final assignments and projects, there's a bittersweet feeling that comes with it. The idea that the people you saw every day for half a decade will disappear is a frightening one. As the pair graduate and head out into the town, there's a bittersweet feeling that we're also at the end of the line. For another chapter to begin, one must end, and that ending is what Therapy Dogs dreads most.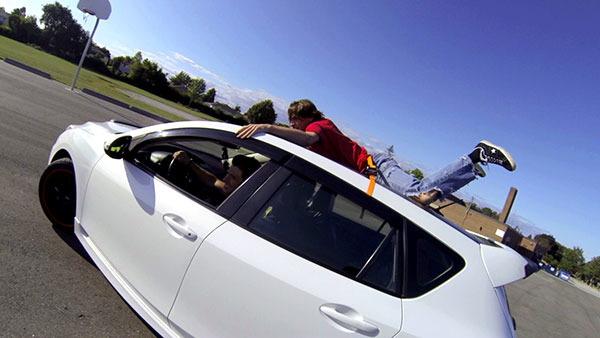 As a film, Therapy Dogs focuses less on telling a narrative and more so chronicling this chaotic time of Ethan and Justin's life. Due to this approach, there are times when the sheer messiness of its structure leads to the film feeling somewhat cold emotionally. Ethan Eng and Justin Morrice at times also come across as unlikable at times as they torment people around them or have certain intimate moments that depict them as immature. However, despite the risk of destroying the emotional investment for the audience, these moments only cement how authentic, for better or worse, every moment of Therapy Dogs truly feels.
The scattered approach of Therapy Dogs might leave it feeling cold at times but it all amounts to an incredibly personal point of view at a time of great change. High school ends and, with it, so does our youth. It's when we find independence but there's a tremendous fear in that new freedom that can be too much to bear. The knowing presence of these anxieties is what ultimately makes the film shine. It's chaotic, it's messy but at the end of the day, it's remarkably human.
---
Therapy Dogs will be released in US theaters on March 10, 2023.