The Visit (2015): Film Review

The Visit (Universal Pictures)
M. Night Shyamalan's The Visit broke the director's run of critically panned films with a campy thriller that takes advantage of the found footage sub-genre.
---

Who doesn't love a good comeback story? Hollywood certainly does. After all, when we're watching a film or TV show play out, we like rooting for the little guy to pick themselves right up after being knocked down in the half-point of the narrative. When it comes to comeback stories in the industry, nobody has quite as remarkable a journey as M. Night Shyamalan. One day he found himself on top of the world, the next he was at the very bottom. The Visit was the movie that gave his career a second shot and broke his streak of controversial projects.
In The Visit, a single mother (Kathryn Hahn, Glass Onion: A Knives Out Mystery) sends her daughter Becca (Olivia DeJonge, Elvis) and son Tyler (Ed Oxenbould, Irreverent) to spend quality time with their grandparents by themselves. At first, Nana (Deanna Dunagan, Stillwater) and Pop Pop (Peter McRobbie, Eileen) seem harmless enough. Their mom's fear and criticisms of their grandparents don't really fit the lovely older couple. That is until both start showing they're mentally unstable and things take a dark turn.
Leading up to this release back in 2015, Shyamalan had fallen from Hollywood's grace. He spent so many years being built as the next huge auteur in the industry. They weren't completely wrong about Shyamalan in that sense, though. When you're watching one of his films, you can easily identify it as one of his own because of the unique style he brings to his movies. The Visit allowed the filmmaker to prove he had more to offer and that he wasn't going anywhere.
The concept of Shyamalan doing a found footage film through the eyes of two siblings who love filmmaking ran the risk of either being a mess, or a very interesting movie. Fortunately for everyone involved and the audience, this idea ends up working really well. This storytelling tool provides our young protagonists a lot of personality, since they're quite literally guiding us through the movie and we get to spend the entire runtime with them.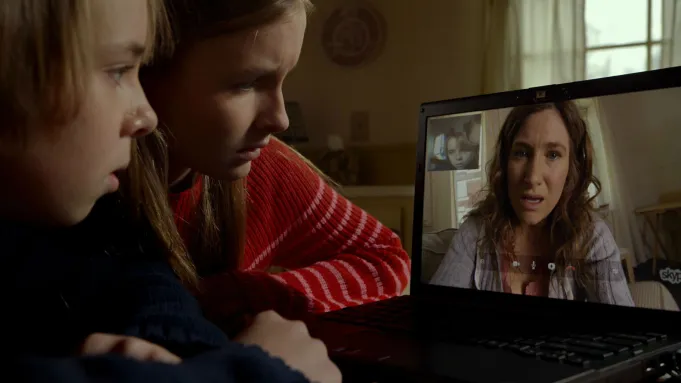 Ed Oxenbould brings a lot of levity and energy, and you can tell he's having the time of his life, particularly in the film's climax. That said, Olivia DeJonge is the standout from the set of young actors. She delivers nuance to a role that should be very straightforward. There's a scene during an interview with Oxenbould's character where she portrays anxiety solely through her eyes, until we cut to her breaking down in private, and it's riveting to witness.
In good old Shyamalan fashion, The Visit isn't safe from discourse. For some viewers, portraying the grandparents as dangerous for simply having mental problems was of poor taste. There is an argument to be made regarding that issue, but ultimately this plot point is used in favor of a twist that switches up the dynamic between the old versus new generation, rather than to be hurtful towards older folks.
Those controversies aside, Peter McRobbie and Deanna Dunagan are quite phenomenal here. In more ways than one they steal the film away from our young cast members and walk a fine line between giving endearing and terrifying performances. Sure, a lot of their darker and scary moments are structured around clichés Hollywood often overuses with older characters in the genre. For what it's worth, though, Shyamalan makes it work with his camerawork, since it helps immerse you in the experience Becca and Tyler are going through.
As for the movie's twist, what awaits you in The Visit is quite honestly predictable, but it is a lot of fun to see unravel. It is one of those cases where the situation our characters find themselves in isn't necessarily surprising, but what makes it fun is seeing Becca and Tyler's reactions to the plot twist.
The Visit was the perfect vehicle for M. Night Shyamalan to make people change their minds regarding his storytelling skills. It is a story we're mostly familiar with, but it's told through exciting lenses thanks to Shyamalan's sensitivities. In addition, it was inspiring to see a big name like him fund projects with his own money, demonstrating he is willing to go the extra mile to do what he loves the most. It may not be the director's most original work, but it did open the doors to films such as Split, Old, and his most recent Knock at the Cabin.
---
The Visit is now available to watch on digital and on demand.