The Survival of Kindness: Berlin Film Review

The Survival of Kindness (© Triptych Pictures / Berlin Film Festival)
Rolf de Heer's The Survival of Kindness is a minimalist marvel and a highly absorbing experience, despite its struggles to say anything fresh.
---

The Survival of Kindness opens in startling fashion: a miniature scene depicting the murder of Black people by white supremacists is the decoration for a cake; real supremacists, clad in gas masks, heartily chuckle and share around hunks of the pudding. Both strikingly surreal and grounded in intense and uncomfortable realism, this scene – and in turn, the film as a whole – is unique in its experimental, sensory based form. This isn't the first time Australian director/writer Rolf de Heer (Bad Boy Bubby) has shone an unbridled spotlight on both the historical and present day treatment of Indigenous Australians, but The Survival of Kindness may well be his most free-formed and minimalist portrayal yet.
After its memorable opening, The Survival of Kindness swiftly moves to its main narrative. This word is used in the loosest way, as there is no strict plot. Mwajemi Hussein is BlackWoman, a slave who is unceremoniously dumped by the same cake-loving white people in the Australian outback. De Heer rightfully takes his time in portraying this initial imprisonment, amplifying BlackWoman's isolation and despair at the situation and infecting the audience with these same feelings. Upon her escape, we feel her initial sense of relief, before sharing her inevitable question of, "What do I do now?".
What follows is a near dialogue-free odyssey through the derelict Australian outback. There is a surrealist twang to the world in The Survival of Kindness, which makes the realism of its themes that much more unnerving. Despite the almost apocalyptic vibe of this society, it is chillingly similar to our own present. Due to the lack of dialogue and narrative strictness, de Beer hones in on the minutiae of the world. Macro shots of sparring ants juxtapose with wide shots of the formidable landscape; at one point, the figure of BlackWoman becomes fully submerged via a slow fade transition by the relentless, blazing sun, from which there seems to be no escape.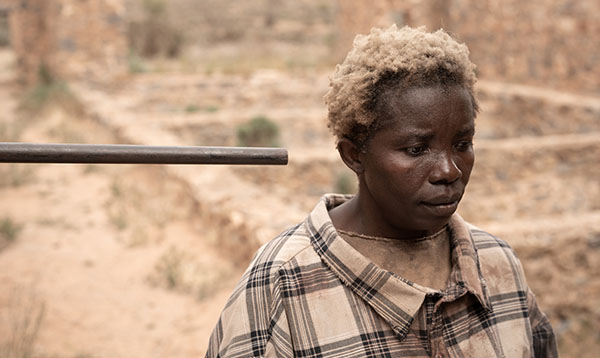 Aside from this highly sensory style, it is questionable whether The Survival of Kindness is saying anything new of note. Its themes of colonialism and white supremacy are hugely important, but does it say more than just 'racism is bad'? Perhaps not, although the relevancy of The Survival of Kindness cannot be questioned. BlackWoman is given an impressive soulfulness and emotion by Hussein, who without ever saying a word, works wonders to create a fully formed character who is hugely engaging. For the most part, she is silent. BlackWoman is resigned to a world of suffering, but Hussein gives us striking moments of wailing despair and touching kindness.
As BlackWoman's journey continues, she sees more people of different races suffering at the hands of white people, and shows compassion to nearly everyone she meets. Even models of white people in a museum, for example, she seems to regard with a kindness of sorts. The message of kindness being the best answer to hatred is obvious and not wholly incorrect, but it comes across as cheap and lacking in nuance.
Nevertheless, The Survival of Kindness is unerring in its depiction of white supremacy, and de Heer is keen to acknowledge that these issues are both historical and current. A mildly frustrating ending that leans into its surrealist tangent too heavily decreases some of the film's effect, but The Survival of Kindness remains a wholly absorbing and rightfully challenging cinematic experience.
---
The Survival of Kindness premiered at the Berlin Film Festival on February 17-26, 2023. Read our Berlin Film Festival reviews!