The Sky is Everywhere (Review): Tender YA Adaptation is a Misfire

Cherry Jones and Grace Kaufman in "The Sky Is Everywhere," premiering February 11, 2022 in select theaters and globally on Apple TV+.
Josephine Decker adapts Jandy Nelson's young adult novel The Sky is Everywhere with its quips and trinkets attached, for better or worse (mainly for the latter).
---

Jandy Nelson is an American author that focuses on young adult fiction, largely on the ideas of forgiveness, acceptance, and affliction. Even if she hasn't written many novels, readers have attached to her work, especially her second one, 2014's "I'll Give You the Sun". It was critically acclaimed, and young fans have related to the story, which revolves around the importance of forgiveness and the effect of being relieved of guilt. It also observes how art can heal a broken soul (as well as how we find reflections of ourselves within it). I have never been the biggest fan of these types of novels, nor am I their target audience. Still, when it was announced that Josephine Decker would adapt the novel that rose Nelson to fame, "The Sky is Everywhere", I found myself excited for multiple reasons. Apart from being a fan of her work and directorial approach (especially in Shirley and Madeline's Madeline), she seems to fit the bill, as her features revolve around strong female characters and the "hunger" for new meaning.
The film follows Lennie Walker (Grace Kaufman), a teen musical prodigy on the clarinet grieving the death of her sister Bailey (Havana Rose Liu). The grief has overtaken Lennie to the point where the music has escaped from her soul. She can't concentrate nor play her solos, causing her to lose the first chair to her "rival" Rachel (Julia Schlaeper). When her sister's devastated boyfriend, Toby Shaw (Pico Alexander), comes by the house to help in the garden as a coping mechanism, Lennie starts connecting with him as they discuss their similarities amidst the pain. Through her picturesque imagination and a conflicted heart, she navigates her first love and loss while trying to figure out her life without Bailey, who she cherished like no other. At one point, Uncle Big (Jason Segel) says to Lennie: "Welcome to the human condition, kid." That quote perfectly sums up the better half of the film, the "quiet" sections, which emphasize on the realization and apprehension revolving around loss and the search for meaning when young. The other half focuses on the young adult part of the story, which is, unfortunately, less exciting and lacks emotional payoff, even in Josephine Decker's hands.
Let's focus on the positive first. The grounded moments, which depend on humanistic reactions and showcase reflections on life, relationships, and forgiveness (either from the people you lost or yourself), are emotionally strong. There is a profound connection not only because of Grace Kaufman's palpable performance (which makes the viewer care and empathize with Lennie), but because there is the possibility that a similar situation has happened to you or someone close. The feeling of nothingness that starts in your head and later translates onto your atmosphere when someone close passes away is nearly universal, one way or another. A brief scene between Lennie and Big in his hippie van is an excellent example of these humanistic reactions. It revolves around the classic and sort-of cliched "are you ok" question, though they have a fleeting yet honest conversation about the passing of a loved one. Another aspect that Decker uses a lot in her pictures that is very present in The Sky is Everywhere is nature. Instead of showing a grittier (and more eroticized) version of the woods like in Butter on the Latch and Thou Was Mild and Lovely, it is treated as an "enchanted" forest.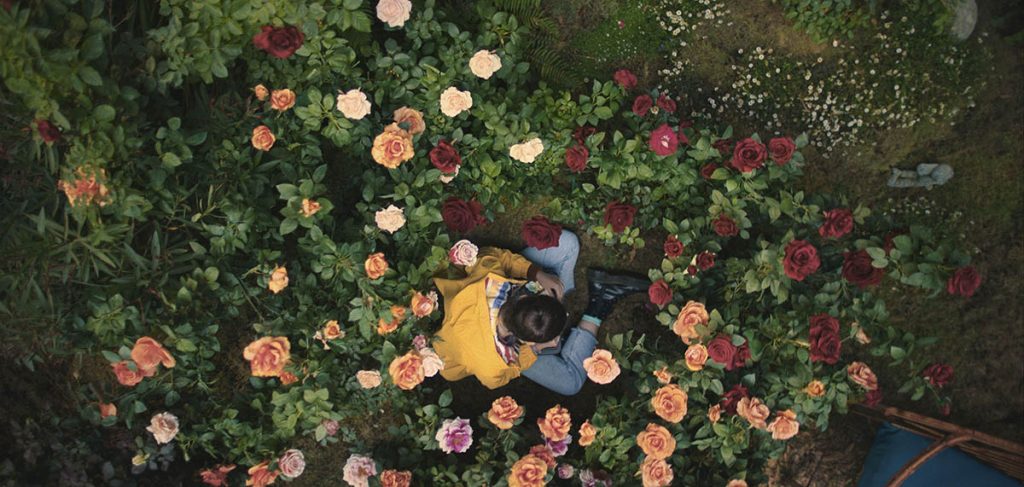 It is odd to see Decker use nature in such a resplendent way, since her previous works don't have a bright array of color (except for some sequences in Madeline's Madeline). There are beautiful uses of both visual and practical effects, in addition to some great work by the production designer and art director, who decorate the woods with many objects that resemble the film's diverse themes like mirrors, musical instruments, roses as wells as other flowers, and note sheets. I loved a sequence where Lennie and Joe (Jacques Colimon) listen to Bach in the garden, and flower-covered arms start floating around time, perfectly encapsulating the feeling of young love and the reverberations of the music inside them. Decker's reasons for centering most of her stories around nature also fit here. The lead character returns to her environment (the outdoors) so that she can get inspired and begin anew, as she purposefully lets go of her agency and crosses the line between art and emotional catharsis. Although this adaptation is thematically lighter than the rest of her filmography, Decker still finds exciting ways to apply her tricks. 
Be that as it may, I do feel there are many faults to her latest movie, most relating to the transition from source material to the big screen. Trying to fit the entire novel, with all its quips and trinkets, hurts its overall impact as it dwells too profoundly into its YA tropes. One of these quips is various sound marks (or checks) heard randomly throughout the film. It's either a "boing", chime, clang, or a "record scratch"-esque ding that takes you out of the emotional entanglements between the characters since it arrives so out of the blue. Another problem is the script and pacing; as it progresses from moment to moment, it never takes the correct amount of time to develop the characters entirely and show their motivations (apart from the lead, Lennie). For example, a "meet-cute" of young love happens, and in a matter of seconds, another situation comes forth regarding a different subject matter. This occurs primarily when the narrative focuses on building relationships (with friends or love interests) and during the love-triangle affair.
Compared to its other contemporaries like Paper Towns, The Fault in Our Stars, and Five Feet Apart, The Sky is Everywhere is stronger on all accounts. Yet, it doesn't separate itself from them in its approach to challenging themes like death, loss, and first love; it keeps those topics on a superficial level when developing its narrative and characters. Although the film begins with a beautiful introduction, it never quite finds its footing. It's unfortunate to say that this might be Josephine Decker's worst feature.
---
WATCH THE SKY IS EVERYWHERE:
---
The Sky is Everywhere premieres February 11, 2022 in select theaters and globally on Apple TV+.