The Return: Her Life After ISIS: Review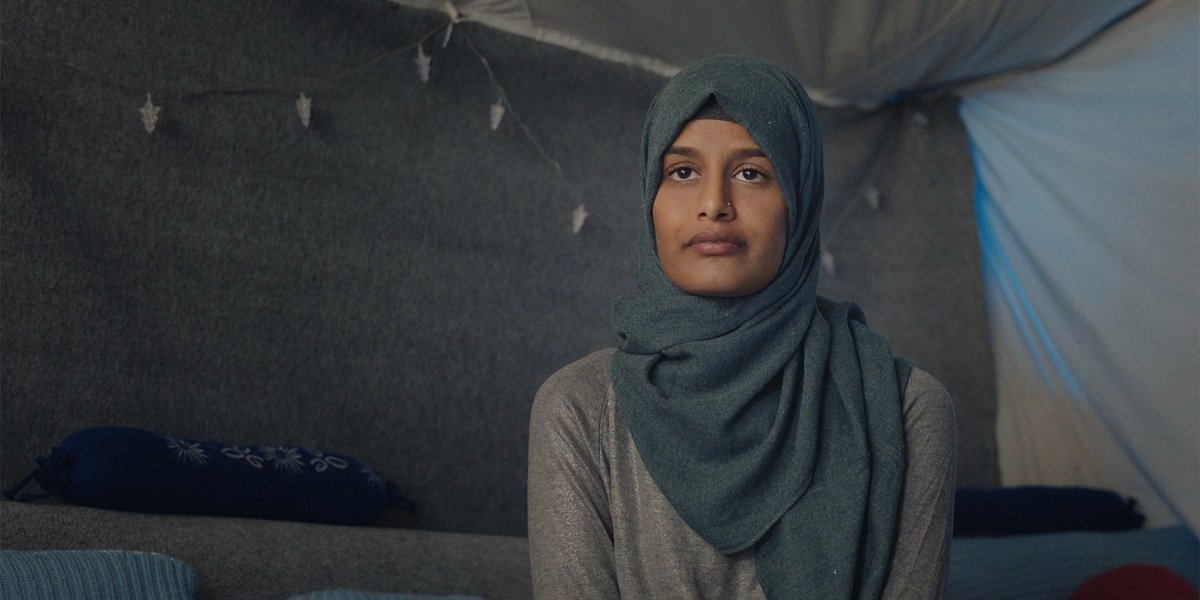 Shamima Begum in The Return: Life After Isis (Courtesy of SXSW)
The Return: Life After Isis tells the story of the young women who left home to join ISIS in Syria, and the struggle as their home countries now deny them the right to return.
---

After a week in which we saw International Women's Day, the fallout from Meghan (and Harry's) interview with Oprah, the death of Sarah Everard, heavy-handing policing at a vigil for her and Mother's Day in the UK, watching Alba Sotorra's documentary The Return: Life After Isis was… a lot.
The primary focus of the film is a group of six women – Shamima, from the UK; Hoda, from the US; Nawal and Hafida from the Netherlands; Ouidad from Germany, and Kimberly from Canada – who fled their home countries to join the so-called Islamic State in Syria. For Shamima and Hoda in particular, their decisions led to wide-spread outcry in the UK and US media. After all, how could these teenage girls leave and willingly join a terrorist organisation? But the documentary allows these women the chance to finally tell their stories: to explain the mindsets they had when they left, what life was really like as women in ISIS, and how they feel about those decisions now.
For over two years, Sotorra and an all-female crew spent time in the Kurdish-run detention camps and got to know these women. They documented how the women were encouraged to open up about their feelings and experiences, something that had been denied to them for so long under the strict ISIS rule. It shows the kinship of these women, and the joy they discover in forming a support network and facing the realities of their situations.
In the Islamic State, it was ruled legitimate for women to get married from the age of nine. It was proclaimed that the fundamental function of a woman was to stay at home, looking after the needs of her husband and children. They were told how to dress, how to think and how to act. Noda describes three instances in which she was yelled at in the street by patrolling forces: for wearing pink trainers (too attractive), for wearing glasses (too much of her eyes on show) and for taking a glove off when handling money (too much skin on show). The women arrived in Syria and had their passports removed; they were kept in squalor and forced to take part in "sex slave trading day" wherein they were bought, sold and passed around various men; they were asked to provide the preferences they had for a partner, and then were given a husband. They raised children whilst living through shortages of food and water, fleeing constant bombings and under abhorrent human rights violations.
It was a reality inconceivable to most, and yet these women left for Syria voluntarily.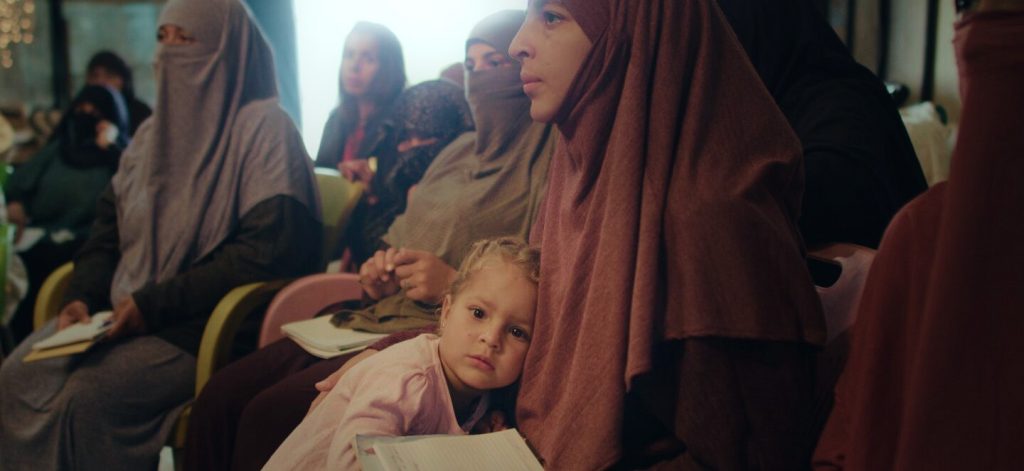 Sotorra's documentary works really hard to let the women explain themselves. Shamima had little understanding of her religion, nor a good relationship with her family. Hoda felt marginalised as a child, lacked social interaction due to extreme shyness and feared a future in which she had no control. Nawal, Hafida and Ouidad left with their husbands and children, hoping for a better life in an Islamic State. Kimberly's children had grown up and she felt lonely, fell in love online and believed him when he said her life would be better with him in Syria. Every one of these women fell victim to disinformation on social media, online grooming and the propaganda videos that promised an idyllic existence for those in the Islamic faith that felt marginalised against, in their home countries. And every one of these women suffered horrendously for falling for it; spent years in constant states of terror and hunger, living under a brutal terrorist organisation that cared little for their wellbeing. And now they have survived ISIS, they face the turned backs of their home countries.
It is against international law to deny their citizenship if it would leave them stateless. The Return continuously references this fact as it shows the realities of life in Syria, the devastation and regret felt by these women and the consistent refusal of countries like the UK and the US to accept Shamima, Noda etc. back home. The film emphasises the trauma these women have suffered, the grim realities of life in these detention camps and the constant frustration of being denied the chance to go home. The film uses snippets of sensationalist headlines and soundbites from news programmes to highlight both 'public opinion' and arguments against governmental decisions. It silently but pointedly makes its stance clear, but offers its audience the chance to make their own decisions after hearing the women tell their own stories.
See Also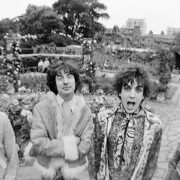 Sevinaz, a Kurdish women's rights activist, works at the camps and is shown visiting a mass grave. It highlights the toll ISIS had on the Kurdish people, and yet her family proclaim the camps and looking after women like Shamima and Hoda as a 'duty': they must help them "with no feeling of revenge". It's an incredibly brave outlook, and shows the need for compassion and understanding in complicated political situations like this. A sentiment the filmmakers were also keen to emphasise and express.
Over 64,000 women and children still reside in these camps. Children are using piles of rusted metal as climbing frames, with some at barely four-years-old reciting indoctrinated phrases like 'when you are a jihadi, no one can harm you' with no true understanding of what it means. It paints a grim picture of the lives of fellow human beings, and The Return: Life After Isis is an intimate portrait that aims to challenge preconceptions and provide the silenced with a voice. Definitely food for thought after the past week.
---
The Return: Life After Isis had its World Premiere at SXSW Online on March 17, 2021.