The Proud Family: Louder and Prouder (Episode 3 Review): Be True to Yourself

The Proud Family: Louder and Prouder (Disney Plus)
Episode 3 of The Proud Family: Louder and Prouder is the revival's best yet, thanks to its timeless message and focus on Kyla Pratt's Penny Proud.
---
At first, Episode 3 of The Proud Family: Louder and Prouder may seem a little familiar. The 32nd episode of Season 2 of the original Proud Family series "One in a Million" also featured a plot revolving around Wizard Kelly (Aries Spears), the retired basketball player and businessman, Oscar Proud (Tommy Davidson), and Oscar's daughter Penny, the protagonist of both series (Kyla Pratt). Any fears of Episode 3 of Louder and Prouder, titled "It All Started with an Orange Basketball" simply being a retread are put to rest early on, though, and the end result is the best episode of the revival to date.
The Proud Family: Louder and Prouder Episode 3 sees Penny thrust into joining her father Oscar's basketball team after he makes a bet with Wizard Kelly. Penny joins despite the fact that she dislikes the sport and would rather spend time with her new boyfriend/study buddy, Kareem (Asante Blackk). Though she excels, thanks in part to Oscar teaching her how to play when she was younger, Penny has to figure out who she truly wants to be as tensions rise and the big game gets closer.
This episode again feels like an episode of the original series in the same way that Episode 2 did. The story is very well written (there also aren't any distracting musical numbers this time around), and both plots focus on our protagonist Penny in some way. When Episode 3 begins, it seems like the focus is on Oscar, but his basketball plot is ultimately used as comic relief and as a tool to further the true plot/message of Penny learning to be true to herself. This message of being true to yourself will hit home for young and old viewers. Practically everyone has had to deal with a parent pushing them into something they didn't want to do in the same way that Penny is pushed by Oscar in Episode 3. Part of not only growing up but also life in general is figuring out who you want to be, not who others pressure you into being, and being true to who you want to be.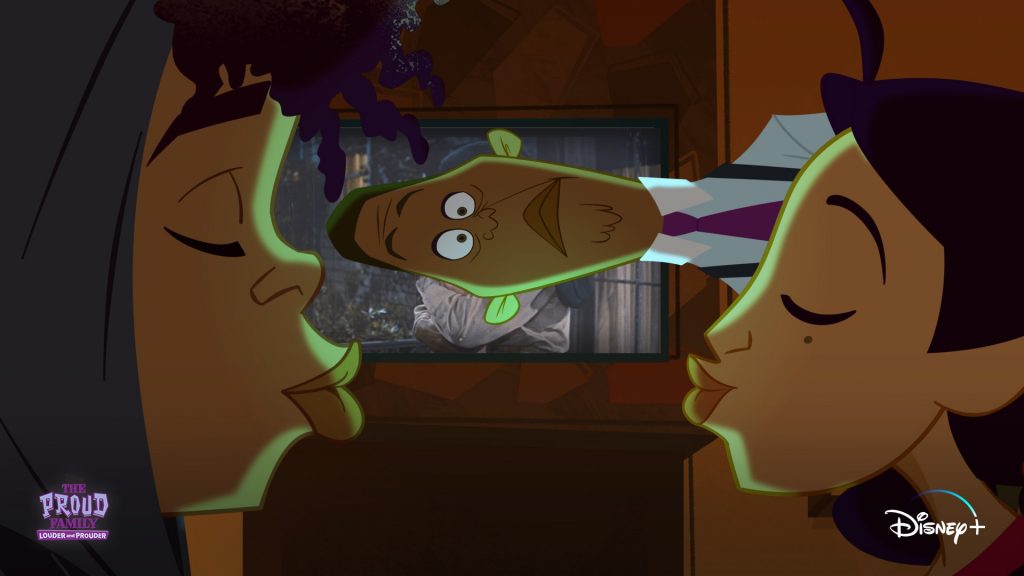 The focus of Episode 3 is all about Penny and getting that message she's learning across. At the end of the day, that is what the original show was about, a teenage girl as she grows up surrounded by her wacky family. There may have been subplots for other characters, but more often than not, the best episodes of The Proud Family tied that subplot to Penny in some way. Episode 2 of Louder and Prouder didn't really have a secondary plot, which likely contributed to it being more focused than Episode 1, which tried to juggle so much, and things fell flat when it tried to tie the message back to Penny as a result.
"It All Started with an Orange Basketball" doesn't have that problem: it introduces Oscar's basketball plot and almost immediately ties it to Penny, giving her the spotlight and regulating her father to being comic relief and an instrument to drive Penny to learn the moral of Episode 3. There isn't anything else competing for the viewers' attention once our protagonist is front and center, and that makes it easy to get invested in the relatable story being told.
Episode 3 also features, naturally, plenty of jokes, and even basketball references to fit the theme. It's the first episode of The Proud Family: Louder and Prouder to feature Peabo (Cree Summer), the Prouds' 9-year-old neighbor, who often tries to warn Oscar before he does something dangerous, and the end results are usually funny when Penny's father doesn't heed that warning. Even though he looked different, I knew it was Peabo, and his reappearance provided a pleasant surprise. There's even a moment that I believed to be a homage to Space Jam (1996) and ironic, considering a "Lil' Michael Jordan" plays on Wizard Kelly's team made up of the sons of famous basketball players.
The Proud Family: Louder and Prouder 's Episode 3 is written well, knowing exactly what its message is and ultimately using both plots to successfully relay that message to both Penny and the viewers. There's plenty of comic relief from Oscar and other characters along the way, but those jokes never hinder the episode's ability to effectively deliver the timeless moral of being true to yourself. This is the best episode of the revival series thus far and one can only hope they can keep this 2 episode winning streak going next week after the slight letdown of Episode 1.
---
The Proud Family: Louder and Prouder 's Episode 3, "l Started with an Orange Basketball," is now available to watch on Disney Plus.
---
WATCH THE PROUD FAMILY: LOUDER AND PROUDER: EPISODE 3:
---
JOIN US!
Don't miss our monthly updates with film news, movie-inspired recipes and exclusive content! You'll only hear from us once a month. #nospam