The Pink Cloud: Film Review

Poster image of The Pink Cloud by Iuli Gerbase (Sundance Institute)
The Pink Cloud is a visually stunning and vibrant, surreal science fiction that is strangely hopeful despite its accidental similarity to our dire reality.
---

If I had to visualize the past year in colours, I would probably choose a dull grey. There would be some yellow, blue, and green perhaps for those exercise days in spring or the very, very, brief days of respite during summer. How can you choose otherwise, with days tinted by the grey, white and black of our computer accompanied by an equally dull milky tea. By just a small change in colour perception, The Pink Cloud manages to illuminate those days in a (quite literally) different light. The last thing I would want to talk about (especially in 2021) is the Covid-19 lockdowns and its impact. I certainly was not planning on watching any films dealing with the subject, and yet The Pink Cloud, or A Nuvem Rosa, has been an absolutely pleasant surprise. Who knows – this film might just be the antidote to all those lockdown-feelings you don't know how to deal with?
Having met the night before, Giovana (Renata de Lélis, O Avental Rosa, A Colmeia) and Yago (Eduardo Mendonça, Fora de Quadro, Nécropolis) wake up on a roof terrace to the sound of air alarms and megaphones urging everyone to go inside and to close all windows and doors. A highly toxic pink cloud has appeared, which kills whoever it comes into contact with, within ten seconds. Appearing to have no intention of evaporating, the pink cloud keeps everyone hostage for a yet unknown period of time. While Giovana and Yago learn to live with each other, their dreams and desires for the future are put into painful contrast with the inability to fully act upon them. Always slightly illuminated by a calming yet menacing pink-ish hue, Giovana's and Yoga's lives follow an interesting path that is oddly not too different from life beyond the pink cloud.
Yago quickly adapts, enjoys the simplicity of lockdown-life, and is eager to share that joy with children. Giovana however, feels entrapped in her relationship with Yago and imprisoned by the pink cloud, severely limiting her freedom. She rebels against the new life they find each other in and cannot seem to adapt. The Pink Cloud shows us what twelve years of lockdown can do to ourselves and our relationships. From food deliveries through tubes and drones, to dentist appointments over zoom – the first half of the film is a hilarious portrayal of life during a lockdown (as we have come to know). Considering the script was written in 2017 and the filming done in 2019, before Covid-19 was even a thing yet, it is remarkable how accurately and precisely Iuli Gerbase has managed to predict what would happen during such a period of lockdown in our lives.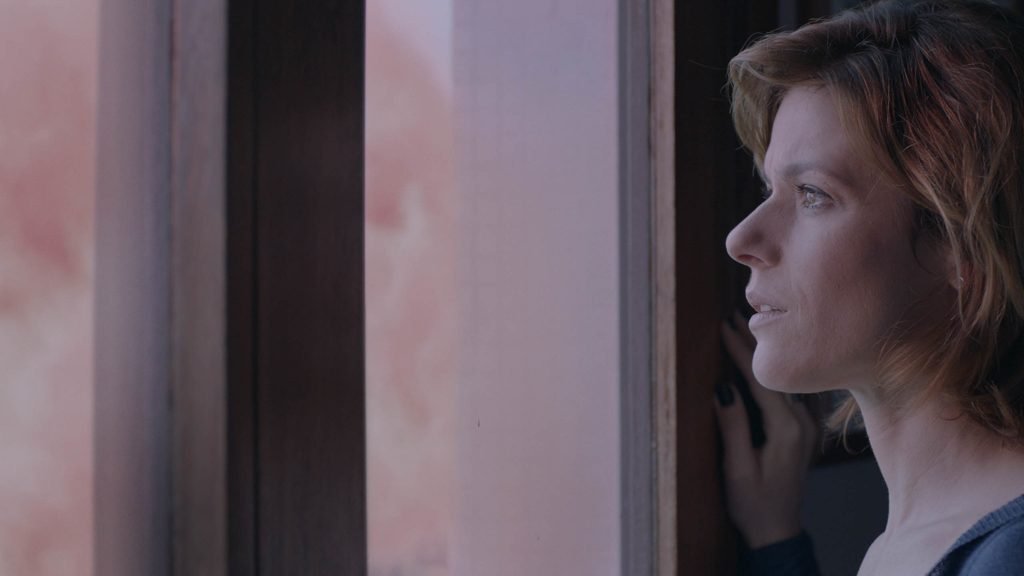 Luckily, the director did not focus on the practicalities of a postapocalyptic world, as her intention was to explore the relationship between Giovana and Yoga who have very different visions of what freedom and happiness are, and also the relationship that they have with the cloud that surrounds them for years. The pink colour of the cloud gives it the impression of being a feminine entity. The cloud could then literally refer to being a pink cloud of love, of parenthood happiness (as it does for Yago). However, it could also metaphorically refer to oppressive traditional feminist traditions – such as becoming a mother. Though Giovana clearly states in the beginning of the film that she is not interested in giving up her freedom for a child, she still ends up with a son (who she loves). Throughout the film it becomes then more and more clear that Giovana is actively rebelling against these feminine traditions, she has a strong internal feminist battle with the cloud.
Iuli Gerbase manages to explore our deepest fears and aspirations, especially in adversary conditions, and how the world around us can drastically impact those. Limited to just four walls, we are even more confronted with our inner emotions, thoughts, and desires, and things might resurface we didn't know about or hid away. Though The Pink Cloud has just a small simple premise, it is the character development that got to me the most. In just 103 minutes, I feel like I have seen a full chronicle of what life could have been like if our lockdowns had lasted more than just a few months. Make-up artist Baby Marquez (Diminuta, O Avental Rosa) and costume supervisor Mariane Collovini (Coisas que Porto Alegre Fala, Liberto) also need to be commended for their contribution, as the subtle changes that mark our appearance from year to year are (gracefully) visible in our cast.
Though there are some quite obvious unexplored possibilities in the narrative plot, I believe these are mainly due to some Covid-19 deformation on my part. It remains a wonder, for example, that after years and years of being locked indoors by a mysterious toxic cloud, no protective clothing has been invented which would allow families to be reunited (or to escape). But when it comes to the consideration of these familiar relationships, it is even more heart-breaking (and at times shocking) than our experience during the Covid-19 lockdowns has been (yet again, Covid-19 deformation). Perhaps we need our world to be put in a slightly different surreal science fiction alternate universe, just to see what it has (and is) doing to us. The Pink Cloud allows you to wonder into the 'what ifs' of Covid-19 lockdown without losing your sanity and hopes for a positive outcome. It has certainly made me look at the clouds differently these days.
---
The Pink Cloud premiered online, at the 2021 Sundance Film Festival, on Friday, January 29, 2021. The film will be released in select US theaters on January 14, 2022, and on Digital/VOD March 1, 2022.