The Mystery of the Pink Flamingo: Inorganic Sexiness and How to Give In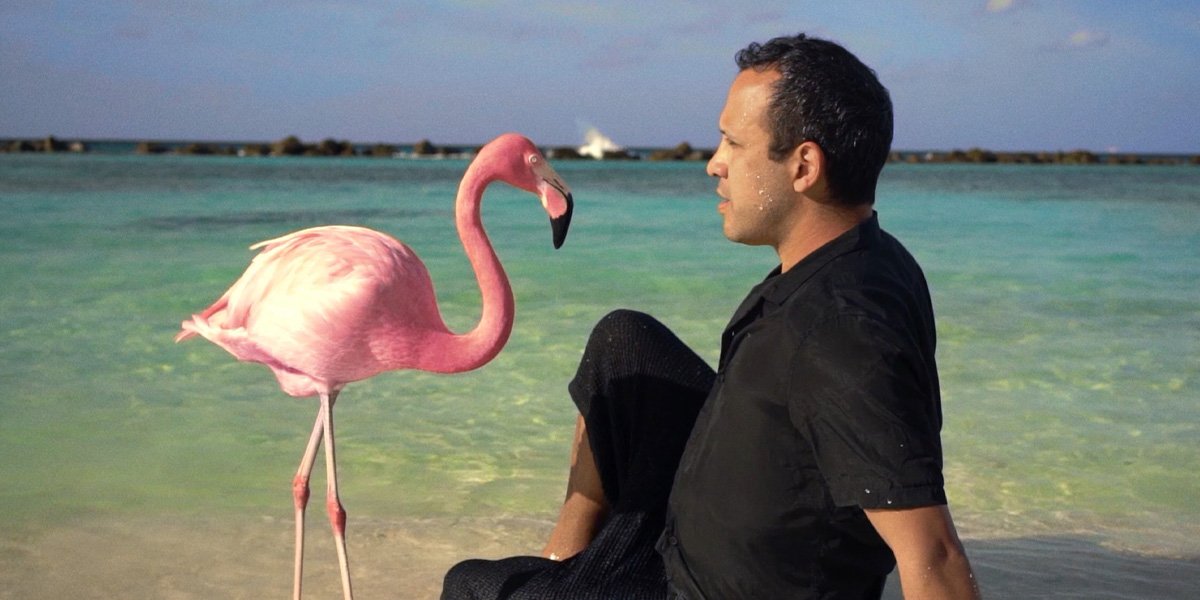 The Mystery of the Pink Flamingo (Los Hermanos Polo / Japonica Films)
The Mystery of the Pink Flamingo thrives in the grey area between fiction and non-fiction, and dives into pop psychology with more than a juicy twist.
---

I can very well remember the first time pink flamingos came into my Millennial world. It was my first year of my Bachelor's, and I couldn't care less about pink sh*t – in fact, I gladly took up the role of "that nasty b*tch" who shuns entertainment and lesser cultural manifestations. This is why I felt like I was able to connect with Javier Polo Gandía's The Mystery of the Pink Flamingo's main character straight away. He (Rigo Pex, who plays himself) is the quiet, smart weirdo every family needs, and he always dresses in black. He is a sound engineer and night-time deejay, and this is the story of how he got stuck to the overruling icon of Pop – pink flamingos.
One cannot help but acknowledge the beauty of flamingos. Nevertheless, and at the same time, there is something terrifying about the almost self-replicating architecture of Warholesque mirrors surrounding the pink-feathered birds. Any little something you might want to buy comes in the shape of a flamingo. Flamingos are everywhere, but this does not suffice to quench our thirst for Flamingoeness. This is why the case needs clarifying. This is why The Mystery of the Pink Flamingo's hero embarks on a journey that will take him to some of the most prominent personalities in the field of art and kitsch – to give you some names: filmmaker John Waters (Pink Flamingos, 1972), legendary late drag queen Divine and His Irreverent Pinkness Eduardo Casanova. Rigo's mission? To dive deep into the nature of pink flamingos and better understand society's obsession with these animals.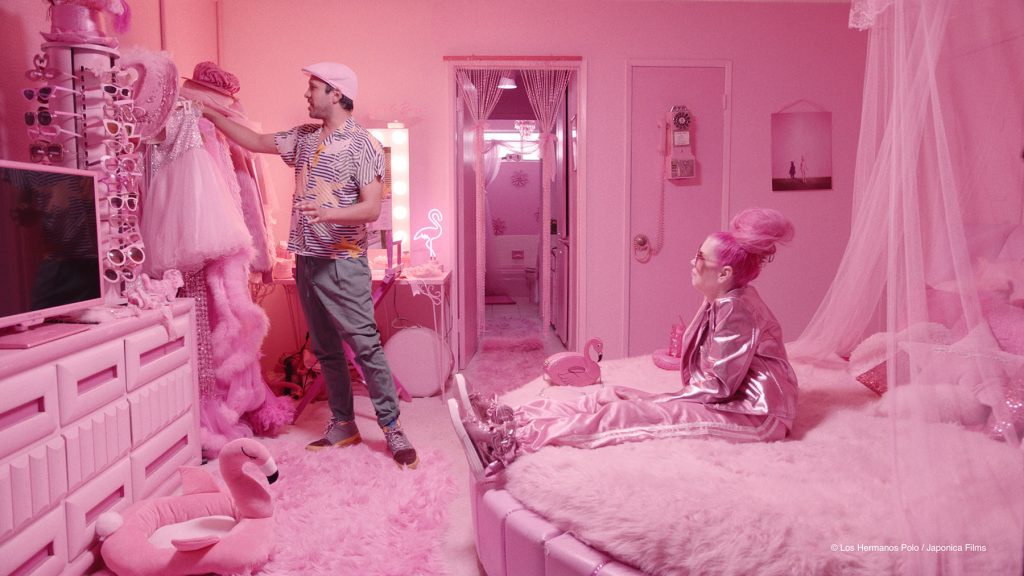 Flamingo here, flamingo there! There's no hide away from flamingos and their seductive gracefulness. From Ikea-designed plastic dreams to surreal dialogue and (pseudo-)documentary vibrations, Gandia pulls together a hypnotising film and sends it straight into the Olympus of perfect deadpan laughter and aesthetic boldness. The Mystery of the Pink Flamingo is as absurd as our obsessions with flamingos – the film eventually remarks – but it is this very same courageous madness that sweeps us up and lets us experience flamingos for nothing more that cutest birds with strangely-bending knees – in case you never noticed, flamingos bend their knees backwards. What do flamingos actually mean to us? What is the point of replicating their holy images to infinity? Can flamingos help us find our true selves?
I guess the answer would lie somewhere halfway in-between David Foster Wallace's analysis of contemporary society as the hordes of Entertainment and late philosopher Mario Perniola's notion of the "sex appeal of the inorganic", aka the welcoming pull of inorganic matter. We could also try and read the film from a Laura Mulvey-driven point of view but, to be fair, I do not feel like it, and I don't think that The Mystery of the Pink Flamingo deserves such a treatment.
See Also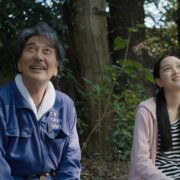 Therefore, I do not reckon there's a lesson to be learned in The Mystery of the Pink Flamingo. Gandía's film is much more than a survey, or a documentary. It is an honest look at today's cultural obsessions or, in Perniola's words, the next big thing that will absorb us into its mute responsiveness. We'll be glad to be all flamingos one day, and letting our obsessions win is the first step of a very long way. In the meanwhile, let us uplift our October nights with a quirky, aesthetically queer cinematic product. Now excuse me, but I can see another batch of flamingo-shaped pots being delivered to my door.
---
The Mystery of the Pink Flamingo will be screened at the Raindance Film Festival for free on November 5 at 4 pm, with an online repeat on November 6 at 2pm: click here for more information.