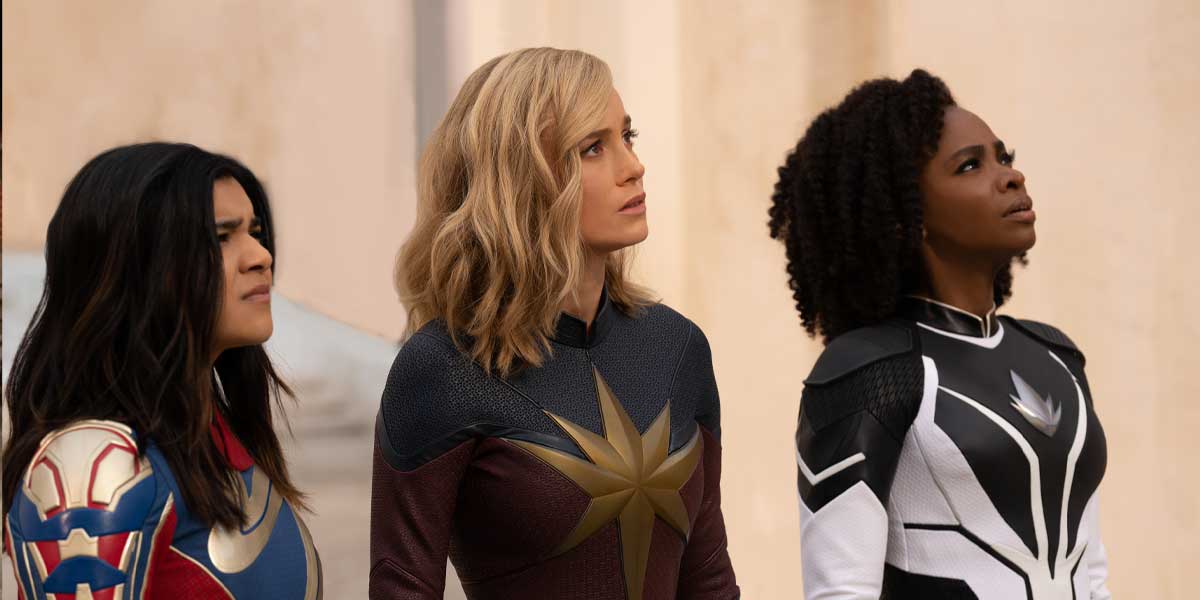 (Laura Radford. © 2023 MARVEL.)
Brie Larson, Teyonah Parris, and Iman Vellani make an exemplary trio in The Marvels, a satisfying, silly cosmic adventure.
---

When The Marvels begins, it becomes noticeably clear is that Nia DaCosta had a vision for the film. She and co-writers Megan McDonnell and Elissa Karasik then effortlessly work to execute that, and this story works in so many ways. The narrative works as a sequel to Captain Marvel (2019) and as a follow up to the events of WandaVision (2021) and Ms. Marvel (2022). It also is not as hard for fans that might have passed on watching those two Disney+ series to grasp, which was a concern that I imagine a lot of folks had coming in. The writers ease you into things in a way that does not feel condescending; instead, this film feels like a natural extension to three different entries in the Marvel Cinematic Universe. That is not an easy feat, as some of the recent Marvel outings have shown.
The Marvels sees the powers of Carol Danvers/Captain Marvel (Brie Larson) become entangled with those of Kamala Khan (Iman Vellani) and Monica Rambeau (Teyonah Parris). As a result, the trio must work together to stop a Kree warrior named Dar-Benn (Zawe Ashton), who seeks to restore her home world after a civil war, even if it means the destruction of the entire universe.
Gone is the slow start that dragged 2019's Captain Marvel down a touch. DaCosta and company throw you right into the story, which then proceeds to speed by so fast that you will not notice it, because you are having such a fun time. That is not to say the film does not have emotional depth and stakes; on the contrary, each of our heroes have something that they are fighting for/dealing with throughout. Carol Danvers winds up with a very emotional arc. She and Monica Rambeau have gone through a lot since they last spoke, and things are very uneasy between them. Larson and Parris do quite the job of capturing the tension between the pair and a faint glimmer of love that remains.
Larson proves that, if these films give her compelling enough dialogue and story beats, she can put her Academy Award winning talents to use and produce moments that will stick with you. The same applies for the comedic moments with Carol, Brie Larson has such a warm, natural charm to her, and you saw brief glimpses of in her initial outing as the character. In The Marvels, Larson's joy comes out and the film is much better for it.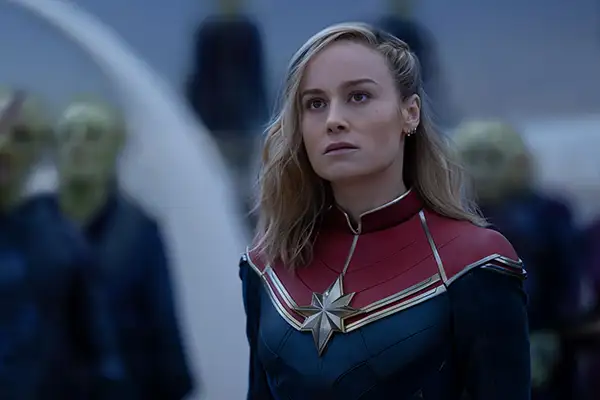 At the heart of this story are our main trio of Carol, Kamala, and Monica. Putting these three together was an excellent decision and having them and their arcs be so connected helps keep things from feeling bloated or clunky. This is not a team up just for the sake of fan service; the story gives them a legitimate reason to come together. While dealing with the obstacle that they face, Carol, Kamala, and Monica evolve as individual characters, and form an authentic connection. It will be easy for audiences to buy into our title trio separately and love the bond that grows throughout the film.
The relationship between Carol and Kamala is a comic book reader's dream come true. These characters are so important to each other in the source material, and you feel that. It is amazing to see them meet and watch their friendship blossom. Larson and Iman Vellani are so good together, the pair will receive obvious comparisons to Robert Downey Jr.'s Tony Stark/Iron Man and Tom Holland's Peter Parker/Spider-Man, but they do plenty to make their dynamic stand out.
Monica Rambeau steps out further from behind the shadows of her mother Maria (Lashana Lynch) and her aunt Carol here. Even though you can see that even though her powers and skills have improved since WandaVision, those shadows will still loom large once Carol reenters her life. Teyonah Parris is awesome as Monica in many ways, especially during the action scenes where she looks so cool, but this narrative has Monica face more than one might expect coming in. Parris handles the added responsibilities of being one of the faces of a Marvel film excellently and makes sure that Monica is never an afterthought.
Iman Vellani is by far the biggest standout of The Marvels in her second outing (and first on the big screen) as Kamala Khan/Ms. Marvel. She provides so much of the film's humor through her wide eyed, energetic performance. Vellani holds her own against some veterans of the MCU and proves that she can and should be one of the faces of the franchise moving forward. Much like in her debut in 2022's Ms. Marvel, Vellani manages to make her character feel so much like a real teenager. Kamala reacts to whatever unfolds with a wide range of emotions and still cares deeply for those closest to her. She is also still learning, and you see the character develop more as things move along. What we have here is not what a bunch of adults believe an actual teenager acts like, Kamala is the personification of what would happen if you gave a teen in the real-world superpowers.
This narrative is pure comic book ridiculousness done correctly. The Marvels has its fair share of action and dramatic moments, but more than anything else this film strives to entertain the viewer. It proves once again that a narrative does not necessarily have to reinvent the wheel to be great. There are elements in the film that will feel incredibly familiar, but where it shines is through director Nia DaCosta's ability to take the parts which she has been handed and create something wonderful. From the cast, to the visuals, action, and humor, DaCosta uses them all to enrich the weaker portions of the screenplay.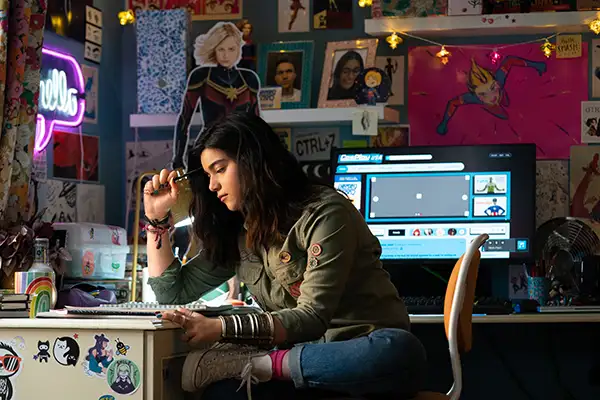 These action sequences are superb and chaotic in the best way. The switching places element that Carol, Kamala, and Monica deal with allows DaCosta and others to get creative, particularly with the choreography of the fights. Compared to Captain Marvel (2019), the action featured in The Marvels is a lot more lively, colorful, and memorable. The characters look and feel like they are occupying the space they are supposed to be in while fighting. You are not really taken out of the story by the visual effects work and that is an obvious plus, especially when you consider how much of this film takes place in space. DaCosta achieves a solid cosmic look that at times looks vastly different from what we have seen in the Marvel Cinematic Universe.
See Also

There are some issues that may have an impact on your overall enjoyment. One joke starts out as very funny, but eventually works its way to being slightly annoying. Then you have something that has been a problem for Marvel dating all the way back to the beginning. As much as Nia DaCosta has a vision for The Marvels which is executed well, she and her cowriters are not able to solve the Marvel Cinematic Universe's issue of crafting a captivating villain.
Zawe Ashton does her best as Kree warrior revolutionary Dar-Benn, but there is not much to the character. Her motivations, while understandable, are standard comic book antagonist stuff, and she does not evolve as the story moves along. There is also a major lack of intimidation: Dar-Benn does not make the audience worry. When you consider she is facing the strongest Avenger in Carol Danvers, along with two other heroes, that is a problem. My guess is the writers believed the switching places element would provide enough of an obstacle, and it does to an extent, but you need to have a villain that poses a realistic threat to our heroes to go with it.
If you can, I highly recommend avoiding spoilers. This film sets up some remarkably interesting things for the future of the MCU without compromising the story that is currently being told. A lot of the recent projects set within the universe have connections that seem forced in, but the surprises here are perfect and make a lot of sense given what occurs in The Marvels.
The Marvels features three marvelous leads and a director that knows exactly what she wants the film to be in Nia DaCosta. This is an adventure that the entire family can enjoy with plenty of humor, terrific action, and emotion. After several Marvel projects of varying quality, this is a win, even with the villain not being too special.
---
The Marvels will be released globally in theaters on November 10, 2023.