The Laundromat (Netflix): Film Review

Gary Oldman and Antonio Banderas in The Laundromat (Netflix)
Netflix's The Laundromat is a fresh take on a well-known financial scandal that entertains us with fascinating characters, excellent acting and more than one unpredictable twist.
---
Forget about the Panama Papers you've read about: The Laundromat might be about the 2015 financial scandal that led to one of the biggest data leaks in history, but it's also something else entirely. Writer/producer Scott Z. Burns and director Steven Soderbergh's take on the well-known event is an hilarious, satirical, hugely entertaining story that fascinates us with delightfully caricatural characters we simply can't get enough of and surprises us with twists that are definitely worth waiting for.
The Laundromat is one of these stories that asks you to stop focusing on every single narrative thread and just go with the flow, and it's precisely when you stop thinking about the facts that it will all start to make sense. Because this comedy-drama is not trying to be an extremely accurate account of events, nor does it want to be the next The Big Short. The Laundromat is an immensely watchable story that flows incredibly well and keeps on surprising with clever lines, excellent acting and unforeseen turns of events.
The two narrators of this well-devised story are none other than Jürgen Mossack (Gary Oldman) and Ramón Fonseca (Antonio Banderas), the very same individuals who founded the Panama City law firm where it all started. This unlikely (and extremely well-dressed) duo is at the very centre of The Laundromat, and it is part of what makes the film so compelling and so easy to watch: when Mossack and Fonseca look into the camera and invite us into their world, it's hard to resist their charm.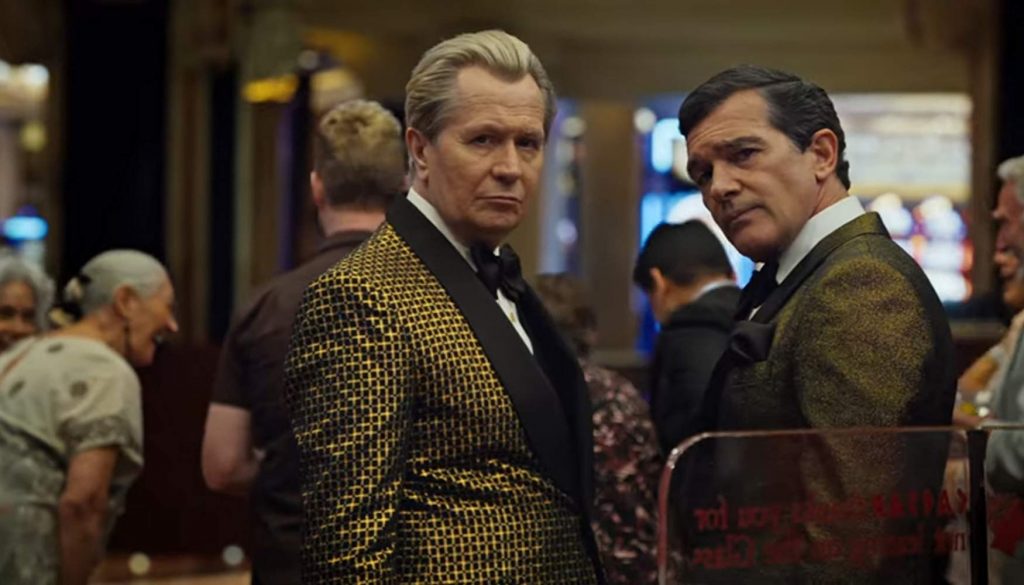 It doesn't matter if they're drinking cocktails on the beach, shopping at a supermarket or talking about cavemen borrowing bananas from the future: Mossack and Fonseca's exaggerated accents, charming attire and smugly complacent smiles are as seductive as the shell companies and offshore accounts they used to sell. As they take us to China, Mexico, Africa and introduce us to more and more characters who were (more or less directly) affected by their actions, more narrative threads are opened and we are fascinated by the multiple stories enfolding before our eyes.
"Even if you have all the bananas in the world, you can borrow them from the future"

Jürgen Mossack explaining the concept of "credit"
One of these stories is about Ellen Martin (Meryl Streep), who is the closest thing to a leading character The Laundromat gives us. If the film introduces her to us as a carefree middle-aged woman whose only concern is enjoying a holiday with her husband, our expectations are quickly subverted as her world is turned upside down. Ellen's vacation soon becomes a nigthmare, and she finds herself investigating a fake insurance policy that is ultimately connected to Mossack and Fonseca themselves.
Which is when Meryl Streep does her magic and brings us a multifaceted, hugely expressive, extremely likeable character that has the ability to move us with her ingenuity and impress us with her determination, all this while making us burst out in laughter when we least expect to. Ellen's absurdly hilarious scenes involve her taking trips to remote cities, pursuing Russians and looking for oddly-named people in unknown towns, but she also has a habit of randomly appearing in the most unexpected places.
Our relentless leading character is a constant presence throughout the film – one that delights us with impromptu speeches from beginning to end, and one that we can always relate to, no matter how weird things get. She is also the one who makes it easier for us to understand a much more complex story, as her reactions reflect our own, and her spontaneity helps the narrative move forward in a much lighter, much more enjoyable way.
But The Laundromat is also a story that is made of many characters, and each of them brings something to it. If one of the protagonists is responsible for a jaw-dropping twist you absolutely won't see coming, Brenda Zamora (who plays one of Mossack's many empolyees/"company owners") gives us the most unexpectedly hilarious scene of the film, with the help of a bus and an electricity pole.
See Also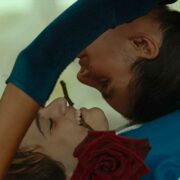 "You think we know everyone we created a company for?"

Jürgen Mossack to Mia Beltran
Matthias Schoenaerts, Jeffrey Wright, Melissa Rauch, Rosalind Chao and David Schwimmer are in their comfort zone as a series of side characters that help the story flow and spark our curiosity, and the many cameos (Sharon Stone, Chris Parnell, James Cromwell, Jeff Michalski, Jane Morris and Larry Wilmore, to name a few) surprise us and entertain us even more.
If you are looking for a traditional drama that will tell you everything there is to know about the Panama Papers, you won't find it in The Laundromat. Instead, what you will find is a comedy-drama told by compelling characters that will entertain you by dissecting a complex event and turning into an intriguing, fascinating story that flows incredibly well. You'll find a movie that surprises you with unpredictable twists, draws you in with clever quotes and references and winks at you with unforeseen developments.
As informative as it is hugely enjoyable, The Laundromat is the story we didn't know we needed, and one we definitely won't forget.
---
The Laundromat is now available to watch on Netflix.