The Integrity of Joseph Chambers: Film Review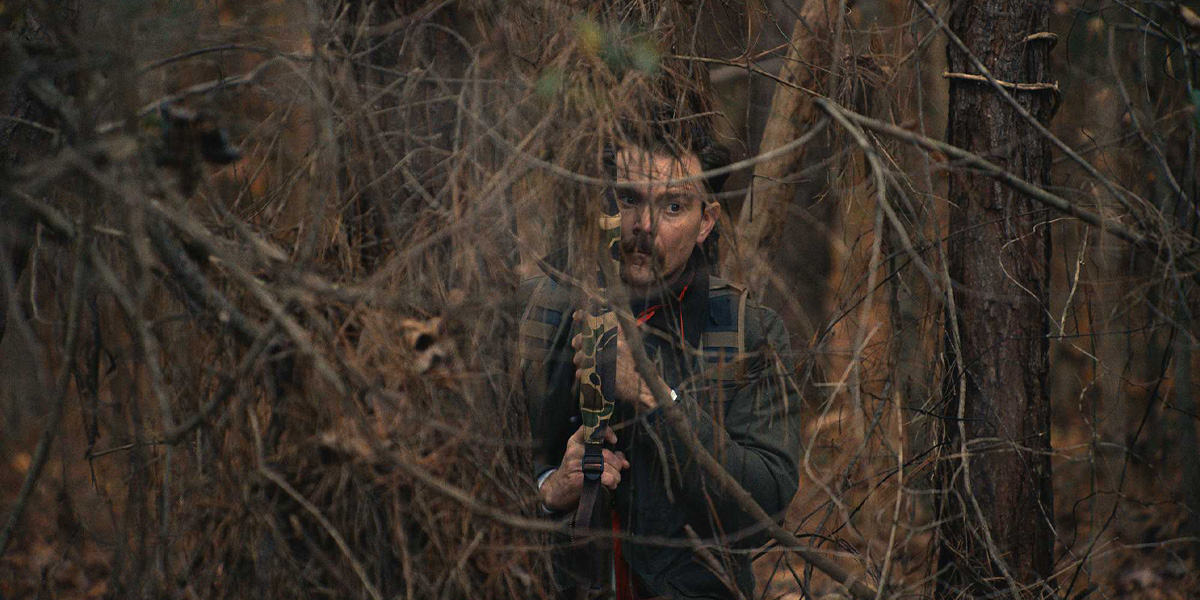 Clayne Crawford in The Integrity of Joseph Chambers (Visit Films | Courtesy of the 2022 Tribeca Film Festival)
The Integrity of Joseph Chambers delivers on its premise of a man trying to prove his worth in a slow paced, immersive character study.
---

With his critically-acclaimed feature The Killing of Two Lovers, a loomy family drama about a couple falling apart despite the love they still have for each other, writer and director Robert Machoian demonstrated he can pull off incredibly personal human stories that are emotionally draining and somewhat relatable. Clayne Crawford (Lethal Weapon) turned-in a heartbreaking performance alongside his co-star Sepideh Moafi in that film, and now he's reuniting with Machoian to star in his latest offering, The Integrity of Joseph Chambers.
Crawford plays Joseph, a man hoping to prove his worth to his family, but most importantly to himself. One morning he ventures into the woods to go deer hunting all alone. Joe's seemingly peaceful and boring trip in the woods is short-lived when he begins to be tormented in the wilderness after a terrible incident.The biggest compliment I can give Machoian's newest thriller is that it knows how to perfectly place its audience in Joseph's shoes. You might not agree with how he takes matters into his own hands, but Crawford sells Joe's internal struggle of feeling like he needs to fix something within himself in such a relatable way. Regardless of gender, I am sure everybody has been in the position of having to prove their worth, which makes connecting with Joseph relatively easy. The opening scene of The Integrity of Joseph Chambers is like a gigantic red flag foreshadowing things will go sideways with Joe's wife Tess (Jordana Brewster, F9: The Fast Saga) urging him not to go out alone, fearful for his life and ego if he does. Things, of course, eventually do go wrong.
Brewster is surprisingly not in the film for long, but her presence can be felt throughout. Her chemistry with Crawford almost immediately hooks you in and gives Joe's journey a sense of stakes and urgency as we get to see what he could possibly lose if things don't go as planned. It is here, with this family dynamic, that we're introduced to the film's more cheerful tone. Joe clearly has a healthy relationship with his wife, being able to joke around his appearance with his new mustache, having meaningful conversations about the decisions they have to make as parents to their children, what it means to prove one's worth, among other things. These scenes sort of make you question why Joseph believes he needs to prove anything when, in his family's eyes, he's already a good man, but, again, it goes to further establish Joe's naive determination with this goal of his.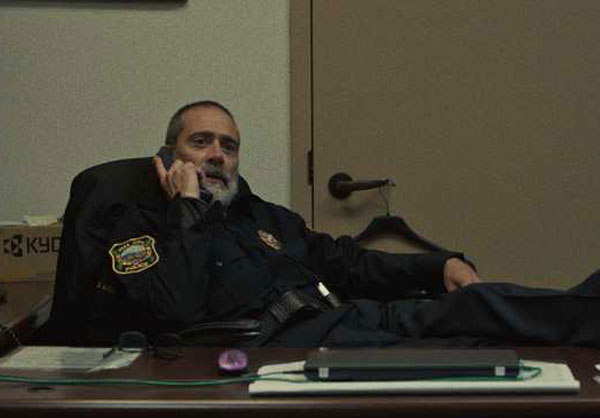 Robert Machoian knows how to surround himself with talented people to elevate his scripts and directing style. In The Killing of Two Lovers, cinematographer Oscar Ignacio Jimenez is able to create the sense of a person on the outside looking in into other people's lives as we follow a father aching to get back to his family during a tricky time in his marriage. With The Integrity of Joseph Chambers, Jimenez does something similar with his photography, yet different. His wide-shots and long takes, especially once we are in the woods, radiate the idea of complete isolation Joe is experiencing in his one-day journey.
Paired with Peter Albrechtsen's chilling sound design that allows you to stand right in Joseph's state of mind, you get an eerie atmosphere that at times is frightening and has you on the edge of your seat. There are moments, for example, where it's just Joe in the woods, yet in the background you can hear sounds of people cheering for him. Obviously, nobody is closeby to cheer for him, but the clever use of sound design is able to convey to us that's how Joseph thinks people will receive him back home after a successful day of deer hunting. Of course, once things do go wrong, as predicted by Tess, Albrechtsen's sound design switches and instead of the cheerful praise we hear distorted sounds of people whispering, arguing, and yelling in the distance. It all makes for an immersive viewing experience that places you in Joseph's position as he begins to panic in the woods.
Editor Yvette M. Amirian also plays a significant role as to why the film works as well as it does. The Integrity of Joseph Chambers is such a slow-burner, more so than Machoian's previous work, and I mean that as a compliment. Scenes that in other projects would feel too dragged-on come across as engaging here, because Amirian manages to perfectly time how long a character moment should last. For about two minutes straight, Crawford delivers a gut-wrenching scene where he basically hits rock bottom and is pacing back and forth, sobbing uncontrollably. Usually with scenes like those it can feel gimmicky, but here it feels earned because the film does an excellent job at establishing what kind of man Joe is at the start of the film, hence his reaction being natural and not forced. There's also a pretty nice fake-out ending towards the climax where we're shown the regret Joe will have to live with for the rest of his life if he decides to do the wrong thing and lie about the incident he finds himself in. Such sequences can be quite boring or uninspired, but once we cut back to reality and see Joe do "the right thing," we can't help but to be conflicted as an audience member whether he did the right thing or if he only made matters worse for him and his family.
If I had anything negative to say about the film, I'd say the second act is sort of uneventful. It's a lot of Joe walking around, talking to himself, nothing really interesting or challenging happening on screen. You might find yourself looking at your watch, waiting for something to spice things up. In comparison to The Killing of Two Lovers, Machoian's The Integrity of Joseph Chambers struggles a bit to get going, but once it does you are in for an emotionally draining ride that is stressful and immersive. Jeffrey Dean Morgan's (The Walking Dead) special appearance towards the closing of the film is a welcomed addition as he seems to be the only one to be sympathetic and supportive of Joe, especially in the condition he returns from the woods.
As Robert Machoian projects go, The Killing of Two Lovers is a piece of art that will stay with me for much longer because of its sincerity in the way it treats family drama and relationship issues. The Integrity of Joseph Chambers, on the other hand, is a satisfying one-man show led by an exquisite performance from Clayne Crawford and an astonishing achievement from the technical team that helped bring this story to life. I wished we could have seen Joe's struggles progressively evolve, rather than seeing them go from 1 up to 11 from one moment to the next. That being said, though, I am still insanely happy I got to start off the Tribeca Film Festival with such a creative little film that challenges you to take this journey with Clayne Crawford's Joe. After this project, I can't wait to see what Robert Machoian does next in the near future.
---
The Integrity of Joseph Chambers premiered at the 2022 Tribeca Film Festival on June 9, 2022.
The film is now available to watch on digital and on demand in the US, and will be available to own or rent in the UK & Ireland from April 17. Read our interview with Clayne Crawford.