The Holdovers: LFF Film Review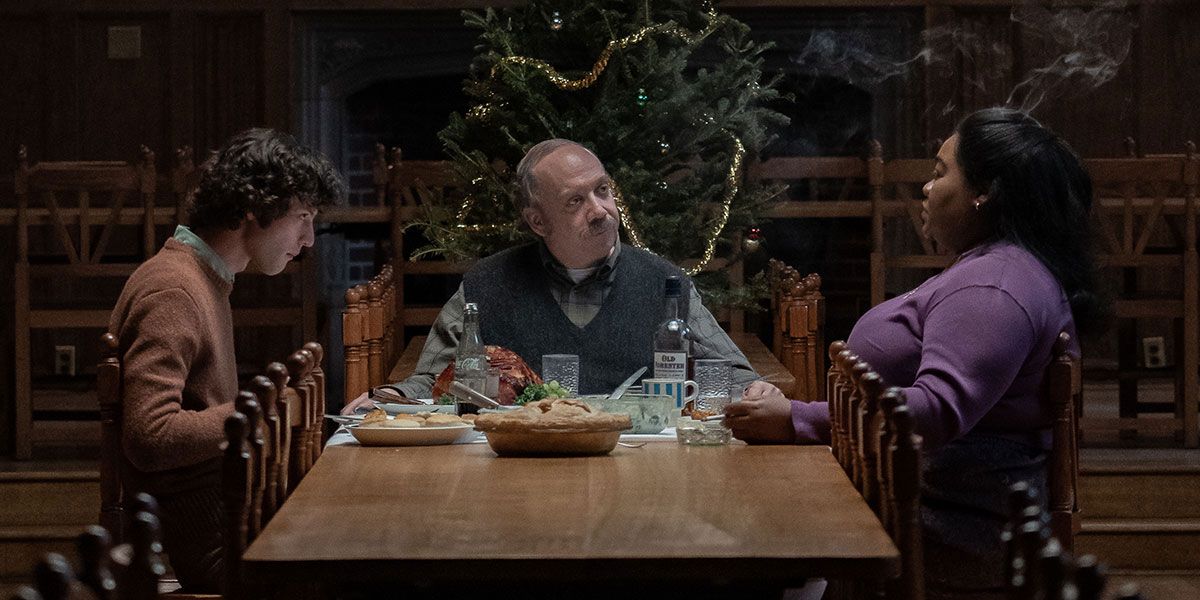 The Holdovers (Focus Features)
Featuring a winning trio of actors all giving scintillating performances, The Holdovers marks a stunning return to form for Alexander Payne.
---

The nostalgia of The Holdovers is instantly present with the old-fashioned logos of Universal and Miramax flashing up on screen, but this comforting tone doesn't smack you in the face; it warmly welcomes and hugs you. It's a nostalgia that extends into every aspect of The Holdovers, with its consistent use of quick zooms, swipes and fades, and warm, wintry hues. After the disastrous Downsizing in 2017, Alexander Payne (Nebraska) is back with a stunning return to form, bringing David Hemingson's (Whiskey Cavalier) spectacular screenplay to life with all the verve, humanity, and humour it deserves.
Set in the early 1970s at Barton Academy (a private boarding school) in New England, The Holdovers charts the two week Christmas holidays where all the students bar one and all the teachers bar one have gone off on their various jaunts around the world. Stuck behind are rebellious teenager Angus Tully (Dominic Sessa) and curmudgeonly teacher Paul Hunham (Paul Giamatti, Sideways), plus the cafeteria manager, Mary Lamb (Da'Vine Joy Randolph, Dolemite Is My Name). Sure enough, this ripe setup produces rich results, with the proceeding two weeks giving these characters space to vent frustrations and to blow off steam in various ways.
Each are dealing with their own baggage: Angus despises his new stepfather and feels abandoned by his mother; Mr. Hunham has to contend with past academic failings and the fact that every student and teacher seems to hate him; and Mary is still fresh with grief from the passing of her son, a former Barton student, in overseas combat. This bright mosaic of motives and feelings is spectacular; Hemingson's screenplay is a real winner, a sparkling concoction where characters flourish organically, relationships build assuredly and realistically, and comedy zips with such intelligence and bite.
Payne, with The Holdovers only the second screenplay he's directed without being writer or co-writer, executes it with aplomb, showing as much care for the humour as the drama, and helping to sketch these characters in such a tender light.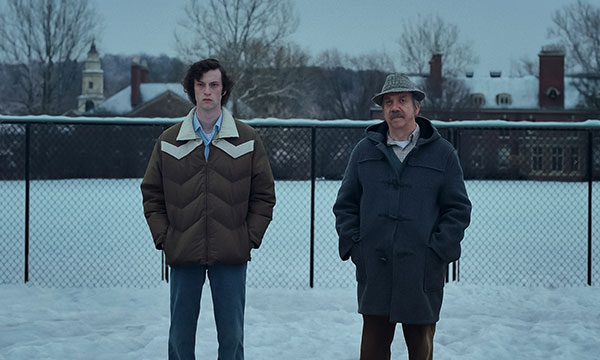 However, these strengths would matter for less if the actors weren't all top tier in their performances. Sessa, Giamatti and Randolph each bring something different to The Holdovers. Sessa brings an immature impetuousness to Angus, which is needed when he is required to add more emotion later on. Giamatti is as mean and moody as his character in Sideways (2004), giving one of the best comedic performances of the year, but again, also adding much-needed earnestness and depth to Mr. Hunham. And as Mary, Randolph inserts sharp wit and remarkable, admirable resilience into a character aching with grief.
With these characters at its core, The Holdovers forms like a puzzle, filling in blanks naturally and carefully, and blossoming into an excellent depiction of human relationships and how they can form in the face of adversity. The comforting nostalgia can sometimes translate into predictable safety, but even then, it's difficult not to be moved or humoured by the film's events. Even when The Holdovers does stray into schmaltz, which is rarely, it always somehow feels intentional and acceptable.
These issues matter for little when The Holdovers is such a complete joy from start to finish, staying true to its 70s setting with all the fun stylistic trademarks from that era of filmmaking and boasting a killer soundtrack featuring the likes of Cat Stevens. This pacey, intelligent film will win even the most curmudgeonly people over. Whoever says they don't make them like this anymore, clearly hasn't seen The Holdovers.
---
The Holdovers was screened at the 2023 BFI London Film Festival and will be released In select NY & LA theaters on October 27, in select cities on November 3, and nationwide on November 10, 2023. In the UK, the film will be out in UK cinemas on January 19, 2024.