The Guardians of The Galaxy Holiday Special: Review

Chris Pratt and Dave Bautista in The Guardians of the Galaxy: Holiday Special (Jessica Miglio. © 2022 MARVEL.)
Marvel Studios' The Guardians Of The Galaxy Holiday Special is a charming and hilarious return to James Gunn's lovingly crafted corner of the universe.
---

Ever since their introduction in 2014, Guardians of The Galaxy has always maintained a more chaotic corner of the wider MCU that doesn't seek to be too involved in Marvel's constant desire to expand a cinematic universe. Instead, James Gunn has crafted a universe of his own built on a strong emotional core and characters that all dominate the screen in their own ways. With The Guardians of The Galaxy Holiday Special, we're given a stark reminder of James Gunn's excellence in writing as well as a necessary refresher for the MCU that ditches large scale cataclysmic events with an installment that uses its small-scale trappings to find endless success.
The Guardians of the Galaxy Holiday Special follows Drax (Dave Bautista) and Mantis (Pom Klementieff) as they set out for an adventure on Earth in order to find Peter Quill (Chris Pratt) an unforgettable Christmas present in the form of Hollywood actor and Quill's icon, Kevin Bacon.
With a brisk runtime of about 45 minutes, The Guardians Of The Galaxy Holiday Special wastes no time to get things running. Yet, James Gunn manages to never let the special feel like it's speeding through things without any love and passion placed behind it. Much of the runtime centers specifically on Drax and Mantis as they journey down to Earth and find that perfect Christmas present for Quill while also experiencing the planet in an extremely comedic fish-out-of-water story that both Dave Bautista and Pom Klementieff play to hilarious perfection. The character of Mantis is arguably the center of attention within this special, which is a refreshing change of pace for a series that has mostly focused on Peter Quill through two major movies. For Klementieff, taking the lead comes extremely naturally as she dominates all of her scenes with charm and heart that plays to her very best abilities as an actress.
Dave Bautista also proves once again his talents at comedy with Drax being an incredible canvas for some superb line deliveries and a screen presence that balances his comedic side as well as the undeniable strength that the character provides. The chemistry of both Mantis and Drax has always been a delight since the release of Guardians Of The Galaxy Vol. 2 back in 2017 but in this holiday special, it shines brighter than ever thanks to just how much James Gunn crams into this short runtime for the duo to get involved in during their time on Earth while also letting the strengths of their chemistry naturally move the story forward.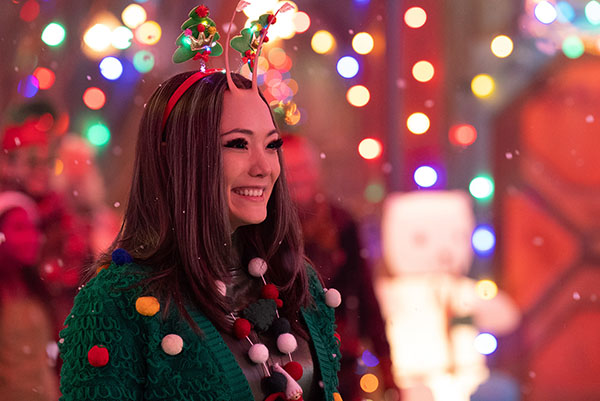 When the special begins, it does so with an animated story where Yondu (Michael Rooker) chastises Peter Quill and Kraglin (Sean Gunn) for celebrating Christmas and quickly sets out to destroy their holiday cheer. It's a story that stays with Kraglin and arguably sets the stage for this entire special as this event leads to him still ultimately wanting to have that classic Christmas cheer that Quill tried to welcome into his life. Much of The Guardians of The Galaxy Holiday Special is about the power of stories and the characters within them but also the welcoming embrace that these stories create when faced with loss or feelings of angst and sadness. For Peter Quill, Kevin Bacon was a legendary hero and, despite only being an actor, he played these characters in Quill's life to perfection and led him on the path to becoming the hero he is today.
In a way, the power of Kevin Bacon's performances in his films can be extended to the undeniable power that the MCU has within our own culture. The legacy that Marvel leaves with these movies will ultimately span generations as each passing day opens up more people both young and old to the universe that is being created and consistently added to. Despite any issues that one may have with the work Marvel produces regularly, the impact that they can have on any one person can't be understated and it's this point specifically that James Gunn understands when crafting a story such as this special where the pure heart and charm of these characters comes first before setting up the distant future.
See Also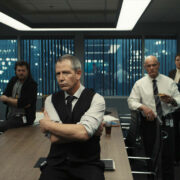 The Guardians of The Galaxy Holiday Special is a necessary reminder of how powerful the MCU can be when it shifts its constant focus on world-altering events and cinematic universe expansion in order to slow down and spend some time with its characters. This special works so well partly because of how much work James Gunn has put behind the scenes to make each and every character within this section of the universe feel real and alive. There's no after-credits scene that leads to the next movie in Marvel's never-ending universe and yet it doesn't need one.
In a time where Marvel has, for better or worse, mastered the art of leaving audiences excited for what comes next rather than letting them enjoy what's in front of them in the now, James Gunn has broken that formula to create his own corner of the MCU with a set of characters who are endlessly charming to watch and don't require a complete comprehension of a cinematic universe to be behind them. It certainly won't change the minds of those against Marvel's output post-Endgame, but this brief time within this universe is one that's worth taking just to see a master of the craft like James Gunn create another worthy installment in his chaotic little corner of the MCU.
---
The Guardians of the Galaxy Holiday Special is now available to watch on Disney Plus.