The Good Half: Tribeca Film Review

The Good Half (The Ranch Productions / 2023 Tribeca Film Festival)
Nick Jonas stars as a grieving son in The Good Half, an extremely sad and realistic film centering on a family tragedy. 
---

I have never been through something as dark as what occurs in The Good Half, but it happens to be one of the most relatable films I've seen in recent years. In this film, we follow Renn (Nick Jonas), whose worst fear just came true: his mother passing away. Now, he has to fly back home to meet his family, who has been dealing with her death without his support for a few days already. On the flight to Cleveland, he meets Zoey (Alexandra Shipp, of Tick Tick…BOOM!), a therapist who is there for a conference. Now, Renn must juggle dealing with his grieving family, sparking a new romance with Zoey, and coming to terms with the fact that the person he loves most is gone.
There have been plenty of grief dramas before The Good Half, where there is a lot of pain that can be felt through the screen. In these films, we usually get great performances and plenty of tears. However, most of the time, when I watch these films, they don't necessarily feel real. With the minimal experience I've had with grief, the tone of this film matches what I have seen in real life pretty closely. Of course, there are moments of great sadness, but not all of it is extremely dark. When families come together for an event as big as a death, people don't always get along and while that is sad, it makes for some great comedy.
For example, the dynamic between Renn and Rick (David Arquette, of Scream) is filled with tension, but it provides a lot of the lighter moments in the film. Both Jonas and Arquette have this chemistry where it is obvious that they don't like each other, but you want to keep watching them interact anyways. In fact, Jonas had great chemistry with almost everyone in the cast. Renn has this humor-driven personality, where he sometimes makes jokes that are totally inappropriate given the circumstances, but this makes him a protagonist that you want to follow. It is apparent that his jokes are mainly a defense mechanism, and as the film goes on we get to see his layers slowly feel back, which progressively gets you more invested in his story.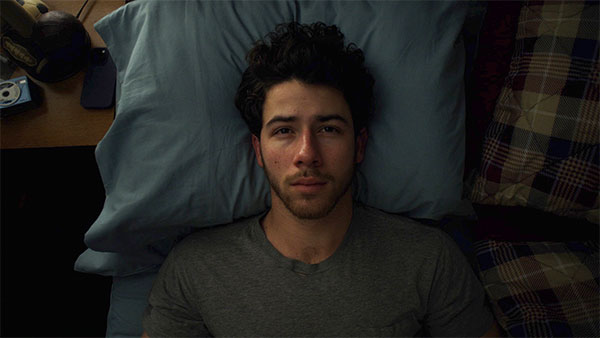 Renn's use of humor reminded me a lot of myself, and his relationship with his sister Leigh (Brittany Snow, of X) felt like how my sister and I might react in a similar tragic situation. Because of this, I had a strong connection to how these two characters would develop over the course of their grieving process, and this made me a lot more emotional. At times, it was a little obvious that the filmmakers were attempting to make audiences cry, which took me out of the film. The use of slow motion during some of the more dramatic moments was completely unnecessary, and some of the music choices didn't have the effect that was intended, but these occurrences were few and far between.
Even with these flaws, by the time the funeral came, I was sobbing along with the rest of my theatre. Yes, there is the expected eulogy scene, where you are supposed to cry, but it's mainly Renn's personal growth, which is beautifully displayed in the second half of the film, that did the trick for me. The film's thesis about what a good half means is displayed towards the end of the film, and I believe it is something that anyone could relate to, regardless of their experience with grief. I won't spoil it here, but just the idea of it is equally tragic and special.
Overall, The Good Half is one of the most realistic displays of grief I have seen in recent years. Equal parts funny and heartbreaking, this film reminded me of all the flaws and fears that come up when a family tragedy occurs. Everyone in the cast gives a great performance, but Brittany Snow delivers a monologue in the film's final few minutes and her delivery makes it something that I won't forget soon, making her shine well above the rest. Director Robert Schwartzman knocked it out of the park with this film, and it will be one that is guaranteed to make almost anyone shed a tear.
---
The Good Half premiered at the Tribeca Film Festival on June 8, 2023. Read our list of 15 films to watch at the 2023 Tribeca Film Festival!