The Essex Serpent Episode 2 Review

Claire Danes and Tom Hiddleston in Episode 2 of "The Essex Serpent," now streaming on Apple TV+. (Courtesy of Apple TV)
Episode 2 of The Essex Serpent keeps it focus on the fear and faith of its characters, rather than its supernatural central mystery, and remains as intriguing for it.
---
This review contains spoilers for episode 2 of The Essex Serpent ('Matters of the Heart').
In our review of episode 1, we established that the tone of The Essex Serpent felt more like a psychological thriller than a supernatural one. Episode 2 leans slightly more into the bizarre, but still feels like a story ultimately about the intricacies of human fear and faith. It keeps the momentum on its central mystery and further develops the relationship between Cora and Will.
Essex continues to mourn the death of Naomi's (Lily-Rose Aslandogdu) sister, while she struggles with her secret. Cora (Claire Danes), having stayed in Essex, spends more time with Will (Tom Hiddleston) debating the nature of the 'serpent' rumours and goes to the local school in an effort to teach the youngsters about evolution and science. Martha (Hayley Squires) travels back to London to fetch the rest of Cora's things, and is witness to Luke (Frank Dillane) successfully performing heart surgery.
There seems to be three central narrative threads in this episode that all centre around aspects of the human condition: of belief, grief and faith. Cora and Will debate the essences of science and theology, coming to the mutual understanding that they both hinge on the faith of the believer. Naomi, grieving for her sister and slowly buckling under the weight of her guilt, confides in Will that she believes she has seen the serpent and it will come for her 'sins'. Martha, a committed socialist, is keen for Luke and his assistant – Dr George Spencer (Jamael Westman) – to understand the plight of their patients, of the conditions people are living in on the other side of London, and to believe that change can be achieved.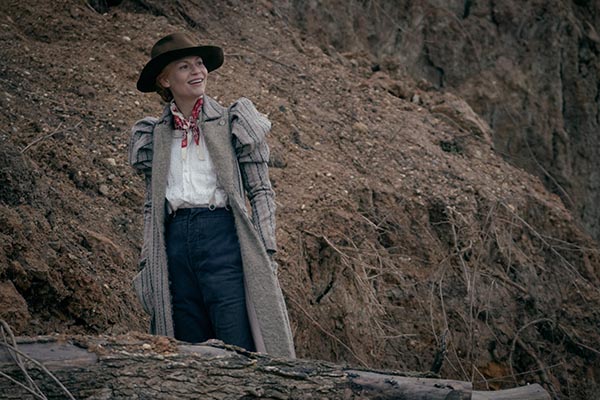 This means that it still feels as though The Essex Serpent is, at its core, a story about humanity rather than something ghostly. As Cora attempts to teach the local children about evolution, they get riled up when she's unable to definitively say that the serpent doesn't exist. Their subsequent taunting of Naomi leads her to a have a fit, becoming unresponsive and shaking, which riles up the others in the classroom even more. It's a scene that could be seen as supernatural, but in context with the tone of the episode, feels more like a case of mass hysteria. In a town gripped by grief, crippled by paranoia and studiously devout, Cora's presence is likely to ruffle feathers. A god-fearing town isn't going to take too kindly to a woman coming in from the big city and teaching them science!
Even Will is worried about the increased tensions, as well as his increasing attachment to Cora. Her admission that her deceased husband was abusive, as well as their mutual admiration for literature and nature, has them growing closer together. Her presence even has Will praying in fear – but not of the serpent, of Cora herself. Danes and Hiddleston have sparking chemistry, and Cora's jagged edges seem soothed by Will's interest in her studies and willingness to debate with her. (Let's not also ignore the 'hot priest' element we mentioned last week, too.) It seems likely that while the town succumbs to hysteria, Will may well succumb to his own desires for a woman other than his wife.
Episode 2 expands on the complexities of the serpent mystery by focusing on this growing fear, unease and mistrust. Essex doesn't feel as claustrophobic this time, but rather that it's approaching the precipice of something momentous, perhaps even something horrifying. The fear is not that the 'serpent' will attack again, but rather what the reaction will be from the townsfolk. It's unclear yet the relevance of Martha's socialist agenda in London to the mystery in Essex, but it doesn't feel removed in a way that disrupts the momentum too much. The Essex Serpent utilises its intrigue well, and it feels as though next week the tension will only be ramped up even more.
---
Episode 2 of The Essex Serpent is now available to watch on AppleTV+.
---
WATCH THE ESSEX SERPENT: EPISODE 2: