The Bob's Burgers Movie: Film Review

The Bob's Burgers Movie (© 2022 20th Century Studios)
Even if The Bob's Burgers Movie feels like an extended episode of the show, the charming characters and their crackerjack wit will engage whether you are a fan or not.
---

There have been many tv shows that have transitioned into cinematic ventures with their own films. For example, Saturday Night Live has made multiple ones out of their skits and sketches (Coneheads, A Night at the Roxbury, Wayne's World, The Blues Brothers, among others). What's the problem with all of them? They don't have cinematic longevity. This means that these narratives only work for the amount they are shown on television, whether it be ten or thirty minutes. This is the main fault most of these tv-to-film releases have. Some of them are not all bad, but they are held back because of their lack of cinematic value. Yet, when it comes to animated shows doing the same thing, it tends to work better than the live-action ones. Films like Beavis and Butt-Head Do America, South Park: Bigger, Longer, Uncut, and The Simpsons Movie may have their respective issues, but they are pretty funny and engaging, all depending on how much you care about the show.
Now, another acclaimed cartoon takes its try at the big screen, Bob's Burgers, hence presenting: The Bob's Burgers Movie. Unlike the other films mentioned above, I love the show dearly. I even dressed up (somewhat) as Louise Belcher on Halloween a few years back, with the bunny ears, green shirt, and a homemade Kuchi Kopi nightlight. It's one of the few cartoons I still enjoy watching; I always follow their latest episodes, and it doesn't seem like it's running out of steam. When it was first announced that a movie was being released, I was doubtful because I didn't want it to be disappointing. I really do love and show and didn't want this to cause a stain on it. Regardless, I had no need to fear, as The Bob's Burgers Movie is filled with everything you love about the show, but this time extended into a 102-minute runtime, for better or worse (depending on the viewer). You get what you expect with this one: a hilarious animated feature for the whole family (dirty jokes aside).
The movie begins with a musical number that, personally, charmed my pants off. The lovable Belcher quintet, Bob (H. Jon Benjamin), Linda (John Roberts), Tina (Dan Mintz), Gene (Eugene Mirman), and my favorite, Louise (Kristen Schaal), sing about what they are going to do once the summer hits, as well as some of their worries and insecurities. Bob and Linda are going to the bank to request an extension for their loan; Tina wants to ask Jimmy Jr. to be his summer boyfriend. Meanwhile, Louise and Gene have some internal doubts and fears. In only a few hours, things go from bad to worse. The bank says no, a ruptured water main caused a giant sinkhole in front of the restaurant, and they have seven days to pay both their rent and the loan. Their successful summer is now ruined; while the parents struggle to keep the business afloat, the kids are solving a mystery that may possibly save it. This paves the way for a pleasant and humorous adventure with the Belchers and other characters that we fans love like Teddy, Mr. Fond, Sergeant Bosco, twins Andy and Ollie, and others.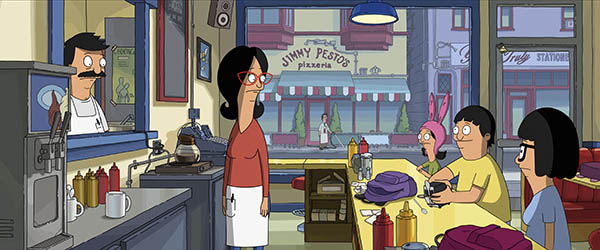 Like The Simpsons Movie, this feels like an elongated episode of the beloved series, and it totally plays like one too. It feels like you are watching a special episode of Bob's Burgers; however, you see it on the big screen instead of on your television this time around. There could be many arguments about whether this would have a better home on Hulu or whatever streaming service instead of a theatrical release. And some of the critics had that same argument when I talked to them after watching it, primarily because of Disney's release strategy for Chip n' Dale: Rescue Rangers – which I was not a fan of, but I thought it would benefit from a theatrical release of some sorts. This varies depending on how much you go with it and love the cartoon. The more you have watched the series, the funnier the jokes and remarks are, as it references plenty of episodes, ranging from its first season to its previous one. The big question is, does it work if you aren't a fan? Personally, I would think so. Most of its jokes don't revolve around knowing about the cartoon.
It divides its time to give audiences from both wavelengths (fan and non-fans) equal tastes for deadpan wit and uproarious yet charming remarks. In my screening, it had the audience laughing from front to back, breaking Mark Kermode's seven-laugh comedy rule in its first three minutes. It feels like an ode to the show – somewhat of a "thank you fans, this is for you" scenario. It would have gone all-in with its references and multitude of characters, but it decided to hold back a bit so that a wider audience would enjoy it. However, there are some issues. It doesn't have many cinematic sensibilities to state its big-screen format. And along the way, its pacing causes a sensation of rushed storytelling because of its structure. This hurts the viewing experience a bit, but since I was laughing for most of its runtime, it didn't bother me much in the end. The Bob's Burgers Movie is deliciously goofy, in a hilarious way, with sweet moments and crackerjack remarks. Putting its faults aside, it serves all audiences, but the people who adore the show as I do will eat this up.
---
The Bob's Burgers Movie was released globally in theaters on May 27, 2022.