The Blue Caftan: Film Review
The Blue Caftan (Courtesy of TIFF)
Maryam Touzani's delicate and intimate directorial approach to The Blue Caftan helps it alluringly explore the juxtapositions between the loss of tradition and repressed desires.
---

I didn't know much about filmmaker Maryam Touzani and her latest feature, The Blue Caftan (Le Bleu du Caftan), only that it screened at this year's Cannes and it's making its North American premiere at TIFF. However, I can honestly say it is a competently crafted, sincere, and tender film about repressed desires amidst homophobia-induced societies and unjust systems. Set in present-day Salé, one of the oldest medinas in Morocco, the film centers around a master tailor, or maalem (aka. dressmaker), Halim (Saleh Bakri), highly devoted to his religion and stern wife, Mina (Lubna Azabal, known for her role in Denis Villeneuve's Incendies). His skill and art of crafting caftans were a gift passed down from generations in his family. The two of them own a garment shop, with its first couple of shots hinting at the suaveness of the textiles, in which later on you notice how juxtapositions with the delicateness of Tourzani's subtle portrayal of sexuality and mortality – how they intertwine with one another. Passion blooms as they work with the various fabrics, but it also might be their end; they can't meet their customers' demands for several reasons.
Mina is beginning to suffer the effects of an illness that's drowning them in hospital bills. In addition, the artistry Halim does by hand is now accomplished easier and faster by machines, making it difficult for the couple to find an apprentice to pass on the techniques. There are a lot of scenes in which Touzani and cinematographer Virginie Surdej let the camera linger in order for the audience to see this craft that's slowly disappearing because of modernization. Those scenes aren't only to show how much Touzani cares about the art but to present a sharp angle on the beauty of the process of making and designing hand-made garments. To keep the business alive, they hire a young apprentice, Youssef (Ayou Messioui, in his acting debut). This is where the tension arrives in the narrative at hand; repressed desires are demonstrated via sensual little details – the essence of touch and the trance of a glance. Speeches or monologues do not fully form Saleh Bakri's performance as other films do; he does the emotional heavy work through his mannerism and looks in his eyes.
From the first instance he pops into the screen, Saleh buries Halim's eyes in sheer longing and search for an unmet desire, both in his work (the slowly disappearing traditions) and devotion. Although Halim has found moments of peace by venturing into bathhouses for some hookups, it still feels like his feelings are eating him alive, not only because of what the society that surrounds him thinks, but the daily lies he tells his wife by not expressing his true self. What's brilliant about The Blue Caftan is that, since the characters are humanistically portrayed and written, everything that happens throughout the film's runtime leads back to us empathizing with the characters and thinking about how they are feeling, even if they are off camera. This primarily happens with the character of Mina, Halim's wife. The viewer often thinks about her even when she isn't in the frame. As the story continues, our feelings toward her increase vastly; we learn the reasons for her jealousy – the appearance of Youssef isn't the reason. Time plays a vital role in the narrative's latter half, slowly taking its toll and the melancholic ooze spreading through the atmosphere.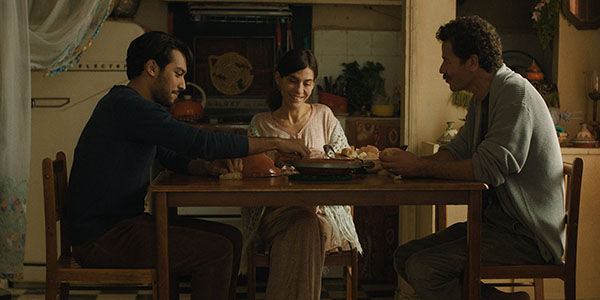 Halim's trips aren't meant to mend his fragmented emotional state or love; they are a release of some sort, yet with no satisfaction – an escape that helps him for a while but eventually devours him later. In the same way that Surdej filmed the cloths during the scenes of constructing the caftan, she shoots the bathing men in the same manner, with delicacy, in a way that doesn't fetishize the scenery. Even the scenes of trysts are captured behind closed doors, as we only see their feet positioning. The Blue Caftan is beautifully restrained, not dwelling on the usual explicit and inflated disposition of the art-house films that deal with these themes and have similar narratives. Touzani intertwines repressed desires with the loss of respect toward traditions, as scenes of customers mentioning that they can't spot the difference between hand-made and machine-crafted caftan with ones that add layers to Halim's journey of expression and acceptance. It is an ode to love in many ways; its humanistic credibility and intimateness help The Blue Caftan become much more than your run-of-the-mill drama.
See Also

At the festival, quite a few films have dealt with these themes – repressed desires, fragmented marriages, the dictation of society and how they view attachment between people, love being the vein of our existence, etc. However, The Blue Caftan and Joyland manage to stand out for the same reasons. These two films are brave, delicate, and bittersweet, but they touch our hearts because of their approach to the stories we have heard before. The exploration of romantic relationships is a journey shared in cinema for many years; however, these two films manage to outshine most of them because of their gloomy yet sensitive behavior. There's no need for dramatic opulence because their respective filmmakers express more with less. The Blue Caftan and Joyland are essential not only because of where they are from but also the way they are told. Maryam Touzani is a director I will be keeping my eye on, as I went blind to see her latest work and ended up being surprised due to how impressive it was. The Blue Caftan breaks your heart and mends it as well, thanks to its powerful performances and soothing script.
---
The Blue Caftan was released in US theaters on February 10 and in UK cinemas on March 5, 2023. The film will be available to watch on digital and on demand on May 5 in the UK and soon in the US.