The Adults: Berlin Film Festival Review

The Adults (© Universal Pictures Content Group / Berlin Film Festival)
The Adults is a poignant and charming family reunion drama that explores what happens to sibling relationships when ego replaces innocence.
---

The Adults follows Eric (Michael Cera) on what is meant to be a short trip back home to the East Coast to meet his friends' baby. Although when he gets there, he finds himself caught between spending time with his sisters Rachel (Hannah Goss) and Maggie (Sophia Lillis) or hitting up his old poker playing friends. A film full of vibrant performances and awkward silences, Dustin Guy Defa's newest feature The Adults is quietly poignant and certainly charming, although it won't be for everyone.
In Defa's new family reunion drama, he often makes the viewer read between the lines. A lot is unsaid about these three siblings and what they've gone through during their time together and apart. Nevertheless, throughout The Adults' runtime, it becomes clear that Defa has no intention of filling in those gaps. This distance between characters and viewers may not work for everyone, but it does help in expressing how truly fractured the relationship between Eric and his sisters has become.
Unable to talk about how they really feel with each other, they devolve back into being the characters they created for themselves as kids, as well as doing overzealous impressions from films and movies. These impressions do add charm to The Adults but can feel tiresome at times. It may be Defa's intent to use something that bonded them as children to expose how distant they've become but their playacting is their dominant form of communication throughout and can leave viewer's desperate for something that feels real.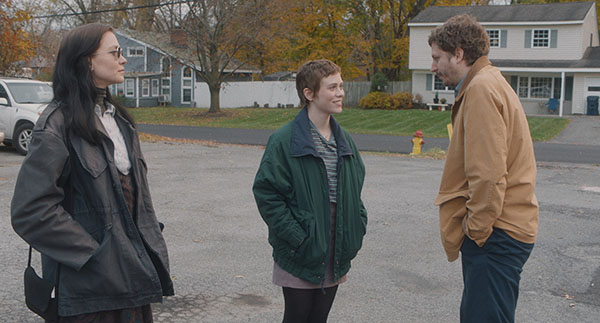 Cera, Goss and Lillis all play their respective roles in an understated manner, each of them expressing their characters vulnerabilities differently. With Michael Cera's trademark deadpan way of acting, Eric is the hardest to understand. Desperate to avoid adulthood, he obsesses over winning games of poker so he can still centre his life around play. His life back in Portland is a mystery, with no mention of a job or friends. Hannah Goss' plays the steely Rachel, who adamantly puts on a brave face although it's clear she carries the burden of her family's informal dissolution.  Sophia Lillis, playing the youngest sibling Maggie, retains some innocence by trying tirelessly to be a guiding force to bring the family back together.
Although watching the three siblings perform enthusiastically for each other is entertaining (for the most part), The Adults is at its best when the masks slip, and we get to see what they truly feel about each other. These moments are few and far between, however, and with a lack of substance behind their playacting, the film does feel somewhat discombobulated. This isn't helped by the repetitive nature of the narrative, that hinged on the will-he-won't-he element of whether Eric would stay for another night.
See Also

Overall, The Adults is a quiet film about how sibling dynamics change as you grow up. It's feels unique in its tone, but ultimately the characters feel too underdeveloped to elicit a meaningful reaction from the audience.
---
The Adults premiered at the Berlin Film Festival on February 18-26, 2023. Read our Berlin Film Festival reviews!