The Accidental Getaway Driver (Sundance Review): A New Kind Of Thriller

Dustin Nguyen and Hiệp Trần Nghĩa in The Accidental Getaway Driver by Sing J. Lee, (Sundance Institute | Ron Batzdorff)
By voluntarily drifting from the thriller genre, The Accidental Getaway Driver both creates something original and lacks the familiarity it needs to shine.
---

Sing J. Lee's The Accidental Getaway Driver does something that countless films today are too afraid to do – it unapologetically refuses to confine itself to a single genre, establishing itself as one particular concept and then subverting the audience's regimented expectations with its intelligent screenplay and subtle narrative shifts. It's hard to even pinpoint the moment that this film morphs from a high-stakes thriller into the touching family drama that it culminates as, and that's undoubtedly its biggest strength as a piece of fiction. The story genuinely takes the audience on a journey between two very distinct locations, and although the route isn't quite as smooth as you'd hope, the distance that it travels before you even notice its speed is remarkable.
Written and directed by Sing J. Lee in his feature-length debut, The Accidental Getaway Driver follows the story of one solitary taxi driver whose late-night pickup finds him captured by three recently-escaped convicts on their way to flee the country. Drawn from the true story of Vietnamese driver Long Ma's abduction in 2016, the story navigates a rollercoaster of emotions through its thematic complexity and sharp character development.
From the very first scene, it's clear that The Accidental Getaway Driver is different from others in its genre – despite the high-stakes action and constant flirting with death, there's an overwhelming calmness and ominous simplicity that hangs in the air throughout each moment, clearly warning the audience that nothing they think they know about this genre of filmmaking applies here. And from every subsequent scene onwards, The Accidental Getaway Driver grows increasingly comfortable in this void space between genres, drifting further away from what's expected and steadily closer to what's necessary.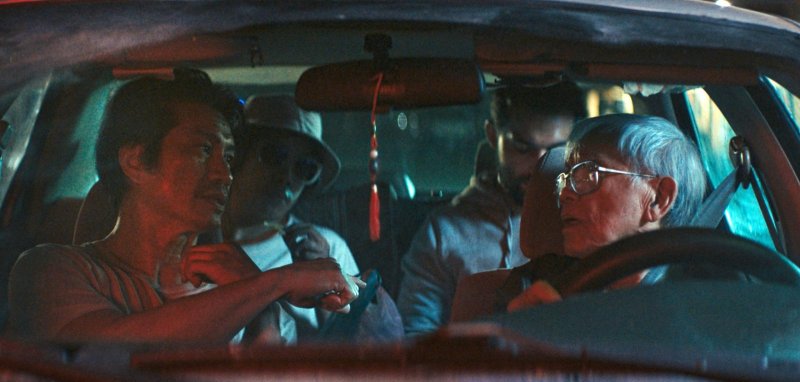 After a while, it becomes hard to label The Accidental Getaway Driver as a thriller at all. Scenes morph from uncompromising danger to heartfelt intimacy in a matter of moments, and whilst this can sometimes be a little distracting from the overall story, it makes for a much-needed and welcome departure from the expected. Lee's omnipresent vision shines through his direction, crafting a brutal narrative of the unbreakable bonds between violence, trauma, and forgiveness.
It's impossible not to feel for these characters as their backstories and motivations grow increasingly clearer, quickly transforming them from hardened criminals into flawed humans with their own layered struggles combatting life's endless complexities. On this level, The Accidental Getaway Driver really soars and proves itself not only as necessary but in many ways revolutionary. It's unfortunate that these ideas don't always blend together so seamlessly given the simplistic nature of the plot, but the fact that they're present is enough alone to give credit to the film.
See Also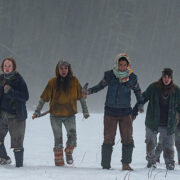 The film can be somewhat of a jarring watch, and if you're entering the story with any preconceptions about a high-intensity crime drama, you'll almost certainly find those subverted within the story's opening minutes. It's absolutely impossible to understand which styles, genres, and ideas The Accidental Getaway Driver is embodying until at least halfway through the film, and that's both a positive and a negative. Whilst it keeps things interesting and subversive from start to finish, those emotional beats can sometimes feel a little unjustified since their seeds haven't been given sufficient time to cultivate over the duration of the story. It's a criticism that applies fairly regularly to debut features like this, but Lee's film also has the kind of thematic maturity that's very rarely found until many years into a director's career.
Whilst there are several valid criticisms of The Accidental Getaway Driver, it's hard to take a stance against the film after experiencing just how fresh and original it is, not just in its ideas and craft but also in its structure. Films don't display this level of narrative fluidity very often, so it's a huge treat when hidden gems like this come along and subvert expectations in the most intelligent ways. There's undoubtedly a future ahead for Sing J. Lee, and the minor flaws of this debut feature don't tarnish the potential that he's proven with the project.
---
Director Sing J. Lee won the "Directing Award: U.S. Dramatic Competition" for The Accidental Getaway Driver at the 2023 Sundance Film Festival, and will be screened again in person and digitally till January 30. Read our Sundance reviews!